I'm elbow deep in house projects and planning for future house projects and it just makes me so giddy to see the improvements (slow though they might be) around this house.
In many ways, our new house is like our Arizona house – we bought both of them for a relatively low price in large part because neither house looked great, even though the bones were solid.
It was really thrilling to take our Arizona house from a home covered in green carpet, orange, brown, and burgundy paints, and enough stone to build a small church (you can see some of the before photos here), to something brighter and more modern (you can see what it looked like when we moved here).
Similarly, this house is a great house in most respects, but could use a little updating. From the moment we walked in, Bart and I both could see so much possibility with this house, hidden underneath the 70s carpet and the five different linoleums.
I thought I'd share five things that I keep in mind when I'm figuring out how to decorate and I hope they'll be helpful to you too, whether you're also getting rid of linoleum or moving into a brand new house!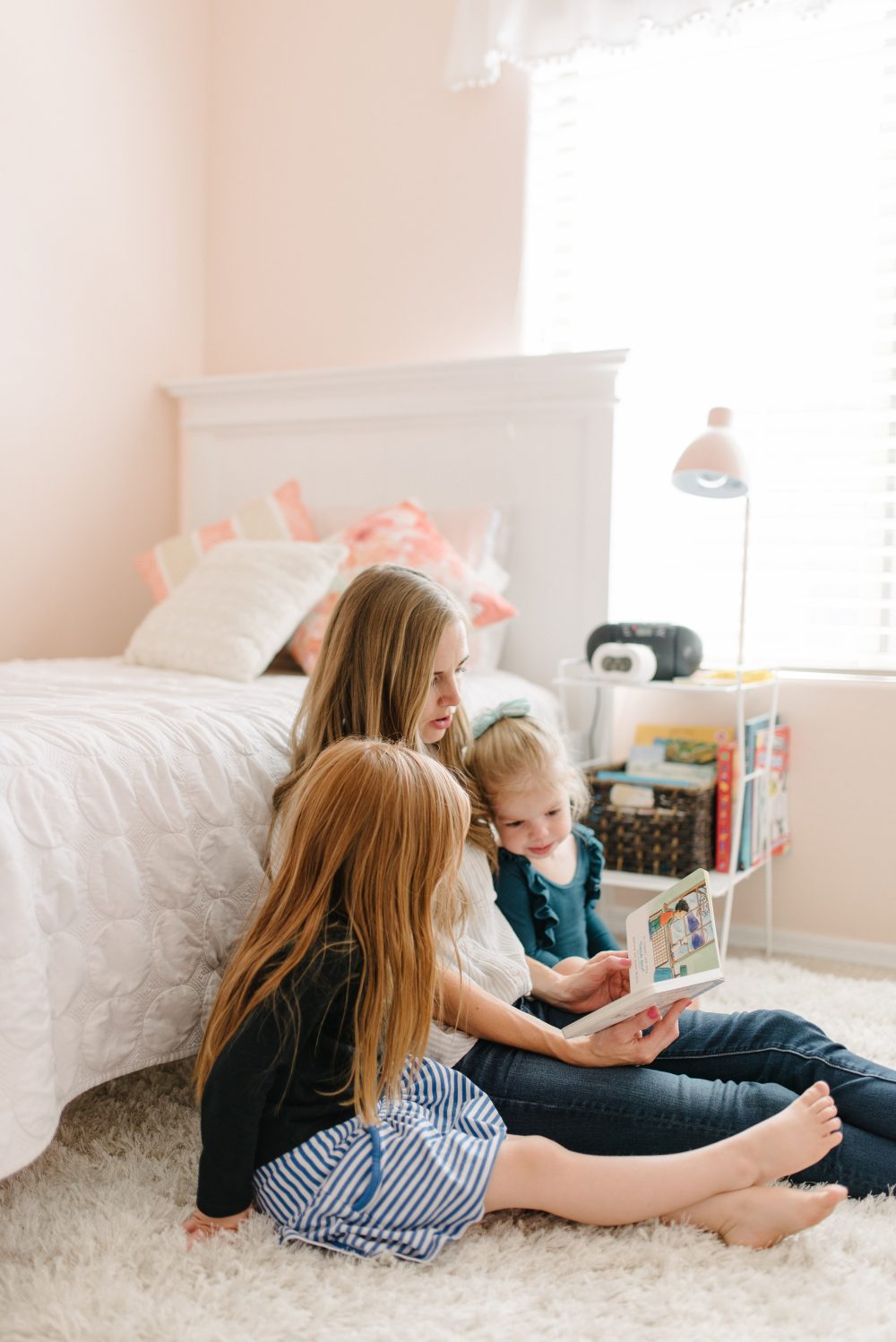 How to Decorate: 5 Tips to Save Your Sanity and Wallet
Choose things that make the biggest impact for the least amount of money
In our house in Arizona, we knew that was very unlikely to be our forever home, so our goal was always to spend as little money as possible while making it look as good as possible so that we could make a profit when we sold the house.
Bart didn't care for the tile in our house at all (he really wanted to put in wood tile instead), but it was perfectly neutral tile and it was in great shape and the tiles were large and expensive looking, so there was no way we were going to spend more than $10,000 to get it all ripped out and replaced.
Similarly, we've toyed with the idea of moving the staircase in this house, but the overall improvement to the value of the house would be minimal compared to the cost of doing it. The staircase will stay right where it went in 60 years ago.
When we tore out the horrible stone entertainment center in our Arizona house, we considered putting in a big built-in but opted instead for floor-to-ceiling open shelving that cost us a whopping $500 and really became a centerpiece in that house. It gave us the impact we wanted without spending a boatload of money.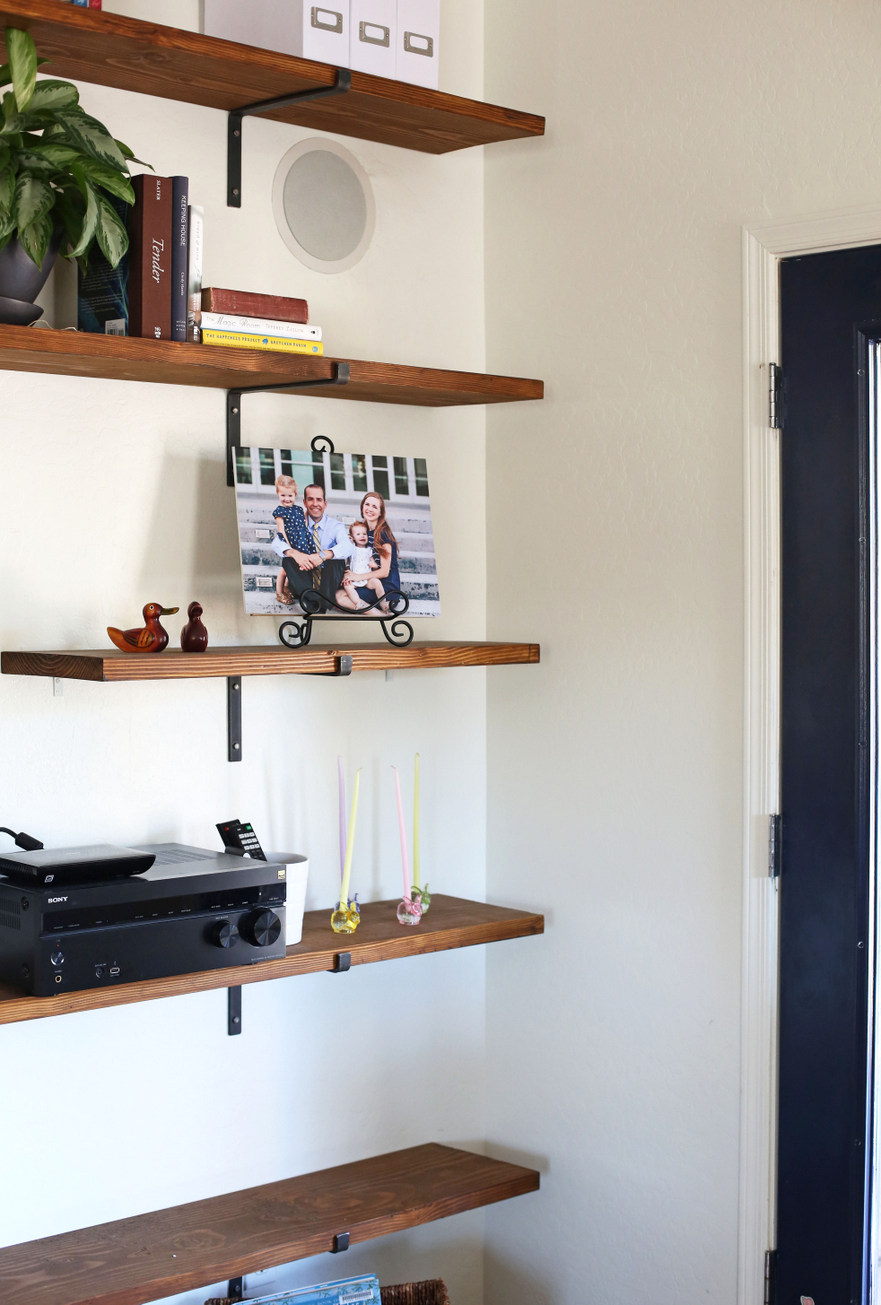 We replaced all the carpet in our Arizona house which cost us about $6000 but probably added at least $20,000 to our selling price because it just looked SO much better than the old stained green carpet that covered the entire house.
When my sister was visiting our house a few weeks ago, she commented that the bathroom counters were pretty low (something that had never occurred to me in the four months we've lived here) and I knew immediately that wasn't something we'd likely ever change because the cost of replacing the whole unit wouldn't be something we'd probably see any sort of return on.
In our current house, the main priorities are new flooring in the entire house (it'll be somewhat expensive, but I think if and when we sell this house, we'll easily make that money back because it will change the feel of the entire house) and fixing up the kitchens and bathrooms.
Originally, we'd planned to completely gut the kitchen, but as we've lived here longer, we've realized the cabinets are in good condition and very solid (thanks, good homebuilders of the 1950s) and that pulling them out would be a waste of money and resources. Instead, our plan is to have them painted, add a few cabinets to some blank walls, and replace the countertops and backsplash. It won't come even CLOSE to the cost of ripping everything out and starting from scratch and I think it'll look 95% as good as if we did that.
I mean, if you're swimming in money (or bought a house that has all the big things taken care of), go ahead and make all the smaller fixes that will delight you. But since we're always dealing with a shortage of time and money, it makes the most sense for us to focus our attention on the places where we will get the most bang for our buck.
Paint is your best friend
I know painting is scary to some people, but truly, nothing makes as big of a difference as a good coat of paint. My mom was 100% not afraid of painting (my dad joked that the house I grew up in lost at least 10 square feet over the years we lived there because my mom repainted every room multiple times) and so its never felt like that big of a deal to me.
And truly, it's the cheapest way to make the biggest impact. For less than $100 usually, you can make a whole room look brand new and it's just not that hard. In my mind, nothing makes a room look more intentional and finished than a good coat of paint.
And if you end up hating the color? You can paint over it.
I love a good white (I'm especially a fan of Sherwin-Williams Alabaster which we used in 90% of our Arizona house) and I also love a good bold color that makes it look like you aren't afraid of taking a little risk (obviously, my personal strategy has been to choose a single bold color – Naval – and then take zero more risks by using that color every single time).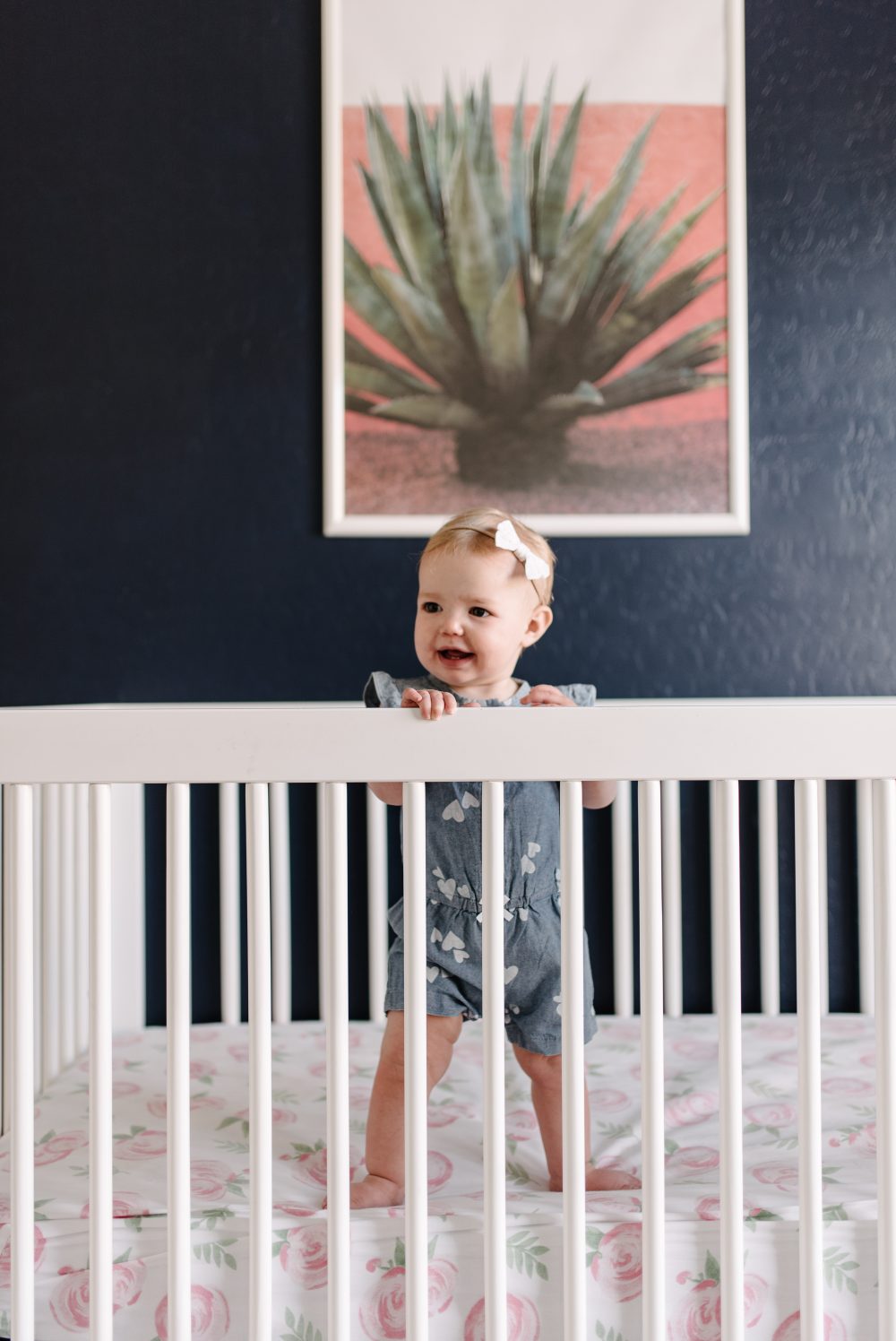 Pick a basic color scheme for your house
I think it helps a house feel a lot more cohesive and high-end when you have a general color scheme for the house. It doesn't mean every room has to be painted the same colors, but I do think it helps the house flow a lot nicer.
We completely broke this rule on our first house in Texas because we were young and didn't know any better and there were so many bright colors (eggplant bedroom, green office, red kitchen) that it makes my eyes water a little to even think about it now.
We did a lot better in our last house where our basic colors were white, blue, pink/red, and gray with black, gold, and wood accents and we're continuing that color scheme in this house since so much of our furniture has the colors, plus I just really like them.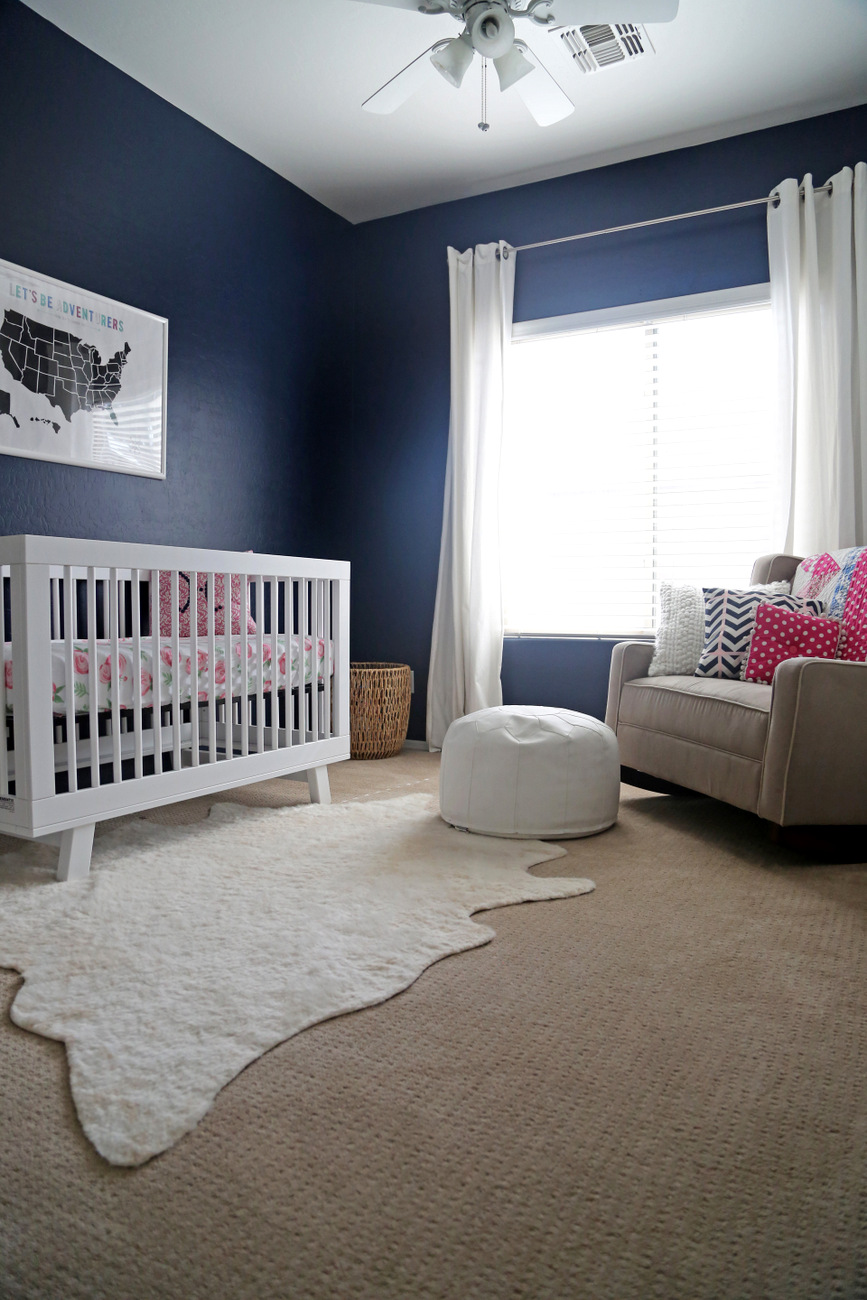 It also means you don't have to reinvent the wheel every dang time you pick out a curtain rod or choose hardware or grab throw pillows at Target.
Choose a few special touches
I think it's worth having a few things that make your house feel nicer, more expensive, or just plain special. In our Arizona house, I felt like the barn door into the master bathroom was one of those things, and the wallpaper in the laundry room and our kitchen chandelier. They weren't crazy (or even super expensive), but they made our house feel like we'd really thought carefully about how to decorate it and elevated the whole level of the house.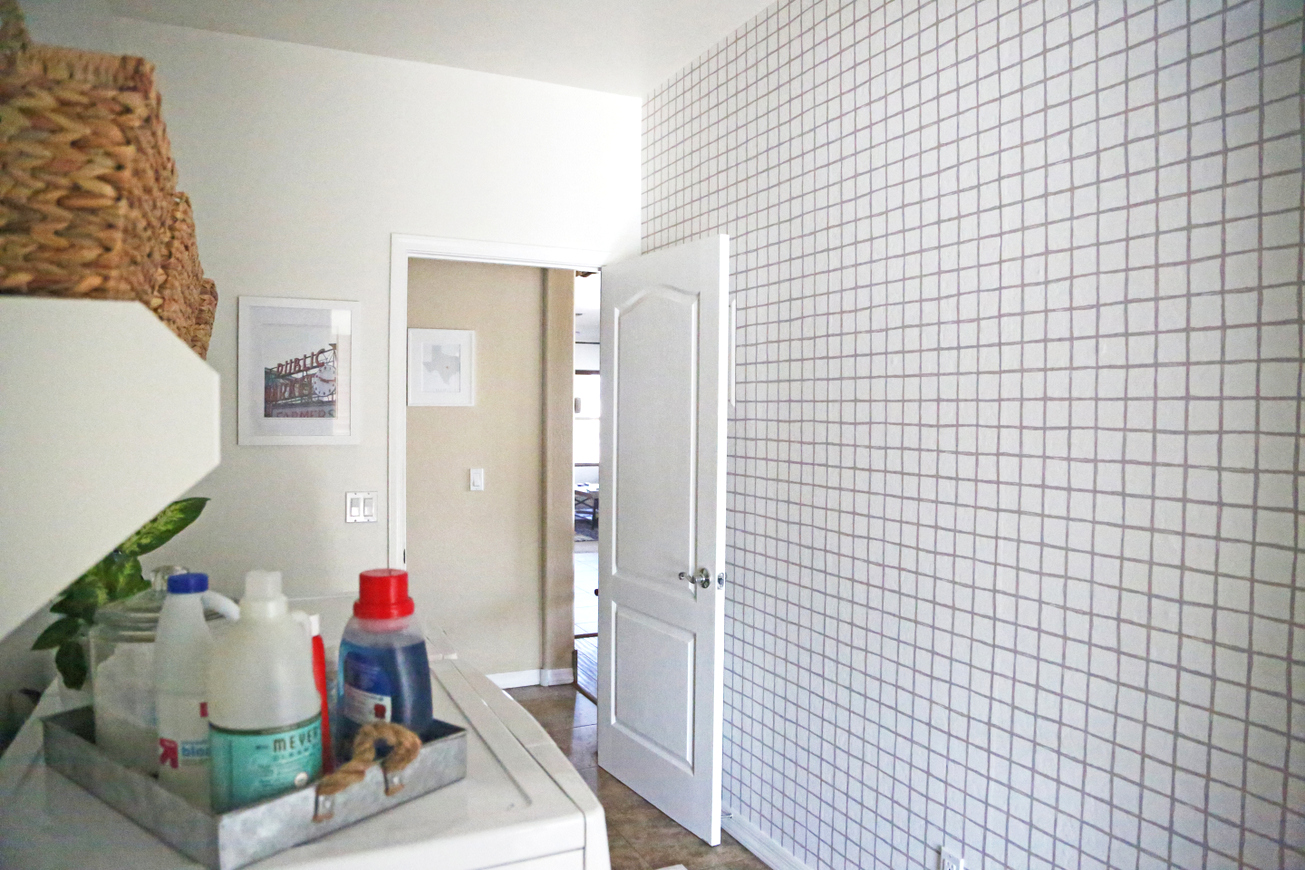 A really great piece of furniture or a gorgeous light fixture or a terrific front door or a special stair railing can all do the same thing.
choose something of the right scale
I think about this most often about wall art and this right here is my personal decorating pet peeve (inherited from my mother). There is nothing sadder when it comes to decorating than a big couch with a tiny 8×10 hanging above it. In our Arizona house, we hung EIGHT 8×10 photos above the couch and they were in 18 x 14 frames. That made the room feel much more polished and finished.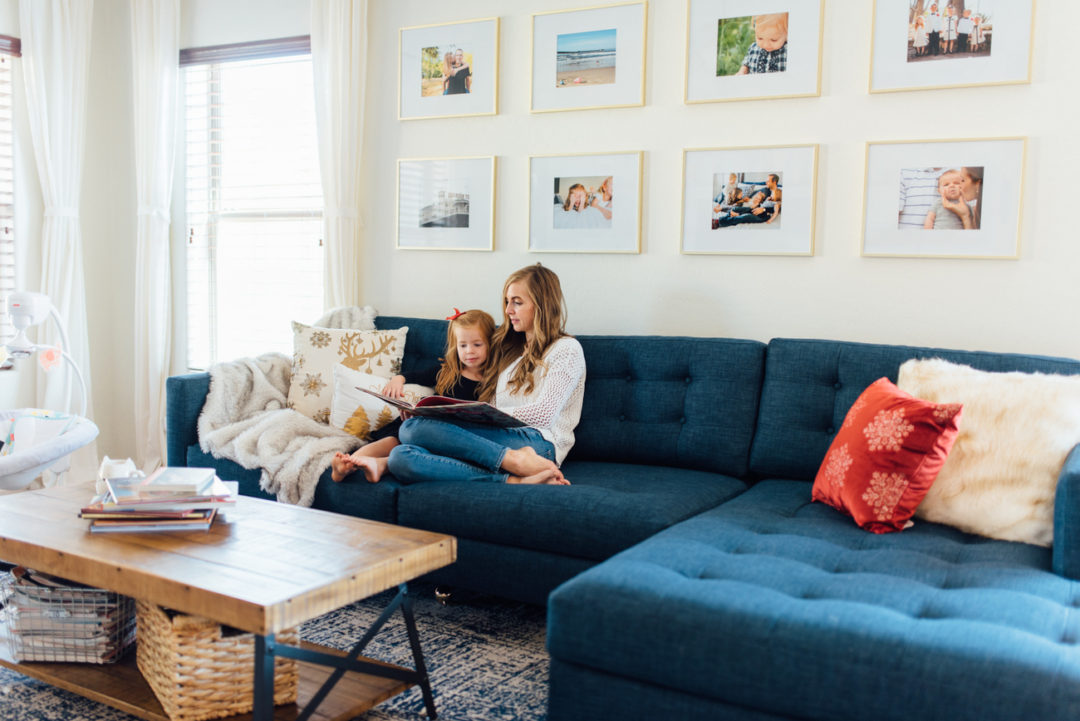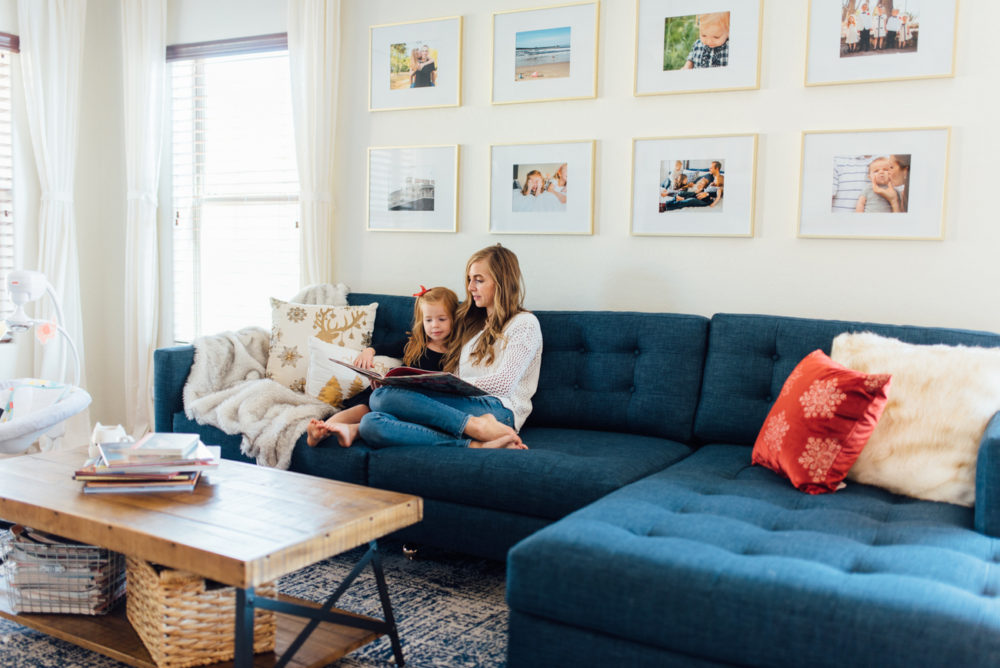 Same with this giant art on our breakfast nook wall – that thing was NOT kidding around.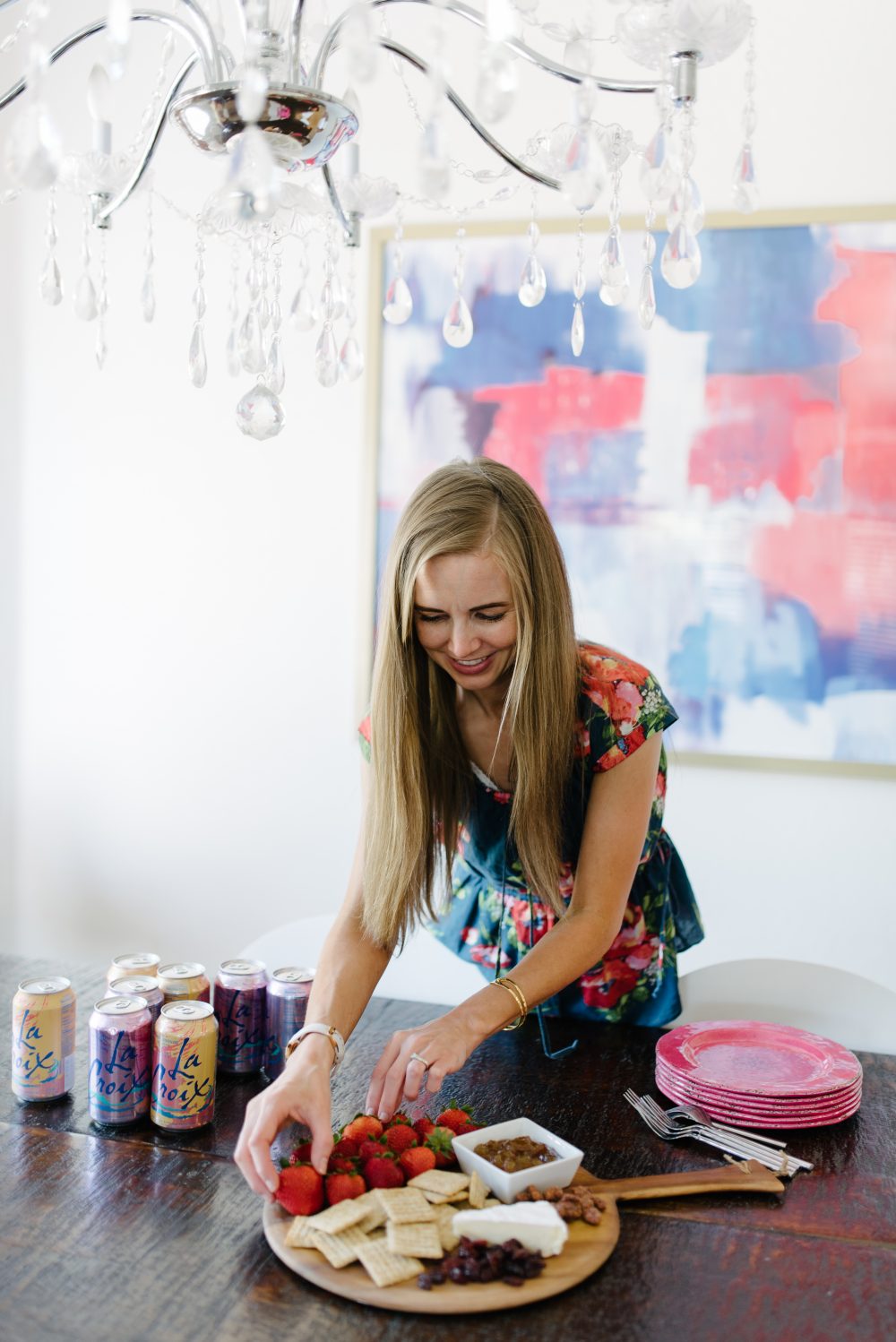 (My bonus tip is to hang an arrangement of photos as perfectly as you possibly can and then make sure they won't budge (a little piece of adhesive on the bottom works like a charm). Bart spent a full two hours hanging these frames in our family room and measuring it perfectly so that they would look just right, and it made a world of difference).
But same goes for any piece of furniture. If your living room is massive, don't get a loveseat. If your child's room is tiny, a queen size bed might look ridiculous in there.
When we moved to our Arizona house,  it had a very long breakfast nook, so our 6-seater table (bought for thirty whole dollars at Goodwill in North Carolina) looked absolutely RIDICULOUS. Once we bought a table that actually fit that space, it looked a thousand times better.
Same thing for our master bedroom – a queen-size bed looked silly in that large room, where a king-size bed looked RIGHT (also a king size bed is just so much better).
Any other tips that inform how you think about decorating your house? I'd love to hear!
If you liked this post about how to decorate a house, you might like these posts too: