This post could also be called "Four things I've been using and loving for months (or years) and have never mentioned."
Sometimes I look around my house and think of allllllll the products I use on a daily (or sometimes hourly) basis and that I barely think about. They do exactly the job I want them to do and so I just never even think about them.
From my IKEA dishes (fancy!) to an eyebrow brush (that I got for free with some makeup purchase a couple of years ago and now couldn't live without) to the hooks for my backpack and library bags in my office, I just feel very grateful to live in an era where there are so many items that make my life easier.
So consider this a little shout-out post to the well-loved and under-appreciated items that I use just about every day.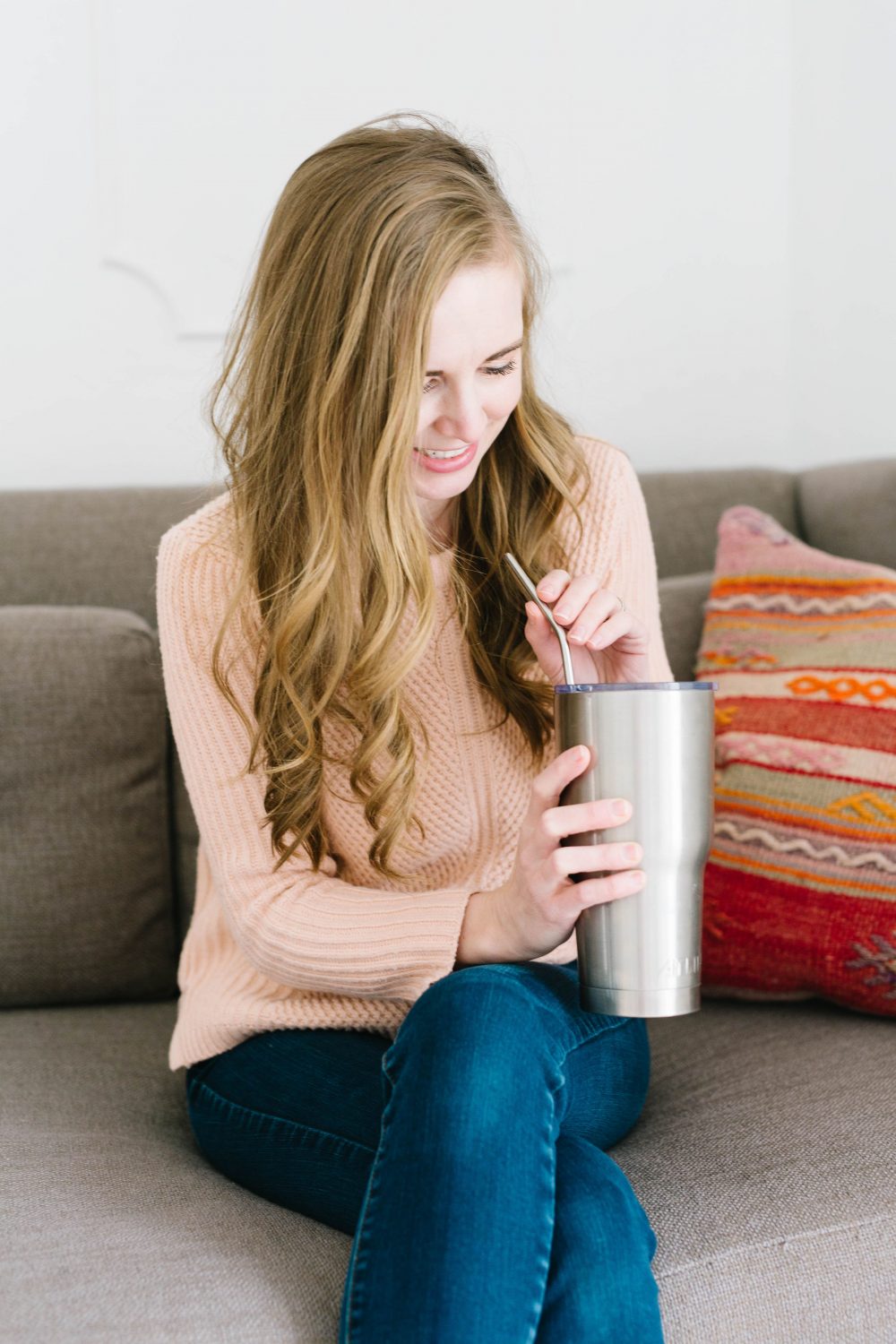 Uniqlo Down Coat
I got this puffer coat on thredUP and I love how light and warm it is! It comes in a bunch of colors, the price is reasonable, and I've worn it non-stop since I got it!
Stainless Steel Tumbler with Straw
This was one of the things on my Christmas wish list and I use it EVERY SINGLE DAY. I didn't really understand the love for drinking out of a straw until November when I got a plastic tumbler with a straw at a workshop and I loved it so much I wanted a version with a straw that my children couldn't chew into oblivion. I did a quick search on Amazon and found this one for $16 with more than 2500 gushy reviews and sent the link to Bart. I love that it holds a pretty large amount of water but the base is smaller so it can fit in a car cupholder. I love that I can run the whole thing through the dishwasher and that it keeps my water cold for hours and hours and hours on my desk. I am the WORST at leaving reviews on Amazon, so just consider this my five-star review.
8 Cup Measuring Bowl
My sister gave this to me for Christmas two years ago and I use it ALL the time. When I have to measure many cups of liquid (like when I'm making a soup), it's really handy, or its just super convenient to use as a mixing bowl for pancake batter since it has a spout you can pour right out of. Plus? It's pretty. And under $20.
Box Openers
This was one of the items on this year's $5 gift guide and Bart bought me a set for Christmas. I love them SO MUCH. They cost just over $3 for a set of six, so it's basically the deal of the century and I feel happy every single time a box arrives that I can just quickly and neatly slice open. They come individually packaged, so I kept two for myself and stashed the other four away to give as little gifts because they're just THAT good. If you have Amazon Prime and are getting any amount of packages on a regular basis, these are going to make getting a package even more delightful than it already is.
Any current favorite products you can't live without? I'll take any suggestions!
If you liked this list of great products, you might also like these previous favorite things: