Unbelievably, it's been a year since we moved into this house.
We didn't really have plans to move, since we loved our 1950s ranch house and the big lot it was on, but we'd had our eye on the neighborhood Bart grew up in for YEARS (long before we moved to Utah) and when this house came up on the market and it met our basic requirements, we snatched it up.
We got a pretty reasonable deal on it because it was listed as a 3 bedroom house (and it was really too expensive and large for anyone to be excited about it with three bedrooms) and we spent all last summer renovating it to make it into a five bedroom house (plus an office).
All last summer, we'd come over to visit the house and I'd stand on the front porch and think, "I can hardly imagine that we'll actually get to live in this house." And now we have for a whole year!
When we moved in, the renovations weren't QUITE done (in fact, they were literally painting the trim the morning the movers arrived) so we had several months where there was just a constant parade of people in and out of the house finishing up painting, tiling the fireplace, hooking up electric things, and a million other things.
Here's what we've done (or had done) in the year since we moved in: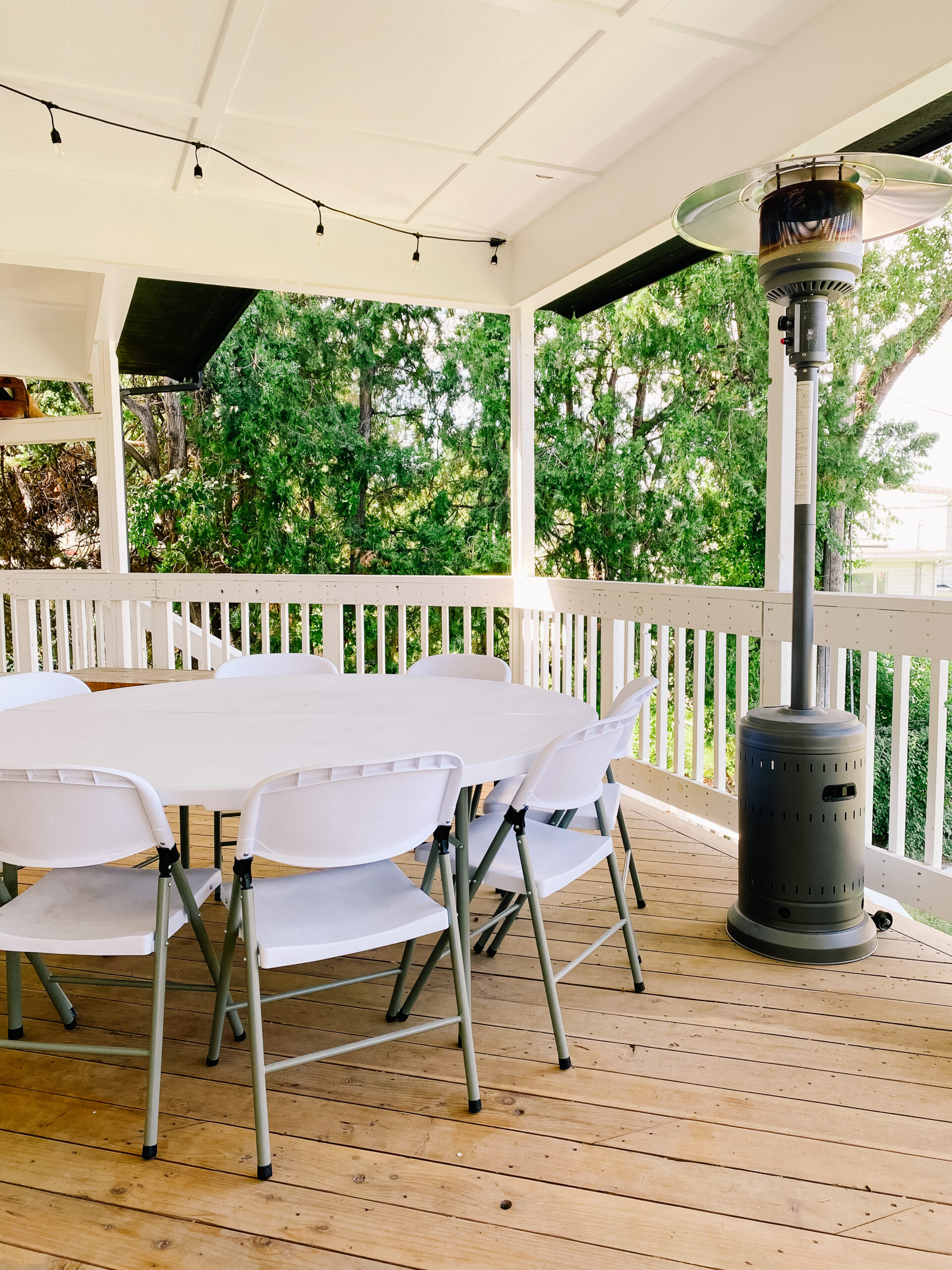 Finished the gym. One of the first things we worked on when we moved in was getting the gym set up and it has been SO GREAT to be able to work out at home, especially when it's cold and dark outside in the winter and driving to the gym sounds horrible. You can see the whole gym here.
Sanded and stained the back deck. I could write an essay about this whole ordeal. It was the FIRST thing we paid for when we bought this house, back in March of 2021 and didn't get done for more than eight months with a million false starts, multiple promised finish dates that were blown through, and then a bill five minutes after it was completed (I was SO tempted to spend six months sending him texts promising that I'd pay by next week for SURE and then not, just like he'd done to us, but I just paid it with smoke coming out of my ears). Now that it's finally done, we love having such a great outdoor space to eat, entertain, and hang out and look forward to using it all fall too. We bought three of these round table with chairs and two of these outdoor furniture sets, plus some big heat lamps to extend the use of the space.
Paneled and painted the guest bathroom. The previous owners had redone the guest bathroom but it was so incredibly bland (white and gray everything). Melissa, from Rye Interiors, showed me a photo of a black bathroom and I was immediately sold on it, since it would really make the light tile and white vanity pop. Our neighbor from our old house who did the majority of the trim and woodwork in our old house and this house.
Had a stair railing installed. It was an open drop-off into the stairwell for the first eight months we lived here, so this was a GREAT addition.
Added windows to the laundry room. The laundry room had windows that we could see from the exterior but inside they'd been completely covered over so we took out the drywall and replaced the broken window panes and its so nice to have some natural light in that space now!
Finished the art room. Bart had the fun idea to make the little closet under the stairs into an art room for the girls complete with secret entrance, but it sat unfinished for nearly a year. Finally, this summer we got it finished and I'm so happy with it! I'll do a full post about it soon.
Got a dining table and chairs for our dining room. The dining room still needs a new sideboard and something on the walls, but a real table and chairs is a BIG step up from the folding table that was in there for four months and I spend a lot of time doing puzzles at this table, plus it's great for playing games as a family.
Set up the back patio. I'd bought Bart a ping pong table for his birthday last year and it sat unopened on the patio below the deck for nearly a year. This spring, we cleaned off the whole patio which had mostly been a storage area for the contractor for months and months, added some outdoor seating, set up the ping pong table and added bistro lights and now we are out there all the time – Bart has friends over every other week or so for a night of ping pong playing and it's a delight to see this space so well used!
This next year, I'm hoping to get Tally's room wallpapered, finally pick out a rug for the living room, get the dining room finished, and things hung in the basement playroom to make it look more finished. There are two of the three bathrooms in this house that could use a renovation, but we're in no hurry on either of those.
It's been such a dream to live in this neighborhood with kids popping in and out to play with our girls, summer night bike rides, Sunday cookie walks, and being able to walk to Bart's parents house. And having a home with an eat-in kitchen, a bathroom of our own, and bigger spaces to entertain has been an absolute delight.
I feel lucky every single day that we get to live here.
If you liked this post, you might like these posts too: