Any one else accidentally buy an enormous bag of grapefruit because it was super cheap and then think, "I don't actually want to eat grapefruits for the next ten consecutive mornings"?
No?
Okay then, just me.
Then, might I recommend you go out and buy an enormous bag of grapefruit for these muffins? This grapefruit muffins recipe will use up one of them. So then you'll only have nine consecutive mornings to eat plain grapefruit and think, "Whyyyyyy?"
Also, the grapefruit cream will use up another one, so hey! Only eight mornings.
By the way, I'll just warn you now that the grapefruit cream is. . .kind of a pain. It's not hard, you just need a thermometer (After I had all the ingredients ready for this latest batch, I discovered my thermometer was BROKEN(!) and doing it without kind of made me insane. I don't recommend).
But it's so good, it was worth it. And I promise! Not hard. Just a lot of whisking and also . . . did I mention you need a thermometer?
It's like lemon curd. Except better – lighter and silkier and something I would eat with a spoon. Ella DID eat it with a spoon. (In all fairness, Bart prefers curd, while I prefer the cream. So I switch back and forth).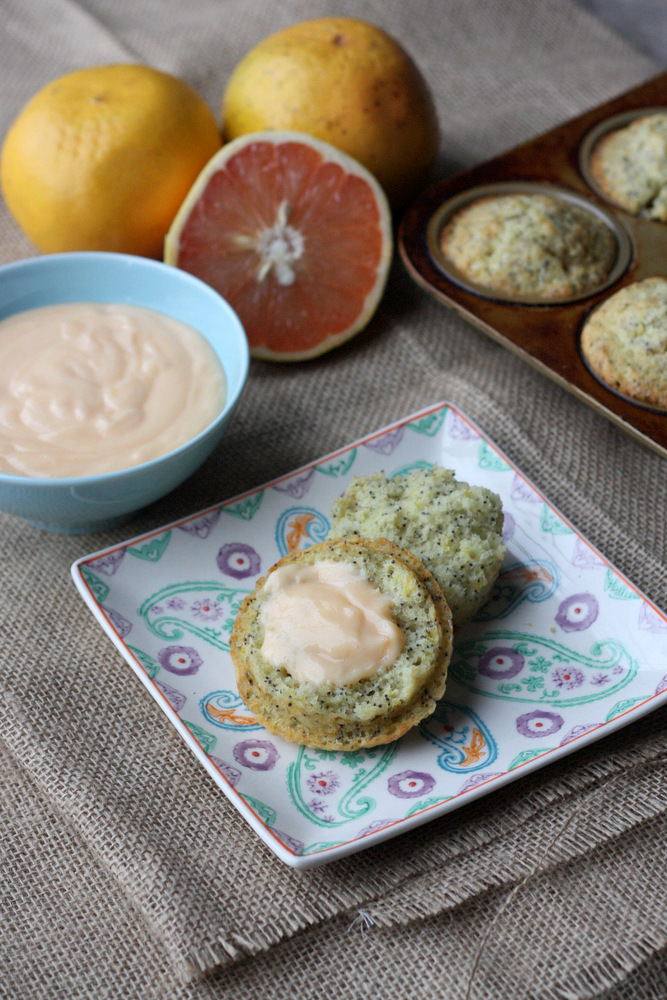 grapefruit muffins recipe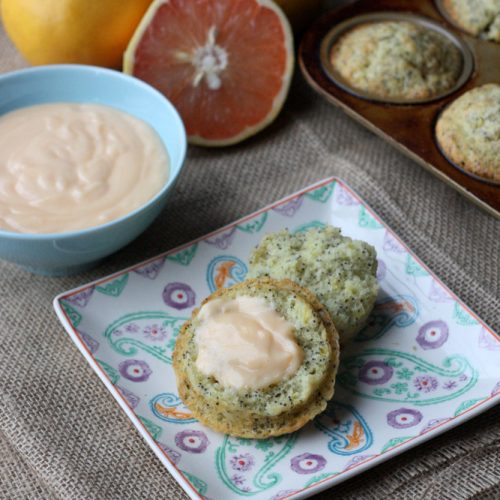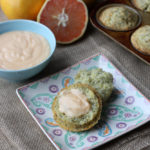 Grapefruit Poppyseed Muffins
Grapefruit Poppyseed Muffins -- a super delicious variation on the classic.
Ingredients
Muffins:
2

eggs

separated

1/2

cup

butter

room temp

2/3

cup

sugar

1 1/3

cup

flour

1

tsp

baking powder

1/2

tsp

baking soda

2

Tbsp

poppy seeds

Zest of one grapefruit

1/2

tsp

salt

1/2

cup

buttermilk

2

Tbsp

grapefruit juice

1

tsp

vanilla

Sugar for sprinkling on top

granulated is fine, but I like to use coarse sugar if I have it on hand.
Grapefruit Cream:
1/3

cup

sugar

Grated zest of 1 grapefruit

2

eggs

1/4

cup

grapefruit juice

7

Tablespoons

butter at room temperature

cut into tablespoons

TINY drop of red food coloring

optional
Instructions
Muffins:
Preheat oven to 350. Grease muffin tin or line with muffin liners and set aside.

In a mixing bowl, beat the egg whites until soft peaks form. Transfer to a small bowl and put in the fridge.

In the bowl of a stand mixer, cream butter and sugar until light and fluffy, about 3 minutes. Add the egg yolks, one at a time, until well-combined.

Pour the flour, baking powder, baking soda, poppy seeds, zest, and salt on top of the butter/sugar/egg mixture and beat for about 5 seconds. Add the buttermilk and beat again for just a few seconds. Add the grapefruit juice and vanilla. Beat just until smooth.

With a rubber spatula, fold the egg whites into the batter until just blended.

Spoon into muffin cups and then sprinkle with sugar.

Bake until golden brown and springy to the touch, 20-25 minutes.

Let cool slightly before removing and serving with grapefruit cream.
Grapefruit Cream:
Get a saucepan and a metal bowl that fits inside without touching the bottom of the pan. Put about about an inch or so of water in the saucepan (you don't want it to touch the bottom of the metal bowl) and bring it to a low boil.

Pull out your blender and put a strainer over the top.

In the metal bowl (don't put it over the boiling water yet), mix together the sugar and zest until well-combined (I use my fingers) and then whisk in the eggs and grapefruit juice.

Put the metal bowl over the boiling water and whisk constantly (you don't want your eggs to scramble) until it hits 180 degrees. It'll be a bit thickened, and it'll probably take about 5-10 minutes, depending on how hot your water is and how thick your bowl is, etc.

As soon as it's 180 degrees, remove the bowl (with an oven mitt so you don't burn yourself) and pour the mixture through the strainer and into the blender. Let it sit for about 10 minutes to cool (give it a stir every few minutes to help it cool down). Then put the lid on, start blending and add the butter, one piece at a time. If you want it to be slightly more orange-y/red, add the smallest drop of red you can manage.

Let it blend for 3 minutes, then pour it into a jar or bowl, cover and let chill until firm (or. . . just use it warm. No one has to know). Never go back to lemon curd.
Recipe Notes
(adapted from Williams-Sonoma Muffins)
(Grapefruit cream adapted from Dorie Greenspan)
if you liked this grapefruit poppyseed muffin recipe, you might also like these other posts: