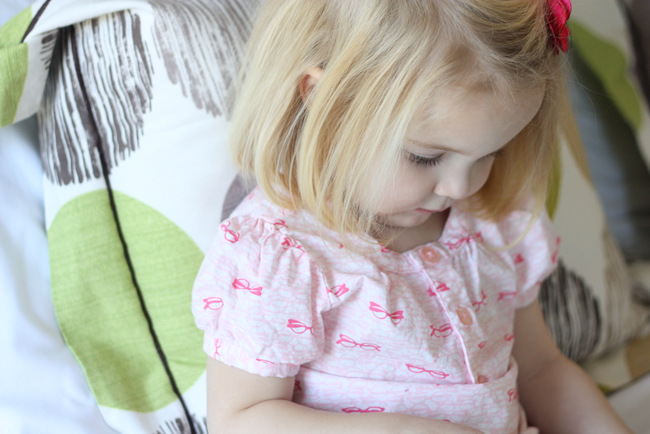 Janssen: Did you hear Ani? I think I heard her.
Ella: [listening] No. I don't hear anything. I think she must have given up. She probably just thought, "Oooookay, Mom is never going to get me out of my crib."
Ella: Dad, open this present I have for you! [hands him an invisible present]
Bart: Oh wow! Thank you! What is it?
Ella: It's some keys. To a new car.
Bart: Thank you so much! What kind of car did you get me?
Ella: A minivan.
After I got pretty irritated with a bunch of whining in the car:
Ella: We are NICE in this family. And you were not being nice.
Janssen: Ani, you have the cutest little baby tooth!
Ella: But where is the mommy tooth and the daddy tooth?
Ella: I'm just going to give Ani these puzzles, because I'm not so much of a puzzle fiend anymore.
Ella: I'm kind of done with babies.
Janssen: But aren't you the master of babies?
Ella: No. I'm just the master of Ani.
Ella: I wish Celeste was my mommy. And you could be my sister. My very old sister.
Janssen: . . . .
Ella: My very very VERY old sister.
Bart: (making a stuffed animal talk) Let me tell you about my grandma.
Ella: I don't want to hear it.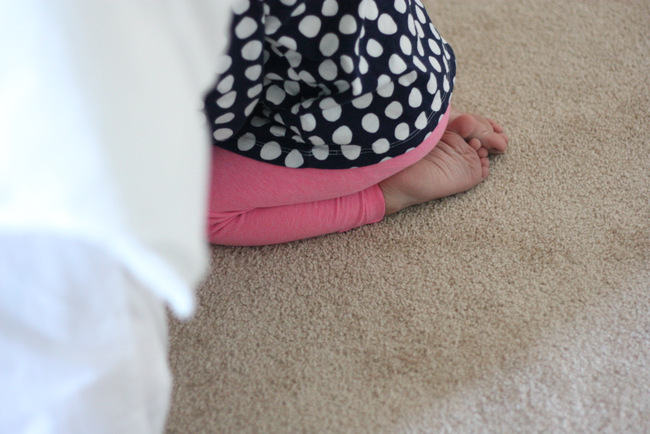 Someone is starting to resist having her picture taken. When I pulled out the camera last week, she hid under the bed.
Ella: Can I have three chocolate chips?
Janssen: Yes. Because I'm a very nice mommy.
Ella: Nice mommies give their children chocolate chips. Mean mommies punch their children in the face.
Janssen: . . . .
On our road trip to Alabama, Ella looks up from the iPad to discover it's completely dark (and pouring rain) outside the car:
Ella: I can't see a dang thing!
As we're leaving a second store and preparing to go to a third one
Ella: [long sigh] It would be just so wonderful if we only went to two stores today.
Out of nowhere:
Ella: You can't just do whatever you want, Mom. [pause] You know that, right?
P.S. More Ella hilarity here.