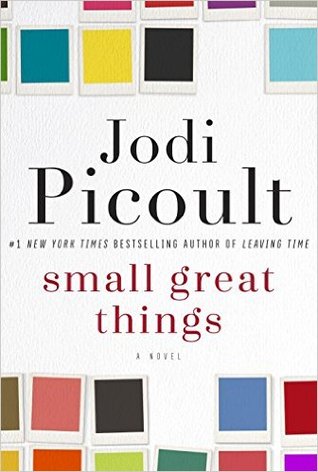 Almost exactly three years ago, I read my first Jodi Picoult book.
It was her newest book, Leaving Time, and I was a little underwhelmed (you can read my full review here).
I didn't dislike it, I just wasn't swept away enough to put more of her books on my to-read list when it was already overflowing.
But then in the last round of Tell Me What to Read, three separate people recommended her newest title, Small Great Things, and so I put a hold on the audio version from my library.
When it came up some six or eight weeks later, I started listening and almost immediately, I was sucked in.
I didn't even know what the book was about, so I went into it with zero expectations.
small great things by jodi picoult
The story follows three characters.
First, you have Ruth Jefferson. She's a labor and delivery nurse with two decades of experience and an excellent bedside manner.
She's a military widow, raising her teenage son on her own (and doing a pretty darn good job of it – he's an honor student on track to go to college).
She's also African-American.
Then, there is Turk Bauer. He and his wife are having their first baby and they cannot wait.
They're also white supremacists.
As you can imagine, they are not thrilled (understatement of the century) when Ruth appears in their hospital room to check on their brand-new baby.
They request that Ruth be removed as a care provider for their baby because they don't want anyone "like her" touching their baby.
This might have been over once Bauers left the hospital never to see Ruth again, except that the next day, the Bauers' baby goes into cardiac arrest and dies.
And, of course, the only person in the hospital nursery when it happens is Ruth, who was under orders from her supervisor not to touch the baby.
Which brings the third person into the story.
Kennedy McQuarrie.
She's a white public defender and she's assigned to Ruth's case.
Because the Bauers are suing Ruth for the murder of their child.
So pretty quickly, you have the stage set for a high-stakes trial that is getting a fair amount of publicity.
For Kennedy, this is her first murder trial and really wants to win it. And she's pretty sure that bringing race into the case is going to turn the jury against Ruth – she is anxious to convince Ruth not to bring race into it.
Ruth is conflicted by her desire to not spend the next years in prison and her desire to speak out against the racism, both blatant and subtle, that have been a part of her life from the moment she was born.
There's a lot going on in this story and Jodi Picoult does a masterful job weaving it all together. You have Ruth and Kennedy's relationship, as they both see new sides of racial issues that they hadn't been aware of before. Ruth is struggling with her relationship with her mother who has spent fifty years as a maid and cook for a white family, and she's also trying to deal with her son who, as you can imagine, is not responding well to his mother being accused of murder.
Kennedy is trying to make sense of this case – what's the balance between doing the right thing and not losing her case (and landing her client in prison)? Plus, she's being forced to see how very different her world is as a white woman than it is for Ruth as a black woman, despite the fact that they live in the same neighborhood, both work as seasoned professionals, and are mothers to children they love deeply.
You also get a lot of Turk's background and how he's become the angry racist he is now.
I knew from my last Jodi Picoult reading that she's not afraid of some intense language, and that's certainly the case here. The chapters from Turk's point of view had a fair amount of swearing and many deeply offensive views on non-white groups. Consider yourself warned before you pick it up.
The audio version of Small Great Things is pretty exceptional (I saw after the fact that it won the 2017 Audie Award for a Multi-Voiced Performance and I can't argue) too, and I remembered again how much I love listening to a book that makes me want to fold laundry.
I've read several books about racism in American this year, including The Hate U Give and Dreamland Burning, and this one addressed some really interesting issues, particularly how white Americans think about and deal with racism (especially those of us who, like Kennedy, want to think we aren't racist and "don't even see color.").
One thing that really stood out to me was about how African-American parents talk to their children about race all the time, whereas white parents rarely do.
And how if you asked a white person to list off some of their defining characteristics, the fact that they are white would almost never be one of them – because it's the default in America, we hardly even think about the fact that we're white, even though being white drastically changes what our life looks like in ways we don't even notice or acknowledge.
This is one of those books I desperately wish I still had my Austin book club to discuss it with.
Small Great Things is being made into a movie with Viola Davis and Julia Roberts as the stars, and I'm really interested to see how it turns out (I don't think they've even started production yet, so it'll be a while until it's released).
After I read Leaving Time, I said that I didn't think that I was necessarily going to be running out to read more of her books, but after Small Great Things, I'm dying to read something else of hers. Any suggestions on which other ones to pick up?
Also, if you have other suggestions about books that deal with race in America, I'm all ears.
If you liked this review of small great things, you might also like these books: