All of my children lean heavily toward fiction in their personal reading, but in the last year or so, my two older girls have developed an interest in biographies and our dinner conversations often sounds like a game show as they quiz us about famous people.
Whether you're looking for biographies for a school project or because your child loves learning more about famous individuals, these biography books for kids are a perfect place to start.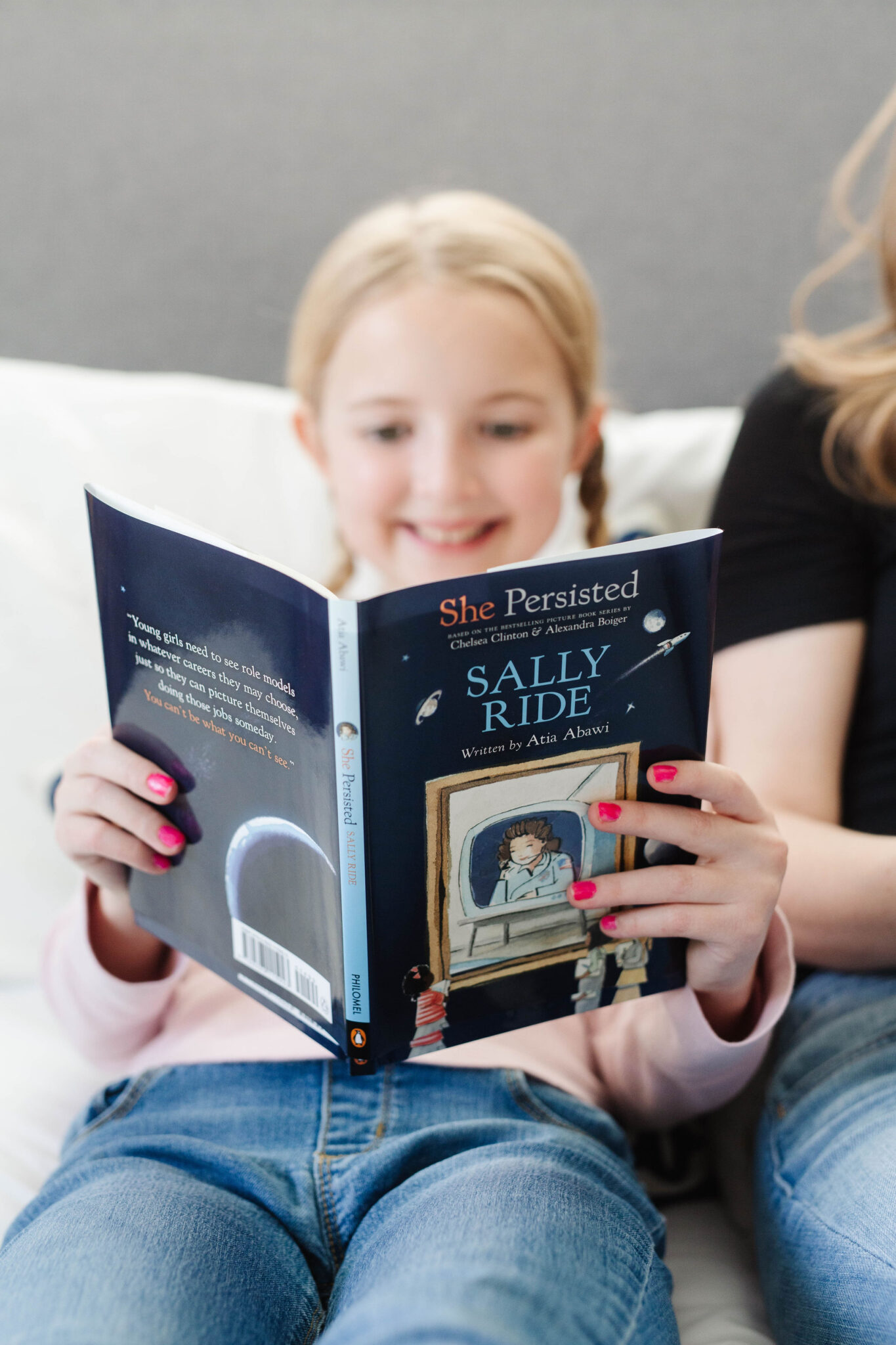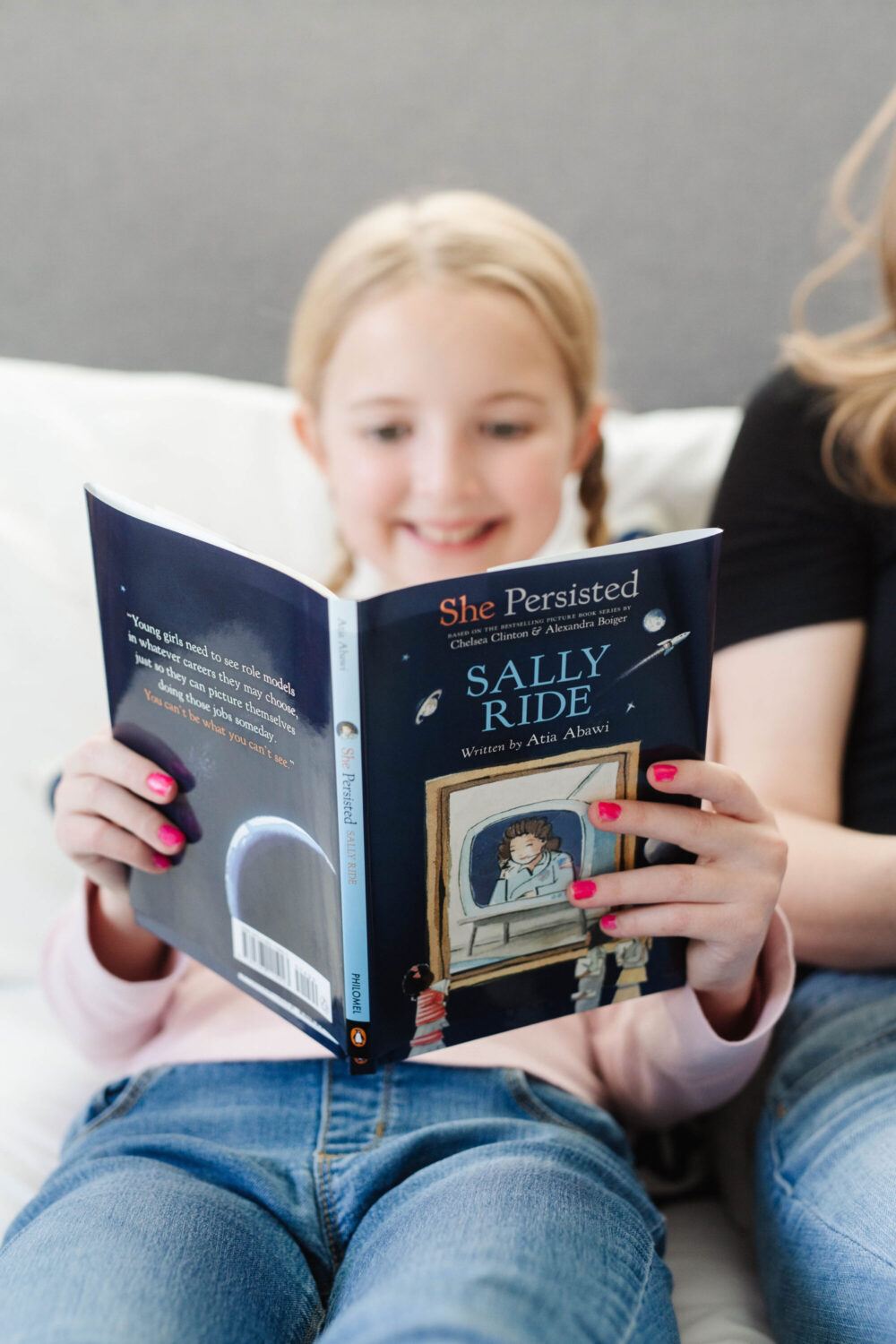 The Best Biography Series for Kids
Ordinary People Change the World by Brad Meltzer, illustrated by Christopher Eliopoulos
This wildly popular biography series is perfect for young readers. Each book is 40 pages long, has full-color illustrations and is bursting with interesting stories, quotes, and facts. Both of my older girls (8 and 11) love reading these solo, and my 6 year old loves for me to read them to her. They cover a wide range of people from politicians to athletes, movie stars to artists, historical figures to scientists. I think I love them as much as much as my girls do!
40 pages // 27 books in the series
Who Was. . . Series
Ella discovered this series when she was required to read some non-fiction for school (she's a fantasy or mystery reader all day, every day) and she ended up loving them, plowing through dozens of the books in the series and regaling us with fun facts about various historical figures at dinner time. They're written by a wide variety of authors so some are better than others, but they are a really engaging series.
100-120 pages // 200 books in the series
Little Leaders by Vashti Harrison
This is a little different than some of the biography books on this list, because these books each feature more than a dozen different people rather than each book focuses on a single person. Little Leaders is about women in Black history, Little Legends is about men in Black history, and Little Dreamers features visionary woman around the world. These are absolutely beautiful books, both story and illustration wise.
96 pages // 3 books in the series
Little People, Big Dreams by Isabel-Snchez-Vegara
This wildly popular series is growing super fast and each of them tells the story of someone famous (although there are a surprising number of featured people that I've never heard of!), with teh story of their childhood and their dream of doing something great. They're not super text-heavy and the illustrations vary from book to book, since it's not always the same illustrator. At the back of the book, there is a section with photographs and facts about their life.
32 pages // 71 books in the series
She Persisted Series
This chapter book biography series was inspired by the picture book collections Chelsea Clinton wrote that featured a dozen plus incredible women. These chapter book versions focus instead on a single woman and are each written by a different author. They're terrifically done and just launched this year, with new titles slated for release through the end of the year (and I assume more coming next year). I love seeing some of the lesser-known women they choose to feature along with more widely known women.
76 pages // 13 books in the series
Good Night Stories for Rebel Girls by Elena Favilli and Francesca Cavallo
This four book collection (the fourth book comes out later this month) has bite-size stories of incredible women from around the world with 100 stories in each of the books. If you're looking for an easy way to incorporate biographies and non-fiction into your routine, these books are a super simple way because you can read 1-2 of the stories at a time without feeling like you have to commit to a whole book at once.
200+ pages // 4 books in the series
National Geographic Readers Series
I knew that National Geographic did fantastic non-fiction books for young readers but I hadn't really realized that they did biography books too. For those younger readers who are fascinated by true stories, this is the series for them!
32-48 pages
The Story Of  . . . 
This biography series is pretty new and they are aimed at readers around 6-9 years old, with relatively simple text. They have a wide range of featured people from those who are still living to ones who lived hundreds of years ago across politics, art, science and more. They are also all included with Kindle Unlimited, so if you have a membership (or sign up for a free trial), you or your child can read them for free!
76 pages // 31 books in the series 
You Should Meet
It can be tricky to find biography books for kids that are still relatively new readers and this series does an excellent job filling that hole in the market. They're a Level 3 reader, so you need to be a somewhat competent reader, but the text isn't too heavy or difficult, they are full-color and they're under 50 pages. And they have so many interesting people featured – I can't wait to see who else they do books about!
48 pages // 14 books in the series
A True Book: Biographies Series
My main complaint about this (very excellent) series is that it's hard to find a complete listing of all all the books that make it up. For other biography series on this list, I've been able to link to a single page that lists all the books, but this one doesn't even have such a thing from the publisher. So you may have to dig for them a little bit, but these excellent biographies for young readers are worth the effort.
48 pages
Getting to Know the World's Greatest Artists and Getting to Know the World's Greatest Composers by Mike Venezia
We used these books when we homeschooled Ella and they are just SO FUN. These biography picture books really make these artists and composers come to life with lots of doodles and cartoons, funny dialogue, and lots of fascinating facts. These are 100% books I'd read on my own for a quick overview of these famous artists and composers!
40 pages // 47 books in the Artist Series // 14 books in the Composers Series
Any favorite biography series for kids I missed? Please let me know in the comments!
If you liked this list of biography books for kids, you might like these posts too: