Ella is officially done with fifth grade and positively devastated that sixth grade is still elementary school for her.
(Somehow, she's convinced that middle school is going to be the most awesome experience of her life. I sincerely hope that it lives up to her expectations in another year).
As usual, she's been reading up a storm, including a lot on her Kindle because she can read in the dark while sharing a room with all three of her sisters while we live at my in-laws.
Here are some books she's loved lately!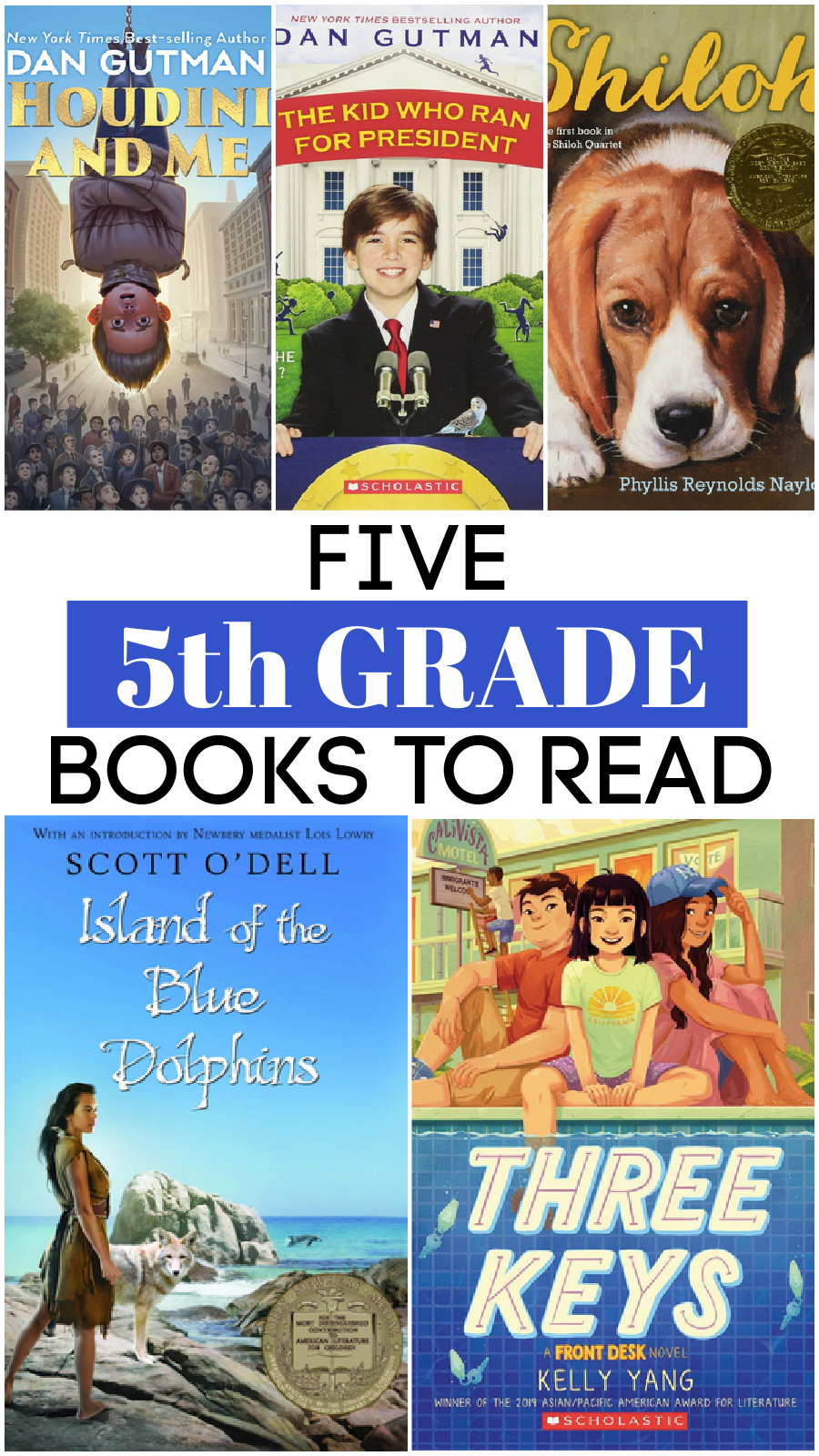 Houdini and Me by Dan Gutman
224 pages
I saw this book on one of Amazon's recommended books for kids and picked it up at the library (probably not how Amazon was hoping their list would be used. . . ) and it was a SERIOUS hit. My girls just loved it and we blew through this story of Harry, a young boy who lives in the house Houdini once inhabited and loves learning more about the famous magician. But things take a surprising turn when he discovers an old flip phone and it starts receiving texts from someone who claims to be the real Harry Houdini. Could it be possible? And what does Houdini want? I included this one on the Summer Reading Guide!
What Ella has to say: This was a read aloud that my mom read to us and it was SUPER fun. It was a very strange concept, honestly, but done really well. I liked learning how Houdini did some of his most famous magic tricks and it was really cool how they switched and how different the early 1900s were. It was also really intense when Harry had to pull off Houdini's tricks even though he'd never done them before!
The Kid Who Ran for President by Dan Gutman
176 pages
Would you vote for a kid for president? Judson Moon hopes the answer is yes. This is a funny and even a little bit educational look at what it takes to become president of the United States of America and how it's not as fun as a kid might imagine.
What Ella has to say: This was a really fun book that I got on my Kindle and it was very funny and interesting because there is a kid who is running for president, but there is another boy who is his campaign manager and the two of them have very different opinions. It made the US government and elections make more sense to me and I understood a little more what's possible and what's not possible. I just thought it'd be an interesting book, but I didn't realize until I was writing these that this was written by the same author as Houdini and Me!
Shiloh by Phyllis Reynolds Naylor
 144 pages
I wasn't at all surprised when my dog-loving child was taken with this Newbery-winning book about Marty Preston who finds a beagle in the hills and falls immediately in love with the dog he names Shiloh. It seems like a match made in heaven until he discovers that the dog belongs to Judd Travers, a local alcoholic who abuses the multiple dogs he owns. The idea of letting Shiloh go back to Judd is unthinkable, but. . . .can he keep a dog a secret forever?
What Ella has to say: I read this book for my Star Reader chart at school because it was an award winner. I think it's a little better for older kids (I don't think my sisters would have enjoyed it as much) because it's not as funny or fast-paced as some of the books they like, but I really liked it and I especially liked how good Shiloh is. It's so cool that Shiloh helps Marty by being calm and never trying to break out. I really liked the ending and how Judd eventually comes around, plus that Marty won't give up on Shiloh no matter what happens.
Island of the Blue Dolphins by Scott O'Dell
192 pages
I absolutely loved this book as a child and it was a delight to see Ella pick up this beloved historical fiction novel about a 12-year old girl who finds herself alone on a Pacific island after she jumps from a rescue ship and spends eighteen years fighting for survival on her own.
What Ella has to say: I have mentioned this before when I talked about Hatchet, but I really like survival stories (especially if they're a graphic novel,  but that's just because I love graphic novels. Tragically, I've never read a survival story graphic novel, so if you have suggestions, please let me know). It was really interesting especially because it was on a deserted island instead of in a forest or jungle, and just a bunch of wild dogs. I really liked how it showed so much of her feelings about being left alone, not just what happened.
Three Keys by Kelly Yang
288 pages
I really loved Front Desk, but haven't gotten to the sequel yet, so I was delighted when – after  finishing Front Desk – Ella picked this one up and blew through it. Mia Tang thinks life is finally picking up – her parents now own the motel where they live and work and she's getting to be a better writer. But then in sixth grade, her new teacher is less than impressed with Mia and economic struggles continue to plague her family. Plus a new possible immigration law might change everything for her family.
What Ella has to say: This is the sequel to Front Desk and I actually liked it better than Front Desk. I think part of this is because I already knew the characters and Front Desk has a little bit of a slow start. Because I do Chinese immersion, it's really interesting to me to see how China is different from America and how the two cultures are similar or different. I liked the plot and I liked how Mia wouldn't give up no matter what happened.
And if you'd like a printable copy of this list of fifth grade books that you can take to your library or screenshot on your phone for easy access, just pop in your email address below and it'll come right to your inbox!
IF YOU LIKED THIS LIST OF GOOD BOOKS FOR FIFTH GRADERS, YOU MIGHT LIKE THESE POSTS TOO: