This week has been bananas.
My girls started early morning swim team and ice skating lessons, we are at decision points for many things in our new house, and we're headed out of town this weekend.
My brain is so frazzled!
I'm hoping for plenty of time in the next week to curl up with a good book and not have anything on my to-do list!
Here are some of my favorite books on sale this weekend!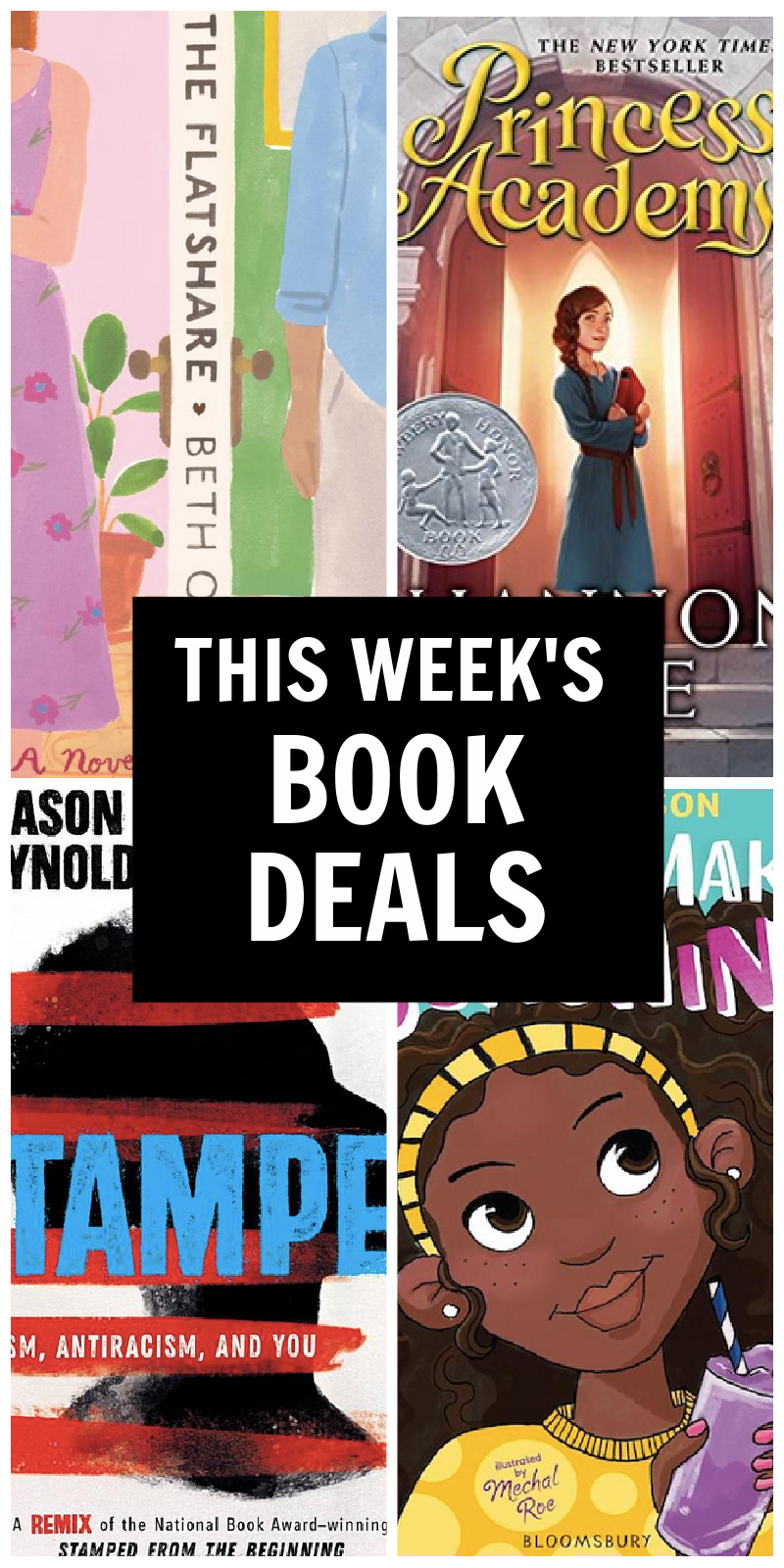 6 Terrific Book Deals for the Weekend
The Flatshare by Beth O'Leary – ebook
I was drawn in by the premise of this book – two people who live in the same apartment, but have never met – but then I was drawn in by the characters, the story and the unexpected humor. Tiffy is coming off a bad breakup and needs a new place in a hurry and Leon only uses his apartment for sleeping during the day since he works a graveyard shift. As the two start leaving notes for each other (at first slightly snippy), they slowly come to like each other but. . . they've still never met. This was one of the books from the 2020 Summer Reading Guide.
New Kid by Jerry Craft – ebook
I read this one for my children's literature bookclub and it sucked me in from the first page. I finished it in two days and had to include it on the best books I read in 2019 and for the Everyday Reading Book Club this month! Such a wonderful, warm tale of a middle schooler who is going to a rich, private school as one of the few people of color. It's smart and funny and I loved every page.
A Girl From Yamhill: A Memoir by Beverly Cleary – ebook
If you're a Beverly Cleary fan, you'll love this memoir about her childhood during the Great Depression in Oregon.

Stamped: Racism, Antiracism, and You by Jason Reynolds and Ibram X. Kendi – ebook
This is an excellent remix of Stamped from the Beginning: The Definitive History of Racist Ideas in America for younger readers (it's still not meant for really young kids – I think it'd be way over the heads of most elementary schoolers because it assumes you have a fair amount of background knowledge of US history and politics). Jason Reynolds is a terrific writer and also a top-notch narrator – I highly recommend it!
Ways to Make Sunshine by Renee Watson – ebook
This one has been compared a million times to the Ramona books and it's an accurate comparison. We all LOVED this delightful novel about a little girl and her family in Portland Oregon. I'm anxious awaiting the sequel.

Princess Academy by Shannon Hale – ebook
I read this book on paper, then Bart and I listened to it when we moved to Boston and had days of driving a U-Haul together, and the girls and I just listened to it in the car this past fall. Don't let the title fool you – this book isn't just for girls. This book is great for all ages, boys and girls alike – with as much adventure and intrigue as you could hope for. (Full review here)