When I shared a list of crazy good audiobook deals with books for less than $4 (and many of them under $1) last month, I got so many requests to put together another list with even more options.
I've spent the last few weeks scouring Amazon for smoking deals on children's audiobooks and I'm delighted that there are so many great ones.
Whether you're keeping children entertained on the road or managing boredom on a long afternoon at home, a stash of children's audiobooks are parenting GOLD.
I hope this list of audiobook deals will help you stock up without breaking the bank and keep you and your children entertained with old favorites and new discoveries!
(And remember that you don't need an Audible subscription to take advantage of these audiobook deals! Just buy them on Amazon, download the free Audible app and they'll instantly appear, yours forever!)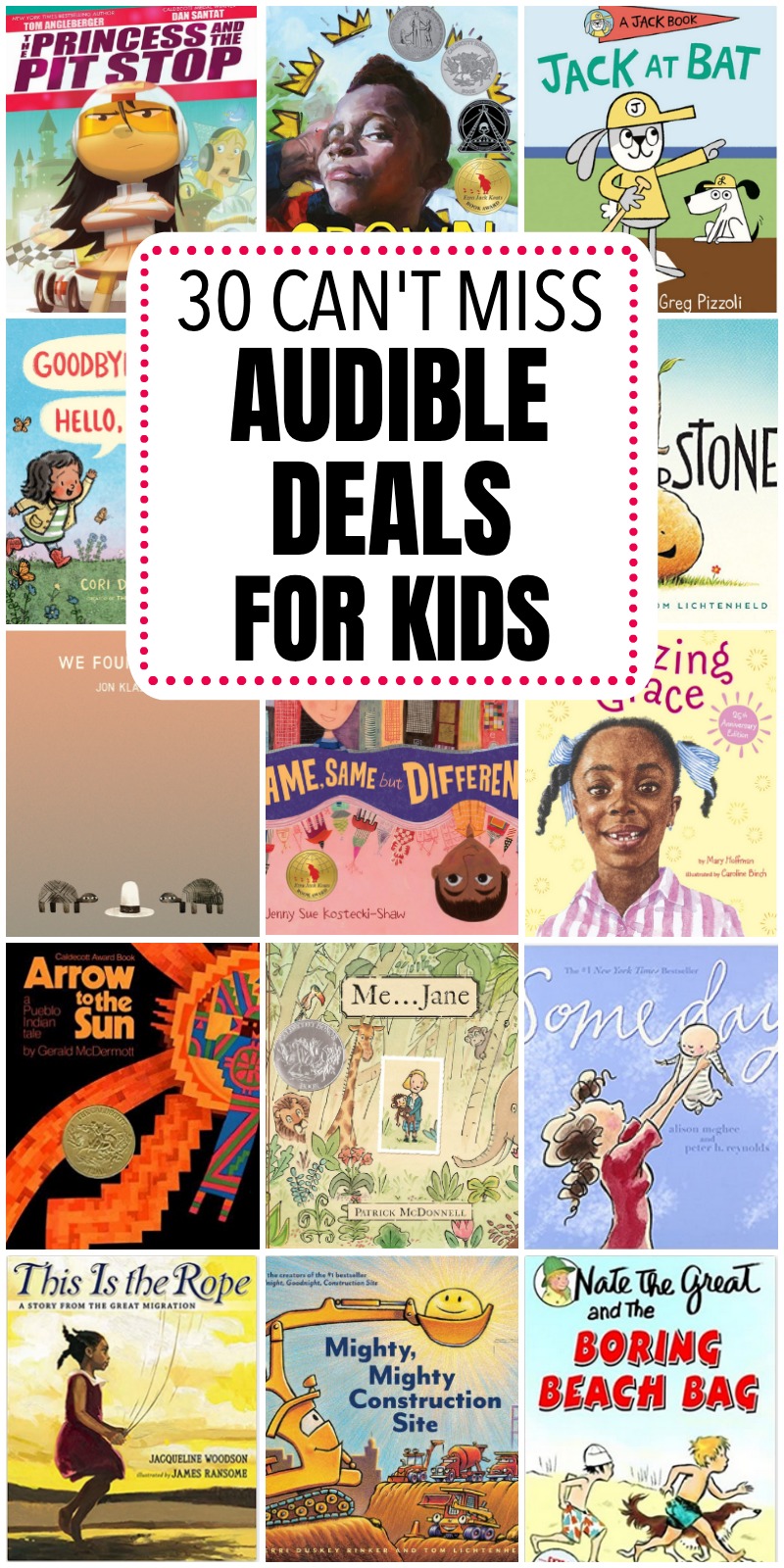 30 MORE AudiOBOOK Deals under $2
Groovy Joe: Dance Party Countdown by Eric Litwin ($0.69)
Our family LOVES Groovy Joe and the music makes this audiobook extra fun.
Hush, Little Bunny by David Ezra Stein ($1.31)
I love David Ezra Stein and this book is so sweet and soothing. The perfect bedtime audiobook.
Mighty, Mighty Construction Site by Sherri Duskey Rinker ($0.69)
I was delighted to see this wildly popular book available for such a great price. If you've read this one to your child one million times, you'll be glad for someone else to read it aloud instead!
Lola at the Library by Anna McQuinn ($1.32)
A friend gave me a board book copy of this when Ella was born and it was one of her favorites for years.
Amazing Grace by Mary Hoffmann ($0.69)
When her school announces that they'll be putting on a theatrical performance of Peter Pan, Grace desperately wants to be Peter. But her classmates think there's no way, since she's both Black and a girl.
We Found a Hat by Jon Klassen ($0.69)
When two turtles find a hat and both want it, you know there's going to be trouble. And coming from Jon Klassen, you know it's going to be hilarious trouble.
Leo: A Ghost Story by Mac Barnett

Leo is a ghost and he's desperate for a friend. But it seems like all humans are just terrified of him.
Same, Same But Different by Jenny Sue Kostecki-Shaw

Elliot and Kailash are pen pals, with their letters zipping from America to India and back again. As they share stories about their daily lives, they see both the similarities and differences between their experiences.
Noah's Ark by Jerry Pinkney
Jerry Pinkney is one of my favorite author/illustrators and he brings this biblical story to life beautifully.
Me…Jane Audible by Patrick McDonnell
What was Jane Goodall like as a girl? This charming book (which won a Caldecott Honor!) gives you a little peek into her childhood and how it led to her life-long work with Gorillas.
Stick and Stone by Beth Ferry
Stick and Stone become instant friends when Stick rescues Stone from a prickly situation with a Pinecone. But will Stone return the favor when the opportunity arises? This is a great book with a much needed anti-bullying and friendship message.
Children Make Terrible Pets by Peter Brown
I have read this book hundreds of times. All four of my girls have gone through a stage where it was their number one favorite book . . . and I can't blame them!
Arrow to the Sun by Gerald McDermott

Read by the author, this Caldecott winning book retells an ancient legend about the sun.
Fancy Nancy by Jane O'Connor

My girls LOVE Fancy Nancy and all her big words. It's so fun to hear them repeat those fancy words after hearing them on the audiobook version!
You Are (Not) Small by Anna Kang
Size is all relative! Two animals can't agree on which of them is big and which of them is small. But when more animals arrive, they realize it all depends on who you're standing next to.
Goodbye, Friend! Hello, Friend! by Cori Doerrfeld

Change, especially when it means a friend moving away, is hard. But for every goodbye, there's also a hello.
This Is the Rope by Jacqueline Woodson

This stunning story of a family heading north during the Great Migration starts with a little girl in South Carolina who finds a rope left beneath a tree. It might look like nothing but a simple piece of rope but it becomes an important part of her family including her children and grandchildren.
Someday by Alison McGhee

This beautiful book about the possibilities of life is the perfect baby shower gift or audiobook to listen to as you rock your little one.
Bedtime for Sweet Creatures by Nikki Grimes

Mommy is trying to get her little boy to sleep but he isn't having it. Instead, he growls like a bear, he questions like an owl, and tosses his mane like a lion. Can Mommy ever get him to settle down for the night?
Du Iz Tak? by Carson Ellis

A full cast audio production really brings this book of nonsense to life!
Moon! Earth's Best Friend by Stacy McAnulty

Packed full of facts and interesting info, this lighthearted look at the moon and her relationship with Earth is perfect for little space lovers (and it's nearly 20 minutes long!)
The Ugly Vegetables by Grace Lin

I love every Grace Lin book I've read, but this one was new to me about a girl who wishes her garden was full of gorgeous flowers instead of ugly vegetables. But which do you think make a better soup?
Camp Tiger by Susan Choi

Every year, a family goes on their traditional camping trip. But this year. . .things are a bit different.
Crown: An Ode to the Fresh Cut by Derrick Barnes

This Caldecott Honor book from a few years ago is just 100% delightful about the magic of a good hair cut.
The Princess and the Pit Stop by Tom Angleberger
This princess makes a pit stop and discovers that she's in last place. Maybe she should just give up. . . or not.
Round Is a Tortilla: A Book of Shapes by Roseanne Thong
The rhymes in this book make it delightful to listen to and a great way to introduce or reinforce the concept of shapes.
Jack at Bat by Mac Barnett

This beginner reader series is funny and a little wacky (what else would you expect from Mac Barnett?) and every book in the series is only $1.32 right now so grab a few of them or the whole set!
Little Wolf's First Howling by Laura McGee Kvasnosky

What happens when your parent takes you to the top of the mountain for your first time howling at the moon? Not what you expected!
Nate the Great and the Boring Beach Bag by Marjorie Weinman Sharmat

I mean, does it get better than Nate the Great? I'm not sure it does. 28 minutes of happiness, right here.
The Great Louweezie by Erica S. Perl

I included this series in my list of beginner chapter books and I'm so happy that the audio version is super inexpensive too!
Let me know which of these audiobook deals you grab – I hope they make your life a little more fun!
And if you'd like a printable copy of this list of audiobook deals that you can reference for easy access, just pop in your email address below and it'll come right to your inbox!
If you liked this post about audiobook deals, you might like these posts too: