Want the most buzzy new books delivered right to your doorstep? Book of the Month Club is definitely my favorite book subscription because you get to choose from five great selections each month. Try it for $5 here! 
Whenever I get asked about monthly book subscriptions for children, I always recommend Bookroo. I wrote a whole post earlier this year with all the reasons I think it's the best option out there.
When I get asked about book subscriptions for grown-ups, my go-to recommendation is Book of the Month Club.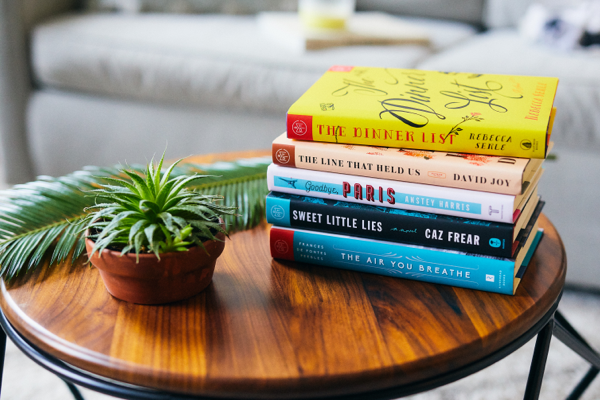 And if you don't think I'm going to share alllllllll about why I love Book of the Month Club, you probably don't know me at all.
A little about Book of the Month Club
So Book of the Month Club is basically the original subscription box. They launched in 1926 (apparently The Sun Also Rises was their first choice) so they are definitely not a flash in the pan.
For me, the biggest selling point is that every month they choose FIVE books and you get to pick which once you want to receive.
They have a panel of judges (almost always other very successful authors) who look through hundreds of books and narrow it down to five. They generally have their eye out for books that they think will be best-sellers, so you're not likely to get something super obscure.
Usually at least one of the books is one that won't publish until the next month, so you get an early peek at a hot new book, which is extra fun.
Book of the Month Club Reviews
I am also obsessed with their reviews of the books. I read a LOT of book reviews and I don't think anyone does them better than Book of the Month Club.
First, when you log in to your account, you can see all five books and there is a one sentence description of each (with a genre tag too).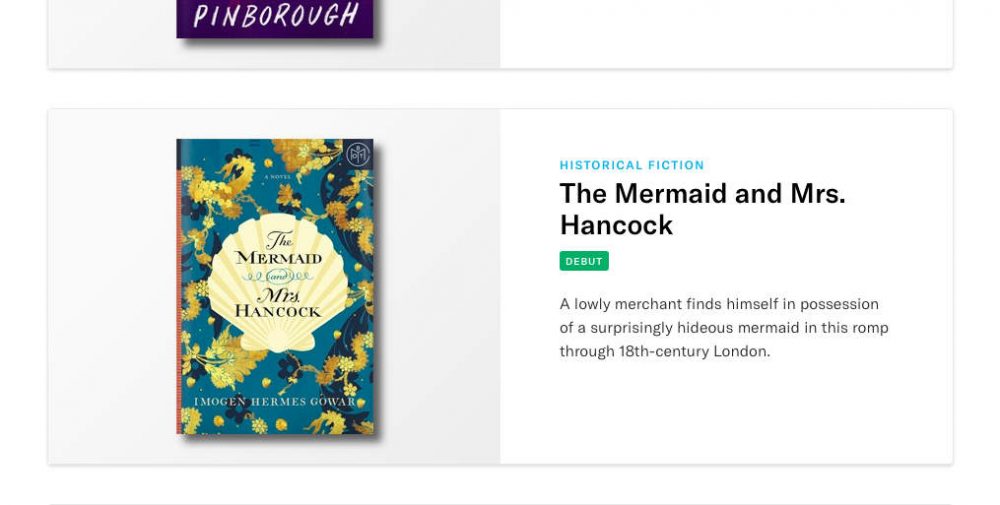 Then if you want more details about a book, you can click on any of the five and it'll give you a few more details about the book in the form of icons (I find this surprisingly delightful) and then a review by one of the judges or the editorial team.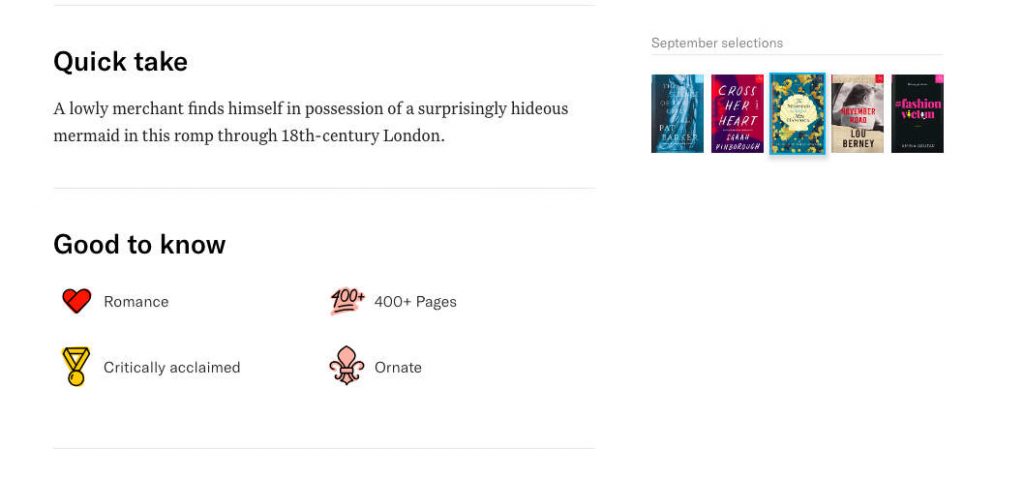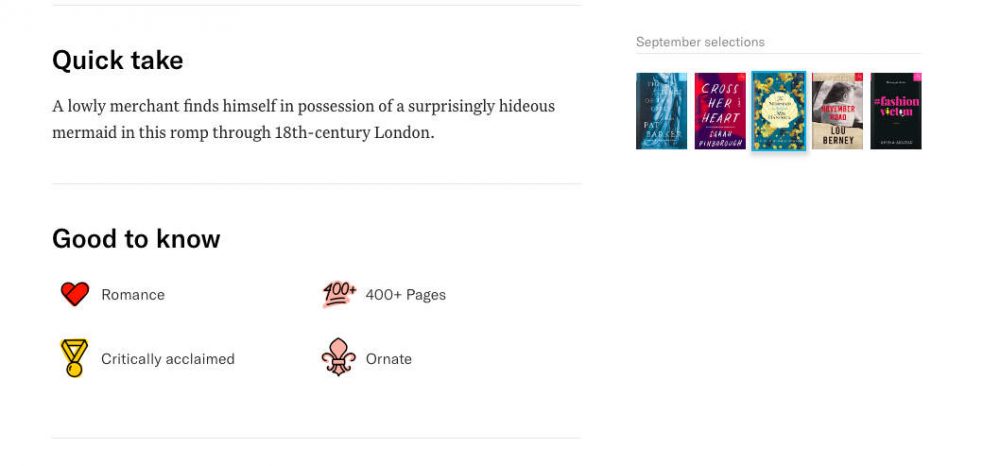 These reviews are SO GOOD and are fantastic at helping me know very quickly whether I'm interested in a book or not.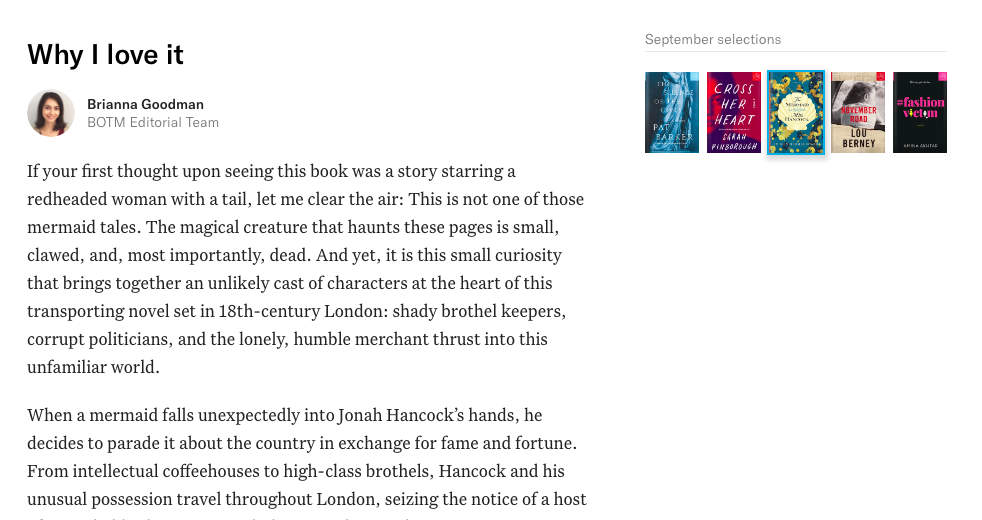 And even if it's not a book I'm going to choose for my read, it helps me know more about the books that are certain to be popping up over the next few months on bestseller lists.
They also have a fantastic blog with author interviews or fun infographics like this one that helps you pick which  book title is your best bet.
Book of the Month Club Cost
The monthly cost for Book of the Month Club is $14.99. You can add up to two of the other books from the five selections (and sometimes books from past months if they're still available) for $9.99.
Book of the Month Club shipping is always free and you can skip any month you want (easily – none of the call-in baloney that some subscriptions have).
You can also give a Book of the Month Club subscription as a gift, which is one of my go-to last-minute gift recommendations. For any book lovers or someone who is looking to start reading more, a Book of the Month Club gift is a slam dunk option!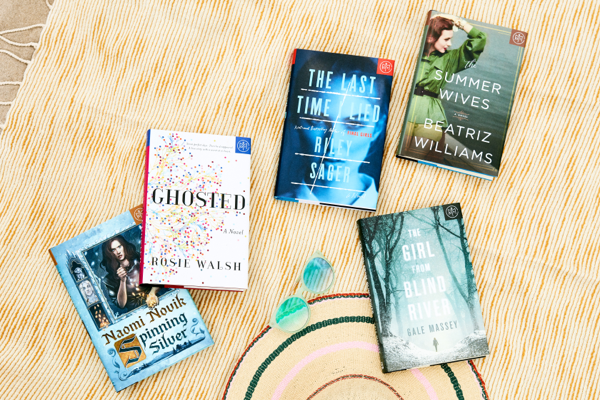 Any other questions about Book of the Month Club? I'm happy to try to answer!
If you liked this post about Book of the Month Club, you might also find these posts useful: