Nine years ago, I made a list of 100 favorite picture books.
I never expected it to become an annual tradition, but here we are with the ninth annual 100 Picture Books list!
I love checking out huge stacks of picture books all year long and reading them on my own or with my kids to see which ones will make the cut (and we're picky!).
There are the 100 children book titles that made the cut this year and they include fiction and non-fiction titles, funny and tear-jerking ones, bright colorful ones and subdued, sweet ones.
I hope it helps you discover new favorite titles and authors and illustrators!
Pop in your email address and I'll send you a PDF version with all the titles and all the covers of these picture books for kids so you can print it out and take it along to your library or bookstore or check them off as you read them this summer!
Happy reading!
(And you can also see all the previous lists here, if you'd like even more options!)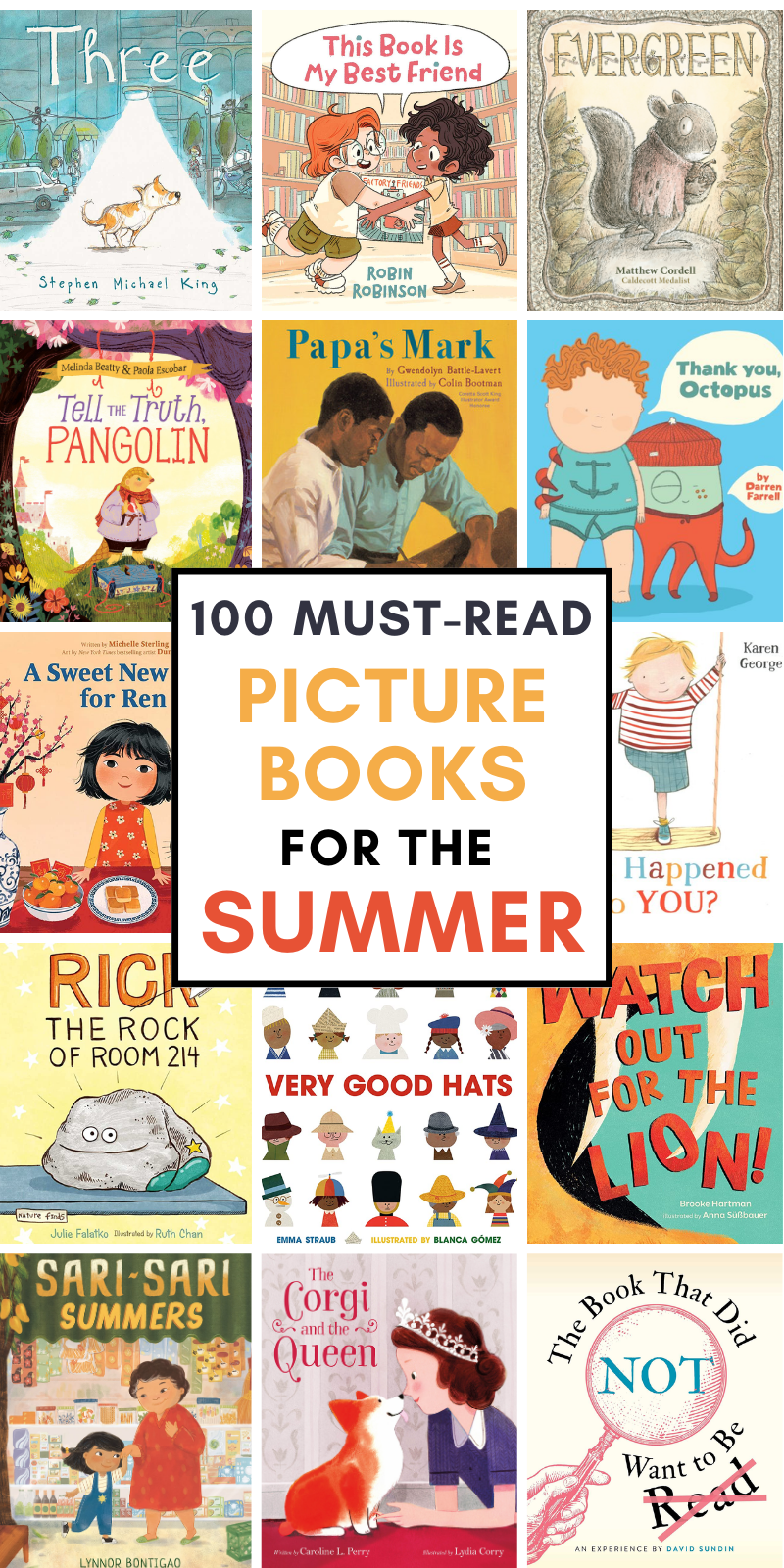 100 Children's books to read this summer
Big Truck Little Island by Chris Van Dusen
Based on a true story, the townspeople of a small island are forced to think of a solution when they become stuck on the road after a large truck skids off, blocking traffic. Everyone arrives where they needed to be, including the giant truck which was carrying something delightful for the whole town.
Tofu Takes Time by Helen H. Wu, illustrated by Julie Jarema
Patience, patience, patience! Lin learns that to make homemade tofu, you have to have patience. She spends the day making tofu with her grandmother, and after reading this book, I believe grandmother is right when she says homemade tofu is better than store bought.
Lizzy and the Cloud by Terry Fan and Eric Fan
Lizzy picks out an ordinary cloud from the Cloud Seller at the park. She diligently cares for her cloud, Milo, with the help of a very detailed instruction manual. But as he grows and grows, will Lizzy have to let go of her beloved cloud forever?
Three by Stephen Michael King
In this heartwarming story, Three, a three-legged dog is off on an adventure meeting six-leggers, eight-leggers, and even four-leggers. It's when he meets a two-legger that his life changes and he finds his forever home.
The Secret Life of a Tiger by Przemyslaw Wechterowicz, illustrated by Emilia Dziubak
Poor Tiger is misunderstood as a dangerous biting machine, but when the sun goes down, his secret life begins. This delightfully funny picture book really tells the story of what Tiger does at night, and let me tell you, it is not at all what you would expect!
Never Show a T.Rex a Book by Rashmi Sirdeshpande
You won't believe what a T.Rex would do if you gave them a book. Will they become an architect? Will they open more libraries? Very similiar to Laura Numeroff's If You Give a Mouse a Cookie, this adorably silly book shows how much is possible with the power of books. 
Luli and the Language of Tea by Andrea Wang, illustrated by Hyewon Yum
No one at Luli's childcare center speaks English, even Luli – she speaks Chinese. When she notices all the children playing by themselves, Luli has an idea to bring them all together. No matter what language they spoke, they all gather around in friendship and share a pot of tea. 
Pokko and the Drum by Matthew Forsythe
Pokko's parents give her a drum, but soon realize that it was a BIG mistake. With all her loud playing, Pokko's dad sends her out into the woods for a little peace, but he warns her to keep quiet. You won't believe what happens when Pokko is let loose with her drum!
Rick the Rock of Room 214 by Julie Falatko, illustrated by Ruth Chan
Rick is a rock. He sits on the nature shelf in Room 214, and his only dream is to go outside and have a real rock adventure. In this silly book, Rick finds out that being an outside rock isn't exactly what he thought it would be. 
King Kong's Cousin by Mark Teague
Junior is King Kong's younger and smaller cousin. He looks up to Kong and wishes he could do everything Kong can do. But the truth is…he just isn't as big, brave, and strong as him. When Junior's cat gets stuck up in a tree, can he channel his inner Kong and save him?
Becoming Blue by Ellen Tarlow, illustrated by Julien Chung
Blue wishes he could be Red because Red seems to have all the fun and is WAY more exciting than Blue. But when Blue tries out being Blue, he might find that being himself is more fun than he thought (Red might even wish she was Blue too!).
Noodle and the No Bones Day by Jonathan Graziano, illustrated by Dan Tavis
You'll instantly love this book about Noodles, a loveable pug. When Jonathan finds Noodles still in bed in the morning, he was worried. But Noodles wasn't sick or sad, he was having a No Bones Day – a day of relaxing and getting extra snuggles. I think we all need No Bones Days every once in a while.  
Color Blocked by Ashley Sorenson, illustrated by David W. Miles
This is a favorite interactive book at our house. This one shows a color factory where the pipes have all gotten stopped up and no color is coming out. And when you untwist them, now the colors are getting all mixed up!

CookieBot! by Katie Van Camp, illustrated by Lincoln Agnew
All Harry and his little buddy Horsie want are cookies. But when they realize the cookie jar is too far out of their reach, they come up with the perfect plan – build a CookieBot! Will CookieBot be able to get their cookies for them?
Amy Wu and the Warm Welcome by Kat Zhang, illustrated by Charlene Chua
There is a new student in Amy's class and she does her best to make her new classmate feel welcome in this warmhearted and playful picture book. The book Amy Wu and the Ribbon Dance just came out last month if you love Amy Wu stories.  
Tell the Truth, Pangolin by Melinda Beatty, illustrated by Paola Escobar
When Pangolin breaks the queen's swing, will he have the courage to tell her the truth about what happened? Or will all of his friends convince him to make up a lie?
Everywhere With You by Carlie Sorosiak, illustrated by Devon Holzwarth
A dog lives on one side of the fence. A human girl lives on the other side of the fence. Their heartwarming friendship will show how reading together can bring and keep us together.   
Nine Color Deer by Kailin Duan, illustrated by Jeremy Tiang
In this beautiful Chinese folktale, a deer with nine colors in its fur hears someone crying for help. When the deer sees a man drowning she saves him and requests that the man never share her whereabouts, as repayment for saving his life. When the King and Queen offer a reward to anyone who can find the Nine Color Deer, will the young man be able to keep his promise?

The Planet in a Pickle Jar by Martin Stanev 
Every time they visit grandma, the two grandchildren always think she is so boring. But all of that begins to change when grandma suddenly goes missing and wild animals begin appearing in the house. Grandma has been keeping a secret. A secret about how magical the Earth is and how we must preserve it, just like we might preserve pickles.
The Comet by Joe Todd-Stanton
Nyla and her father must move to the city. She really misses her old home, but when she sees a comet falling across the sky, it reminds her of the one she once saw at her old home. The comet brings about a little bit of magic and shows them how to make their new place feel more like a home. 
Farmhouse by Sophie Blackall
This book showcases what daily life was like living in the country and working on a farm (and all this with 12 children!). The illustrations include mixed media incorporating dresses, wallpaper, and fabric that was found in an actual old farmhouse in upstate New York.
Berry Song by Michaela Goade
I had no idea there were so many different types of berries! A girl and her grandmother are journeying through the wilderness while gathering berries. Along the way they sing a song of gratitude and joy. The illustrations in this Caldecott Honor book are gorgeous.
Love in the Library by Maggie Tokuda-Hall, illustrated by Yas Imamura
This heartfelt story about the love that grows between a librarian and a booklover in a Japanese American internment camp library is based on the story of the author's grandparents. 
This Book is My Best Friend by Robin Robinson
When two young readers choose the same book at the library, they both reveal that they each have their own reasons for needing the book – because it is their best friend. But as they get talking, they start to build a new friendship in each other.
A Spoonful of Frogs by Casey Lyall, illustrated by Vera Brosgol
Do you know what a witch's favorite treat is? Frog soup! And, of course, the most important ingredient is a spoonful of frogs to give it that beautiful bright green color. But . . .frogs are HARD to wrangle. They just want to jump around, hide in the kitchen or escape altogether.

Fish and Crab by Marianna Coppo
This is a silly and sweet picture book about bedtime featuring best friends Fish and Crab. Fish cannot fall asleep because his mind is reeling with every sound and thought. And all Crab wants to do is sleep! Will they both be able to get some shut eye?
The Loud Librarian by Jenna Beatrice
Penelope's dream is to become a librarian. She has been training for the library assistant job at her school, but there is just one teensy-weensy problem…Penelope is so LOUD! Will she ever be able to become a real librarian?
My Dad is a Tree by Jon Agee
This book is so fun and silly. Madeline persuades her dad to pretend to be a tree with her – mainly because trees get to be outside ALL day. But what will happen when a spider wants to spin a web on said tree? Or a bird wants to nest? Be careful, your little ones might want you to pretend to be trees next!
I'm a Great Friend! by Lauren Stohler
Baby Capybara is little, cute, and doesn't understand why all the other capybaras have beautiful flocks of birds riding on their backs. He can't get birds to even come close! Maybe it's the fact that he loves to roll in the mud, splash in the pond, and that he drums loudly on the rocks! It's only a matter of time before he finds a great friend who can't wait to join him in all his rambunctious adventures.
What Happened to You? by James Catchpole, illustrated by Karen George
Joe loves playing pretend, especially sharks and pirates. He gets frustrated, however, when the playground fills with kids who only ask him questions to try to find out why he has one leg. This inclusive book shows how Joe wants to play, feel, and be treated like everyone else, rather than be bombarded with questions about what makes him different.
I Am a Baby by Bob Shea
Oh babies! The sweet cute bundles of joy that can make you feel a whole range of emotions and change so much about everyday life. For parents, this book is so relatable, and you will find yourself chuckling as you read it aloud.
I Really Really Love You So by Karl Newson, illustrated by Duncan Beedie
Little animal has some really really really big love and can't figure out the best way to show it. Will it be wrestling crocodiles, gifting a bunch of flowers, or squawking like a toucan? Or could it just be with a great big hug?
Sometimes It's Nice to Be Alone by Amy Hest, illustrated by Philip Stead
In this whimsical picture book, a little girl really enjoys doing things alone. All by herself. But sometimes she thinks about what could happen if a friend joined her. And sometimes that is nice too.
Thank You, Octopus by Darren Farrell
This is such a silly book that will have your little one laughing out loud! Octopus is trying really hard to be helpful getting his little friend to bed, but he isn't quite doing things the right way. Thank you, Octopus, but no thank you!
Ear Worm by Jo Knowles
Little worm has a song stuck in his head…an ear worm! As he tries to figure out who put it there, all his woodland friends join in with their earworms. The forest turns into a musical menagerie until worm figures out where his ear worm came from.
The Museum of Lost Teeth by Elyssa Friedland, illustrated by Gladys Jose
Have you ever wondered what happens to your teeth after the tooth fairy picks them up? When Toothy falls out, he is nervous about where he will end up if it is not in Liam's mouth…but Felicity Fairy takes him on quite the adventure to the Museum of Lost Teeth.
Brave Miss Muffet by Dori Graham
This is such a fun take on the classic nursery rhyme. But this time when the spider sat down beside her, Miss Muffet isn't afraid. It's quite comical how the the nursery rhyme keeps changing until something will frighten Miss Muffet.
The Corgi and the Queen by Caroline L. Perry, Illustrated by Lydia Corry
Queen Elizabeth was no ordinary queen, especially with her dear companion, Susan, by her side (her beloved corgi). Following her life as a young girl all the way through her monarchy, this heartfelt picture book doesn't skimp on the bond between a girl and her dog.
Maple & Rosemary by Alison James, Illustrated by Jennifer K. Mann
This one instantly made me think of the classic, The Giving Tree. Maple is a sugar maple tree, and Rosemary is a young girl. They learn from each other, grow old together, and form a bond like no other. This one is so sweet!
Amah Faraway by Margaret Chiu Greanias, Illustrated by Tracy Subisak
This book shows the sweetest relationship between a grandmother and her granddaughter. One lives in San Francisco and one lives in Taipei. They video chat and visit each other on occasion. And even though they may speak a different language and the foods and sights are different, their bond is strong.
A Sweet New Year for Ren by Michelle Sterling, Illustrated by Dung Ho
It's the Lunar New Year and Ren is eager to help out with all of the preparations for the celebration. But everyone keeps telling her she is still too little. When her older brother comes home, he helps her make pineapple cakes. It is a sweet treat for the New Year, but not as sweet as spending it with her family. There is a recipe for pineapple cakes at the back of the book that look mouthwatering!
We Don't Lose Our Class Goldfish by Ryan T. Higgins
Penelope Rex is a T-Rex with a big problem. She is always worrying. But the thing she is worried about the most? Walter. The classroom goldfish. What will happen when Walter suddenly goes missing when it's her turn to take him home for the weekend?
Last Flight by Kristin Mai Giang, Illustrated by Dow Phumuruk
In this heartfelt snapshot of history, the author tells the story of her family's dramatic escape from Saigon on the last flight out of Vietnam in 1975. This wartime story is one that you will not want to miss!
Joy Ride by Sherri Duskey Rinker
It's summertime and Joy is bored. So she heads over to her grandfather's house in search of a project to occupy her time. Together they find an old bicycle, and thinks it would be the perfect project to fix-up and make her own. But when the other kids laugh at the bike she worked so hard on, Joy becomes very upset. It's not long till she realizes that being unique, and different, and YOU is what truly brings joy!
Isabel and the Invisible World by Alan Lightman, Illustrated by Ramona Kaulitzki
Isabel's one wish for her upcoming birthday was to be able to see invisible things…just like her friend who has an invisible dog. Her mother, a scientist, had the perfect gift idea. A prism! Now Isabel is able to see colors that were previously invisible.
The Fastest Tortoise in Town by Howard Calvert, Illustrated by Karen Obuhanych
This book is so darling! Barbara Hendricks is a tortoise who surprisingly has entered a race. When she begins to second guess this decision, especially after all of her training sessions, her owner Lorraine never gives up hope. Is Barbara Hendricks really the fastest tortoise in town?
Sari-Sari Summers by Lynnor Bontigao 
This sweet story is perfect for the upcoming summer. Nora goes to visit her grandmother in the Philippines and can't wait to help out in her sari-sari shop (a little convenience store). But when a big heat wave hits and customers are scarce, Nora and her grandmother come up with a fantastic plan.
Everyone Loves Lunchtime But Zia by Jenny Liao, illustrated by Dream Chen
Zia wishes she had a lunch box that was filled with sandwiches and crackers like the other kids in her school, not the Cantonese food that her parents make. After a special week of lunches, Zia realizes that her culture's food will bring her closer to her family and friends.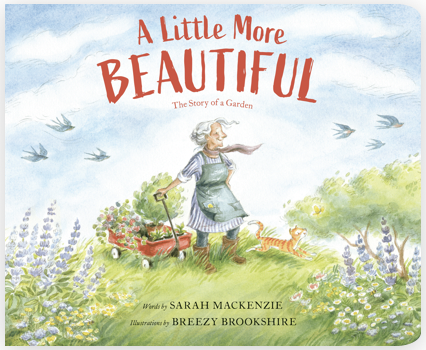 A Little More Beautiful: The Story of a Garden by Sarah Mackenzie, illustrated by Breezy Brookshire
Lou Alice just wants to make the world a little more beautiful than she found it. And when she passes town hall and notices that a garden planted there would make it more beautiful, the man in charge said it was too much work for her. Will Lou Alice be able to add her beautiful touch to her lovely town?
Five Hiding Ostriches by Barbara Barbieri McGrath, illustrated by Riley Samels
In this adorable counting book told in rhyming text, five little ostriches enjoy running through the bush, but when a lion comes near they hide. It also ends in a major surprise, so don't skip the ending!
My Dad Used To Be So Cool by Keith Negley
We all used to be so cool before we had kids right? In this charming book, a young boy tries to imagine his dad as the cool guy who once played in a band, rode a motorcycle, and got tattoos before he became a father. His father loves his new role, even more so than his "cool" life before.  
Beneath by Cori Doerrfeld
Finn is in a grumpy mood, so his grandfather suggests they go for a walk in the woods. As they are out, his grandfather shares that there is a lot going on beneath the surface of the forest floor, just like there can be a lot going on under the surface in our own lives.
Linh's Rooftop Garden by JaNay Brown-Wood, illustrated by Samara Hardy
If you have a garden lover, this is the 4th book in the Where In the Garden? series. In this installment Linh searches for blueberries in her rooftop garden to bring down for brunch. There is also a recipe at the back for blueberry and banana pancakes, and I cannot stop thinking about them!
Hey Otter! Hey Beaver! by Brian Pinkney
Otter loves playing, but Beaver likes to work on his dam. When Otter finds a stick to play with, Beaver needs it too. When Otter finds a branch to play with, Beaver needs it too. They learn that it's okay to have different ideas when they spend time together.
Everything in Its Place: A Story of Books and Belonging by Pauline David-Sax, illustrated by Charnelle Pinkney Barlow
Nicky is very shy, and to keep from feeling left out at recess she stays in and helps shelve books in the library. But when the librarian is set to be gone for a week, Nicky realizes she will have to go out for recess. Thankfully an unlikely group of women stop at her mother's diner and show Nicky it's okay to have friends that are different.
How to Talk Like a Bear by Charlie Grandy, illustrated by Alex G. Griffiths
If you have ever wanted to learn how to speak bear, this is your book! This laugh out loud book will help you differentiate between a "give me all your ice cream" ROAR and a "dress up like a clown" ROAR. It's a lot of work learning how to talk like a bear.
Very Good Hats by Emma Straub, illustrated by Blanca Gomez
Hats aren't just fancy things you put on your head. Hats can be simple ordinary objects reinvented – like an olive is the perfect hat for your finger! This imaginative picture book reminds us that really anything could be a hat.
Hurry, Kate, or You'll Be Late! by Janice N. Harrington, illustrated by Tiffany Rose
Kate is going about her morning getting ready for preschool with her dads help. On the way to school, Kate sees all kinds of things she needs to stop and see, but don't worry, these don't make her late to school. What makes her late to school is the huge hug her dad gives her at drop-off.
Night in the City by Julie Downing
When children are fast asleep, some people are hard at work keeping the city safe and clean, and when daylight comes they go home to sleep. The pages filled with detailed illustrations follow eight different people working eight different evening jobs.
Have You Seen My Invisible Dinosaur? by Helen Yoon
After giving her dinosaur a bath, a little girls dinosaur goes missing and she does everything to try to find him! I mean, where can a real life gigantic dinosaur go?
Beast Feast by Emma Yarlett
This is a hilarious interactive book with letters you can take out and open. Beast has found the perfect Dinner to share with his friends (Dinner just so happens to be a little boy). Will Dinner be able to convince Beast to take him off the menu?
Poopsie Gets Lost by Hannah E. Harrison
Poopsie is a pampered house cat, and the narrator of the story doesn't think that makes for much of an exciting story. So, the narrator lures Poopsie outside and you won't believe the wild adventure that is waiting for her outside. This one is full of slapstick humor and surprises that anyone will love!
Crocodile Hungry by Eija Sumner, illustrated by John Martz
When a hungry crocodile sets off to find food, he ends up failing at every attempt. The farmers market, the grocery store…why does everyone around him run away screaming? In this hilarious tale of a clueless crocodile, will crocodile ever find something to eat?
Noni the Pony Counts to a Million by Alison Lester
Noni the Pony is a fun adventurous pony. She counts all her friends, the cars, and even all the stars in the sky. This rhyming counting book is just delightful!
Nubby by Dan Richards, illustrated by Shanda McCloskey
Nubby is an overworked stuffed bunny. He strikes out on his quest for fame and endless appreciation, only to realize that his home is where he truly belongs.
I Cannot Draw a Horse by Charise Mericle Harper
The narrator of this story is fantastic at drawing, they can turn any shape into a cat, or a turtle, or a beaver, but horses…they are too hard. When cat begs for a drawing of a horse, will the narrator be able to grant cat's wish?
Roman Holiday by Micol Ostow
When a princess escapes into the city of Rome, she is living one of the happiest days of her life, all the while a whole team is out searching for her. This illustrated storybook is a fantastic retelling of the classic film, Roman Holiday.
Missing Violet by Kelly Swemba, illustrated by Fabiana Faiallo
When Mia's best friend Violet gets sick and does not recover, Mia works through the stages of grief like the colors of the rainbow. Conversations about death can be tricky, but this book offers a gentle way to talk about loss and grief. There is also a note at the back for parents, caregivers, and teachers.
Elbert in the Air by Monica Wesolowska, illustrated by Jerome Pumphrey
Shortly after his birth, Elbert starts floating into the air. As he grows and grows, everyone tries to keep him grounded, except for his mother, who encourages Elbert to be 100% himself.
There's No Such Thing as Unicorns by Lucy Rowland
When her brother tells her that there is no such thing as unicorns, a little girl sets out to find out the truth. Unicorns have to be real right? Hopefully she will be able to prove him wrong. There is a little search and find on each page that is just so fun!
Abuela's Super Capa by Ana Siquiera, illustrated by Elisa Chavarri
On Saturdays, Luis and his grandmother get to be superheros. They make milkshakes, wear their capas (capes), and have the most fun! But Luis has to find a new way to be a hero when his grandmother gets sick.
Watch Out for the Lion! by Brooke Hartman, illustrated by Anna Süßbauer
Beware! There is a lion in this hilarious book! You might just see its curvy claws and ferocious fangs. My girls really loved this fun read aloud.
This Is Not My Home by Vivienne Chang
In this sweet and humorous book, Lily is not happy when she hears the news that they will be moving back to Taiwan to help take care of her grandmother. Lily makes it clear that she is unhappy about the adjustment, but sometimes change is good, and Lily must learn that her new home is not so different from her old home.
Friends Beyond Measure by Lalena Fisher
Two best friends have all the fun in the world, until one of them has to move away. Will their friendship survive? This adorable tale about two best friends is filled with infographics and charts. It's a great sneakily educational STEM book with a bittersweet story.
I Am a Tornado by Drew Beckmeyer
An angry, destructive tornado comes whirling onto the scene and a sweet cow gets picked up in all the swirling. When Cow kindly asks to be put down, the two start a conversation and things start spinning in a different direction.
Finding Papa by Anela Pham Krans, illustrated by Thi Bui
Mai's remembers playing with her father, but he left. He left to go start a better life for her and her family. When the time comes, Mai and her mother pack up and start their journey from Vietnam to America to find Papa. This heart wrenching story is based on the author's own experiences.
How To by Julie Morstad
This is the most imaginative 'how to' book I have ever seen! It is full of all kinds of how tos ranging from "how to go slow", or "how to clean your socks" – jumping in a puddle of course!
Evergreen by Matthew Cordell
Evergreen is a little squirrel who is frightened of everything, especially the woods. When her mother asks her to deliver soup to sick Granny Oak, she knows she will have to face her fears. Hawks, toads, and bears, oh my! Will Evergreen make it in a forest full of fearsome beasts?
Sorry, Snail by Tracy Subisak
Ari gets very angry and takes out her anger on an innocent snail. When snail seeks a sincere apology, Ari only gives a halfhearted one. When little reminders of the incident start emerging around her, will she be able to muster up a genuine apology?
Just Like Grandma by Kim Rogers
Becca wants to do everything just like her grandmother. She loves learning from her grandmother, and in turn sometimes Becca teaches her grandmother a few things too. Becca even learns something surprising about her grandmother as they spend their time together.
80
Papa's Mark by Gwendolyn Battle-Lavert, illustrated by Colin Bootman
This heartwarming book was originally published 20 years ago, but they just reissued it this year. After his son teaches him how to write his name, Samuel T. Blow goes to the courthouse in his Southern town to cast his ballot on the first election day on which African Americans were allowed to vote.
Nell Plants a Tree by Anne Wynter, illustrated by Daniel Miyares
Inspired by the pecan tree from Wynter's childhood, Nell plants a pecan seed. When that seed grows, time goes on, and generations of her family grow too. The tree is climbed, the shade shelters readers below, pecan pie is made, and the family flourishes.
Nila's Perfect Coat by Norene Paulson, illustrated by Maria Mola
At the thrift store, Nila sees the perfect pink coat. Her mom says no because she already has a coat, so Nila is determined to buy it with her own money. When the day comes for her to buy her perfect coat, she realizes maybe it is the perfect coat for someone else.
Bravo, Little Bird by Annie Silvestro, illustrated by Ramona Kaulitzki
Little Bird is captivated by the music the old man plays on his piano. She teaches it to her baby birds and soon, the birds begin to sing along. When the old man's grandson begins visiting, he shares his love of music with him too. But one day, the music stops, and Little Bird plans a musical tribute for the old man's family to show that memories live on.
Spreckle's Snack Surprise by Sandra Salsbury
Spreckle the dragon is loved by her family…the family of chickens she is born into. Spreckle loves her family too, but soon becomes very dissatisfied with chicken food. Will Spreckle ever find the perfect food to eat?
Invisible Things by Andy J. Pizza and Sophie Miller
We are surrounded by invisible things, things we cannot see or maybe even fully describe. Can you see a wish? Or what does fear look like? This book makes you stop and think about all the invisible things out there in the world and how we connect with them. The illustrations of this book are fun, especially since all of these things are invisible and we have no visual representation of them.
Sora's Seashells by Helena Ku Rhee
Sora and her grandmother always search for seashells together at the beach when she comes to visit from South Korea. After her grandmother returns home, Sora starts kindergarten and is teased about her name. Not long after, Sora receives sad news about her grandmother, and her parents finally reveal to her where her name comes from. Sora beams with pride and this gives her the courage to share her seashells with her classmates and end the hurtful teasing.
The Book That Did Not Want to Be Read by David Sundin
This book reminded me a lot of The Book With No Pictures. It is hilarious and highly interactive. This book will literally do ANYTHING to keep from being read…it might even turn into a steering wheel!
The Legend of Gravity by Charly Palmer
If you have a basketball lover this book will definitely pique their interest. You may know about Michael Jordan or Lebron James, but this book honors all the great basketball players that never made it to the NBA.
Dancing Hands: A Story of Friendship in Filipino Sign Language by Joanna Que and Charina Marquez
Sam loves the way her new neighbor Mai's hands dance. Mai teaches Sam some Filipino Sign Language and they soon become friends. There is even some extra content in the back of the book about sign language around the world, and of course the signs used in the book.
How to Ride a Dragonfly by Kitty Donohoe, illustrated by Anne Wilsdorf
This book is just pure joy and hilarity! A little girl takes a tour of her nearby swamp on the back of a dragonfly…you heard that right, a dragonfly! If you follow the simple steps, you too could shrink down to bug-size and take ride on a dragonfly.
Hazel and Twig: The Birthday Fortune by Brenna Burns Yu
It's almost Twig's first birthday and part of the birthday tradition is to have the birthday girl pick an item for their doljabi (fortune telling ceremony). Whatever item is picked will tell Twig's fortune. Her older sister Hazel can't wait to see what Twig will pick.
Where Have You Been, Little Cat? by Richard Jones
We loved his book Perdu, which was on last years 100 Picture Books List. And this one about a little cat who goes out exploring is equally as sweet.
Let's Go Puddling! by Emma Perry, illustrated by Claire Alexander
As the rain starts falling, instead of staying cooped up inside, three families eagerly head out into the rain to jump in puddles. Giggles and laughter ensue, and soon boots overfill and socks become soggy. But cuddling while socks dry might be just as nice as stomping in puddles.
Hot Dog by Doug Salati
What do you call a dachshund stuck in the city on a very hot summer day? A hot dog! This poor hot dog just needs a little breeze, a little sand, and a little bit of beach to make things better. This one snagged the Caldecott Medal for best illustrations back in January!
Viking in Love by Doug Chenko
With the help of a few kittens and his clever thinking, Stig, the Viking is able to overcome his fear of the sea and woo the beautiful Ingrid. This is a very sweet little love story.
The Blur by Minh Lê, illustrated by Dan Santat
This picture book is the perfect representation of "time flies". It follows a baby with superhero abilities as her parents try to keep up. But really it reminds us of all the milestones that seem to zoom by from infancy to adulthood. 

A Gift for Nana by Lane Smith
Rabbit embarks on a journey through the woods to find his Nana the perfect gift, not for any special reason, just because. All along the way, the many creatures offer ideas for Nana's gift. Will Rabbit be able to choose the perfect one?
Set Sail for Pancakes! by Tim Kleyn
This book is a load of fun! Margot and her grandpa are hungry for pancakes, but they don't have all the ingredients. So, they board their ship and collect eggs, milk, and flour from different islands around the sea. Hop aboard the Beluga Blue and set sail for pancakes. 

Blue Bison Needs a Haircut by Scott Rothman, illustrated by Pete Oswald
Blue Bison is in need of a haircut. He likes to stay neat and tidy for his family, but when he arrives at the barber shop, it's closed! Day after day the barber shop continues to be closed and Blue Bison grows very upset. Luckily his little sister has an idea that will save the day.
And if you'd like a printable copy of this children's book list that you can take to your library or screenshot on your phone for easy access, just pop in your email address below and it'll come right to your inbox!
if you liked this post about Children's books to read this summer, you might also like these other posts: