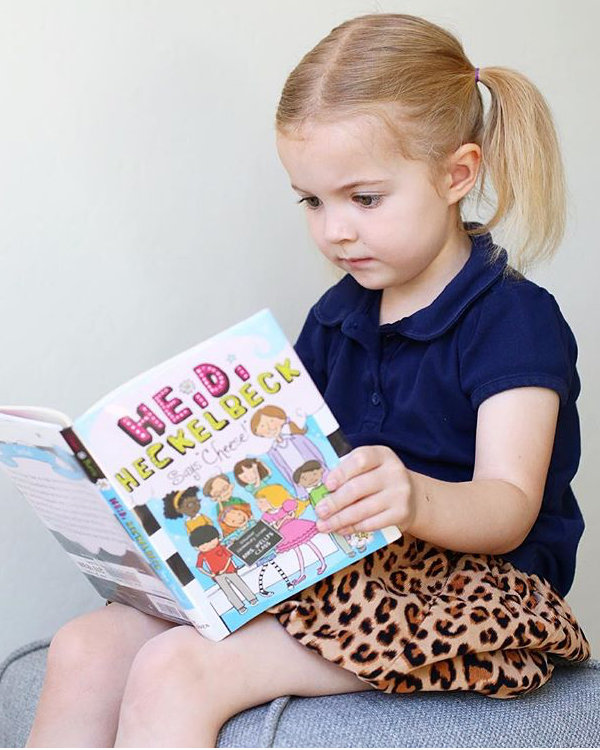 My mom has said approximately ten million times that chapter book series are your best friend when you're parenting voracious young readers.
And now I know EXACTLY what she means.
The 100+ Boxcar Children books, one of the classic chapter book series, got us through our three months in London, as Ella listened to them every day during quiet time.
Since then, I'm always super delighted when she finds a new chapter book series she loves because it means she'll have at least a couple days of reading covered (just this week, she's been cruising through the Billie B. Brown series).
If you're on the hunt for chapter book series to try out on your kids in early elementary school, these are all ones she's loved over the past two years.
Also, many of them are available as audiobooks, so check your library for CD versions or Overdrive for digital audio copies too.
And any of these chapter book series in this book list make great holiday gift choices if you're looking for a chapter book for a child around 4-8 years old. I like to get the first couple of books in a series to start off their collection and make it easy to dive right into the next book after they've finished the first.
Happy reading!
20 chapter book series for elementary schoolers
The Boxcar Children by Gertrude Chandler Warner. I was obsessed with this chapter book series growing up and read probably a hundred of them, and now Ella has listened to all of them multiple times (in fact, while I'm writing this, I can hear the audio version of one of the books from the dining room where she's working on her puzzle during quiet time). I like that the mysteries aren't too scary and I really love that they showcase siblings that like each other, get along, and work together to solve problems
Ivy and Bean by Annie Barrows, illustrated by Sophie Blackall. Bean and Ivy didn't mean to be friends – but then they accidentally become best friends and get into all sorts of fun adventures. Ella listened to the whole series last year and still checks out the books from the library when she sees them on the shelf.
Geronimo Stilton by Geronimo Stilton. This chapter book series has about ten bazillion books in it, so every time we go to the library, Ella's scouring the shelves to see if she can find one she hasn't read. These books follow Geronimo Stilton, a mouse journalist who is always accidentally finding himself in the middle of mega-adventures. When I was a librarian, I heard some complaints from other librarians about the text having occasional words in different colors or fonts and that it made it hard to read, but I think it's fine and makes the pages look more fun and less intimidating to new chapter-book readers.
Bunnicula by Deborah Howe and James Howe. I was besieged with requests for this chapter book series the first day in my elementary school library, and I'd never even heard of it. This year, at Halloween, I finally got around to reading the first one to Ella and she loved it and then plowed through the rest of the series on audio. It's about a family that finds a bunny on a theater seat when they go to a movie (Dracula) and bring it home. But their cat is extremely suspicious and believes that it's a vampire bunny, while the dog watches bemusedly.
Emily Windsnap by Liz Kessler. Emily has spent her whole life on a boat with her mother, but weirdly, her mom never lets her near the water (she can't even take a bath!). But then, one day, Emily finds herself in the water and discovers that she's half-mermaid and that the father she's never known lives under the sea. Now Ella asks me at least weekly if there is ANY chance that mermaids are real.
The Princess in Black by Shannon Hale and Dean Hale, illustrated by LeUyen Pham. I'm an enormous Shannon Hale fan, and this early reader series is just phenomenal. Each book is quite short (you could probably read it aloud in 30-40 minutes) and full of adventure and great illustrations. I've given copies of this as birthday gifts to several of Ella's friends over the past year.
Sideways Stories from Wayside School by Louis Sachar. I'll admit that this was never my favorite series growing up because I never find overly wacky humor very amusing, but my sisters LOVED this series, and Ella also finds it hysterical. The elementary school was supposed to be 30 classrooms on one story, and instead it got built as 30-story building with one class on each floor. And the classroom on floor 13 is especially crazy.
Babymouse by Jennifer Holm and Matthew Holm. These were some of the first non-picture books Ella read on her own, and she couldn't get enough Babymouse books. These fun graphic novels are quick reads, and Ani always wants to check them out and look through them even though she can't read yet.
Heidi Heckelbeck by Wanda Coven, illustrated by Priscilla Burris. I knew when I picked up the first book in the series for Ella that Heidi turns out to be a witch, but she didn't know that and when she reached the end of the first volume and made that incredible discovery for herself, she went berserk with excitement, leaping around the kitchen as she told me about how Heidi was actually a witch and had magical powers.
Whatever After by Sarah Mlynowski. Abby and her family have moved to a new house and when Abby's younger brother Jonah discovers a mirror left in the basement, they find they can use the mirror to enter classic fairy tales. Of course, they immediately mess up the story line and have to figure out how to get things back how they're supposed to be so everyone can have their happy ending. Ella loved this series so much, she begged me to listen to them too.
A to Z Mysteries by Ron Roy, illustrated by John Steven Gurney. When Ella was finished with the Boxcar Children the first time, she was desperate for some more mystery books, and this series was the perfect fit for her. She's gone on to read all of this series as well as the Calendar Mysteries and often revisits both when she's out of new books.
Charlie Bone by Jenny Nimmo. This is probably one of the most advanced series on the list (each book is around 400 pages long), but when I was out of town, Bart found these for her on audio and she's LOVED them. My younger brother was a huge fan of this series when he was seven or eight, and Ella has been equally infatuated with this series about Charlie Bone who discovers he can hear conversations and thoughts from photos, and his adventures at Bloor's Academy for descendants of the Red King, all of whom have various magical abilities.
Encyclopedia Brown by Donald J. Sobol. I read and re-read these books as a child and loved trying to figure out the mysteries before flipping to the back to check out the answer. It took a few episodes for Ella to get the hang of it, but now she's a huge fan and loves reading them aloud to us and having us all try to guess the solution. Also, I just really want an encyclopedic memory.
Ramona by Beverly Cleary. Oh, I love Ramona so much. I actually like the books more as she gets older and less crazy, and we've enjoyed listening to these as a family on road trips or while we work on puzzles together.
Hamster Magic by Lynne Jonell, illustrated by Brandon Dorman. I loved Emmy and the Incredible Shrinking Rat, and this is a fun new series from the same author. Celia is tired of younger and smaller than all her siblings, who never take her seriously, but when she accidentally makes a wish that turns her into a furry little creature, her siblings are forced to take the situation seriously so their parents don't discover what happened.
Gooney Bird by Lois Lowry. Ella and I listened to one of these together in Ukraine when Ella was just past four, and she wasn't really into it at the time, but this past year, she rediscovered the series and blew through all of these larger-than-life stories that Gooney Bird shares with her new second-grade classroom.
Katie Kazoo by Nancy Krulik. In this fun series, Katie Kazoo wishes she could be anyone besides herself, and in each book she finds herself swapping places with various classmates, family members, and even animals. We listened to one of them on a road trip through England and Ella requested we turn them off because she said it was too scary to think of someone turning into a baby. Since then, she's apparently outgrown this fear and now has read the whole collection with delight.
Judy Moody by Megan McDonald, illustrated by Peter H. Reynolds. This was one of the first elementary book series set in the real world that didn't involve magic that Ella really enjoyed. This series has ballooned into several spin-off series, including ones starring her younger brother, ones about her AND her brother, and ones about her and her friends.
Mercy Watson: Adventures of a Porcine Wonder by Kate DiCamillo and Chris Van Dusen. Oh, Mercy Watson, you really are just the best of the best. This early chapter book series is wildly popular and for good reason – the illustrations are enticing, the stories aren't too long but full of hilarious events and I love the excellent language in them (and I always get a hankering for hot buttered toast after we read one). Bart's parents gave Ella the boxed set last year for her birthday, and they've been well-loved since then. I also like the Deckawoo Drive series from this duo, which features supporting characters from the Mercy Watson series.
Chitty Chitty Bang Bang by Ian Fleming. I remember reading this one as a child (and I still can't be stuck in traffic without looking at the buttons on my dashboard and wishing one would give my car wings), but I didn't realize it was a series until Ella listened to the first one and the subsequent books popped up as recommendations.
And if you'd like a printable copy of this list that you can take to your library or screenshot on your phone for easy access, just pop in your email address below and it'll come right to your inbox!
If you have other chapter book series you've loved for your elementary schoolers, I'd love to hear them – we're always on the hunt for more good books!
if you liked this post on chapter books series, you might also like these posts:
Reader Interactions