One of my favorite non-fiction genres is memoirs – it's so engaging to see someone tell their own story in their own words!
(And if they read the audiobook version themselves, even better!).
Here are some of my favorites memoirs: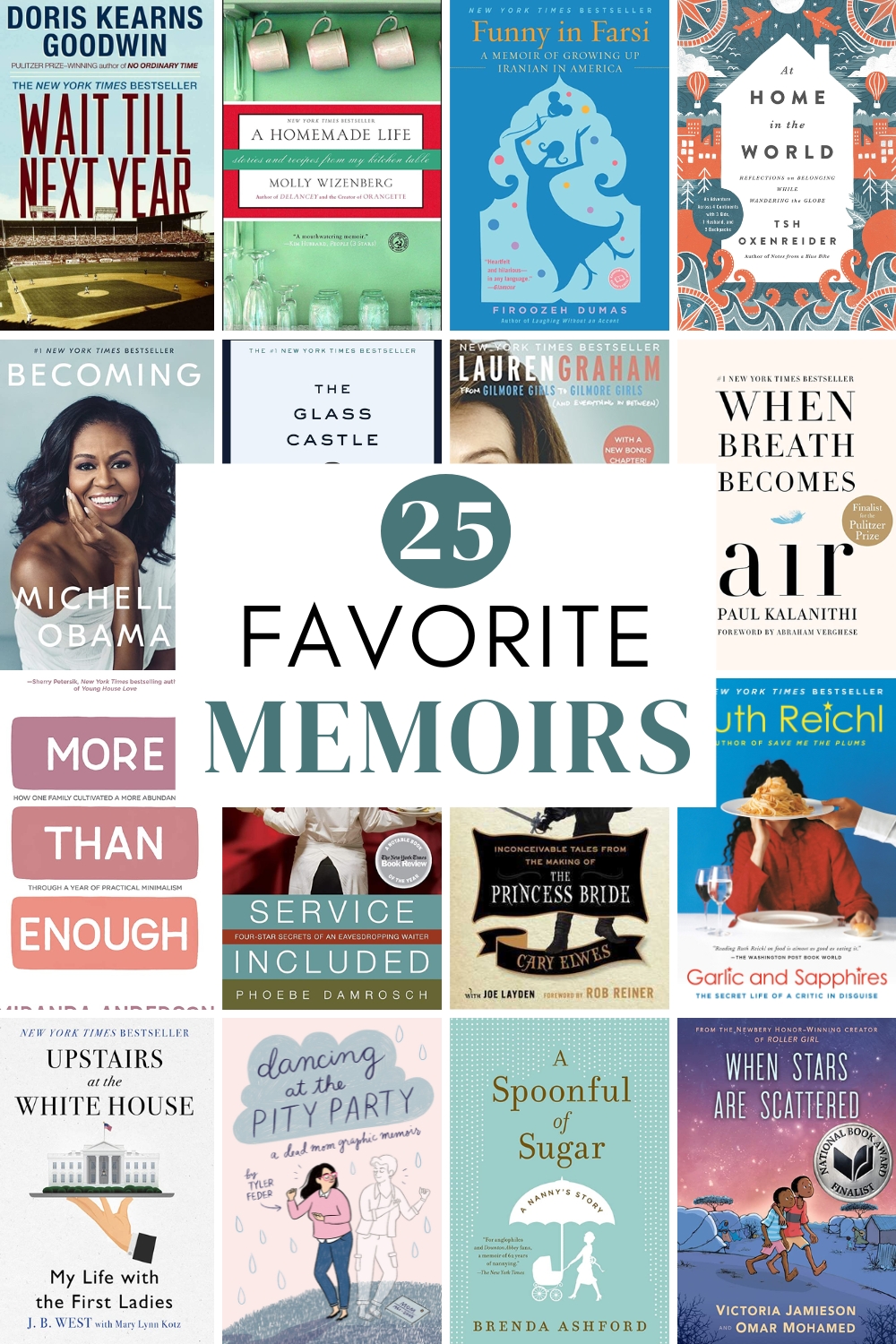 my favorite memoir books
The Happiness Project by Gretchen Rubin
I LOVE Gretchen Rubin and this book, which really made a name for her, is so delightful and perfect for a reset time, which is what I see the beginning of summer as. (Full review here)

When Breath Becomes Air by Paul Kalanithi
This memoir published after the author's early death from lung cancer will basically rip your heart out, but also make you so glad to be alive. In the past, we've done family reunion book clubs and if we did another one, this would be in my top three book club suggestions for sure. (Full review here)
More Than Enough: How One Family Cultivated A More Abundant Life Through A Year Of Practical Minimalism by Miranda Anderson
I love Miranda's book about choosing to be happy with what you have instead and making your life work for YOU instead of trying to keep up with some imaginary finish line that you'll never reach. If you haven't read it yet, this is the perfect book to read as a new year begins! (Full review here)

The Glass Castle by Jeannette Walls
This is a memoir about growing up in a completely dysfunctional family, where the family keeps moving in the middle of the night and the children eventually realize that the parents are never going to pull themselves together. This definitely will make your own childhood look really really easy. I loved this one so much. (Full review here)
Textbook Amy Krouse Rosenthal by Amy Krouse Rosenthal
This is a memoir like none I've ever read – it's broken down into sections like a college curriculum (romance languages, history, etc) and it's not a comprehensive story of her life as much as bits of stories, memories and thoughts. I generally don't love books with a very unusual narrative structure, but this book delighted me from the first to the last page and made me wish she was my next-door neighbor. I LOVED talking about this one during the 2023 Everyday Reading Book Club. I also highly recommend her other memoir, Encyclopedia of an Ordinary Life.
A Homemade Life by Molly Wizenberg
Molly's food blog was one of the early ones I read and I love her cooking and her writing so much. This is her first book and it is phenomenal, I even gave it to my mom for Mother's Day about ten years ago and she loved it. (Full review here) Her book Delancey: A Man, a Woman, a Restaurant, a Marriage, about opening a restaurant with her new husband is another great read.
Battle Hymn of the Tiger Mother by Amy Chua
This is one of those books when it came out, people either loved it or hated it. I thought the entire book about a woman's take on Chinese parenting in America is fascinating and I would highly recommend it. (Full review here)
Wait Till Next Year by Doris Kearns Goodwin
I read this for a sports history class I took, but I loved it as if I'd picked it out on my own. Just a marvelous memoir. Fun, funny, and touching, even if you don't care about sports. I picked this one for my Texas book club years ago and it was just as good the second time!

Dinner: A Love Story by Jenny Rosenstrach
I am truly obsessed with Jenny's writing. It's so personable and fun and I want her to be my next door neighbor in the WORST way. I also love her book, How to Celebrate Everything. Read them both and you'll want her to move next door to you too. (Full review here)
A Spoonful of Sugar: A Nanny's Story by Brenda Ashford
For more than sixty years, Brenda Ashford worked as a nanny in England. Now as Great Britain's oldest living nanny, she shares her wisdom about how to properly care for a child. Although she never married or had children of her own, over the course of her life, she was responsible for largely raising more than 100 children. It's really interesting to see how child-rearing changed over the course of that time, plus it's set against the background of lots of world change, from WWII to the information age. It's a delightful, fun read (and it also makes me insanely jealous of people with a night nanny. . . .).
Bread and Wine: A Love Letter to Life Around the Table with Recipes by Shauna Niequist
This book is everything I love about food – warmth and company and family. It's just so wonderful in every way. (Full review here).
Shoe Dog by Phil Knight
I knew exactly zero about Phil Knight and the origins of NIKE, and now I'm a fan for life after Bart read this book and passed it along to me with rave reviews. This memoir was completely fascinating even for someone like me and I stayed up way too late finishing it. (Full review here)

Upstairs at the White House: My Life with the First Ladies by J.B. West
Like most people, I'm totally interested in the U.S. Presidents and their lives, times, and families. I read this in just a few days, and it reminded me how much I love American history and how I definitely want to read more. If you're at all interested in U.S. History, this is almost certainly a book you'll enjoy. (Full review here)

Things a Little Bird Told Me by Biz Stone
This book was one of my very favorite non-fiction reads back in 2014 and I've re-read big chunks of it again and again, because it's just so funny and smart and fascinating. Most of us are familiar with Twitter to at least some extent, but it's really eye-opening to see how it got off the ground and what the founders saw as the original use-cases and goals for it. And prepare to just laugh a lot and want to be BFFs with Biz Stone.

When Stars are Scattered by Victoria Jamieson
This true story of a young boy living in a refugee camp in Kenya, caring for his non-verbal younger brother and trying to attend school to life is an absolutely stunning story. Most of the time, a graphic novel is going to be best in book form, but the audio of this one is incredible. 
As You Wish: Inconceivable Tales from the Making of The Princess Bride by Cary Elwes
If you're a fan of The Princess Bride movie (and who isn't?), this book is a must-read. Written by the actor who played Wesley, there are so many great stories about the making of the movie and the actors and crew, and it made me love this movie even more than I did before. Request a copy of the movie at the same time as the book, because you'll definitely want to watch it when it's over.(Full review here)

Hillbilly Elegy: A Memoir of a Family and Culture in Crisis by J.D. Vance
This one got a TON of publicity during Trump's presidential run as it gave insight into the lives of working class Americans. It's interesting and eye-opening and almost unbelievable in some parts (has YOUR grandmother ever set her husband on fire with kerosene while he napped on the couch?) and it reads like a novel. Fair warning that there is quite a bit of swearing in this one. (Full review here). 
Funny in Farsi: A Memoir of Growing Up Iranian in America by Firoozeh Dumas
This is one of those books that was recommended to me about one million times before I finally picked it up and then I couldn't stop wondering what the heck took me so long. Her experiences and stories are the perfect mix of the universal experiences of childhood and growing up and those that are more specific to an immigrant family. I feel like there's no way to do this book justice except to say, "go read it and love every page." And then read the sequel, Laughing Without an Accent: Adventures of an Iranian American, at Home and Abroad, immediately afterward. (Full review here)

Talking as Fast as I Can: From Gilmore Girls to Gilmore Girls, and Everything in Between by Lauren Graham
I loved Gilmore Girls back in the day and this was just so delightful to listen to (you for sure want to listen since she reads it herself).

I Will Always Write Back: How One Letter Changed Two Lives by Martin Ganda and Caitlin Alifirenka
This is a fantastic non-fiction story of two international pen pals that start as a school project and become lifelong friends. I included this one on the 2018 Summer Reading Guide. (Full review here)

At Home in the World: Reflections on Belonging While Wandering the Globe by Tsh Oxenreider
I read this book in 2018 and I thought about it almost daily. I have no desire to be a full-time wanderer, but it was fascinating to read about a family traveling the world especially with young children. It was such an amazing peek into a totally different life experience and into so many other cultures. (Full review here)
Becoming by Michelle Obama
Starting in her childhood and ending shortly after her husband finishes his eight years as president, hearing her tell her story in her own words is compelling and powerful. Plus, it's such an interesting look at the US political system, balancing career and marriage and motherhood, and life in the White House. I highly recommend this one on audiobook because Michelle Obama reads it herself. (Full review here)

Garlic And Sapphires by Ruth Reichl
If I had to pick a single favorite food book, it would probably be this one. All about her time as the lead restaurant critic for The New York Times, this book by Ruth Reichl is laugh out loud funny and packed with great recipes. I read this a decade ago and my parents read and loved it too, so I am so excited to re-read this one in November for the Everyday Reading Book Club!

Dancing at the Pity Party: A Dead Mom Graphic Memoir by Tyler Feder
You don't expect to laugh this much in a graphic memoir about losing your mother to cancer. And yet, this book manages to be both utterly delightful and absolutely heartbreaking. This was one of the first books I read in 2021 and it set the bar high for books for the rest of the year. Whether you've lost a loved one and need to feel less alone in your grief or just want a book that will draw you in, this one is an absolute winner. I wouldn't be surprised if this one ends up on a future Everyday Reading Book Club list.

Service Included: Four-Star Secrets of an Eavesdropping Waiter by Phoebe Damrosch
For those of us who are not regularly dining at Michelin Starred establishments, this is a fascinating peek at what it's like to be a waitress in one of those places. (Full review here).
And if you'd like a printable copy of this memoir book list that you can take to your library or screenshot on your phone for easy access, just pop in your email address below and it'll come right to your inbox!
if you liked this post about my favorite memoir books, you might also like these other posts: