It's been too long since I talked about games!
But just because I haven't mentioned them here doesn't mean we haven't been playing up a storm – I'd say we average at least 4-5 games a week (Tally and Ella especially like to play with me over breakfast).
Here are five board games for families we've loved recently: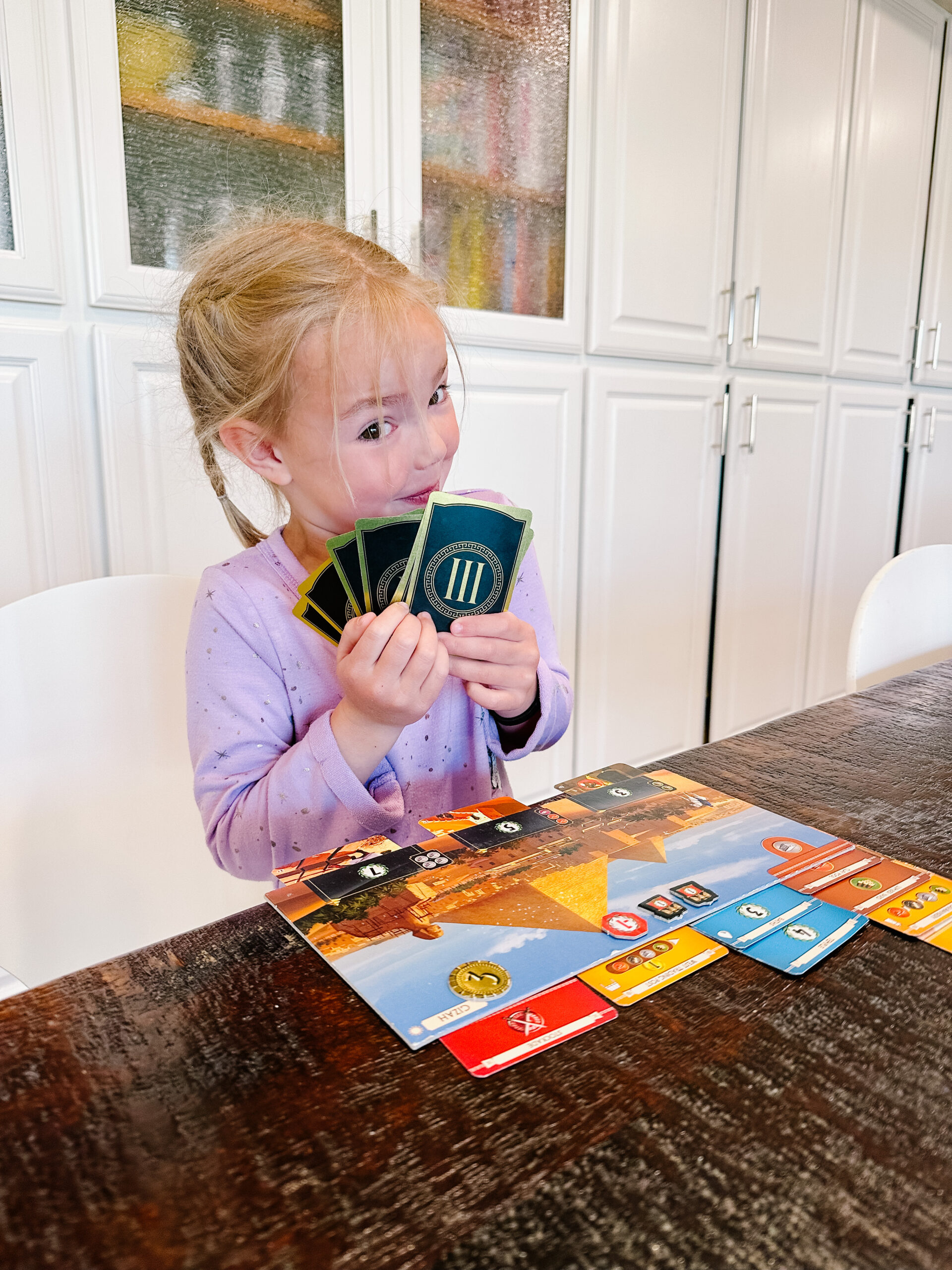 board games for families
CARCASSONNE
I saw Carcassonne at our library covered in "best game of the year" type stickers and picked it up (check and see if your library offers game-checkout. It's such a great way to try new games without paying for them. And if they DON'T offer it, suggest that they consider it!). It's pretty simple to learn – it's a tile-laying game – and Tally (6) and Ella (12) especially loved this one. Apparently there are a bunch of expansion sets, but we haven't tried them yet.
SUSPEND
My parents gave this game to one of my girls for Christmas and all my kids played it non-stop through the holiday break and it's continued to be a favorite since then. It's a balancing game (kind of the opposite of Jenga, where you're trying to ADD pieces rather than take them away) that you can play with up to four player and even by yourself, which is particularly nice.
CHRONOLOGY
This game was a true blast from the past for me – my parents owned Chronology and we played it a lot growing up but I hadn't seen it in YEARS. My in-laws gave it to us for Christmas and we've played it endlessly. I've been surprised by how much even my little girls (6 and 8) enjoy it and it's a great way to talk about history and world events and inventions. Plus, you can learn how to play it in about 30 seconds.
7 WONDERS
Guys, this is my new favorite game. The rules are fairly intimidating – I think Ella spent an hour trying to figure out how to play, but once you figure it out, it's super super fun and a game only takes about 15 minutes, so it's perfect for playing over breakfast at our house. Everyone likes it, down to my 6 year old (who handily beat us this morning in a game). If you don't mind a little upfront investment of time learning how to play, it's endlessly interesting and strategic and every single game is different. I'm a super fan. (I'll probably get an expansion pack or two for Ella for her birthday).
QWIRKLE
This was a game we gave our girls as a family gift for Christmas and it has been a big hit. It's so fun that we can all play it together and it doesn't take that long. Plus, it's just so pretty – think of it like Scrabble but with shapes and colors.
Any other favorites? I'm always on the lookout for more favorite games for families to play!
if you liked this post about our favorite games for family, you might also like these other posts: