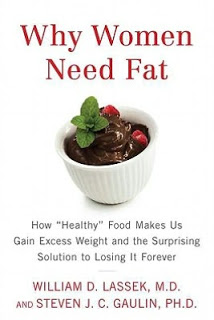 Why Women Need Fat is a book I feel a little split on. On the one hand, there were some fascinating things about it and I read huge passages aloud to Bart. On the other hand, good heavens, I think it could have been about 100 pages shorter.
why women need fat by william d. lassek and steven j.c. gaulin
Why Women Need Fat has four main points: 1) women store fat in their bodies in ways specifically designed to produce healthy children (and this changes over the course of their lives) 2) the Western diet is making people heavier than they would be on a normal diet (I know! I was SHOCKED by this revelation too) in large part because the fats we eat don't provide our bodies the nutrients we need and so we our bodies crave more fat to get those nutrients 3) dieting makes your brain want to gain weight and 4) if you eat more real foods, your body will naturally, over time, find its healthy weight (even if that isn't quite as thin as you'd like to be – if your body really wants to be right around 150, you're going to have a hard time permanently staying at 120).
I loved this quote from Why Women Eat Fat because it kind of sums up how I feel about food and dieting:
Did we actually voluntarily give up most delicious foods in the quest to make ourselves healthier? Amazingly, we did. American women made unpleasant, unappealing, and difficult changes in the foods their families ate, and especially the fats they were eating, because they believed that this would improve their health. Instead we all got fatter.
I liked this book as an addition to the many other food books I've read and I did learn some new things (including more about how the hypothalamus works), but if I was going to read just one book about changing my diet, it'd be The Omnivore's Dilemma. On the other hand, I'm not looking to lose weight and since this one is more specifically geared toward that (via a real foods diet) than The Omnivore's Dilemma, this might be more helpful to people with different goals than I have.
The other thing that set Why Women Eat Fat apart for me is the focus on how our bodies react to dieting – it's fun to learn some of the science behind things you've observed your whole life. That part alone made it worth reading for me.
My recommendation? Skim the dull parts and enjoy the many fascinating sections. Wonder about trying the experiment researchers did where they doubled the caloric intake of students who proceeded to not gain any weight at all. Feel smart for understanding how the hypothalamus works and why it will slow your weight loss if you lose too much, too fast. Gag at the stats about the average American eating 6+ gallons of vegetable oil a year.
Also, I'm recommitted to reading food labels more diligently. Bart is probably terrified that his beloved Triscuits won't make the cut.
I read this book for the BlogHer Book Club and you can read other reviews and discussions at BlogHer. I am paid for my participation in the BlogHer Book Club, but I choose which books to read and my reviews are strictly my own opinions. If I think a book is terrible, I'll say so. If I rave about a book, it's because it's one I'd give to Kayla or my mom.
If you liked this review of why women eat fat, you might also like these books: