Thank you SO much for your kind response to my first post about making it less stressful to visit the library with small children.
I'm so delighted that it was useful!
That first post mainly dealt with questions about the logistics of library visits, like children's behavior, germs, and those dreaded iPads and computers that are like magnets for your children.
The questions this time are about how to find good books at the library, whether your library has a pretty sad selection, your child just pulls random books off the shelf or they only want those TV character books that seem to be written by someone who has never actually read a book.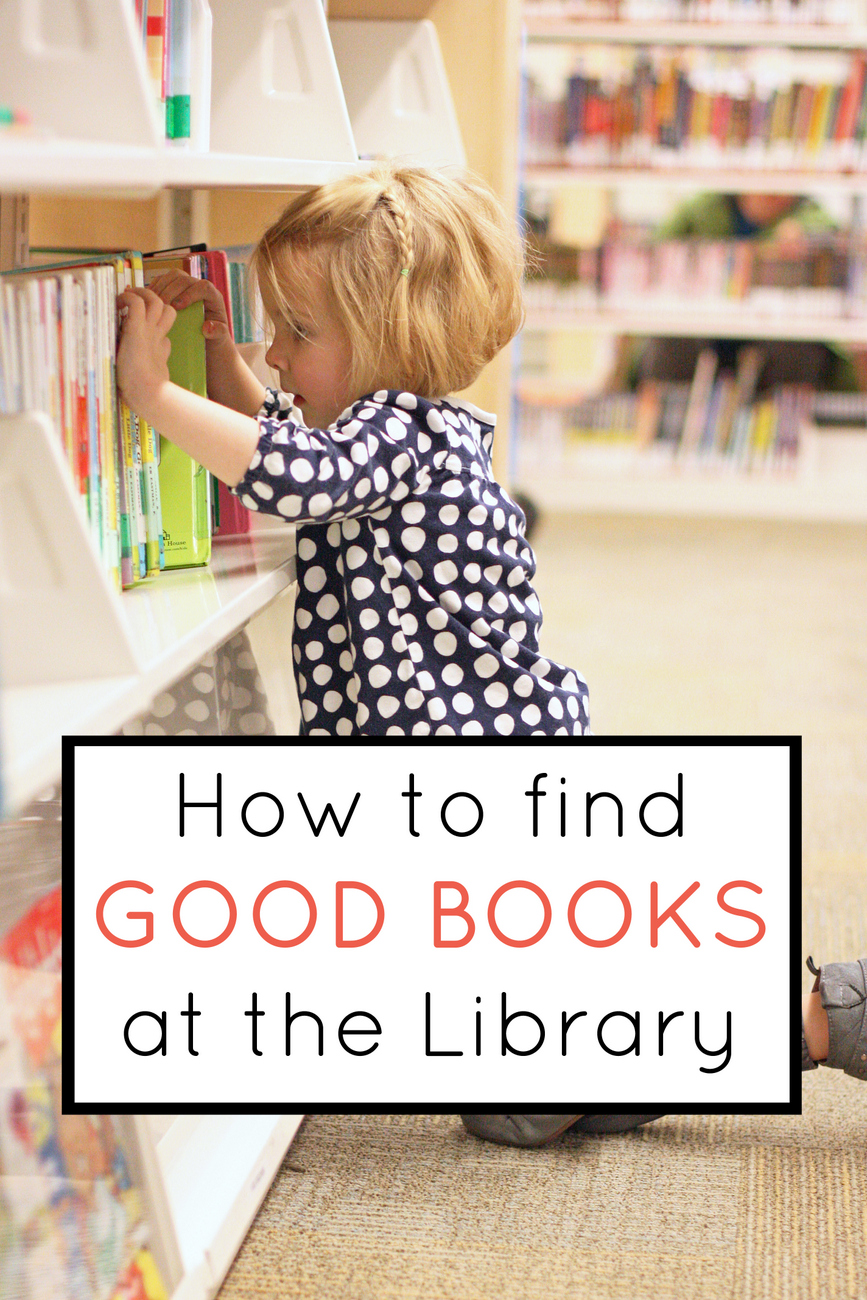 I'm super grateful again for the invaluable advice from these fine ladies:
Anne Bogel of Modern Mrs Darcy and the What Should I Read Next? podcast
Carole Gates of Kids Books Worth Reading (she's also my mom)
Michelle of The Book Report
Ralphie Jacobs of Simply on Purpose
Claire Nelson of A Little Book Habit Amy Johnson of Sunlit Pages
Carter Higgins of Design of the Picture Book  (she's also a school librarian and children's author)
Jane Tanner of Bookroo
Eileen of Picture This Book
Charnaie Gordon of Here Wee Read
Sarah Mackenzie of The Read-Aloud Revival podcast
Heather of Tiny Readers
Michelle Sterling of Avery and Augustine
My library has the most pathetic selection ever. Or my library charges for a card.

We have lived by libraries with horrible selection and it was super discouraging. However, I have found that sometimes those libraries will allow you to check out from other libraries in their network. Check with your librarian and see if they can pull books from other libraries in the area – 

Michelle of The Book Report
What Michelle said above! Also: some county/city libraries allow you to join for free or for a small annual fee. This can be nice for physical books and a real boon for digital and audio products. Sometimes a membership to an adjacent library opens a world of free or low-cost digital and audio possibilities not available from your regular library – Anne of Modern Mrs. Darcy
I used to refer to our local libraries as Whited Sepulchres — beautiful on the outside, but pretty empty on the inside.  It made me realize that although new libraries are often fabulous structures, they have limited book selections since they just haven't had time to build up their collections.  I've come to love older branches because of this.  Like others have mentioned before, being able to go online and order titles from neighboring libraries is a real blessing. I've also realized that librarians have strong preferences and while one library will have a strong YA section, another library will have a great audio selection.  Pay attention to the strengths of the various branches you can visit or order from, and use them accordingly. When I was young our family moved outside the city limits and suddenly our library cards were no longer free.  My parents began purchasing each of us a card as one of our Christmas presents each year.  I still remember the pleasure of receiving a new library card every year in my stocking.  You can also do a quick tally of the cost of the books you've checked out during a year and realize what a bargain a library card probably is compared to purchasing all those books — or missing out on them – Carole of KidsBooksWorthReading

My kids don't know how to pick out their own books – they just grab randomly off the shelf and they're usually not that great.

I let my kids read whatever they want in the library but I decide what we actually bring home for quality control, ha! – Eileen of Picture This Book
For better or worse, this is a skill that kids need practice to develop. If they keep reading—and visiting the library—they'll get there. 🙂 While they're developing it, I like to go to the library armed with a long list of book ideas for each child – Anne of Modern Mrs Darcy
I let my kids pick 1-2 books that they want to bring home. And I come with a list that I know we will all enjoy once we get home. I usually reserve these before we get to the library, so I am not struggling to find them once we are there and juggling my kids. Less chaos. And easier to be present and help them look for books – Michelle of The Book Report
I agree with all of the statements echoed above.  With practiced and continued reading kids will eventually be able to differentiate between good literature and mediocre literature on their own – Charnaie of Here Wee Read
See if you can take just a few minutes before going to the library to find out what your kids are hoping to find. Then you can direct them to a particular section. I've noticed that my very young kids will grab whatever's easiest to reach and first hits their eyes, so strategically walking them to a particular section is really helpful! – Sarah Mackenzie of The Read-Aloud Revival
Ha yes this is true, but this is probably their one chance to choose from such a wide selection and the excitement is bound to go to their heads. So they choose a few rubbishy books. That's ok! It's all part of the fun of finding out what sort of books they do like and as it's a free resource it doesn't matter if they don't like or enjoy everything they bring home from the library. In fact, this might even be one of the greatest things about a library visit- that you can come home with a fistful of books and some will be winners, some will be not so great and some you won't make it to the end of. None of the pressure of spending money in a bookshop and it needing to be something amazing that you will want to read many times or having to read something for school whether you like it or not. I would also like to add that my idea of a great book and my five year old's are not always the same and that's how it's meant to be. Plus it can make a great talking point to discuss what they like about books and encourages them to have opinions about what they are reading – Claire of A Little Book Habit
Choose some books that you'd love to see your child read or that they would be interested in, and sit down at a table with them to have them preview the books.  Have them narrow the selection down and pick which ones they want to check out.  That way all of their choices will be ones that you approve of.  If they really want to pull books from the shelves on their own, have them pull out two on their own, while the majority of the books will come from your pre-selected bunch.  Ownership really matters to some children (and not so much to others), so giving children the power to choose books (within your given  parameters) is a good compromise for them.  — Michelle of Avery and Augustine
One thing I've recently learned about kids is that they make fabulous little book critics with some guidance and practice, and it's something they quite enjoy! By talking about the books with your kids like Claire suggests (be they great or rather mediocre books in your opinion) and asking them to identify what they like and what they didn't like as much, and compare them with family favorites, you can help kids develop and refine their taste. You can also reinforce favorites and help your children create a bond with them by bringing them up during everyday activities, but at the end of the day books are better than no books so don't stress it! – Jane of Bookroo
Find a few good kids' book accounts on Instagram whose selections you really connect with, and reference them to generate a list of books that you'd like to check out before you head to the 

library

.  Try searching for accounts using the hashtag #kidsbookstagram or #raisingreaders — Michelle of Avery and Augustine
As your children get older, introduce them to blogs that recommend quality books for their age.  Help them keep a running list of books they're interested in.  How many adults also can't find a good book among the stacks without a plan??  Also encourage them to pay attention to authors (even when they're very young) so they'll recognize their names and can see what other titles might be available by that same person –  Carole of Kids Books Worth Reading

All my kids choose are those low-quality TV character books. BLAH!
Aren't these such amazing ideas? I loved all of them (and tucked lots of good ideas away for our own library visits). I hope they're helpful and if you have additional ideas for things that have worked for your family, I'd love to hear them in the comments!