Thank you SO much for your kind response to my first post about making it less stressful to visit the library with small children.
I'm so delighted that it was useful!
That first post mainly dealt with questions about the logistics of library visits, like children's behavior, germs, and those dreaded iPads and computers that are like magnets for your children.
The questions this time are about how to find good books at the library, whether your library has a pretty sad selection, your child just pulls random books off the shelf or they only want those TV character books that seem to be written by someone who has never actually read a book.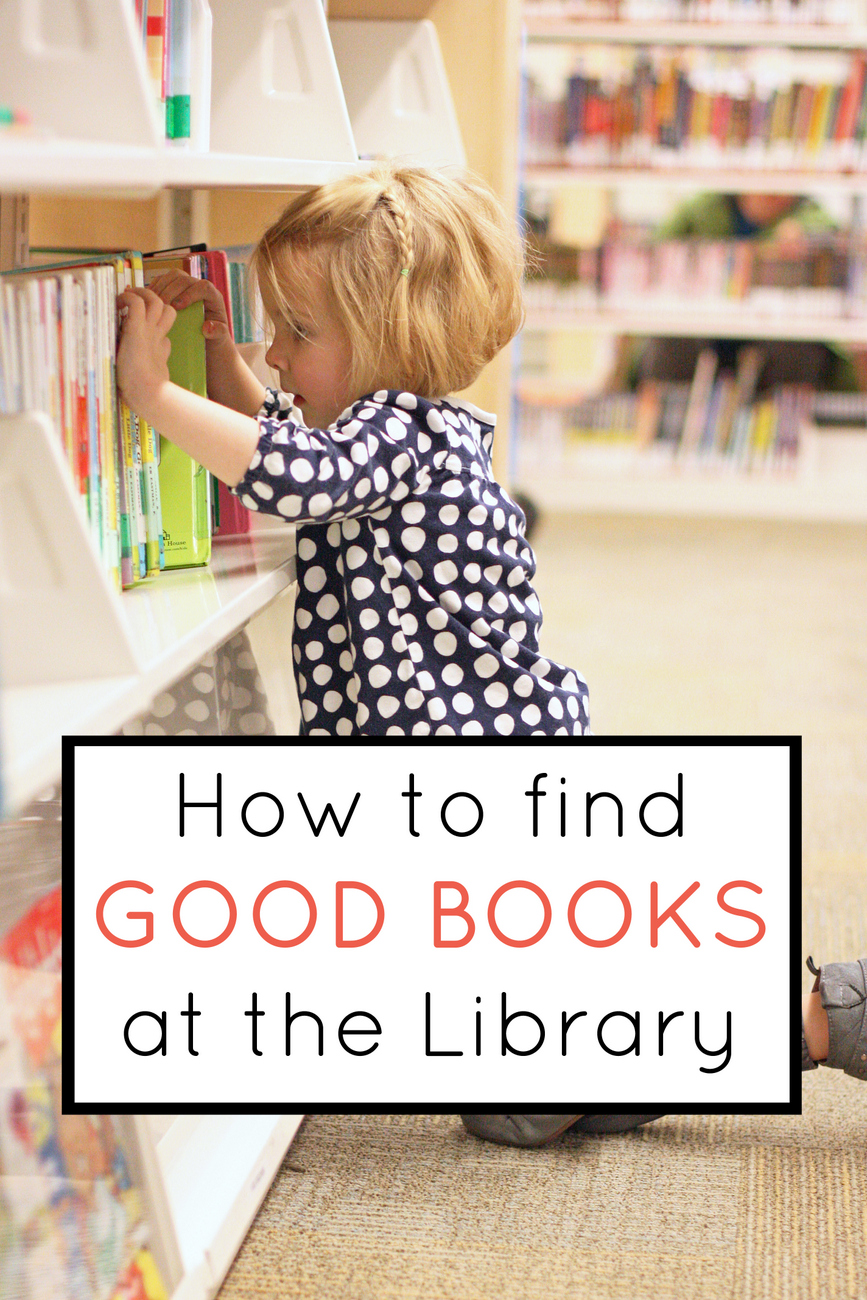 I'm super grateful again for the invaluable advice from these fine ladies:
Anne Bogel of Modern Mrs Darcy and the What Should I Read Next? podcast
Carole Gates of Kids Books Worth Reading (she's also my mom)
Michelle of The Book Report
Ralphie Jacobs of Simply on Purpose
Claire Nelson of A Little Book Habit Amy Johnson of Sunlit Pages
Carter Higgins of Design of the Picture Book  (she's also a school librarian and children's author)
Jane Tanner of Bookroo
Eileen of Picture This Book
Charnaie Gordon of Here Wee Read
Sarah Mackenzie of The Read-Aloud Revival podcast
Heather of Tiny Readers
Michelle Sterling of Avery and Augustine
My library has the most pathetic selection ever. Or my library charges for a card.

We have lived by libraries with horrible selection and it was super discouraging. However, I have found that sometimes those libraries will allow you to check out from other libraries in their network. Check with your librarian and see if they can pull books from other libraries in the area – 

Michelle of The Book Report
What Michelle said above! Also: some county/city libraries allow you to join for free or for a small annual fee. This can be nice for physical books and a real boon for digital and audio products. Sometimes a membership to an adjacent library opens a world of free or low-cost digital and audio possibilities not available from your regular library – Anne of Modern Mrs. Darcy
I used to refer to our local libraries as Whited Sepulchres — beautiful on the outside, but pretty empty on the inside.  It made me realize that although new libraries are often fabulous structures, they have limited book selections since they just haven't had time to build up their collections.  I've come to love older branches because of this.  Like others have mentioned before, being able to go online and order titles from neighboring libraries is a real blessing. I've also realized that librarians have strong preferences and while one library will have a strong YA section, another library will have a great audio selection.  Pay attention to the strengths of the various branches you can visit or order from, and use them accordingly. When I was young our family moved outside the city limits and suddenly our library cards were no longer free.  My parents began purchasing each of us a card as one of our Christmas presents each year.  I still remember the pleasure of receiving a new library card every year in my stocking.  You can also do a quick tally of the cost of the books you've checked out during a year and realize what a bargain a library card probably is compared to purchasing all those books — or missing out on them – Carole of KidsBooksWorthReading

My kids don't know how to pick out their own books – they just grab randomly off the shelf and they're usually not that great.

All my kids choose are those low-quality TV character books. BLAH!
Aren't these such amazing ideas? I loved all of them (and tucked lots of good ideas away for our own library visits). I hope they're helpful and if you have additional ideas for things that have worked for your family, I'd love to hear them in the comments!