Nobody wants to need a list of children's books about divorce – it's a hard subject and a hard transition for everyone involved, even when it's the best choice.
Here are ten excellent options: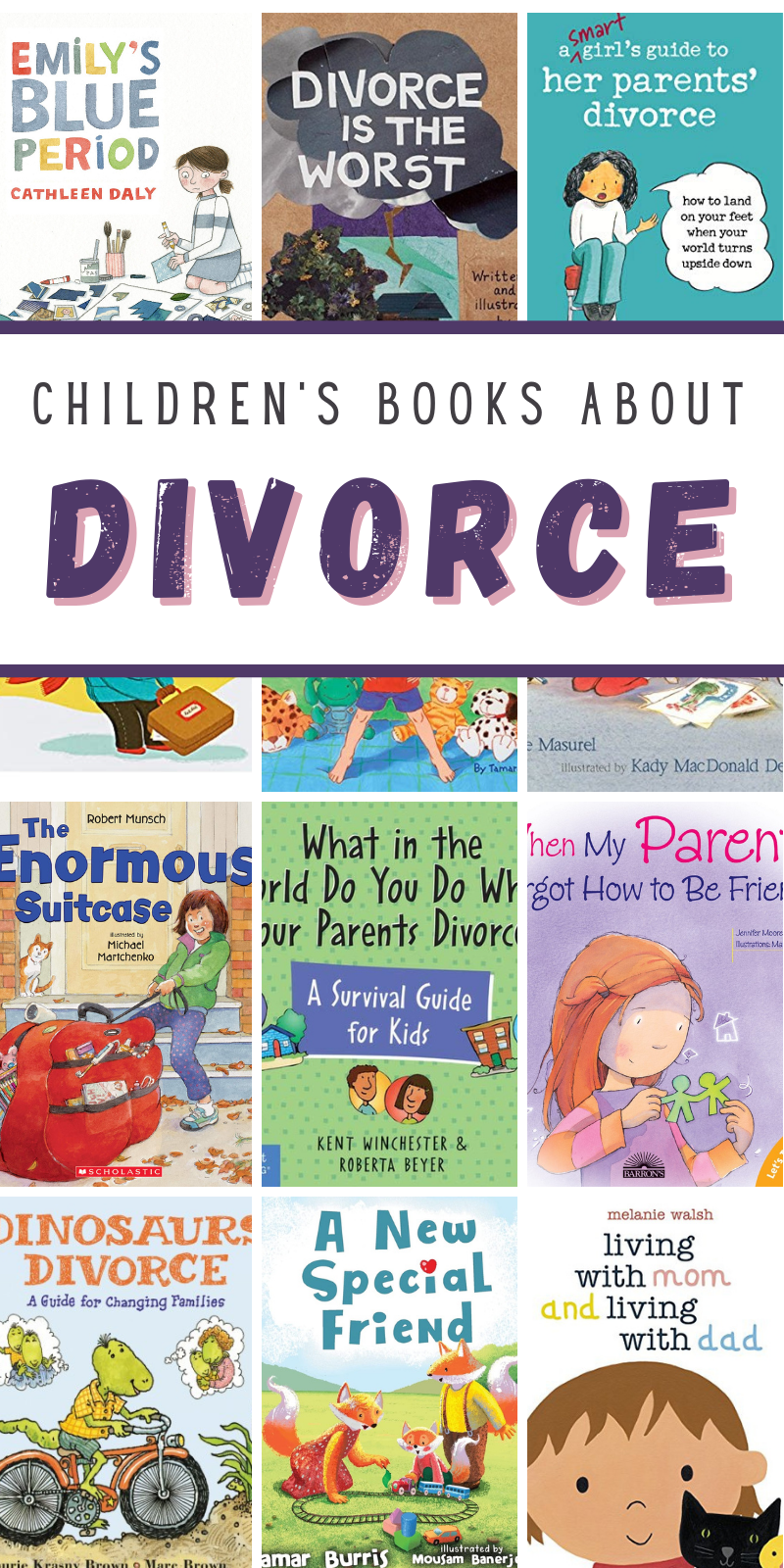 10 Children's Books about Divorce
When My Parent's Forgot How to Be Friends by Jennifer Moore-Mallinos, illustrated by Marta Fabrega 
One of the hardest part of a divorce for young kids can be worrying about if it's their fault that their parents are no longer married. This book, designed for young children, gently explains that a child is not responsible for a divorce and that both parents will continue to love their child, even through these changes.
Two Homes by Claire Masurel, illustrated by Kady MacDonald Denton
This simple book shows Alex's setting and belongings at both his Mommy's house and his Daddy's house. They're a bit different in each home, but in both places he's loved and well taken care of.
I Don't Want to Talk About It by Jeanie Franz Ransom, illustrated by  Kathryn Kunz Finney
When a young girl's parents tell her that they'll be getting divorced, she does NOT want to talk about it. Not one bit. But having a conversation about it and being able to voice her concerns makes this hard transition a little easier. This book also includes an afterword for parents about how to help their children manage a divorce.
Dinosaurs Divorce by Marc Brown and Laurie Krasny Brown
You'll recognize the illustrations from Marc Brown's beloved Arthur series and this is an upbeat and extremely comprehensive introduction to the many facets of divorce and the questions or concerns a child might have, including living at two houses, celebrating holidays, stepparents and stepsiblings, and lots more. This divorce book is hugely popular for good reason.
Emily's Blue Period by Cathleen Daly, illustrated by Lisa Brown
Emily is interested in art and especially in her school's exploration of Picasso. When she hears about his "blue period" she decides she is also in a blue period – her parent have recently divorced and it's a mixed up, sad time for her. The good news is, that blue period won't last forever.
Divorce Is the Worst by Anastasia Higginbotham
There's no beating around the bush in this straightforward picture book about divorce – it's the worst for most kids to have their family change so dramatically. and this book does an excellent job honoring those feelings and also offering hope for a better future.
My Family's Changing: A First Look at Family Break Up by Pat Thomas
A divorce is full of worry and questions for a child and this book sensitively addresses those (I particularly like the "what about you?" sidebars that ask thoughtful questions of the child).
Living with Mom and Living with Dad by Melanie Walsh
This lift-the-flap book is perfect for the littlest readers – it shows a child going between her parents' houses with differences at each but also some beloved items that come with her to both.
Standing on My Own Two Feet by Tamara Schmitz
This sweet story follows Addison – his parents are going through a divorce, but these inspiring affirmations help him remember that no matter what, his parents will both always love him and be there for him.
What in the World Do You Do When Your Parents Divorce? A Survival Guide for Kids by Kent Winchester J.D. and Roberta Beyer J.D.
This book about divorce is definitely for a little bit older child who wants more in-depth information about what to expect, what certain terms mean and how to manage a changing family dynamic. It's very well done and extremely thorough.
And some children's books about divorce that were recommended by you!
The Invisible String by Patrice Karst, illustrated by Joanne Lew-Vriethoff
This book isn't specifically about divorce – it can also be used for separation anxiety, death and grief. In it, a mother tells her children that they're connected together by an invisible string made of love that keeps them connected, no matter how far apart they may be.
The Enormous Suitcase by Robert Munsch, illustrated by Michael Martchenko
This book came about when a young girl wrote the author and asked him to write a story about a child who goes between her mom and dad's houses after they divorced. Kelsey would much rather that her parents take turns visiting HER, but since they can't make that work, she takes more and more things with her each time she goes between their two houses.
Divorce Is Not the End of the World: Zoe and Evan's Coping Guide for Kids by Zoe and Evan Stern
Meant for older readers (the publisher says 8-12), this book about divorce is written by two early teenagers who share what it was like when their parents divorced and how they got through it (it includes an update ten years after they wrote it, which is really encouraging too).
Always Mom, Forever Dad by Joanna Rowland, illustrated by Penny Weber
It's hard on children to move between two homes, but this book gently reassures readers that they'll always have a loving mom and a loving dad, even if they don't live together anymore.
Lou Caribou: Weekdays with Mom, Weekends with Dad by Marie-Sabine Roger, illustrated by Nathalie Choux 
Lou Caribou spends the week living with his mom and then each weekend goes to spend it with his dad who lives at the opposite end of the forest. That means packing up his favorite stuffed animal and taking along some other essentials. Both his parents love him and he does fun things with each of them.
It's Not Your Fault, Koko Bear by Vicki Lansky
Like many children, Koko Bear does NOT want his parents to get divorced and he really doesn't want two homes. But what he DOES want is reassurance that this is not his fault.
A Smart Girl's Guide to Her Parent's Divorce: How to Land on Your Feet When Your World Turns Upside Down by Nancy Holyoke, illustrated by Scott Nash
I've always been impressed by the American Girl non-fiction books and this one has RAVE reviews.
A New Special Friend by Tamar Burris, illustrated by Mousam Banerjee
Just when Little Fox is getting used to his parents being divorced, his dad brings along a special new friend. What will this mean for Little Fox? Is his mom okay with it? Will his dad still want to spend time with him? This is a darling book about introducing a new partner after divorce.
And if you'd like a printable copy of this list that you can take to your library or screenshot on your phone for easy access, just pop in your email address below and it'll come right to your inbox!
Any other recommendations for good children's books about divorce? I'd be grateful if you left them in the comments!
If this list of children's books about divorce was helpful, you might be interested in these posts too: