Part Four! This has been such a fun series for me and I hope it's been helpful for your families as you navigate the library.
If you missed the previous posts, you can find Part I, Part II, and Part III here, with suggestions for dealing with the computers at the library, helping your children pick good books, managing hold, fines, and lines, and teaching your children to behave at the library.
Of course, all the good advice for these excellent questions has come from these smart book-loving ladies:
Anne Bogel of Modern Mrs Darcy and the What Should I Read Next? podcast
Carole Gates of Kids Books Worth Reading (she's also my mom)
Michelle of The Book Report
Ralphie Jacobs of Simply on Purpose
Claire Nelson of A Little Book Habit
Amy Johnson of Sunlit Pages
Carter Higgins of Design of the Picture Book  (she's also a school librarian and children's author)
Jane Tanner of Bookroo
Eileen of Picture This Book
Charnaie Gordon of Here Wee Read
Sarah Mackenzie of The Read-Aloud Revival podcast
Michelle Sterling of Avery and Augustine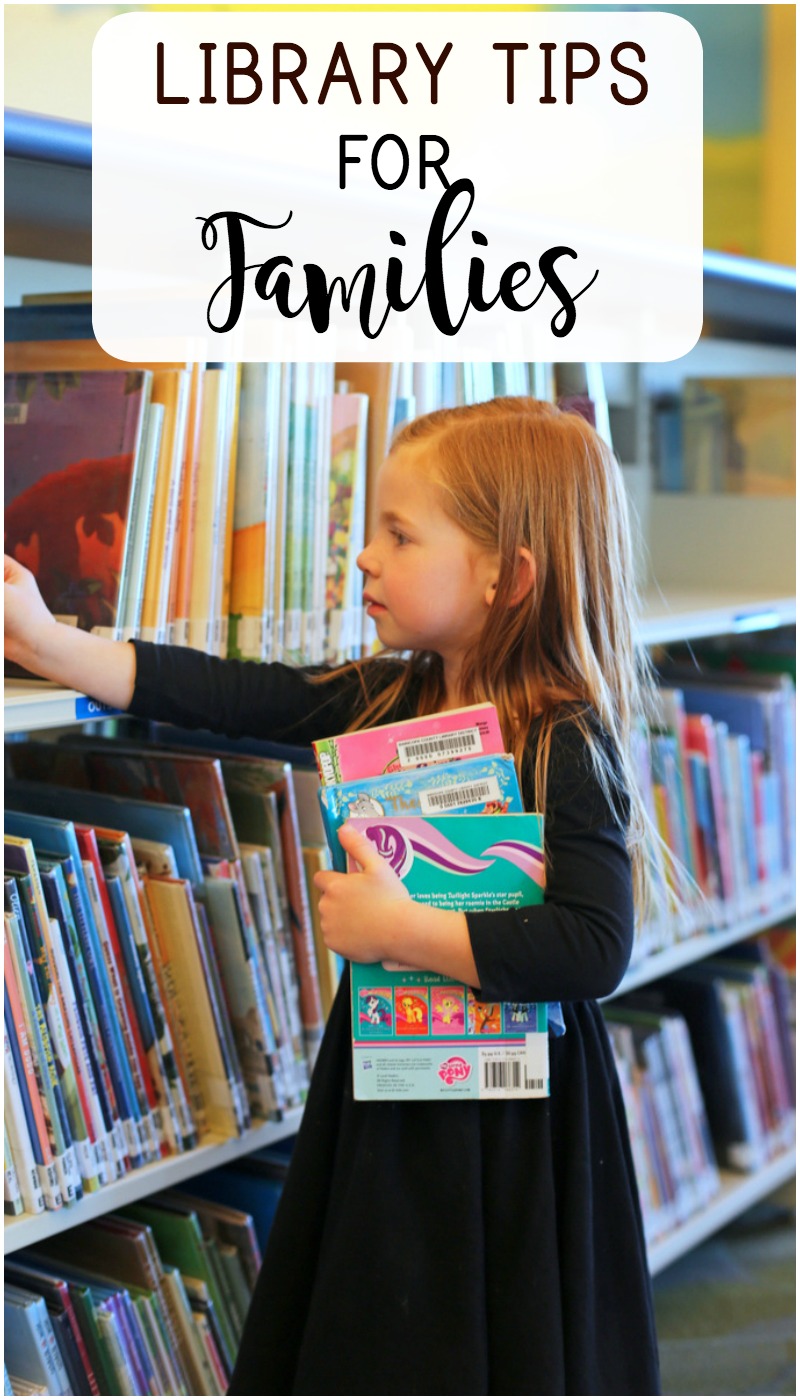 The hold lines for both physical and digital best-sellers are SO FREAKING LONG.

In my library system, if you wait until a bestseller is published, I'll be waiting many months to read that book. If you request a book before publication date, the wait will be much shorter. I'll admit this is easier said than done, sadly – Anne of Modern Mrs Darcy
If you KNOW you're going to want a book before it's released, be the first one to request that your library purchase it! They'll usually put you first in line on the hold list, even if they were already planning on buying the book – Sarah Mackenzie of The Read-Aloud Revival
My husband and I are in love with the app Hoopla–we've used Overdrive in the past (and still do!), but Hoopla seems to have a different queuing system and we're able to get some books MUCH faster. The only catch is you can only check out 5 books per month, so use it strategically! – Jane of Bookroo
How do I find good books?!

When choosing books I do any of the following:

Look for children's books with high-quality text, illustrations, and topics that appeal to me.  Yes, it's important for me to like the book too since I'll be the one reading it aloud.  If I don't enjoy it, the kids will be able to tell and they won't enjoy it either.

I follow the kids' interests.  For example: whenever the kids show signs of a new interest, I jot it down. Then I go to the library and do some research on different books.  Same applies to different subjects kids may be focusing on in school.  For example: space, the human body, etc.

Browse different book lists.  No need to reinvent the wheel, right?  There are so many wonderful book lists have been written to help you discover the best books for kids.  I refer to these often.  A quick Pinterest or Google search should point you in the right direction.

Browse social media.  There are so many talented and passionate book lovers out there who post about children's books and adult books.  Instagram is my favorite social media platform to look for new book recommendations.

I truly believe by giving kids the best literature from the beginning, they'll grow up to choose it for themselves.  I hope this helps you in your search of great books for you and your little ones.  Now, head to your local library, bookstore or online store and fill your world with the good stuff! – Charnaie from Here Wee Read

Generally the more books you read, the more you're attuned to what's good and what's not, so I only get the books I like, for the kids. I honestly believe that the best book recommendations are on Instagram since there are so many passionate bookstagrammers these days, and it's also where we share our book finds since I don't have time to update my blog anymore! –

Eileen of Picture This Book

I would love to think that every time I'm headed out the door to the library I have my list of "must read picture books" but as we all know, LIFE.  Right? So I've learned this very simple trick that has been a homerun every time.  When you walk down the picture book aisle you'll notice that there are many titles that have multiple copies.  This means that at one point the librarian ordered duplicates because of the popularity of the book. So just grab and go!

Ralphie of Simply on Purpose
The hunt for amazing books is something that I have always had a passion for (thanks mom!) and am lucky to be able to do it full-time for Bookroo, but it's not something everyone wants to spend hours on, so take advantage of those people who do enjoy it! If you have a friend who has a passion for it or have found someone whose tastes align with yours pretty consistently (on or offline), take advantage of their expertise and the time they've spent curating a collection! Also, since the library is an essentially risk-free way to develop your own tastes, don't be afraid to occasionally just grab a random book that catches your eye… it may turn out to be a favorite (and if not, you only have to have it around for a week)! – Jane of Bookroo
Librarians often face a new or well-loved book out on the shelf.  I've noticed they're pretty careful which books are highlighted this way — they don't want to recommend a dud.  Read the first and last pages.  If the story or illustrations grab you from page one or if the ending seems strong, the book is probably solid.  The  multiple copies — like Ralphie recommended above — is also a great clue – Carole of Kids Books Worth Reading

We check out too many books (especially longer books or grown-up books) and can't finish them before they're due back.

I have to say I do this myself! Philosophically, it helps me to remember that too many books is far better than too few. Practically, loosely prioritizing my current library stack (or prioritizing my children's stacks) helps us make sure we read the books we're most excited about – Anne of Modern Mrs. Darcy
I resemble this remark as well, but in my case it's intentional. I plan on not finishing all the books I check out and when I think of it as a strategy I feel fantastic about it. There's nothing worse than not having anything good on hand to read, and since I have such a hard time knowing ahead of time whether or not I'll enjoy a particular book, I like to check out a huge stack of books for myself from the library at a time so that if I start one and I'm not enjoying it, I can just stop and switch to something else I already have on hand without having to wait for my next trip to the library to get something new. And then when I do find that book I can't put down, I almost always renew it so I have time to finish! – Jane of Bookroo
I only let my children check out as many  books as they were old (or double that number if they need more titles — but something we could ALL remember).  This keeps the number consistent and manageable.  They will also know how many books they're looking for when it's time to round them up and return them to the library.  I've learned that I am a One-Book-at-a-Time adult reader.  If I check out more than one title, I don't usually finish any of them.  It takes all my willpower to choose and check out only that ONE title – Carole of KidsBooksWorthReading
This is ok! Even if you have a pile of books languishing somewhere in your house, your kids are still seeing that you value books and reading. Think of it as easy-to-swap home decor? – Carter of Design of the Picture Book
If there are other library questions, leave them in the comments and I'll try to answer them!