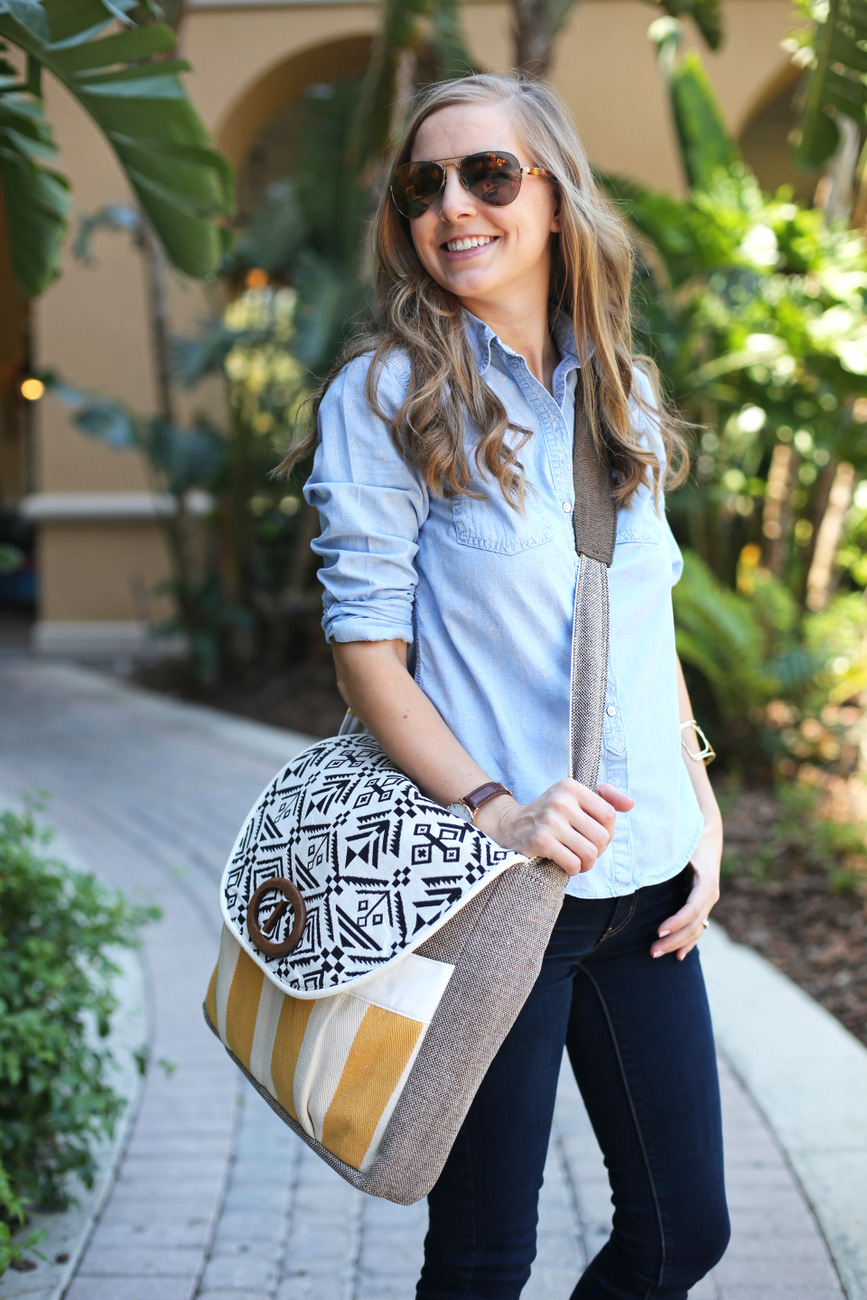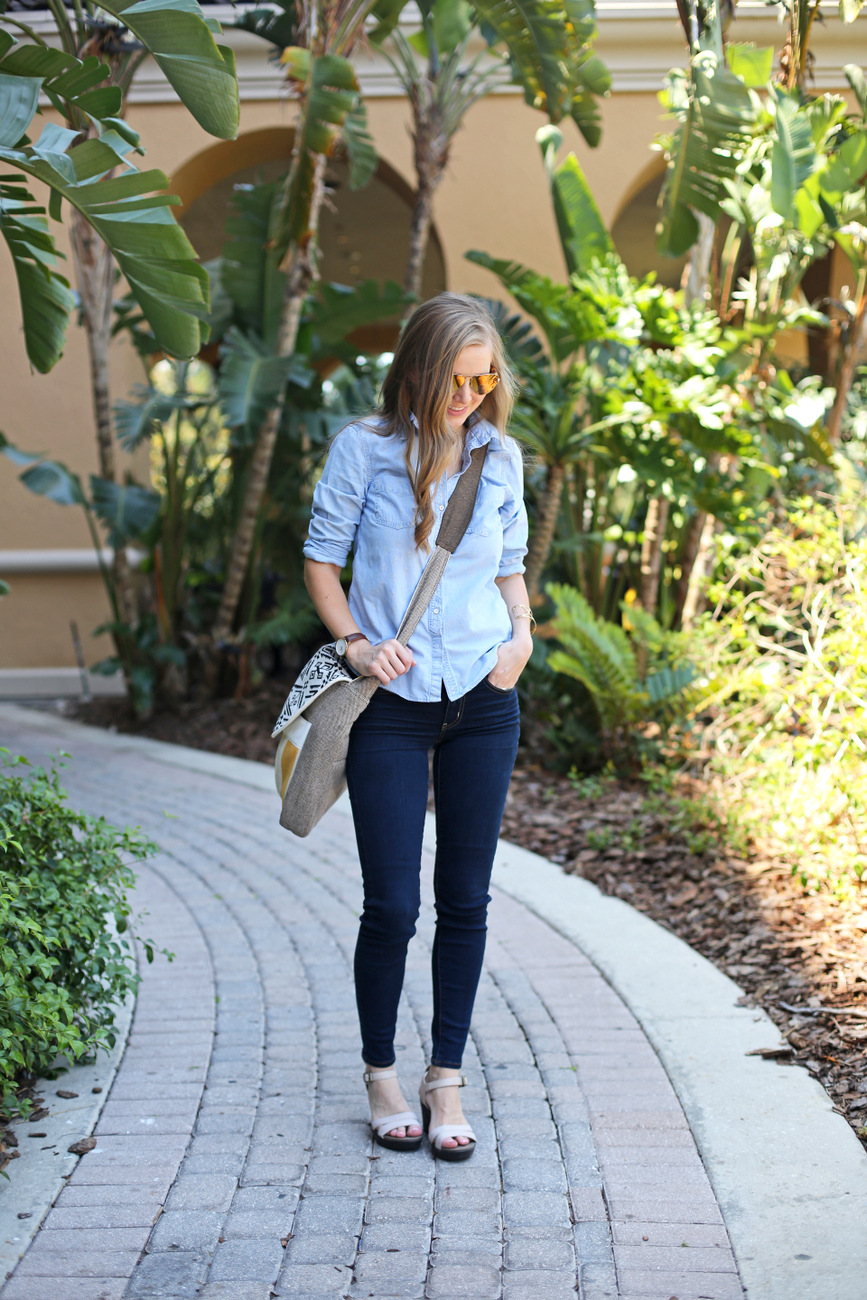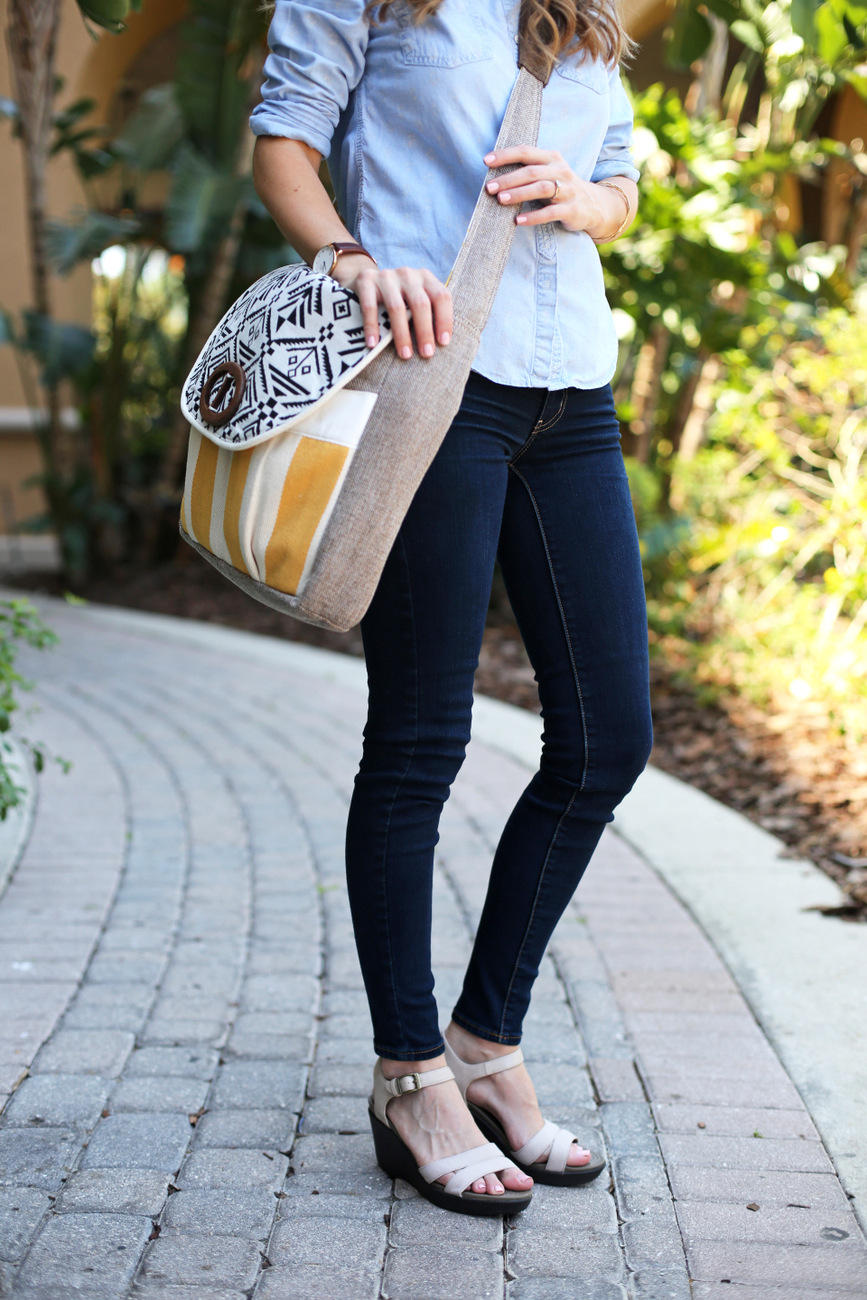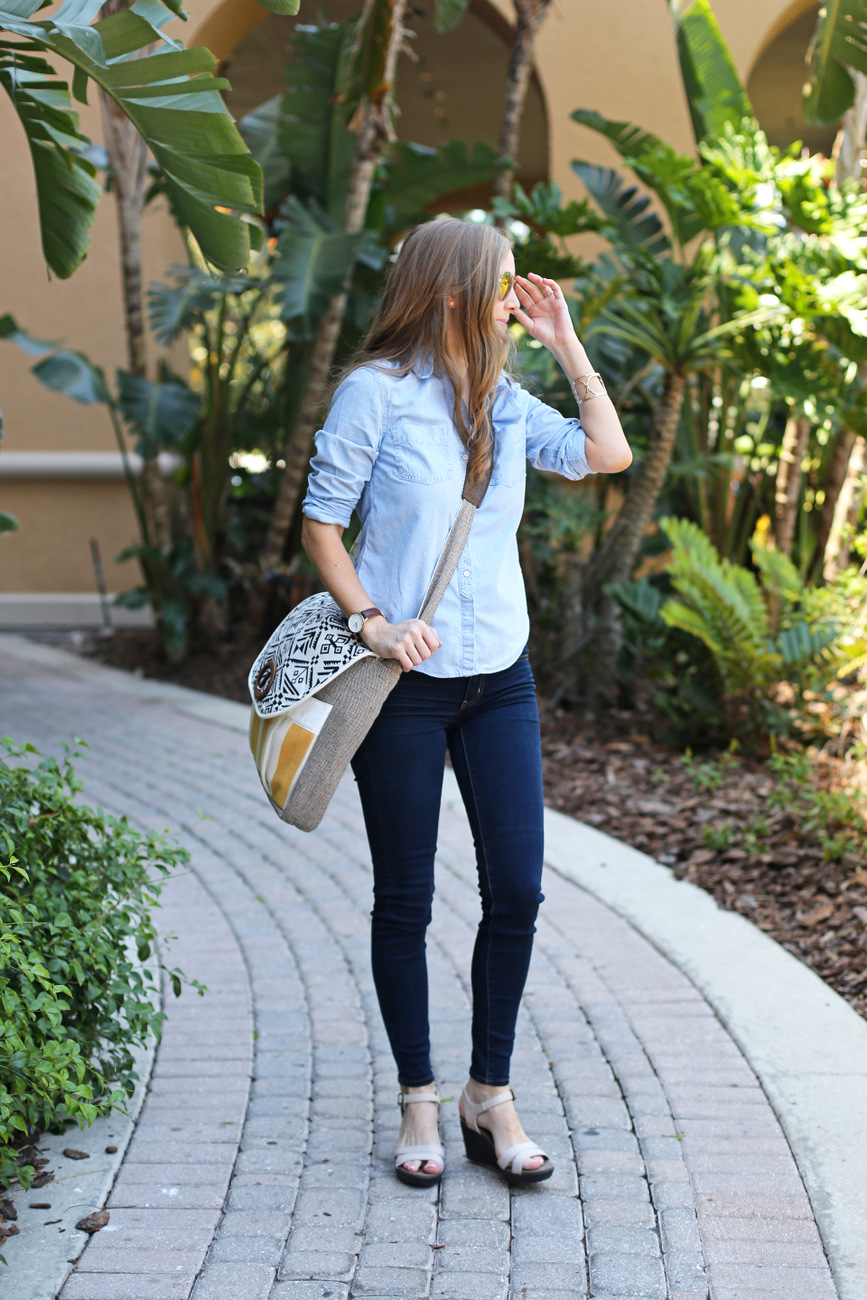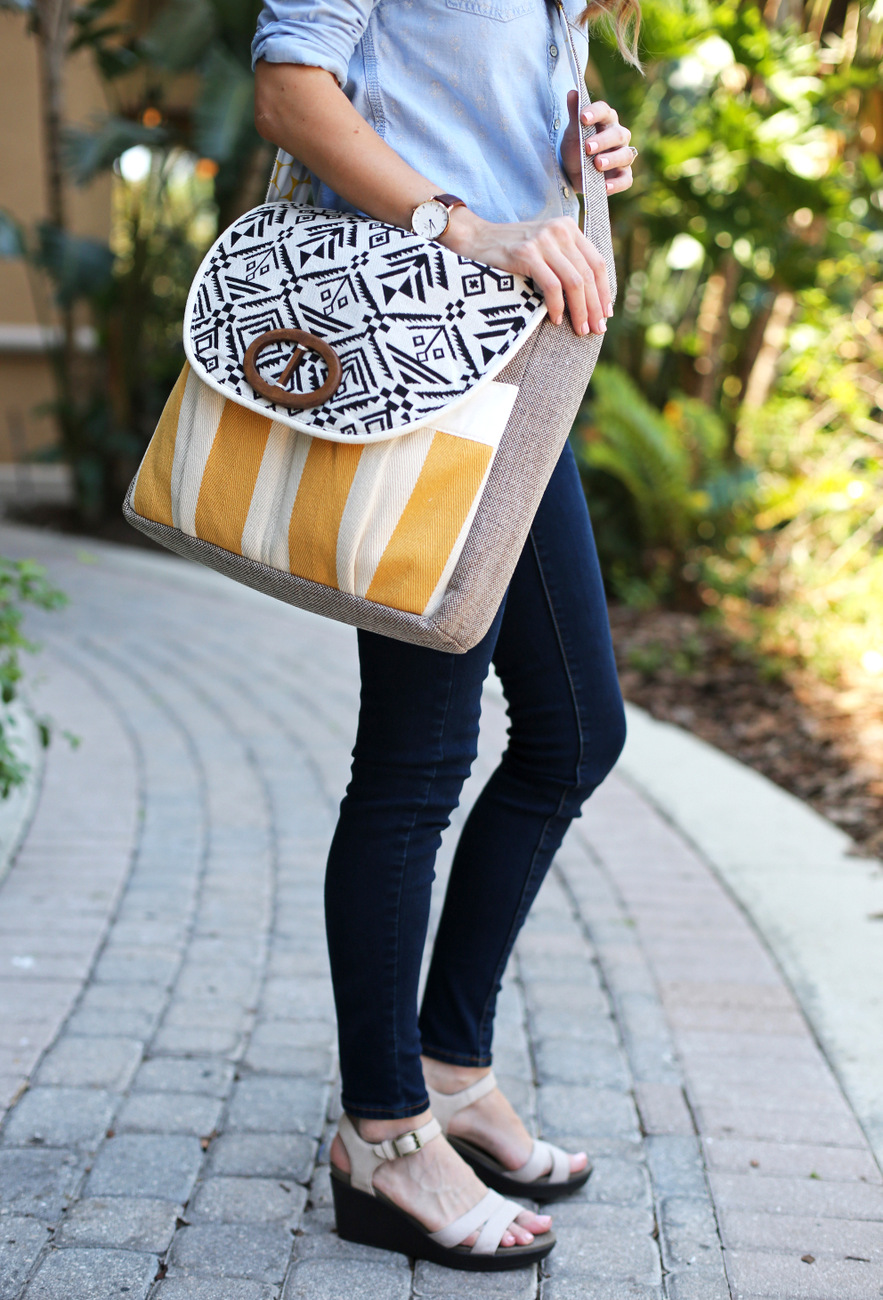 You know how sometimes you have a lot on your plate, but then something comes along that you just can't say no to because it's so fun and exciting?
Two weeks after Tally was born, I had a late night Skype call with Ali from Sage & Harper. If you're not familiar with Sage & Harper, they make gorgeous bags including the one in these photos.
Ali launched Sage & Harper in 2013, making every one of the bags by hand. Quickly the demand got big enough that her husband (who probably was hoping that someday she might not spend every moment glued to her sewing machine) suggested that they look into manufacturing.
Pretty soon, Ali wasn't just selling them at local pop-up events, but on her own site as well as through huge retailers like Kohls and Disney.
They're beautiful bags – I've been using the Daffodil bag for the past few months and I love the fun patterns and high quality materials. It's the perfect summery bag and easily handles all the baby gear I'm constantly lugging around.
After all that growth (plus a new baby), Ali wanted to get back to what she really loved, which is designing beautiful bags, and she and her husband had started looking for other people to take over other aspects of the business, including the social media. Some mutual friends of ours suggested I might be interested and we scheduled a call to chat.
Very little of my work involves talking on the phone or face-to-face communication (emails and texts forever!), so I won't pretend that I wasn't a little nervous about our Skype chat (Skype was so clearly invented by an extrovert), but Ali is one of those people who immediately puts you at ease and makes you feel like she's your best friend.
We hit it right off and discovered we have lots in common, including both having all girls (she has three), and by the end of our conversation, we both felt like we'd found just the right fit.
It's been a fun change to work on a team, have weekly conference calls, text new ideas back and forth, and even occasionally meet up in person. Plus, it's not a ridiculously huge time commitment, which is good since much of my free time is going toward a project Bart and I have been working on (which will hopefully be ready in another couple of months!), and all those young adult novels aren't going to read themselves.
Ali and I met up at SNAP! back in April, where Ali won me over even more by snuggling my baby and exclaiming over how darling she was (we also spotted several Sage & Harper bags in the wild at the conference, which was fun).
Last week, we met up again at her house to look at prototypes for a new line of backpacks while our girls played dress-up and ate popsicles together and we discovered that she and Bart are third cousins, so basically this partnership was meant to be.
And if one of the perks of the job is carrying around a bag that gets compliments every time I leave the house, well, that's not too shabby either.
TOP (old; similar here) • JEANS • SHOES
WATCH • BRACELET • SUNGLASSES  • BAG