One of our most well-used wedding gifts has been this muffin cookbook from Williams-Sonoma.  I've made most of the recipes in it and every one of them has been phenomenal.
The only thing I don't like about this cookbook is that many of the recipes make a random number of muffins. WHO WANTS TO MAKE FOURTEEN MUFFINS? Or, for that matter, nine muffins?
These whole wheat muffins are one of my favorites; I made them a lot for a while and then forgot about them. Now, several years later, I'm remembering why I like them so much. They're whole-grain, low in sugar, delightfully soft and just really tasty.
Even if the recipe only makes ten muffins.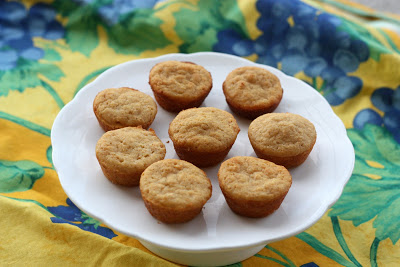 whole wheat muffins
Whole Wheat Muffins
I love that these whole wheat muffins make about ten muffins and taste so good every time!
Ingredients
1¼

cups

whole-wheat or white wheat flour

2

T

cornmeal

3

T

packed brown sugar

2

t

baking powder

½

t

baking soda

½

t

salt

3

T

melted butter

1

cup

buttermilk

2

T

sour cream

1

t

vanilla

2

eggs

separated
Instructions
Preheat oven to 375. Grease ten muffin cups.

In a large mixing bowl, stir together flour, cornmeal, sugar, baking powder, soda, and salt. Whisk to combine.

On top of that mixture, pour the butter, buttermilk, sour cream, vanilla, and two egg yolks. Stir until just combined.

In a separate bowl, beat egg whites until soft peaks form (I hope for your arm's sake, that you have electric beaters or an electric mixer). With a spatula, fold the egg whites into the rest of the batter and mix gently to combine.

Fill the muffin tins so that the batter nearly reaches the top of each tin.

Bake for 25 minutes or until a toothpick comes out cleanly. The muffins will have a fairly flat top.
if you liked this whole wheat muffin recipe, you might also like these other recipes: