This is the most reading I've done in any quarter this year (26 books), and it's mainly thanks to audiobooks. Clearly, I've been spending a ton of time in front of my computer, late at night, working. Multi-tasking at its finest. Not all of the titles I read were outstanding, but there were definitely a few that made it to my must read books list!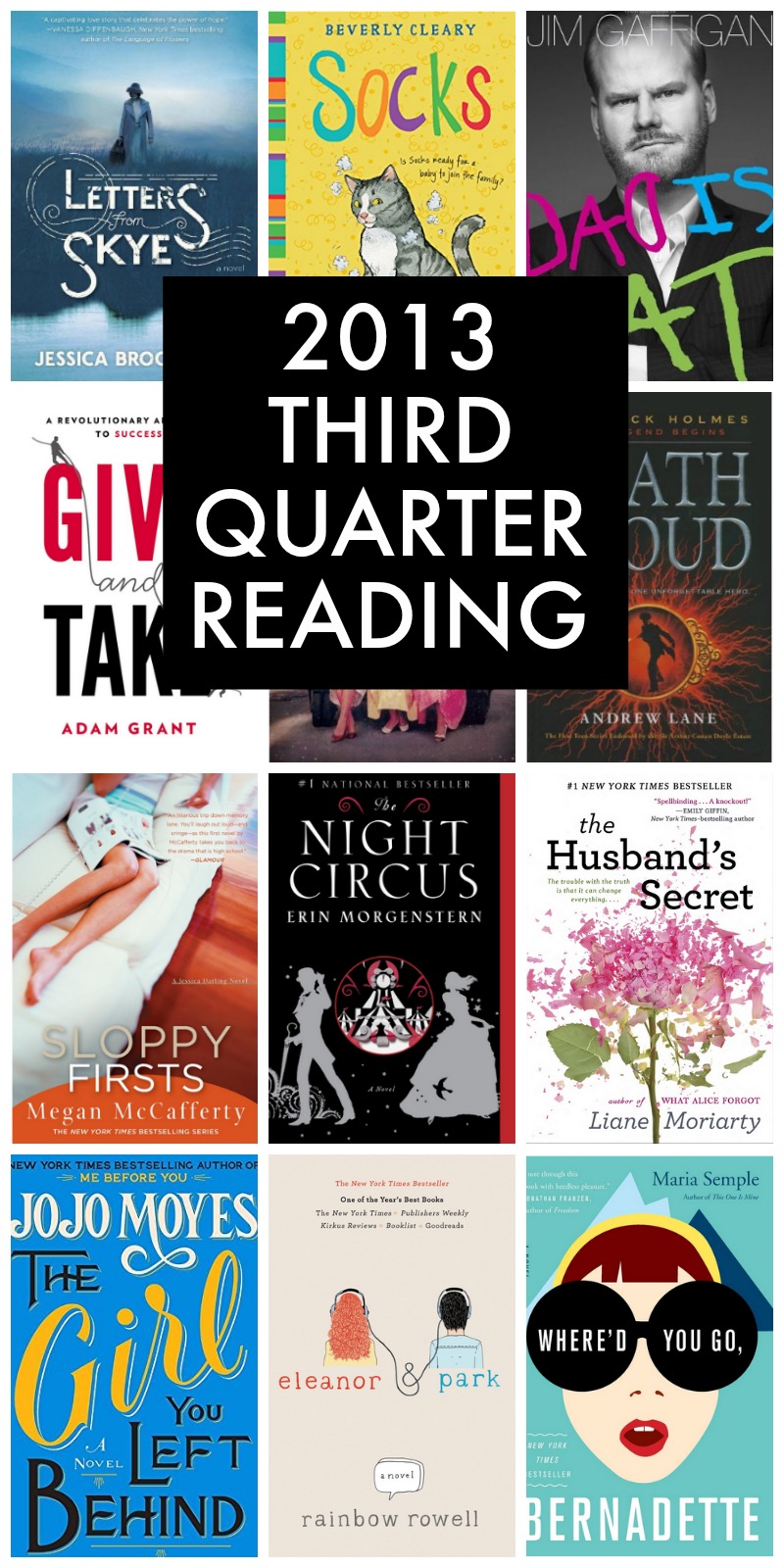 2013 third quarter reading
Eleanor & Park by Rainbow Rowell – I read this one on our beach trip to Galveston and I couldn't put it down. But. . . it's also depressing as all get out. And some heavy langague. I know the entire Internet is in love with this book, and I can see why, but I also hesitate to recommend it. Proceed at your own risk.
A Hundred Summers by Beatriz Williams – This historical fiction novel really drew me in, but it's maybe a little racier than I'm comfortable recommending. Also, prepare for a little heartbreak. I might have cried a tiny bit in the car when I finished up the audiobook.
Give and Take: A Revolutionary Approach to Success by Adam M. Grant – Lots of comparisons to Malcolm Gladwell, and this one was pretty interesting (I repeated huge parts of it to Bart), but. . . no one is Malcolm Gladwell. Listened to this one in the car while we drove for hours and hours and hours from Texas to North Carolina.
The Girl You Left Behind by Jojo Moyes – I couldn't say no to this book after how much I enjoyed "Me Before You" and this one was no disappointment, about two women who own the same painting, one during WWII and one in the present day. I think I ignored my children a bit for two days while I read this one.
The Husband's Secret by Liane Moriarty – I loved What Alice Forgot SO much, but I've been a bit disappointed by all her other books. This one was much better than the pretty ridiculous The Hypnotist's Love Story, but it wasn't on the top of my favorite books.
Ruby Red by Kerstin Gier (full review here) – Fluffy, but fun.
Where'd You Go, Bernadette by Maria Semple – I'm glad to have read this one because it's SO wildly popular right now. It's an odd book, but the audiobook definitely charmed me, even if I wasn't always QUITE sure what was going on.
Jessica Darling series by Megan McCafferty – I've tried to read this series on multiple occasions over the past five years, and finally did it this year. Mixed emotions.
Jessica Darling's It List #1 by Megan McCafferty – A quick Sunday afternoon read. Totally enjoyable and cute.
Socks by Beverly Cleary – I think Beverly Cleary's books are for someone older than Ella – she seems to enjoy them, but I feel like they are slightly over her head.
Death Cloud by Andy Lane – I can't remember who recommended this one to me (it's about young Sherlock Holmes), but it wasn't bad. I'm just not a huge mystery/adventure reader.
The Secret Keeper by Kate Morton (full review here) – You all know I loved this one. If you haven't read it, you should.
Salt Sugar Fat: How the Food Giants Hooked Us by Michael Moss (full review here) – So fascinating. Reminded me how I always love a book about food.
Sapphire Blue by Kerstin Gier – I liked the first book, Ruby Red, but I LOVED this one. When I finished, I was really sad the next book doesn't come out for another week or so.
The Engagements by J. Courtney Sullivan – I don't generally love books with more than one story line, so the fact that this had FOUR storylines (or was it five?) made me nervous. But, actually, I really was engaged (pun not intended) by it.
Charlotte's Web by E. B. White – I loved reading this with Ella. And when I got all choked up at the end, I felt exactly like my mom.
Dad is Fat by Jim Gaffigan – If you like Jim Gaffigan, you'll like this one. He narrates the audiobook so. . .get that.
The Astronauts Wives Club by Lily Koppel (full review here) – Great premise, mediocre execution.
The Night Circus by Erin Morgenstern – I know eveyrone loves this book. But . . . kind of nothing happens. I was relieved when the audiobook finally was over (also, I love Jim Dale for Harry Potter, but he wasn't my favorite for this audiobook).
Letters from Skye by Jessica Brockmole – I quite liked this, but I struggle with books that hinge on a romance involving adultery.
One Moment by Kristina McBride – I feel like I've read much less YA lately, so it was nice to pick this one up. Nothing groundbreaking, but solid.
And scene. Read anything good this quarter? Suggest away.
And if you'd like a printable copy of this list that you can take to your library or screenshot on your phone for easy access, just pop in your email address below and it'll come right to your inbox!
IF YOU LIKED THIS POST ABOUT MY THIRD QUARTER READING, YOU MIGHT ALSO LIKE THESE OTHER POSTS: