I think I'll spend the rest of my life feeling overwhelmed by the number of books there are to read and how many of them I'll never ever get around to finishing. My to-read list is constantly growing.
I remember the first time I went to the library in Round Rock after I finished up my undergrad degree and walking around aimlessly, wondering, "What should I read?"
I . . .never feel that way anymore, and I haven't in years. And I probably never will again.
Here are the books that are currently high priorities for me.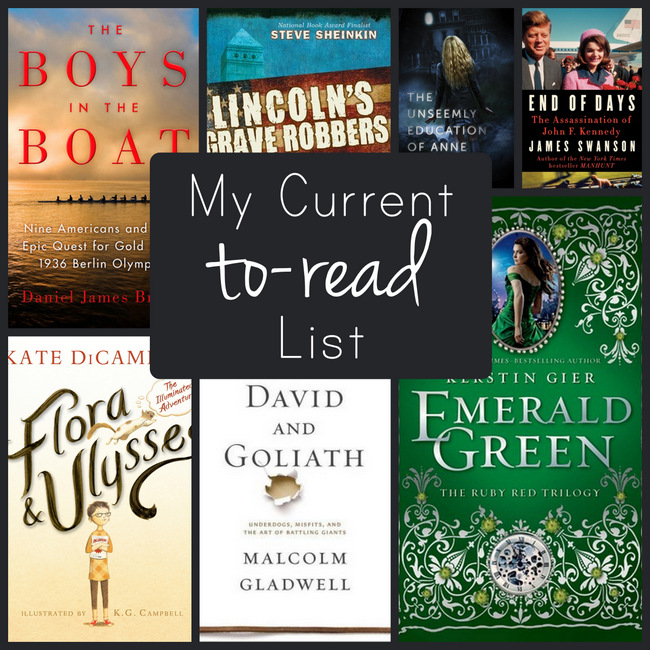 my to-read list
Emerald Green by Kerstin Gier. I wasn't particularly thrilled with Ruby Red (it was fine, but not amazing), but for some reason I read the second book anyway. It was SO much better than the first one, and now I'm DYING for the third one to come up at the library for me.
Flora and Ulysses: The Illuminated Adventures by Kate DiCamillo. In previous years, I've tried to read all the National Book Award finalists. This year they did a longlist (10 books), many of which are totally unappealing to me. And I have to admit that while I like Kate DiCamillo, I don't have the rabid love for her that so many others seem to. But reading Jessica's review of this one made me want to read it immediately.
And if you'd like a printable copy of this to-read list that you can take to your library or screenshot on your phone for easy access, just pop in your email address below and it'll come right to your inbox!
What's on your to-read list? (Or what should I put on my to-read list?)
if you liked this post about my to-read list, you might also like these other posts: