One thing that fell through the cracks in October was a baby post for Ani. You'll just have to take my word that she was darling at ten months.
And now she's just in the most fun, delightful stage. She is just too sweet for words (but that won't stop me from trying).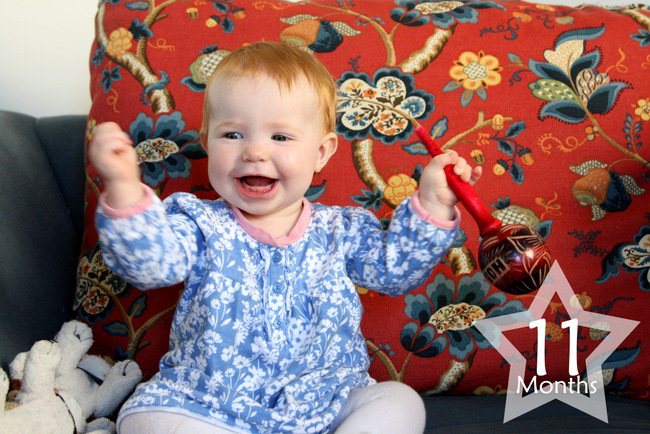 If there are eleven things to know about Ani at eleven months:
She is SUCH a cuddler. If you pick her up, she'll give you a tight hug and if you're sitting on the floor, she'll crawl over and rest her head on your lap. I'll admit to snuggling her before bed much more than I did Ella because she actually SNUGGLES!
She's standing unassisted now and has even taken a couple of steps. I'm fairly sure she'll be walking before her first birthday.
She has been sleeping through the night for months, but in October, she started to regress quite a bit (as you can imagine, getting up with her in the night AND with Ella who was working on nighttime potty training did not help my month-o-stress). She's doing much better now and I'm hopeful we'll be back to NO nighttime waking again soon.
Cheese lover. I think she's eat nothing but cheese if we let her.
She still has zero teeth. It's hard for me to imagine her with teeth at this point.
Ella always wants to hug her before Ani goes down for a nap, but she's usually a little rough, so Ani now always sticks her hand out to keep her away when Ella tries.
We're starting to enter that amazing stage where she and Ella play together. It's the BEST (I can sit on the couch and read while they play. My favorite thing ever).
She loves music. As soon as a song starts up (we listen to Pandora most mornings while the girls eat breakfast and I do dishes), she starts rocking out.
She is obsessed with drinking water. We have to hide all cups or waterbottles while she eats because otherwise she won't even look at her food. (This is not to say she's GOOD at drinking water – she just really LIKES it).
People ask if she's really as happy as she appears on Instagram. Yes, she really is that smiley.
Her hair remains red! And I am super-duper happy about that.
***********************************************