Hello, pretty girl.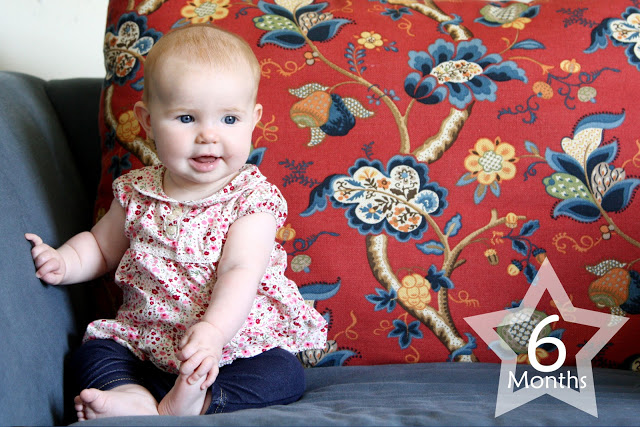 If there are six things to know about Ani at six months:
The laughing? It never stops. And nothing makes her laugh like Ella's antics. If baby laughs don't make your heart burst into a million pieces, you probably don't actually have a heart. Might want to get that looked into.
Her hair has pretty much all fallen out but is starting to come back in again. And it's still looking fairly red.
She does that baby thing where she grabs her feet and tries to put them in her own mouth. And I seriously think that's the cutest thing babies do.
She's rolling all over the place now and starting to sit up with some degree of balance.
She weighs 3 pounds more and is an inch longer than Ella was at six months. But their heads are exactly the same circumference.
She's a cuddler. You guys, I die. A baby who puts her head down on my shoulder and just lets me snuggle her? That's a baby I'm going to keep (although, Ella never did that and I kept her . . .).
(But you also might want to know that when you come to get her up from a nap or in the morning, she goes wild in her crib, grinning this huge silly grin and kicking her legs and arms with excitement. It is a highlight of my day).