I used to make this recipe a lot and then, last summer, I made a modified version during our (failed) week of trying to eat vegan.
After that, I just couldn't even think about it for a while without feeling like I immediately wanted to eat a gigantic hunk of cheese. Possibly two hunks.
A year later, I'm finally over it, and when I made the (non-vegan) version last week, we ate the entire thing in one sitting.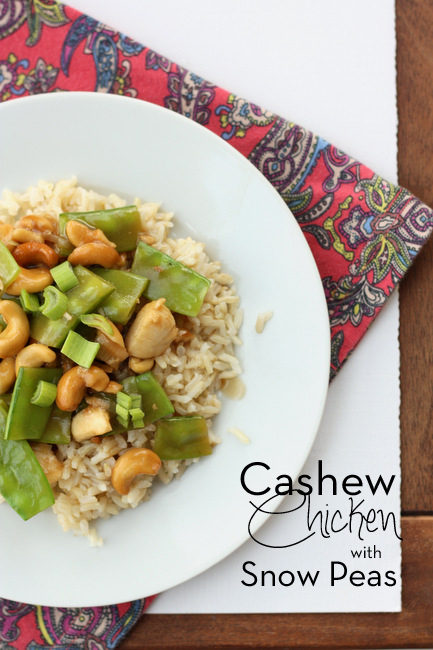 Cashew Chicken with Snow Peas
(adapted from The Bitten Word)
Serves 3-4
1 boneless, skinless chicken breast, chopped into 1-inch cubes.
1 Tablespoon white vinegar
1 tsp minced fresh ginger
1 teaspoons cornstarch
salt
1 cup chicken or vegetable broth
1/4 cup soy sauce
2 tablespoons rice vinegar
4 teaspoons sugar
4 teaspoons cornstarch
2 tablespoons vegetable oil
2 garlic cloves, chopped
2/3 cup cashews (chopped, unchopped, roasted, raw – doesn't matter)
2 green onions, white and green parts separated and thinly sliced
1/2 lb snow peas, trimmed and halved
In a tupperware, mix together the vinegar, ginger, and cornstarch. Toss with diced chicken and season with salt. Cover and refrigerate 30 minutes (you guys know I don't plan this far ahead. I just let it refrigerate for as many minutes as there is until it's ready to be added to the pan. Never seems to be a problem).
In a large glass measuring cup, combine broth, soy sauce, vinegar, sugar, and cornstarch. Whisk and set aside.
In a large skillet, heat oil over medium-high heat.
Add the chicken (and if there is any leftover juices in the tupperware, pour that in too) and cook until outside is browned, about 2 minutes.
Add garlic, cashews, and green onion
whites. Cook, stirring frequently, about
30 seconds.
Whisk the sauce to recombine and pour it into the skillet. Add the snow peas. Cook, stirring occasionally and being sure to scrape the bottom of the pan,
until sauce thickens and the chicken is cooked through, about 5 minutes.
Top with green onion greens and
serve over rice.