How is this baby possibly two months old? It's just not possible.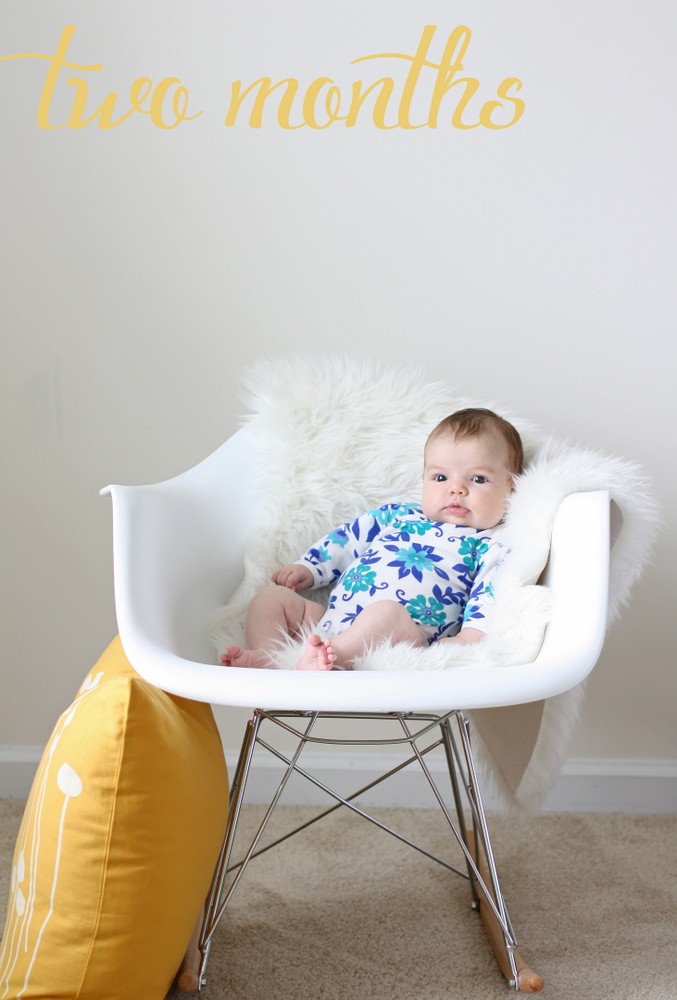 Rocking Chair // Sheepskin // Pillow // Onesie
A few noteworthy things:
She is starting to be really smiley, which is basically the cutest thing ever. I went to a blogger dinner in Raleigh with Cotton Inc a few weeks ago and left her with Bart, and when I got home, she woke up and gave me the biggest heart-warming grin.
She loves to be in her carseat (she actually sleeps in it at night) and if we're out and about, she'll almost always sleep the entire time.
She often does a 12-13 hour night (with a feeding in there somewhere), but it still doesn't start until usually 10 or 11, so she sleeps all morning long on many days.
She loves being outside. We've gone on a few picnics this month at the Duke Gardens, and she's happy to be on the blanket and just stare around for an hour or more.
She is so long. I put her in a little dress of Ani's on Sunday (it was a 3 month dress that Ani wore at 4 months) and it barely covered her diaper.
The older she gets, the less she looks like her sisters. She really does have her own distinct face, I think.
 My mom says she feels like every mother deserves a third child and I couldn't agree more – she's so content, pleasant, and sweet.
We pretty much all think she's the best thing ever.