One of my favorite parts of the day is reading aloud to my girls before bed.
We gather in the middle girls' shared bedroom and they doodle or play with LEGOs or brush my hair or put away their laundry while I read aloud.
It's such a nice way to end the day and we've read so many great books together since we started doing it.
Every year, I like to make a list of books to read aloud to them – I don't stick to it perfectly, but it's nice to have options in place so I'm not scrambling when we finish a book to find the next read aloud.
Here are 16 books on my list for read alouds this year!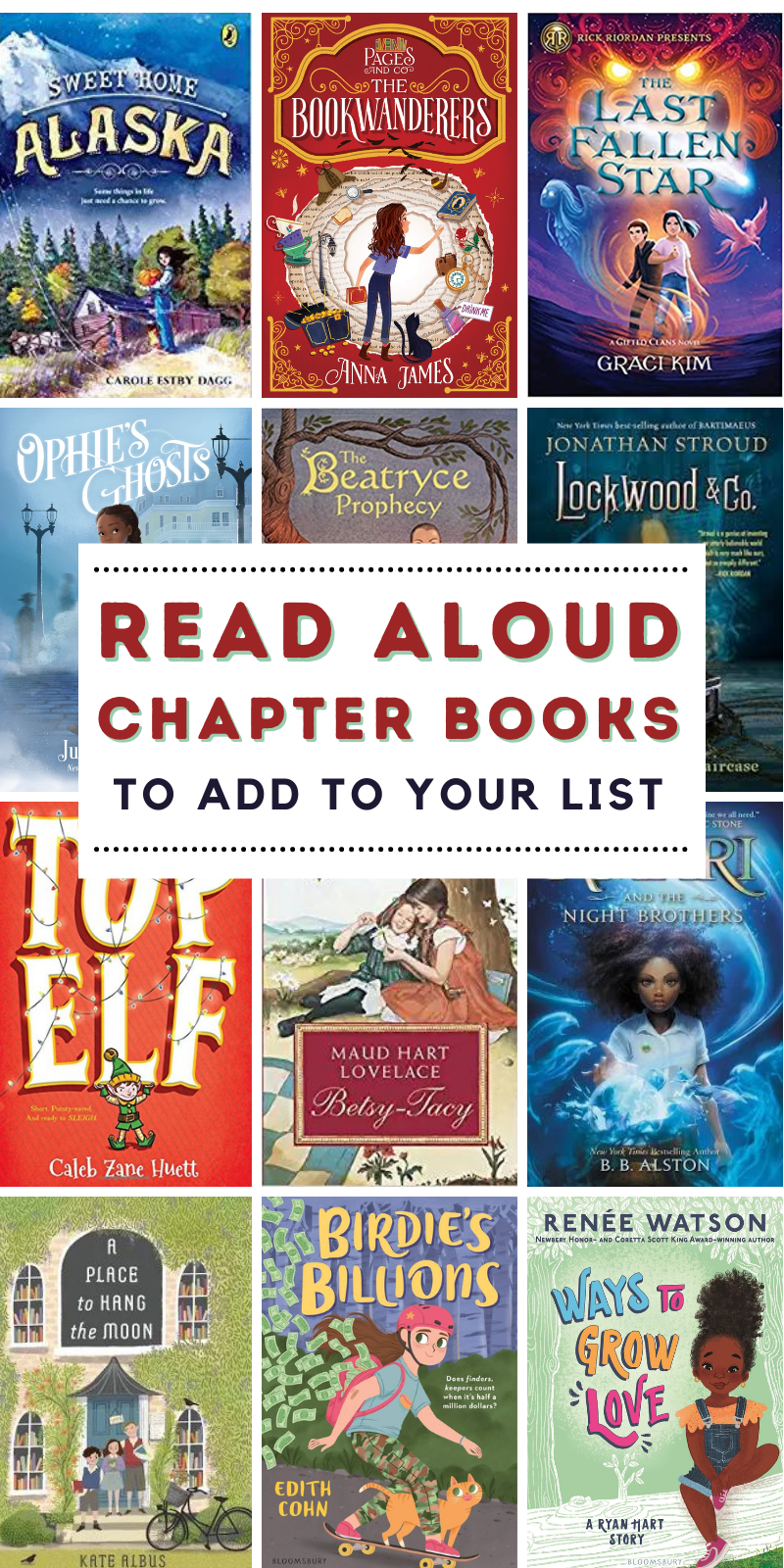 A Place to Hang the Moon by Kate Albus
This is top of my list of books to read to the girls this year – so many people have raved about it and said it's one of their favorite books they've read. Count me in for this historical fiction book about three children who go to live in the English countryside during the Blitz of WWII and hope that they can find a permanent home.
The Last Fallen Star by Graci Kim
Fantasy is always a hit at our house and this one, from Rick Riordan's imprint, is based on Korean mythology. And a story about sisters? Also always a go to at our house.
The Bookwanderers by Anna James
This is another one that's popped up on my radar a bunch in the past few months and I thought the girls would really enjoy. It's the first in a series and generally I read aloud the first one and then let them read or listen to the remaining books on their own, although that's not a hard and fast rule and if we're all VERY into it, I'll make an exception.
Betsy-Tacy by Maud Hart Lovelace
I LOVED this sweet series growing up and I read the first one to Ella years ago when she was about four, so I think it's time to introduce ALL the girls to these classics.
Birdie's Billions by Edith Cohn
What would YOU do if you found a a half a million dollars in an abandoned house? And what if your mom had just lost her job and you REALLY needed that money? This one just came out in December and I'm excited to read it!
Sweet Home Alaska by Carole Estby Dagg
This was one recommended by Read Aloud Revival and she has stellar taste, so it went right on my list. It's set during the Great Depression and Trip's family has moved to Alaska as part of FDR's New Deal projects. The whole family is settling in to their new home except Trip's mother. Can Trip convince her that Alaska is the place to be?
Amari and the Night Brothers by B. B. Alston
This is another fantasy one that got recommended again and again and snagged spots on many best of the year lists in December. I considered just giving it to Ella to read but . . . I didn't want to miss out on this story about a girl who is determined to find her missing brother and discovers that magic is real in the process.
The Beatryce Prophecy by Kate DiCamillo
I have to admit that Kate DiCamillo can be a little hit or miss for me, but this one has been SOOOO buzzy that I just couldn't resist putting it on my read aloud list for this year. If it lives up to the hype, I'll let you know!
The Kite Fighters by Linda Sue Park
I LOVE Linda Sue Park (if you haven't read A Single Shard, go fix that immediately), and this short book has been on my list for a while. It's set in 15th century Korea and follows two brothers who are incredible with kites – enough so that it snags the attention of the king.
Ways to Grow Love by Renée Watson 
We read the first book in this series when it came out and I've had a copy of the sequel on my shelf for months! If you have kids who love realistic fiction stories like the ones Beverly Cleary writes, this book is for you!
Ballet Shoes by Noel Streatfeild
I read and LOVED these books when I was a child and I can't wait to introduce this most famous of them all to my girls this year.
The Last Mapmaker by Christina Soontornvat
Christina Soontornvat made a big splash last year by nabbing not one Newbery Honor but TWO – one for A Wish in the Dark and one for All Thirteen, both of which I loved. As soon as I saw she had a new fantasy middle grade novel coming out this spring, I knew it was one I wanted to read to the girls (and it's also one of the books on the 2022 Everyday Reading Book Club list!)
The Screaming Staircase by Jonathan Stroud
Bart and I have long loved Jonathan Stroud's Bartimeus books and I've wanted to read this series since it first came out 7-8 years ago. This Halloween feels like the perfect time to dive in!
Ophie's Ghosts by Justina Ireland
And another one that's perfect for October and the spooky season! Ophelia discovered the night that she lost her father that she can see ghosts. Now Ophie works as a maid with her mother in an old manor house. And . . . that manor house is filled with ghosts.
The Legend of Holly Claus by Brittney Ryan
And of course, some Christmas chapter books for December! This one is new to me (even though it came out in 2012) and it's free on Amazon Kids+!
Top Elf by Caleb Huett
One more Christmas book for good measure, if we have time for it. In this one, Santa is looking for a successor and he's opening the position to anyone who wants to apply. But the contest is NOT for the weak of heart!
If you'd like a printable copy of this list that you can take to your library or screenshot on your phone for easy access, just pop in your email address below and it'll come right to your inbox!
What are you planning to read aloud this year? I'd love to know – please share in the comments!
if you liked this post about the best read aloud chapter books we are reading this year, you might also like these other posts: