This Christmas season has been one of my favorites ever.
Ella is at an age where it's all just magical and exciting for her, and I've tried really hard this year to keep the things that stress me out to a minimum (we entirely ditched the advent calendar I made last year, because I found that doing a daily activity just stressed me out), and maximize the things that make Christmas really fun for me.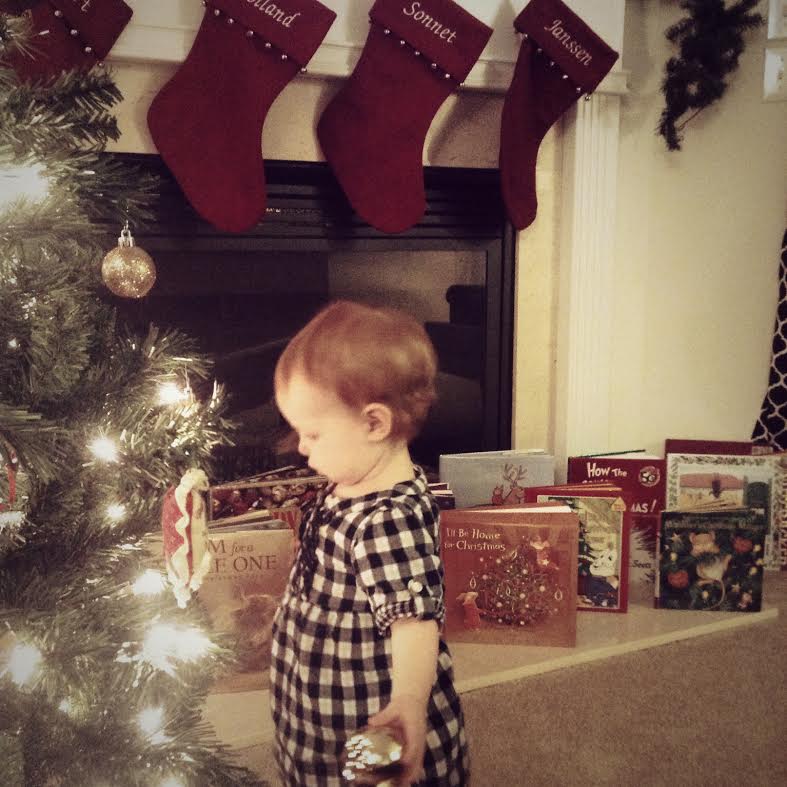 Instead, we've done loads of dancing around the living room to Christmas music, lots of reading Christmas books (this has been a huge hit this year – we have read most of the books four or five times), and a lot of snuggling on the couch looking at our Christmas tree, which is a legitimate size this year, now that we don't live in a little apartment. We've taken plates of goodies around to our neighbors, and done a little Christmas shopping together.
And instead of doing a lot of daily activities, I've focused more on doing a few of the traditions I most loved growing up and adding a few of our own (Anne from Modern Mrs. Darcy (is that the best blog name ever, or what?) wrote a great post about the importance of traditions that has really stuck with me this month, and I'm trying to do things that are meaningful and simple that we'll be able to keep up as a family for years).
My in-laws are here this week visiting, so yesterday morning, we made gingerbread houses (but, like my mom did throughout my childhood, I opted to do graham cracker houses because they are so much easier). Ella had seen a tiny gingerbread house on the front of the December Family Fun magazine and has been asking to make them every since.
We'll also do our shepherd's meal on Christmas Eve, followed by chocolate fondue with friends.
And this year, finally, we get to start up a tradition my family did for as long as I can remember.
Every Christmas Eve, our family would go see a movie in the movie theater. Lots of great movies come out around Christmas time, plus it's an excellent way to burn up several hours of the slowest day of the year for kids.
Ella is old enough to sit through a full-length movie now (last year, we tried watching the Grinch as a family and after about five minutes, she asked, "Is this almost done?" The whole movie is only about 25 minutes, so we knew a 90+ minute film was out of the question), and she's never been to a movie theater.
Next Tuesday, armed with Junior Mints (our movie candy of choice), the three of us will go see Frozen. She's already talking about it, and I hope it lives up to her expectations.
I cannot wait. It's blowing my mind a little how magical Christmas with little children is.