Just over a year ago, on December 7th, Ani was born on a Friday afternoon.
That Sunday, we brought her home from the hospital, and the next day, Bart flew to North Carolina to interview at Duke for the MBA program.
(Actually, thanks to some weather-related issues, he ended up flying into Baltimore, and then driving through the night down to Durham – I clearly remember getting up to nurse Ani in the middle of the night and watching the little icon on "Find My iPhone" move along the freeway, so I knew he hadn't fallen asleep at the wheel and died).
The next day, after his interview, we FaceTimed with him as he walked around campus and talked about how much he'd liked the program.
He drove around and took some videos of various neighborhoods, and sent Ella this funny picture of a camel statue on campus (which I still haven't seen in real life).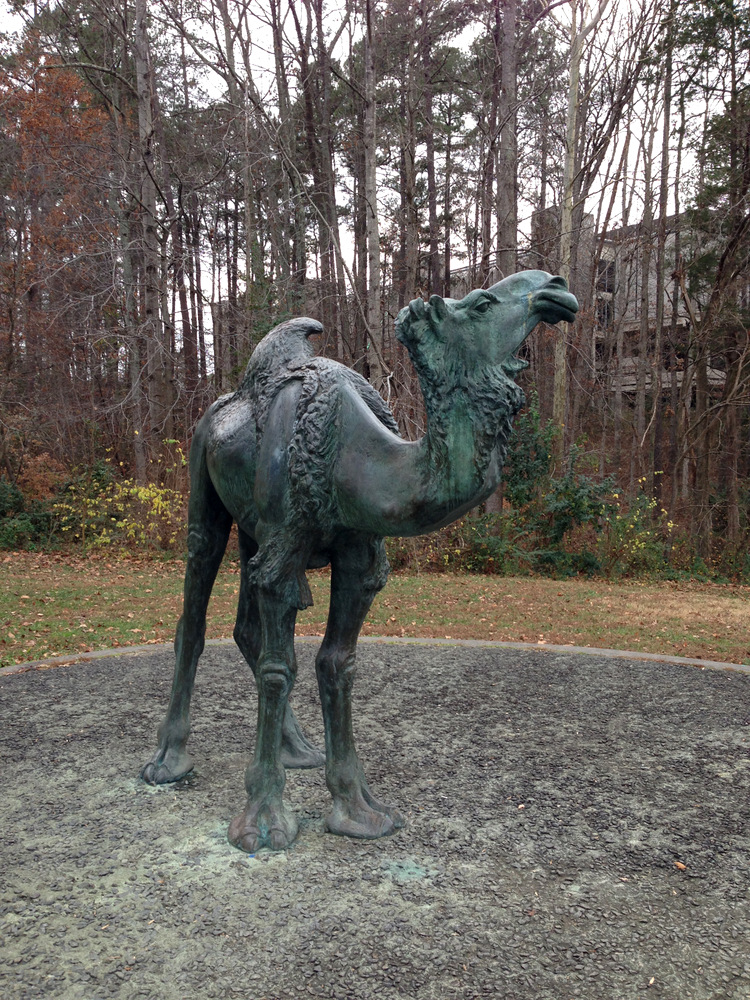 2013 started so uncertainly for us – would Bart get into an MBA program? Which one? Would we move somewhere for him to attend? If he didn't get in, would we stay in Austin? Should we look into him transferring to another office within his current company? Should he look for a new job entirely and if so, should we try to stay in Austin or move elsewhere? I felt like I could hardly concentrate on anything for many months as we waited for admission answers and weighed other options and tried to figure out what was best for our family.
It was a fairly (extremely) stressful time for me. I wasn't at all sure I wanted Bart to go back to school, and I was pretty heartsick about leaving Austin. In some ways, I wanted new adventures, in other ways, I wanted things to stay the same.
Then, in April, after Bart had been admitted to Duke, we both came out to Durham for Blue Devil Weekend and almost immediately, I felt like this was the right choice for us. I loved Duke, and I loved North Carolina.
Sitting in on the presentations and getting to know Fuqua was electrifying and exhilarating. After years of dreading Bart getting an MBA, I suddenly realized what an amazing experience this would be not only for him, but for our whole family.
A Sunday picnic in the Sarah P. Duke Gardens when we visited in April
I still felt momentary terror about leaving everything we knew for a new unknown, but overall, I felt like this was an adventure we should pursue. Especially when we finally decided on Duke, which was my top choice for lots of reason (good weather and low cost-of-living being top among them, as usual).
And last weekend, a year from the day Bart first visited, he finished up his first semester at Fuqua.
We're living in a house we love, we've made more friends than I could have imagined, and, although I really miss Texas and my friends and family there, I feel completely happy about our decision to come here.
Change is hard.
I think my natural inclination is to resist change when possible, but the changes of this last year have been some of the very best for our little family.
I can easily conjure up the fear and worry I had a year ago, wondering where we'd be by the end of 2013. I wish I'd known how happy we'd be here, and how clearly right this move would be for our whole family.
It's a lot better on this side of 2013. And I'm really really thrilled that the MBA decision is behind us. And that we made the right one.