Yesterday marked eleven years since my youngest brother, Shepard, died of cancer. He was three and a half.
Since Ella was born, I find myself thinking about him more often. Having my own child makes me feel his loss and what it must have meant to my parents in a way I just couldn't fathom as a self-absorbed teenager.
Now I think of Shepard, and I squeeze my baby a little tighter.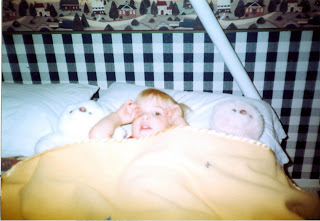 I don't think Ella looks particularly like Shepard, but I see a lot of similarities in this photo