Last fall, I listened to the first two books in the A Good Girl's Guide to Murder series and they were the perfect seasonal listen (the audio is terrific – it's a full-cast production and really brings the story to life. Highly recommend!).
If you loved A Good Girl's Guide to Murder, here are some other books you might enjoy too!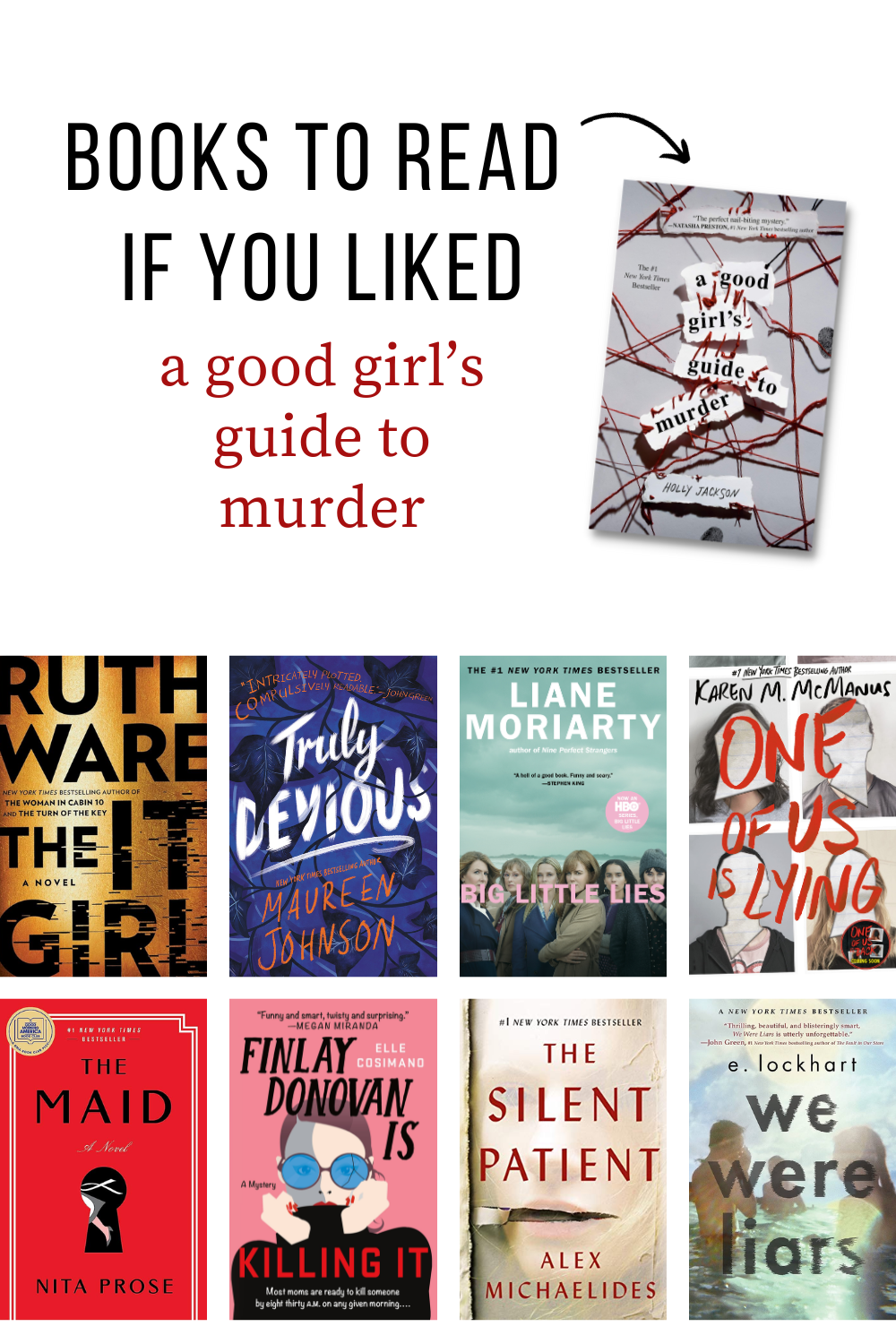 Books Like a good girl's guide to murder
Truly Devious by Maureen Johnson
If you've been here a while, you know I love a good young adult book and this one features a private school, an unsolved kidnapping, and a teenage true-crime aficionado and new student who is determined to crack the case. This was my Halloween read in October 2021 and I blew through the whole four book series on audio in a few weeks – it's SO FUN.

One of Us is Lying by Karen M. McManus
This young adult novel is about five students who get stuck in detention together and one of them dies. The one who dies ran a gossip site about his classmates at the school and the other four were all scheduled to have stories about them go up the following day. Which means all of them had motive.

We Were Liars by E. Lockhart
In this gripping YA novel, Cady, the eldest daughter of a well-known American family suffered a traumatic accident during the summer of year 15. Many of her summers were spent on a private island with her closest cousins and friend. But year 17 was different, it was the first year she started to uncover details about her past that were hidden from her by her family…definitely stick around for the big reveal at the end!
Finlay Donovan is Killing It by Elle Cosimano
I'd seen this book everywhere and multiple people had recommended it to me but when someone sent me a message saying it reminded them of Sophie Kinsella, I picked it up at the library THAT DAY. I read (and loved!) this book about a struggling single mom who is mistaken for a hit woman and offered an enormous sum of money to take out a bad husband.

Nanny Needed by Georgina Cross
I blew through this thriller on a single airplane ride and then could not stop thinking about it! Sarah Larsen is desperate for a new job and when she finds a notice for a nanny position in her building's lobby, it feels like a golden ticket. And when she lands the job with the wealthy NYC family, she's ecstatic enough to overlook the red flags that start popping up almost immediately, like the mother who never leaves the apartment on her own or the mystery of the former nanny. This one was just spooky enough to be fun without being actually terrifying.

The Maid by Nita Prose
Molly Gray is a maid in a very upscale hotel – a job she loves because it's orderly and predictable and she doesn't have to interact too much with other people, which is a struggle for her. But things start getting chaotic when she goes to clean the room of a wealthy and well-known guest and finds him dead in his bed. And . . . she's the primary suspect! Molly is going to have to find the real killer if she is to clear her name and she'll need help to do it, if she can figure out how to ask for it.

The Silent Patient by Alex Michaelides
Alicia is a famous painter married to a brilliant photographer and their life looks storybook perfect. Until one night, her husband arrives home and she shoots him five times. And then she will not say one word about it. In fact, she won't say a single word at all and Theo Faber is the criminal psychotherapist who is determined to unravel the mystery. (Fair warning that this one is probably the most adult title on this list)

Big Little Lies by Liane Moriarty
I love Liane Moriarty's books because they're super engaging without being TOO fluffy, and they're long enough that you don't finish it too quickly. It's one of those books where you don't want to know too much about it going in – the main thing you need to know is that a parent died at trivia night at the local elementary school. Was it a murder? An accident? And, through 95% of the book, the biggest question is WHO DIED? (Full review here)
The It Girl by Ruth Ware
I have been flying through Ruth Ware's books this year – I've read 5 in the last 2 months! A decade after April, the "It Girl" at Oxford is killed, her killer, Neville, finally dies in prison. But when new evidence shows up indicating it may not have been Neville, April's friend Hannah tries to unravel the secrets of the past, especially from other friends that seem to be hiding things.
And if you'd like a printable copy of this list of other books like A Good Girl's Guide to Murder that you can take to your library or screenshot on your phone for easy access, just pop in your email address below and it'll come right to your inbox!
if you liked this post about books like a good girl's guide to murder, you might also like these other posts: