Back in 2021, I started getting weekly messages from people saying "I'd love to hear your thoughts on the Yoto Player!"
Well, I'd never tried a Yoto Player, so I didn't have any thoughts at all, but as those messages started to pick up in frequency, I finally ordered one so I could at least semi-intelligently answer those questions.
To be honest, I thought it would be super gimmicky.
And then, to my utter shock, our whole family fell in love with the Yoto Player.
Now, several years later, there's nothing I love talking about more than Yoto and it delights me to answer allllll the questions about it.
Yoto really is the most genius little device and I love getting messages from people like this!
This "Yoto 101" post is to meant to help you decide if a Yoto is a good choice for your family, answer all the questions you might have about it, and then making the most out of it if you decide to purchase a Yoto!
Welcome to class!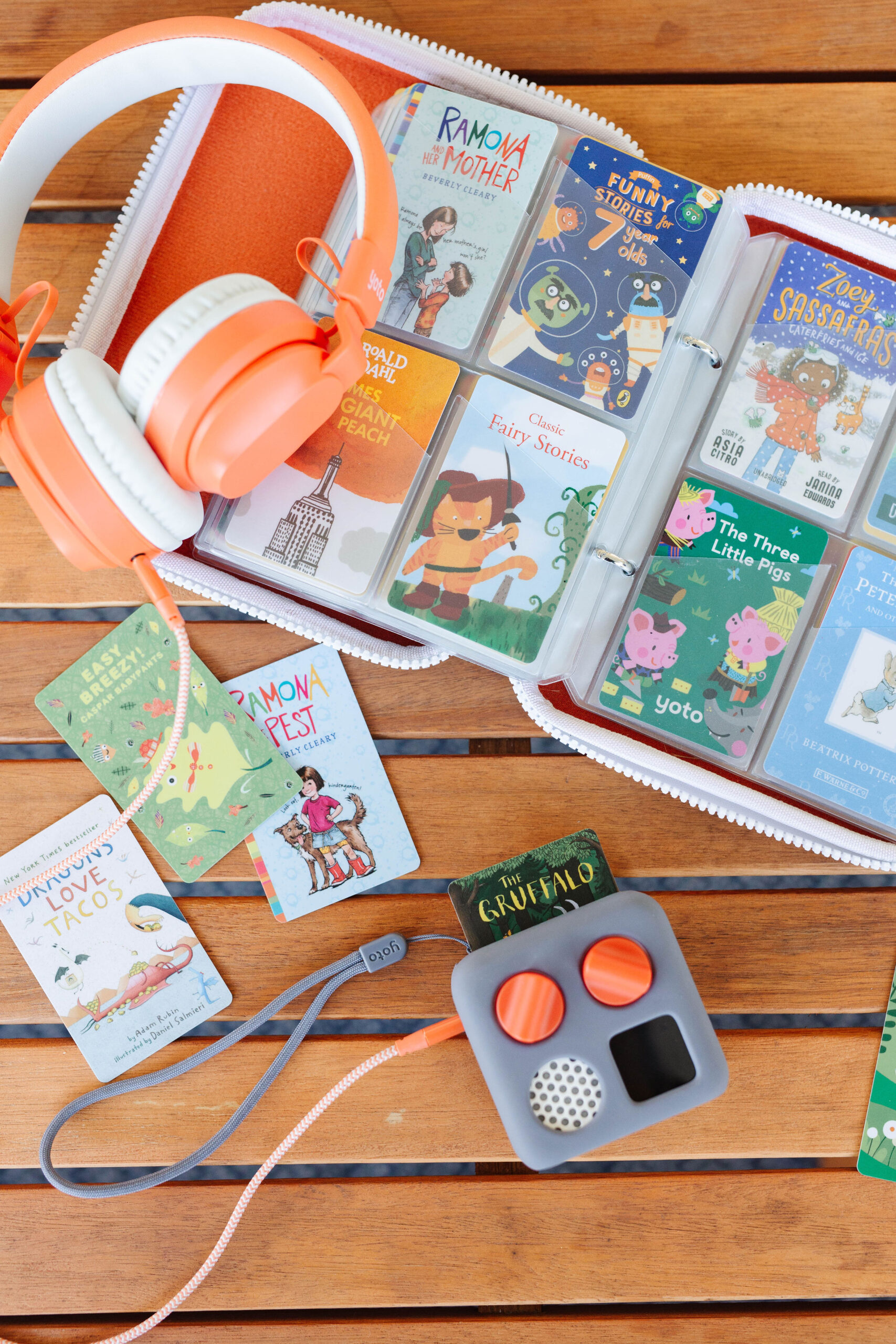 Yoto 101: Everything You Need to Know About a Yoto Player
WHAT IS A YOTO PLAYER ANYWAY? 
A Yoto Player is a little audio player for kids (think a modern version of a boombox or CD player). It's screen-free and can play podcasts, music, and audiobooks!
HOW DOES IT WORK?
You have little cards cards that get inserted in to the top slot and play whatever is stored on the card ( I have a little video here, if you want to see it in action!) There are also some things hardwired in, like the radio station (upbeat kids music during the day and quiet bedtime music at night) or the darling daily podcast that both can be played by pushing a button.
WHAT'S THE DIFFERENCE BETWEEN THE YOTO PLAYER AND THE YOTO MINI?
They're very similar (the main difference is that the Yoto Player has the night light feature) and the Yoto Mini is more portable and also costs less. I'd pick the Mini every time – I have a whole blog post here breaking it down in more detail.
HOW DOES A YOTO COMPARE TO A TONIE BOX?
No comparison in my mind. I'd pick the Yoto every day over the Tonie Box – I have a whole post breaking down why here!
KINDLE VERSUS YOTO?
They're not really apples to apples in my mind. A Kindle reader is really intended for ebooks (although you can also listen to Audible audiobooks on it) while the Yoto is really for audio. Each of my kids have both!
WHY BUY A YOTO WHEN AUDIOBOOKS ARE FREE FROM THE LIBRARY?
You totally can do this! Audiobook collections vary GREATLY across libraries so you may have a terrific library collection and someone else may have very little. Some parents don't want their kids using a phone or tablet in order to access those audiobooks from the library and prefer the independence and screen-free experience of the Yoto. It just depends on what works best for you!
CAN YOU PLAY AUDIBOOOKS FROM LIBBY THROUGH BLUETOOTH ON THE YOTO?
Yes the Yoto Player can be used as a Bluetooth speaker so you can hook up your phone or tablet and stream anything through the Yoto!
WHY IS IT BETTER THAN AN ECHO DOT WITH AUDIBLE?
It's not better – it's just different and depends on your use case and what you value. Some parents are uncomfortable with a smart device in their child's room or don't trust their child not to misuse it. The Yoto is also portable rather than stationary like an Echo Dot. And it's very hard for a toddler or a child with trouble speaking to use an Echo device independently.
BEST AGE RANGE FOR A YOTO PLAYER?
I'd say 2-12 but my 13 year old still uses hers often – she especially loves the podcast cards and I can make Yoto cards of virtually any audio so technically you'll never really age out of it!
IS IT EASY ENOUGH FOR A 2 YEAR OLD TO USE INDEPENDENTLY?
Yep! That's one of the magical things about it and why it's so popular!
SHOULD I GET ONE FOR EACH KID OR CAN THEY SHARE?
I'd always recommend starting with one and seeing how your family uses it and then getting another one if you feel like it'll be useful. We started with one and now each of my kids has their own.
ARE ALL THE YOTO CARDS FOR YOUNGER KIDS OR DO THEY HAVE OPTIONS FOR LONGER BOOKS TOO?
Oh, there are lots of options for older kids! And they keep adding new cards all the time.
HOW MUCH CAN BE STORED ON A CARD?
The limit for each Make Your Own Yoto card is:
100 tracks per card
1 hour running time for any single track
100MB maximum file size of any single track
500MB maximum total file size of the audio content for any one card
WHERE DO I BUY AUDIOBOOKS TO MAKE MY OWN CARD?
My favorite is Libro.fm – they have great sales all the time and it's easy to make your own cards. I have step-by-step directions here!
HOW DO I KEEP TRACK OF THE CARDS?
Get one of the Yoto card cases!
DO THE MAJORITY OF THE NARRATORS HAVE BRITISH ACCENTS?
I wouldn't say the majority. The good news is that you can listen to a preview of any Yoto card on the Yoto site if a British narrator is a deal breaker for you and you want to avoid that.
ARE THERE YOTO CARDS WITH JUST MUSIC?
Yes, absolutely! You can see the music cards here.
WORTH IT IF YOU CAN ONLY AFFORD A FEW CARDS?
I think yes! You can make podcast cards for free, record yourself reading books that your kids can listen to, ask grandparents or family to gift cards for birthdays and holidays, or find a friend with a Yoto and swap cards! Plus, there is the free radio station and the daily podcast. 
TELL ME ABOUT YOTO CLUB
Basically it's a subscription (annual or month-to-month) where you get 2 cards a month, plus 10% off every order, plus free shipping on every order. I have a whole post about it here!
ARE THE CARDS INCLUDED IN YOTO CLUB ACTUALLY ANY GOOD? 
Yes! There are lots and lots of good options – I have a list of my favorite Yoto Club cards here!
DO I PAY FOR YOTO CLUB AND THEN STILL PAY FOR THOSE TWO CARDS A MONTH? 
Nope, the monthly subscription cost of Yoto Club covers the costs of those two cards. So there is no additional payment required.
CAN YOU GIFT YOTO CLUB?
Yep! All the details about how to do that here.
WHERE SHOULD I BUY YOTO CARDS?
I would buy then directly from Yoto. You'll earn reward points, it'll work seamlessly with your Yoto account, and they have a way bigger collection than Amazon or Target.
HOW MUCH DO YOTO CARDS COST?
They mostly range from $3.99 to $12.99 (and then there are 3-4 cards that are $14.99 or $19.99). They also sell packs of cards which are less expensive per card (for series, usually).
DO LIBRARIES STOCK YOTO CARDS?
A few do and I think more and more are getting on board. Talk to your library and get it on their radar!
HOW DURABLE ARE THE CARDS?
They're thick and plastic, like a credit card! They're not totally indestructible, but they're pretty robust!
CAN YOU PUT AUDIBLE BOOKS ON BLANK YOTO CARDS?
Not legally. It's against the terms of service to break the DRM on an Audible audiobook and can get your account shutdown and then you'd lose all your Audible books. So I never ever recommend it.
HOW LONG DOES IT TAKE TO MAKE YOUR OWN YOTO CARD?
Maybe 5 minutes! The first time might take you a bit longer because it'll be new to you, but after that it's super easy. I promise, it's not nearly as hard as you're thinking it is! Full instructions here.
DO I NEED THE YOTO APP? 
Yes! It's free and it's how you can control the Yoto Player (volume, sleep function, setting alarms, etc), plus all your cards are stored digitally there so you can play them from your phone or relink them to a blank card if you lose the original card or record your own cards.
ASIDE FROM AUDIO, WHAT OTHER FEATURES DOES IT HAVE? 
It has an okay to wake display, you can use it as a white noise machine, and as an alarm. The Yoto Player (not the Yoto mini!) also has a nightlight.
CAN YOU CONTROL THE VOLUME?
Yep! The orange buttons control the volume or you can control it via the Yoto app.
HOW DO YOU PAUSE THE YOTO PLAYER?
Just pull the card out and it'll pause the audio (and when you put it back in, it'll restart in the same place). Or you can press the power button once to pause.
HOW LONG DOES A CHARGE LAST?
Up to 14 hours on a Yoto Mini and up to 24 hours on a Yoto Player.
CAN YOU CHANGE THE READING SPEED?
Yes! In the app, you can adjust the reading speed for whatever you're listening to.
DOES IT PLUG IN OR REQUIRE BATTERIES?
It comes with a charging cable and then you can move it around as you want!
HOW DO YOU ACCESS THE RADIO STATION AND DAILY PODCAST?
Tap the orange right-hand button on your Yoto player once to turn on the daily podcast and press it a second time to turn on the radio station!
TELL ME ABOUT THE YOTO MINI ADVENTURER BUNDLE
This is a bundle that includes the Yoto Mini, an adventure jacket and a set of wireless headphones. It's $35 less than buying the three things individually so if you want all three, it's definitely a good deal (and you can stack my 10% off Yoto code on top of that).
DO YOU THINK HEADPHONES ARE NECESSARY?
My kids almost never use their headphones when they listen to their Yoto Players but some kids do constantly. It'll just depend on your child and your use case!
CAN YOU USE WIRELESS HEADPHONES?
Yep! You can use wireless headphones with the Yoto Players. The 1st and 2nd generation of the Yoto Player didn't work with wireless headphones but the Yoto Mini and the 3rd generation Yoto Player both work with wireless headphones.
DO YOU RECOMMEND THE ADVENTURE JACKET?
I frankly don't think it's necessary, but when I mentioned this online, a million Instagram people told me it was an absolutely necessity and they loved it. So you'll have to make your own call. The adventure jackets are nice because it gives it a handle that makes it easier to carry around and if you have multiple Yotos, you can choose jackets of different colors which makes it easier to tell apart. And if you have a child that you think might be pretty rough with the Yoto, it can definitely add a good layer of protection.
WHY ARE PEOPLE SO OBSESSED WITH THE YOTO PLAYER? 
I get this! The reason I think it's so popular is because it's so independent! You don't need to set things up on your phone and connect to a speaker. Even a toddler can pick the card they want (the cover art makes it easy!) and play it, totally independently!
DO YOU HAVE A YOTO DISCOUNT CODE?
You can use this link and it'll generate a 10% off code for your first Yoto order!

if you liked this post about everything you need to know about a yoto player, you might also like these other posts: