Last summer, after more than a year of people asking for my opinion about the Yoto Player, I finally ordered one and despite my skepticism, our whole family was instantly converted.
I wrote a whole post about the Yoto Player and we've continued to love it.
Then, in the fall, the Yoto Mini was released and by the end of the year, we owned not only our original Yoto Player, but now three Yoto Mini players as well (our youngest daughter, who is 5, has the original Yoto Player, while each of the three older girls – ages 7, 9 and 11 – have a Yoto Mini).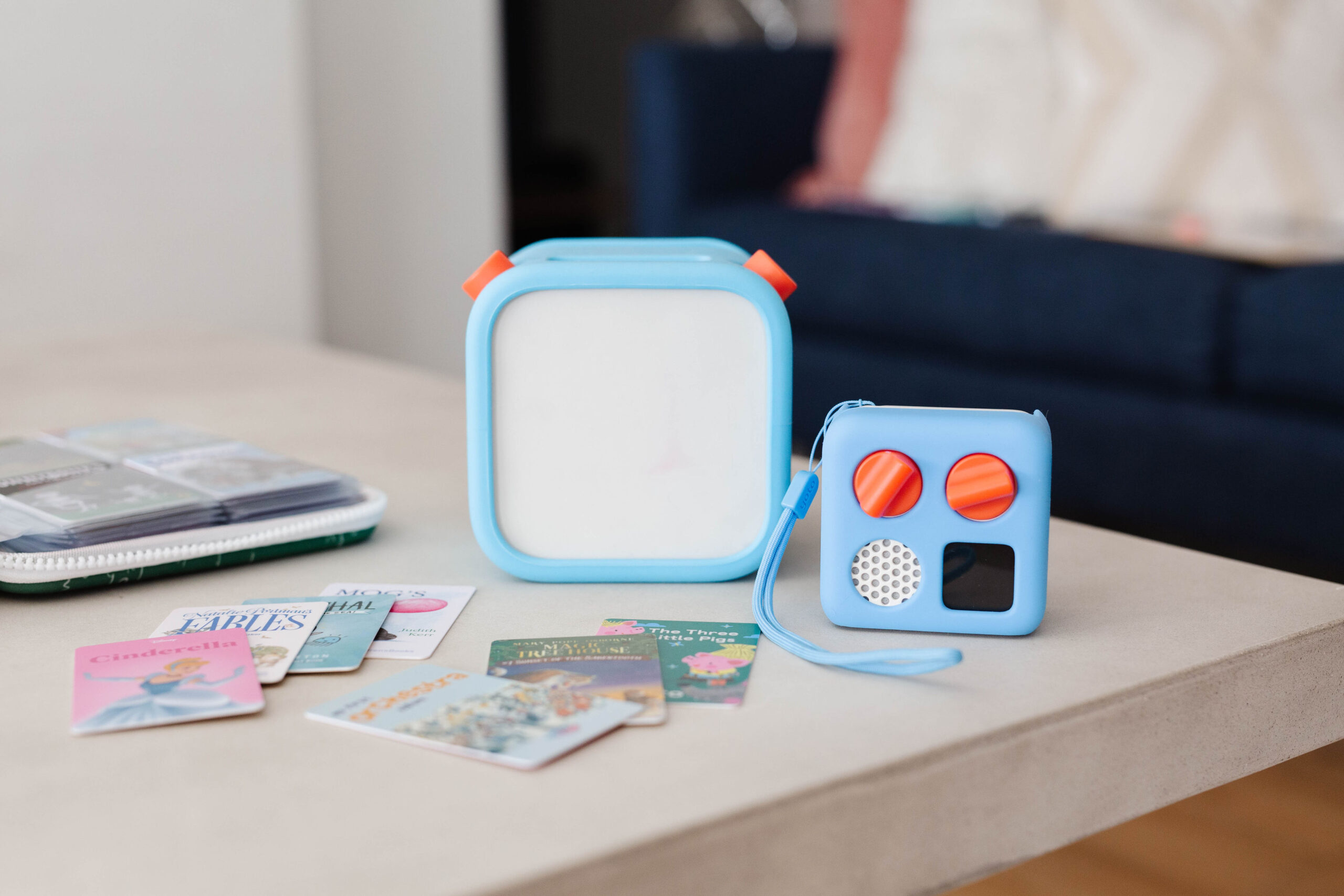 Now, with lots of experience with both Yoto players, my vote is for the Yoto Mini (Use this link to get 10% off).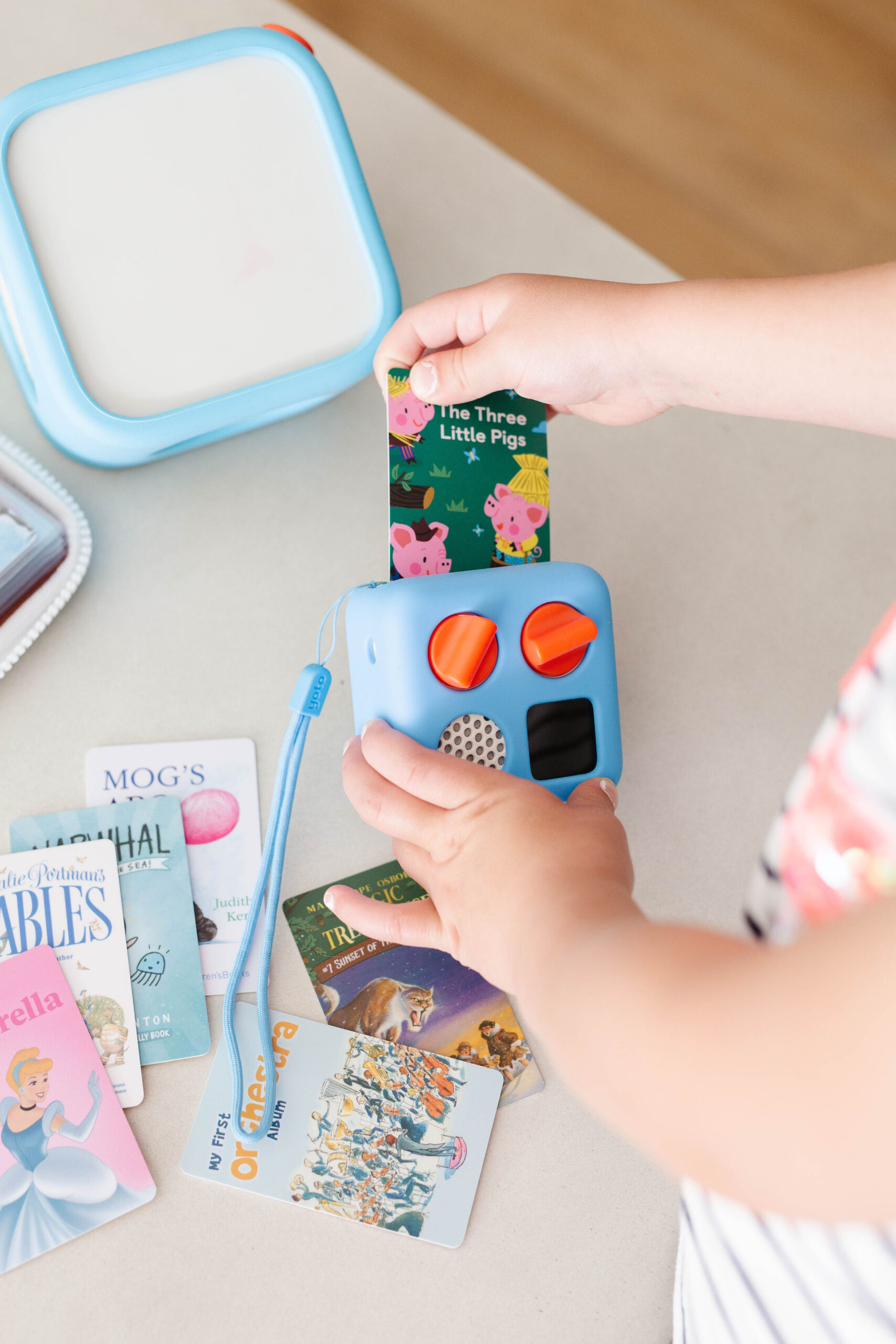 Everything You Need to Know About the Yoto Mini
They're both great and you can't go wrong with either, but my personal preference for the Yoto Mini is based on these three factors:
The Yoto Mini is less expensive. The original Yoto Player is $99.99, while the Yoto Mini is $69.99. You know I always love saving money where I can and $30 leaves a lot more room for buying Yoto cards!
The Yoto Mini is more portable. When we went to San Diego for Spring Break, all my girls brought their Yoto Players and the three older girls slipped their Yoto Minis into their backpacks with no problem. For Tally, on the other hand, her original Yoto Player was a TIGHT squeeze in her backpack and took up a lot of room. Especially if you plan to travel with it, I think the Yoto Mini is a better option, but even at home, the Yoto Mini takes up less space on a bedside table and is easier to carry around the house.
The Yoto Mini has almost all the same features as the original Yoto Player. Truly they're almost identical features-wise. The Yoto Mini has slightly less volume because it's a smaller player and uses a different charger. The only functional difference is that the Yoto Player has a nightlight and the Yoto Mini does not. So unless you really want the night light feature, I see little reason to spend the extra $30 on a Yoto Player.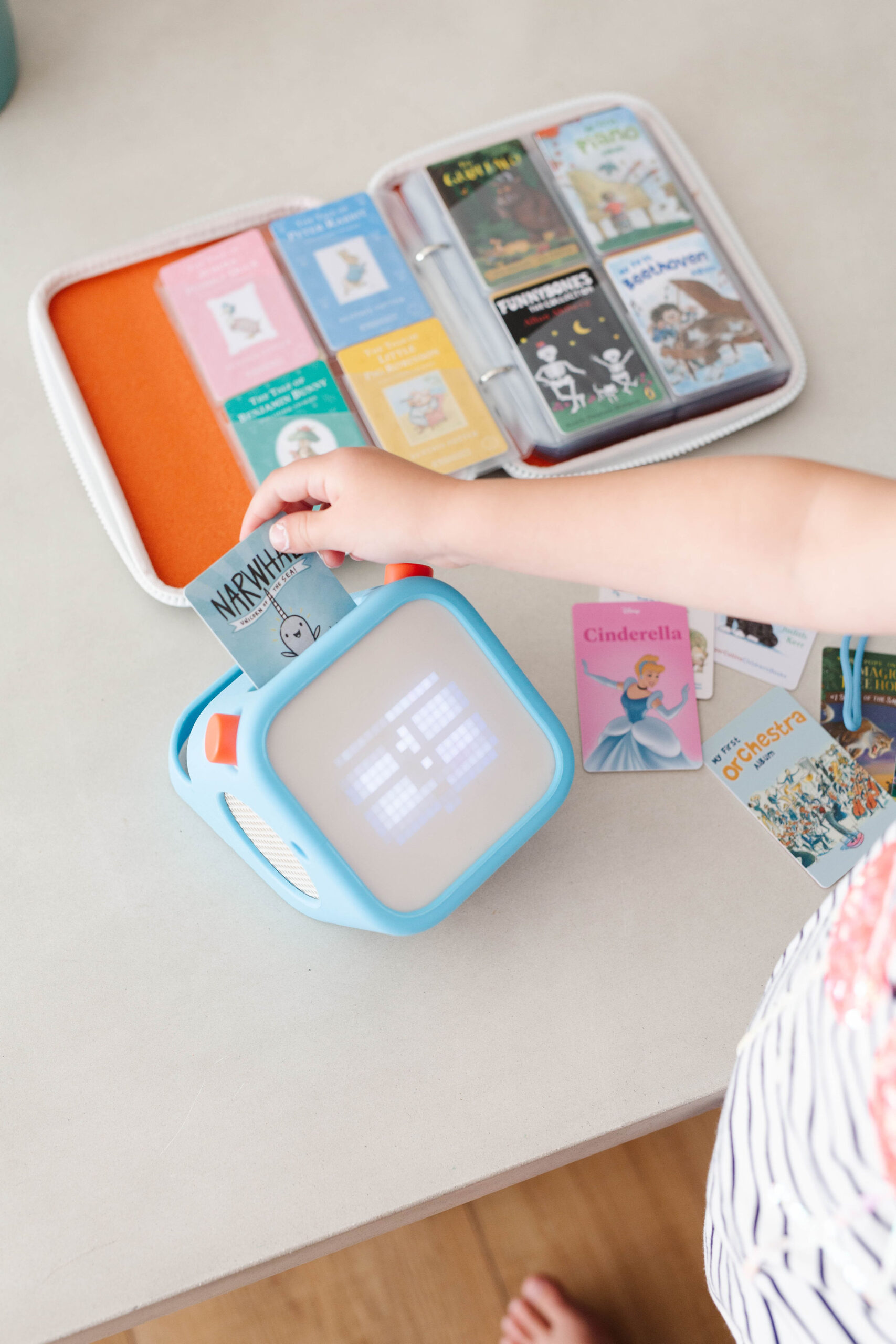 Here were some of the most frequently asked questions about the Yoto Mini:
Do you have a discount code for the Yoto Mini? I don't have a discount code, but if you use this referral link, it'll populate a 10% discount code for you and it'll apply to any order over $69.
Does the Yoto Mini only work with headphones? No! It has a speaker, just like the Yoto Player. Both the Yoto Mini and the Yoto Player have a normal headphone jack, so you CAN use either of them with headphones if you're so inclined (Yoto sells headphones but I haven't tried them out – these are the headphones we use).
Are the cards the same for the Yoto Mini? Yes! It's the same cards for both players – my girls share all our Yoto cards around and it makes no difference whether they have an original Yoto or a Yoto Mini.
Can a toddler use the Yoto Mini? Yes! Two of my team members have toddlers (2 and 3.5 years old, respectively) and they've both said their children can manage the Yoto Mini. It might be SLIGHTLY easier to put cards in the original Yoto Player, but not in a way that will be noticeably different for most kids.
Is the speaker better on the Yoto Original? When the Yoto Mini first came out, they said that it wasn't quite as strong, sound wise, as the original player. Now I don't see that listed on their site anymore and when I tested our Yoto Original against the Yoto Mini the volume seemed about the same. It's maybe SLIGHTLY more robust on the Original, but not so much that you'd probably ever notice.
Is there an an Okay to Wake feature on the Yoto Mini? Yes! Both the Yoto Player and the Yoto Mini have an Okay to Wake feature – in the app, you set what time you want it to be okay to wake up and when that time comes, the display on the Yoto turns from a moon to a sun (we have our youngest daughter's set to 7:30 a.m.). On the Yoto Player, you can also set the color of the nightlight to change when it's Okay to Wake.
Is there a sleep timer? Yes! It's a newer addition, but now on any card playing, you can set a sleep timer on the app from anywhere from 15 minutes to 3 hours or set a custom timer.
What about a Yoto Player versus a Toniebox? I'd personally choose a Yoto Player or Yoto Mini EVERY day over a Toniebox. Yoto has a much bigger collection of content then the Toniebox, plus the Yoto cards are less expensive than the Tonie figurines. I know some people love the fun of the Tonie figurines, but they're more bulky, harder to store and transport and seem like more hassle to me. The Toniebox is also padded and feels more like a toy than a cool electronic device. My 11 year old wanted a Yoto Mini but I can't imagine her having the least interest in a Toniebox. I think you'll get many many more years of use out of a Yoto than you will a Toniebox.
Any other question about the Yoto Mini or Yoto Players in general? Let me know in the comments and I'm happy to help!
If you liked this post about the Yoto Mini, you might like these posts too: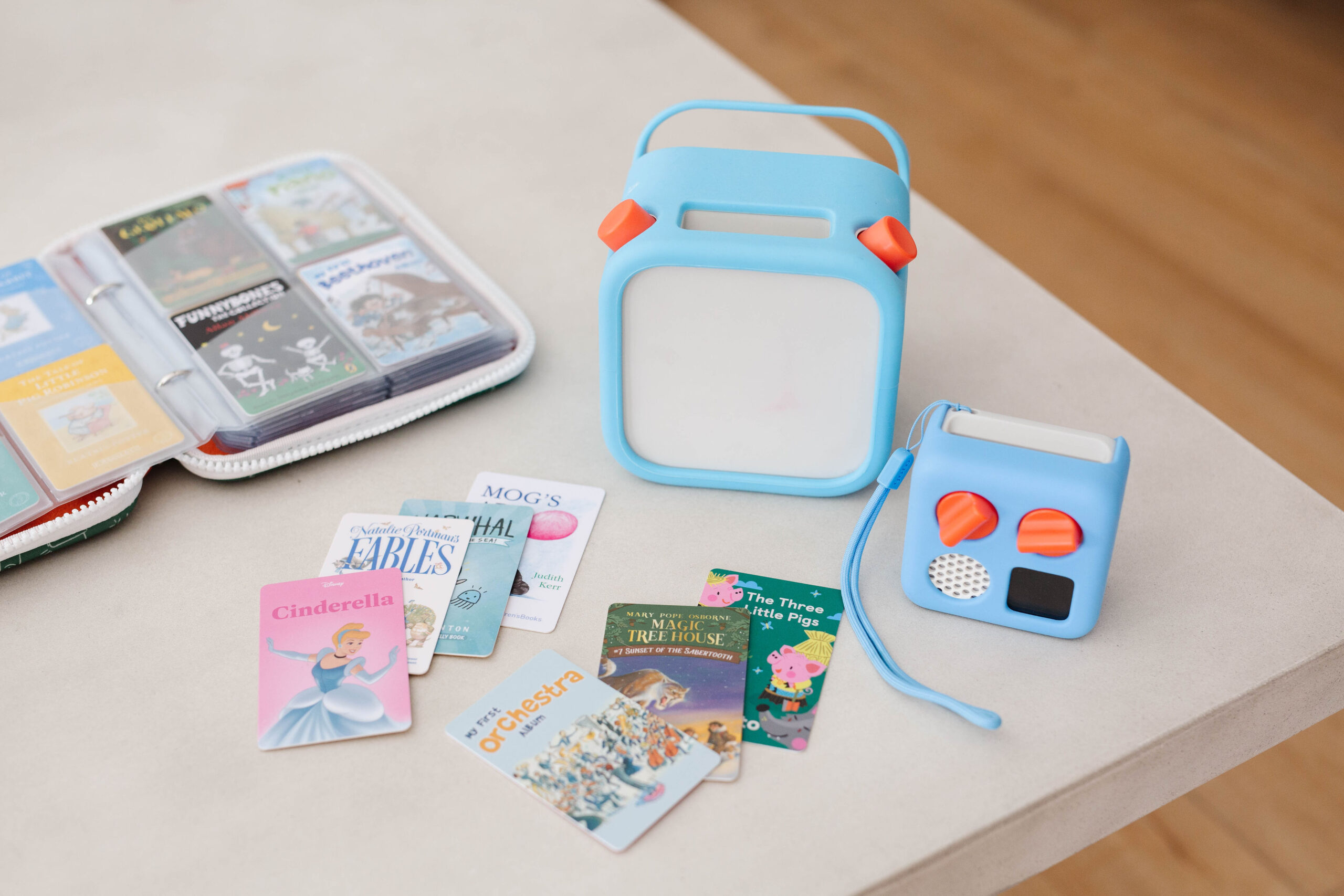 Photos by Heather Mildenstein