Mystery books are one of the most popular categories for readers – you'll usually see a whole dedicated section for them at the library or a bookstore.
And yet, somehow, I'd never put together a list of my favorite mystery books for adults!
I'd actually never really thought of myself as a mystery reader, but as I started assembling this list, I realized that some of my all-time favorite books are mystery novels!
Here are seventeen I've loved: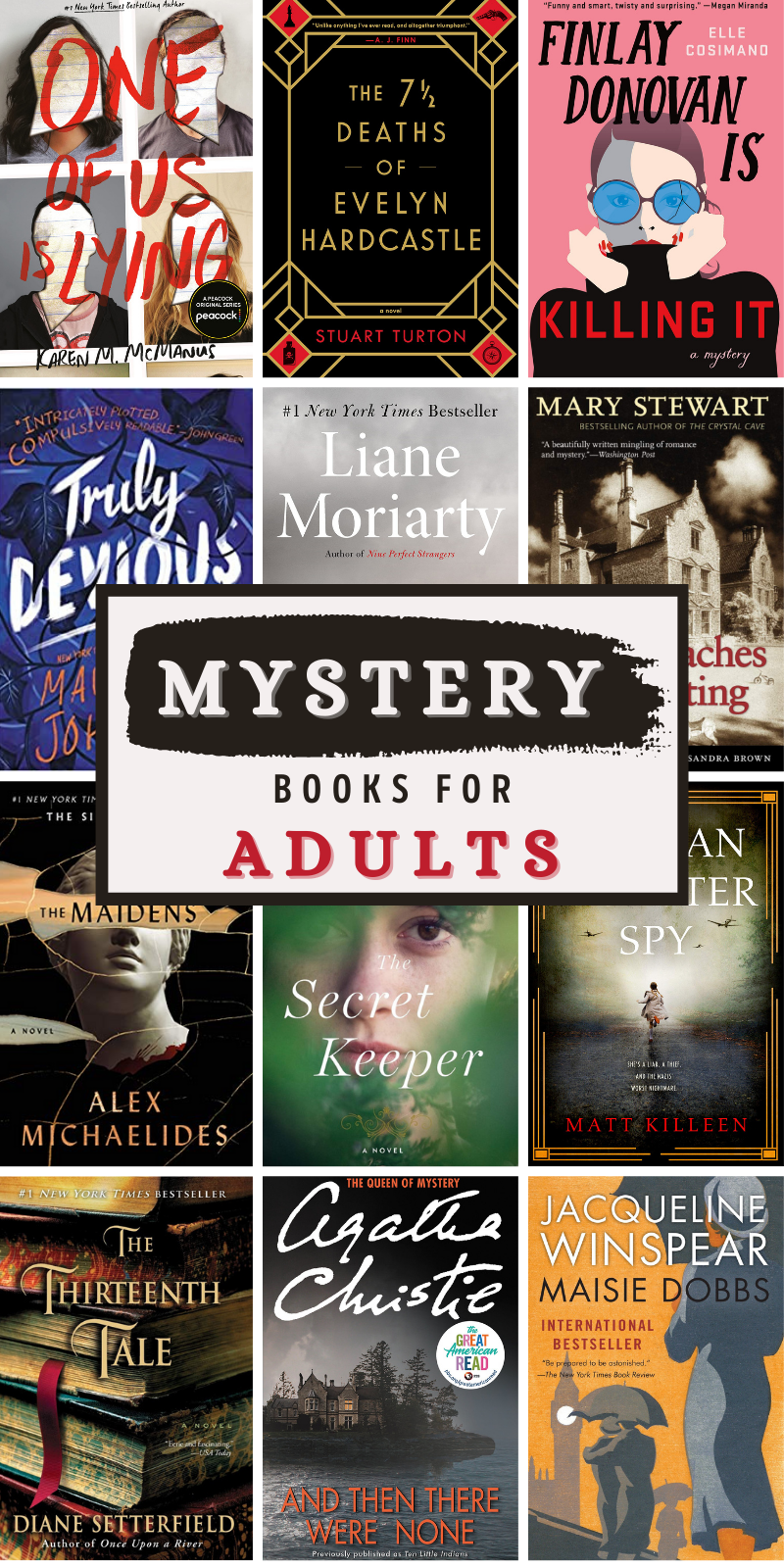 17 Mystery Books for Adults
Maisie Dobbs by Jacqueline Winspear
This crazy popular mystery series follows Maisie Dobbs who worked on the French front as a nurse during WWI and is now trying to put her life back together after the war, working as a private investigator. You couldn't ask for a better heroine to cheer on. (Full review here)

One of Us Is Lying by Karen M. McManus
This young adult novel is about five students who get stuck in detention together and one of them dies. The one who dies ran a gossip site about his classmates at the school and the other four were all scheduled to have stories about them go up the following day. Which means all of them had motive.
Finlay Donovan is Killing It by Elle Cosimano
I'd seen this book everywhere and multiple people had recommended it to me but when someone sent me a message saying it reminded them of Sophie Kinsella, I picked it up at the library THAT DAY. I read (and loved!) this book about a struggling single mom who is mistaken for a hit woman and offered an enormous sum of money to take out a bad husband.
The Maidens by Alex Michaelides
I haven't read his bestseller The Silent Patient, but I listened to this one over the summer and it was GRIPPING about a charismatic professor, the exclusive group of female students he's created and a string of murders.

The Thirteenth Tale by Diane Setterfield
This bestseller was one of the first books I read after I finished my undergrad degree and started reading in earnest again. It definitely has that Gothic feel to it and so many unexpected twists. Vera Winter is a famous novelist and has never told the real story about her life until her death is approaching and she asks a young woman she doesn't know to be the one to write her real biography. (Full review here)
The Secret Keeper by Kate Morton
I've read several of Kate Morton's books and this is by far my favorite. When Laurel is sixteen, a stranger arrives at a family birthday party, calling Laurel's mother by name and her mother stabs and kills him. The family never mentions it again and the story splits into two parts – Laurel, fifty years in the future, now an extremely successful actress, knows her mother is close to death, and finds herself desperate to understand, before it's too late, what exactly happened with her mother and this mysterious man she murdered. The other story takes place in the early 40s, during WWII, in London where two young women become friends in the days of the London Blitz. Somehow these stories intersect and Laurel is determined to figure out how. (Full review here)
The 7 1/2 Deaths of Evelyn Hardcastle by Stuart Turton
This was the October book for the 2021 Everyday Reading Book Club and one my mom RAVED about. Plus, any storyline that messes around with a timeline is an easy sell for me. This one follows Aiden Bishop who wakes up every day in the body of a different guest at the Manor where Evelyn Hardcastle was killed. And that cycle will continue until he can identify who the murderer is. (Full review here)
Truly Devious by Maureen Johnson
If you've been here a while, you know I love a good young adult book and this one features a private school, an unsolved kidnapping, and a teenage true-crime aficionado and new student who is determined to crack the case. Sign me up.

Touch & Go by Lisa Gardner
I actually haven't read the first book in this series (I didn't even REALIZE it as a series until I saw it on here), but I was GLUED to this book. Be warned – lots of swearing. (Full review here)
The Mother-In-Law by Sally Hepworth
This book totally reminded me of Lianne Moriarty (they're both from Australia too, which doesn't hurt the comparison). Lucy's mother-in-law is dead. There's a suicide note that refers to her cancer but. . . the autopsy finds her cancer-free. And there are some other suspicious things too. The question is: what happened. Was she murdered? And if so, who did it? I loved that up until the last few moments, I legitimately didn't know who to trust. The book jumps between narrators and the past and the present, and it's just a twisty family drama that I couldn't put down. Highly recommend!

And Then There Were None by Agatha Christie
No one does a suspenseful mystery like Agatha Christie and this one, where ten strangers arrive at a deserted mansion and then begin to die off one at a time, is probably her most famous. We also went to see a stage version of The Mouse Trap (another of her books) a few years ago during October and it was the perfect creepy mystery. I need to read the book version now!
The Half Sister by Sandie Jones
Told in alternating points of view, Kate and Lauren are sisters who are very close and come from a tightly-knit family that's been rocked by the recent death of their father. But things start unraveling fast when a young woman shows up at a family dinner claiming to be their half sister. And she has the DNA test to prove it. As the sisters try to track down the truth, it becomes clear that MANY members of the family are keeping secrets. This story keeps twisting and turning and the end completely surprised me!
Apples Never Fall by Liane Moriarty
One perk of my job is occasional early access to big titles coming out and this one is one I was VERY excited to see pop up. I love books by Liane Moriarty! After Joy Delaney goes missing, Stan, her husband becomes a suspect. Two of their children think their father is innocent, while the other two, well they aren't so sure. (Full review here)
Nine Coaches Waiting by Mary Stewart
I read this one years ago and all the reviews that compared it to Rebecca weren't wrong. Linda is an orphan in her early 20s who goes to be a governess in France for a wealthy young boy who will inherit the whole family estate when he comes of age. Naturally, things get a little frightening very quickly. You'll swear you're at a Gothic manor in the French countryside, all without leaving your couch. (Full review here)
Orphan Monster Spy by Matt Killeen
You know how some books, you can look at the cover even months or years later and the feel of the book comes rushing back to you? That is this book for me. The atmosphere of the German city, the Nazi boarding school, and the woods was SO strong for me it was like falling into those places headfirst while I read. (Full review here)
To Say Nothing of the Dog by Connie Willis
This book was a gift from my in-laws more than a decade ago and I LOVED it. Ned is a professional time traveler but he's so overworked that his boss finally sends him to the Victorian era to hide out and get some much needed rest. Naturally, very little resting goes on and instead time travel goes wild. (Full review here)

The Chemist by Stephenie Meyer
Say what you will about Stephenie Meyer, but she can write some SNAPPY dialogue. This book follows a female interrogation officer for one of the U.S. government agencies. She's known as The Chemist because she uses chemical cocktails to get information out of her subjects, but now she's less worried about her job and more worried about her life because the agency is now trying to kill her. This was just a FUN book with lots of laugh-out-loud moments. (Full review here)


And if you'd like a printable copy of the mystery books for adults list that you can take to your library or screenshot on your phone for easy access, just pop in your email address below and it'll come right to your inbox!
if you like this post about mystery books, you might also like these other posts: