You probably won't be surprised to hear that I love historical fiction (I was a history major as a undergrad and a lifelong history buff) and it's hard to get better than a top-notch historical fiction book written for children.
I've gravitated toward these kinds of books all my life and still love reading them as an adult on my own or reading them aloud to my children.
Here are some of my very favorite kids historical fiction titles!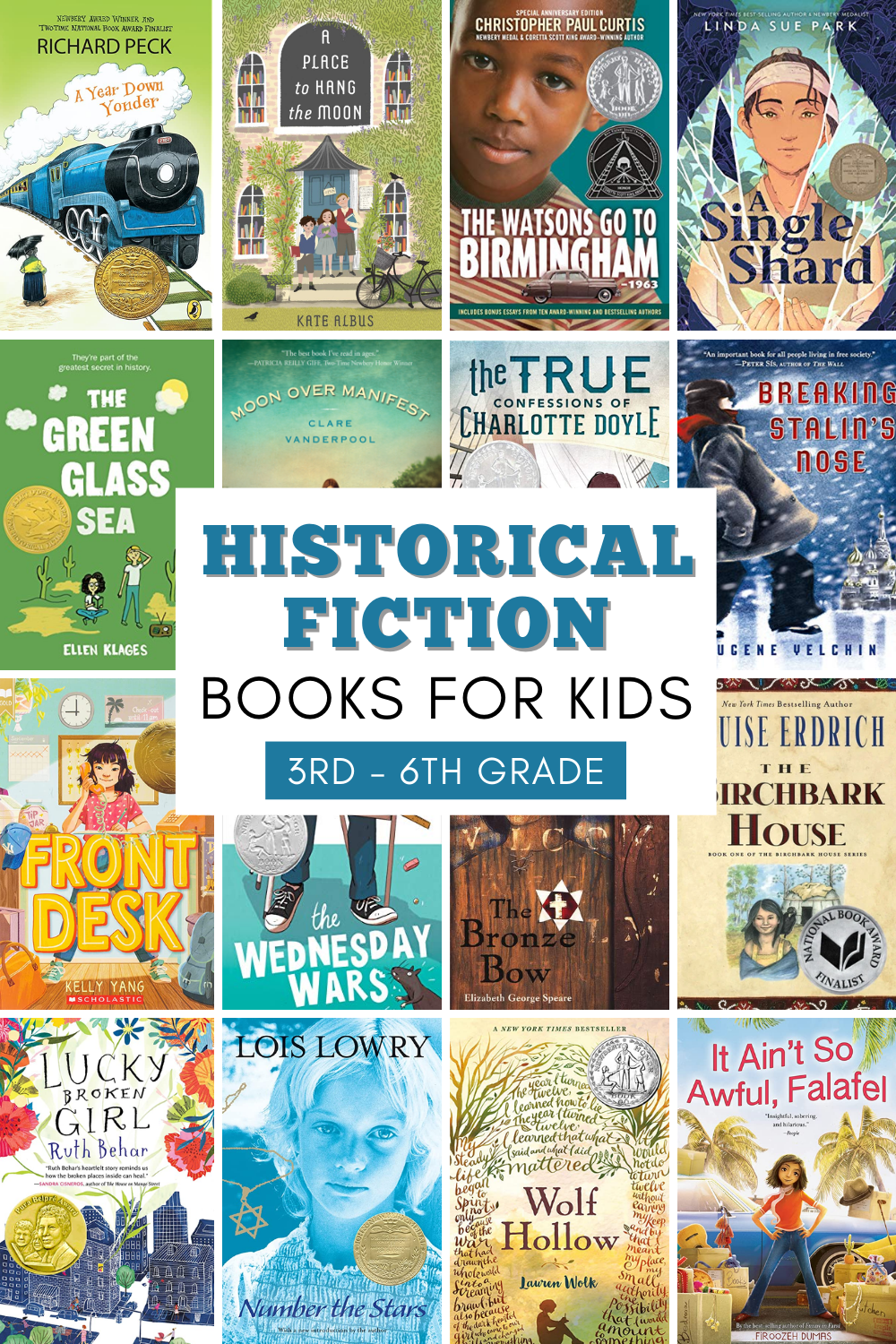 20+ HISTORICAL FICTION BOOKS FOR KIDS
Wolf Hollow by Lauren Holk
This one is set in World War II, with the focus on Annabelle who lives in a small town in Pennsylvania. The audio version of Wolf Hollow is terrific, and listening to it was a completely immersive experience – I felt like I was right there in the hills of Pennsylvania, wondering who was at fault and who to trust. I listened to the whole thing in two days – it was SO good. (Full review here)

A Place to Hang the Moon by Kate Albus
This historical fiction title absolutely charmed me and it's been one of my favorite read-alouds in the past couple of years. Three young children lose their grandmother, leaving them orphans and no place to go. Her lawyer suggests that, since so many children are being shipped out to the English countryside during the bombings, they might join the exodus and conveniently not mention that they don't actually have a family. And just maybe the family that temporarily takes them in will want to keep them forever. This book has all the feelings of a classic and I definitely shed some tears at the end.

The Best Bad Luck I Ever Had by Kristin Levine
This middle-grade historical fiction title is set in Alabama during WWI. Dit is anxious for the new post master to arrive, since rumor is that he has a son Dit's age, but when the post master's family arrives, Dit can't decide whether he's more surprised that the family is Black or that the promised friend is a girl. (Full review here)

Roll of Thunder, Hear My Cry by Mildred D. Taylor
During the Depression of the 1930s, the Logan family is faced with prejudice and discrimination while living in Mississippi. I read this Newbery winning title as a kid and then I reread it in grad school and sobbed my stupid eyes out.


Moon Over Manifest by Clare Vanderpool
One of my favorite Newbery winners in recent years, this story is told by two different voices – a young girl during the Great Depression and a young boy just before WWI breaks out. Sometimes I read a Newbery book and think, "Meh." This one blew me away. (Full review here)

The Watsons Go to Birmingham by Christopher Paul Curtis
When the Watson family go to visit Grandma in Birmingham, Alabama in the summer of 1963, the heart of the Civil Rights Movement, their world is turned upside down. This Newbery winner is a classic and I can't wait to read it with the girls – I read it years ago and I'm looking forward to revisiting it!


Number the Stars by Lois Lowry
This historical fiction book about WWII was the first chapter book I read on my own and I still love it all these years later. It's a fast read – we blew through it in about a week and it deserves that Newbery sticker for sure. 

The Green Glass Sea by Ellen Klages
The year is 1943 and Dewey Kerrigan is traveling west on a train to go live with her scientist father. But everyone has been very secretive about where exactly he is. When she reaches Los Alamos, New Mexico, she learns why: he's working on a top secret government program. This is so well-written and I absolutely loved it. (Full review here)

Echo by Pam Muñoz Ryan
Echo is such a spectacular middle grade book that follows four different narrators through different periods of history with a whisper of magical realism in it. Magical realism doesn't always work for me but this one? I'm all in. Definitely pick up the audio version – it is a masterpiece. (Full review here)

A Single Shard by Linda Sue Park
I didn't know I had any interest in 12th century Korea until I read this. Then I made everyone, from my husband to my in-laws, read it. It's beautifully written and such a great story. I read this one on my own years before I had kids and then revisited it with them. (Full Review here) 

Prairie Lotus by Linda Sue Park
I read this to the girls and it was terrific. I already knew and loved Linda Sue Park from her Newbery winner, A Single Shard, and this one didn't disappoint. If you're a Little House on the Prairie fan, this has similar vibes, but from a totally different point of view. 

Lucky Broken Girl by Ruth Behar
Based on the author's own life, this is the story of Ruthie, a Cuban-Jewish immigrant girl living with her family in New York City. She loves life in the city, playing hopscotch with her friends outdoors, and attending school. But after a car accident, she's put into a full-body cast and spends a year home in bed recovering. While her world has become very small, she discovers lots about herself, her family, and the neighbors around them, and it's a completely compelling and heart-warming story. 

It Ain't So Awful, Falafel by Firoozeh Dumas
I'd read both of Firoozeh Dumas' adult memoirs but I had no idea she'd written a middle grade novel! I picked it up and read it aloud to the girls and we all loved this fictionalized story based on Dumas' own childhood growing up as an Iranian in Southern California during the Iranian Revolution and the Iranian hostage crisis. Ella was very dubious about this one but it ended up being one of our best read alouds!
Front Desk by Kelly Yang
This middle grade novel about a family that comes to the US from China in the 90s, it's such a fascinating look at the immigrant experience. I can't wait to read this with my girls. (Full review here)

The Birchbark House by Louise Erdrich
I read this story of a seven year old Native girl, Omakayas who lives on an island in Lake Superior in the 1840s to my girls over a summer and we finished the last few chapters on audio during a road trip. 
The Wednesday Wars by Gary D. Schmidt
If I was forced to choose one favorite book, I think it'd be this one. I just LOVE this middle grade about a boy suffering through his seventh grade year. The Vietnam War is raging and his home life is a complicated by his ambitious father and his teenage sister, but the worst thing is that every Wednesday every other student goes to religious education and he has to stay in the classroom and study Shakespeare with his teacher. This book is funny, smart, and 100% fantastic. I have recommended it hundreds and hundreds of times. The companion novel, Okay for Now, is just as good. (Full review here)
Al Capone Does My Shirts by Gennifer Choldenko
This sweet, funny, and compelling novel follows twelve-year-old Moose, when his family moves to Alcatraz Island in 1935. And don't worry, he is not a criminal, this was when prison employee families lived on the island too.  

A Year Down Yonder by Richard Peck
I will say, I like this one better than A Long Way from Chicago. It takes place in 1937 and the Depression is officially over, but times are still hard and getting harder. Mary Alice is sent down to Grandma Dowdel's for the year because her parents can't afford to keep her. Mary Alice comes to love living with Grandma Dowdel, accompanying her on late night fox hunts, helping her steal pecans from a neighbor's tree, and watching her catch the boys who attempt to burn down the privy on Halloween night. (Full review here)
The True Confessions of Charlotte Doyle by Avi
This was a favorite of mine growing up about a young girl who sets out alone on as ship to rejoin her family in America and finds herself in the middle of a mutiny and then tried for murder. I had read this one aloud to my older girls – I hadn't read it since the 90s! It's so fun to revisit these beloved books from my childhood and I'm glad I forced myself to not re-read them in the last decade so that they'd be new and fresh to me when I read them aloud! We were all SUPER into this book. 

The Bronze Bow by Elizabeth George Speare
When I was really trying to make progress through the Newbery award winners several years ago, I was prepared to suffer through this one that takes place in first-century Israel. And then I just LOVED every second of it.

Caddie Woodlawn by Carol Ryrie Brink
I remembered loving this as a child, but I'd forgotten how totally wonderful it is until I read it again with Ella. I just love Caddie and I loved every chapter of this book that reminds me a fair amount of Little House on the Prairie but possibly even better (can I even say that?!) (Full review here)

By the Great Horn Spoon by Sid Fleischman
Sid Fleischman writes such clever, unexpected books and this one, about a little boy and his butler who head to California as part of the Gold Rush delighted our whole family. The audio version is excellent if you want to listen to this one instead of reading it aloud. 

Breaking Stalin's Nose by Eugene Yelchin
I've read a lot about life under Hitler in Germany and Chairman Mao in China, but very little about the Soviet Union under Stalin. This made me want to know more. And that's my favorite kind of historical fiction.
And if you'd like a printable copy of this historical fiction book list that you can take to your library or screenshot on your phone for easy access, just pop in your email address below and it'll come right to your inbox!


if you liked this post about historical fiction books for kids 3rd – 6th grades, you might also like these other posts: