I've mentioned before that I LOVE a good time travel book.
And then people starting asking for some of my favorites and I realized I'd never made a list of them!
Here are some of my favorite time travel books – if you're looking to leave the world behind for a few hours, these are fun reads!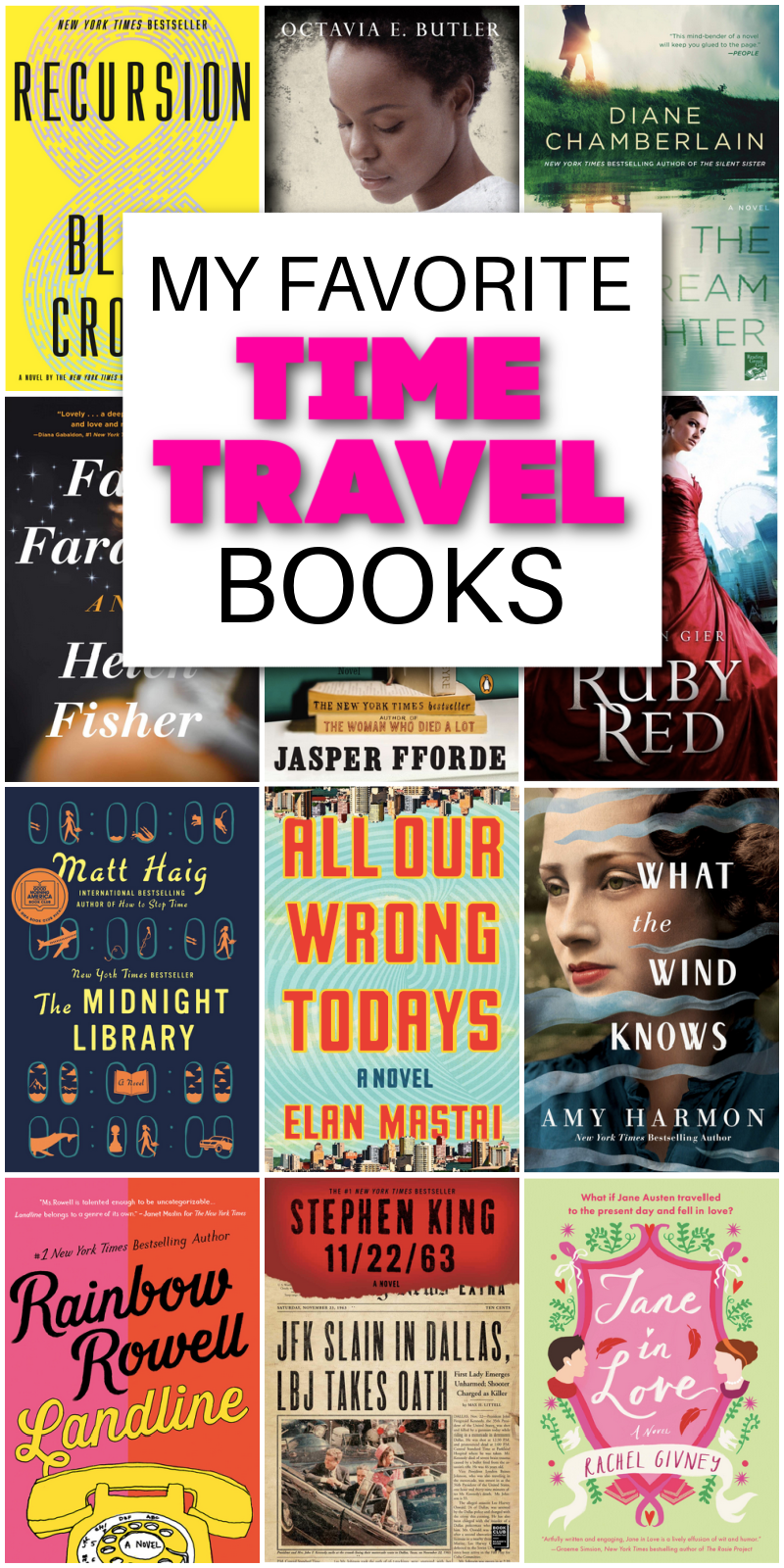 My Favorite Time Travel Books
To Say Nothing of the Dog by Connie Willis
This book was a gift from my in-laws more than a decade ago and I LOVED it. Ned is a professional time traveler but he's so overworked that his boss finally sends him to the Victorian era to hide out and get some much needed rest. Naturally, very little resting goes on and instead time travel goes wild. (Full review here)
Recursion by Blake Crouch
This is the most science-y of the time travel books on this list, so expect things to be pretty trippy, but it is a wild and delightful ride where a NYC policeman starts investigating False Memory Syndrome where victims go crazy with memories of a life that's not theirs.
Landline by Rainbow Rowell
I love Rainbow Rowell's books (we read her book Attachments for Everyday Reading Book Club last year) and I absolutely loved Landline about a married couple that are drifting apart. When he heads home for Christmas with their children, leaving her behind, their phone calls through the landline of her parents' home connects her to her husband back in their college dating days. This one is funny and charming and I loved every page. (Full review here)
The Eyre Affair by Jasper Fforde
This was one of the first books I read when I started getting back into for-fun reading at the end of my college career, and it was SO FUN. Thursday Next is a Special Operative in literary detection with plenty of time travel under her belt and she's called into action when someone starts kidnapping famous characters from works of literature. And when it's Jane Eyre who gets nabbed? Well, this is a mystery to be solved quickly.
A Discovery of Witches by Deborah Harkness
I read this one right when it first came out and despite my vampire fatigue, this one was a delightful romp through history, libraries, and magical books.
Ruby Red by Kerstin Gier
This time-travel young adult trilogy is totally fluffy and also SUPER fun. Gwyneth's family has a time traveling gene and she's certain she hasn't gotten it. But then, when she's 16 it turns out that she DOES have it and it's now her job to carry on the family legacy, despite the fact that she's completely unprepared. (Full review here) 
11/22/63 by Stephen King
I have to recommend this one with a strong dose of warning that there is quite a bit of swearing and sex in this one. But dang, I couldn't put down this story of a man who finds a time travel portal and tries to prevent the assassination of JFK.
I also asked for recommendations of time travel books on Instagram and these were the most suggested titles – if you're looking for more options, give these a spin! I've already requested several of them from my library.
The Midnight Library by Matt Haig
This was BY FAR the most recommended time travel title and it's was on my summer reading list – I'm still hoping to get to it soon!
What the Wind Knows by Amy Harmon
This title also came up SO MANY TIMES and bonus, it's included in Kindle Unlimited!
Waterfall by Lisa Bergen
Book one in a four book series (The River of Time), follows two American teenagers spending their summer in Italy with their scholarly parents. Until they're transported into 14th century Italy.
Kindred by Octavia E. Butler
Dana is a Black woman who lives in the present in California with her husband – until her birthday when she's transported to the antebellum South to save the drowning white son of the plantation owner. And it's not the first time she'll be sent back to this time period.
The Dream Daughter by Diane Chamberlain
When a young window finds out her unborn daughter has a heart defect, time travel seems like the only option to save her baby.
Faye Faraway by Helen Fisher
Imagine going back in time and meeting your mother who died when you were a child and becoming friends with her.
Jane in Love by Rachel Givney
This debut novel re-imagines Jane Austen as a time travel to the present where she has to decide between love and legacy.
The Love Proof by Madeleine Henry
Sophie Jones is a Yale student and physics prodigy with ambitions to unlock the universe's secret. And then she meets Jake Kristopher and their deep connection (that makes them both feel that they've met each other before), lures her away from her studies.
Erasing Time/ Echo in Time by C.J. Hill
I LOVE Janette Rallison (writing here under a pen name) and so this young adult duology one is an easy sell for me!
All Our Wrongs Today by Elan Mastai
Would you choose a perfect world but no love or a messy world (e.g. our world) with your soulmate?
Overseas by Beatriz Williams
When a Wall Street analyst and British billionaire meet in New York City, it appears they may have met before . . .  on the Western Front of WWI.
And if you'd like a printable copy of this list that you can take to your library or screenshot on your phone for easy access, just pop in your email address below and it'll come right to your inbox!
Any other favorite time travel books? I'd love to hear!
If you liked these time travel books, you might like these books too: