A few years ago, I started reading more seasonally and it's been SUCH a fun addition to my reading life.
It started a couple of years ago after many people had suggested Truly Devious to me and so I decided that in October of that year, I would listen to the whole series.
I did and LOVED it – I have so many fun memories of those audiobooks during that season and it made the whole month feel a bit more festive.
Last year, my spooky season listen was the first two books in A Good Girl's Guide to Murder series and that was another perfect listening experience.
This year, I've slowly been collecting books that would be perfect to read during October and I'm so excited to dive into them this month. I don't know that I'll get to all of them, but I'm going to do my best!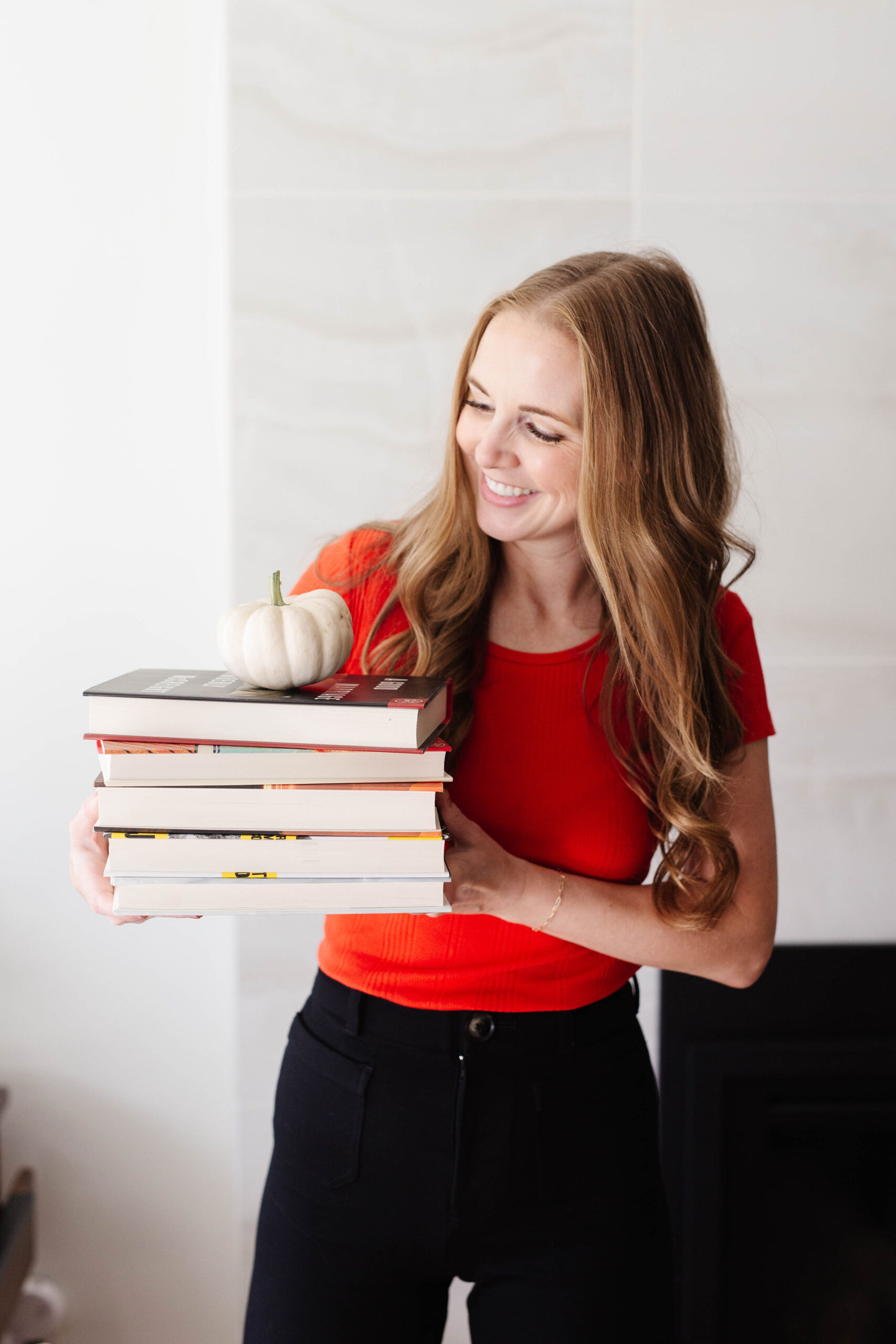 5 books on my october reading list
John Eyre: A Tale of Darkness and Shadow by Mimi Matthews
I love a retelling of a classic and after watching my favorite Jane Eyre movie with Ella earlier this year and then re-reading almost the entire book, I'm ready for this vampire version!
One of Us is Lying by Karen M. McManus
I actually read this book back 5 or 6 years ago (and loved it!) and the third book in the series just came out. This is my plan for my October audiobook listening and I want to re-read the first one so I'm clear on all the details and then listen to the second and third ones!
Everyone in My Family Has Killed Someone by Benjamin Stevenson
I can't remember where I saw this one recommended but when it's described as Clue meets Knives Out? I'm in! This one takes place at a family reunion at a ski resort and no one is safe!
In a Dark Dark Wood by Ruth Ware
I've been on a huge Ruth Ware kick this summer (I read five of her books between July and September) and this one just feels right as my next pick for October! Watch me accidentally read her last three books this October. . .
The Very Secret Society of Irregular Witches by Sangu Mandanna
Not every October read needs to be a murder mystery and this witchy romance feels like a perfect Halloween book to go with the others on this list and this one follows Mika who is one of the few witches left in Britain and hides her magic except on her online account where she "pretends" to be a witch.
Any books on your Halloween/October reading list? I'd love to hear!
if you liked this post of spooky books i want to read this october, you might also like these other posts: