This oven baked Chicken Parmesan recipe is an easy twist on the Italian classic that doesn't require frying and is a total crowd-pleaser!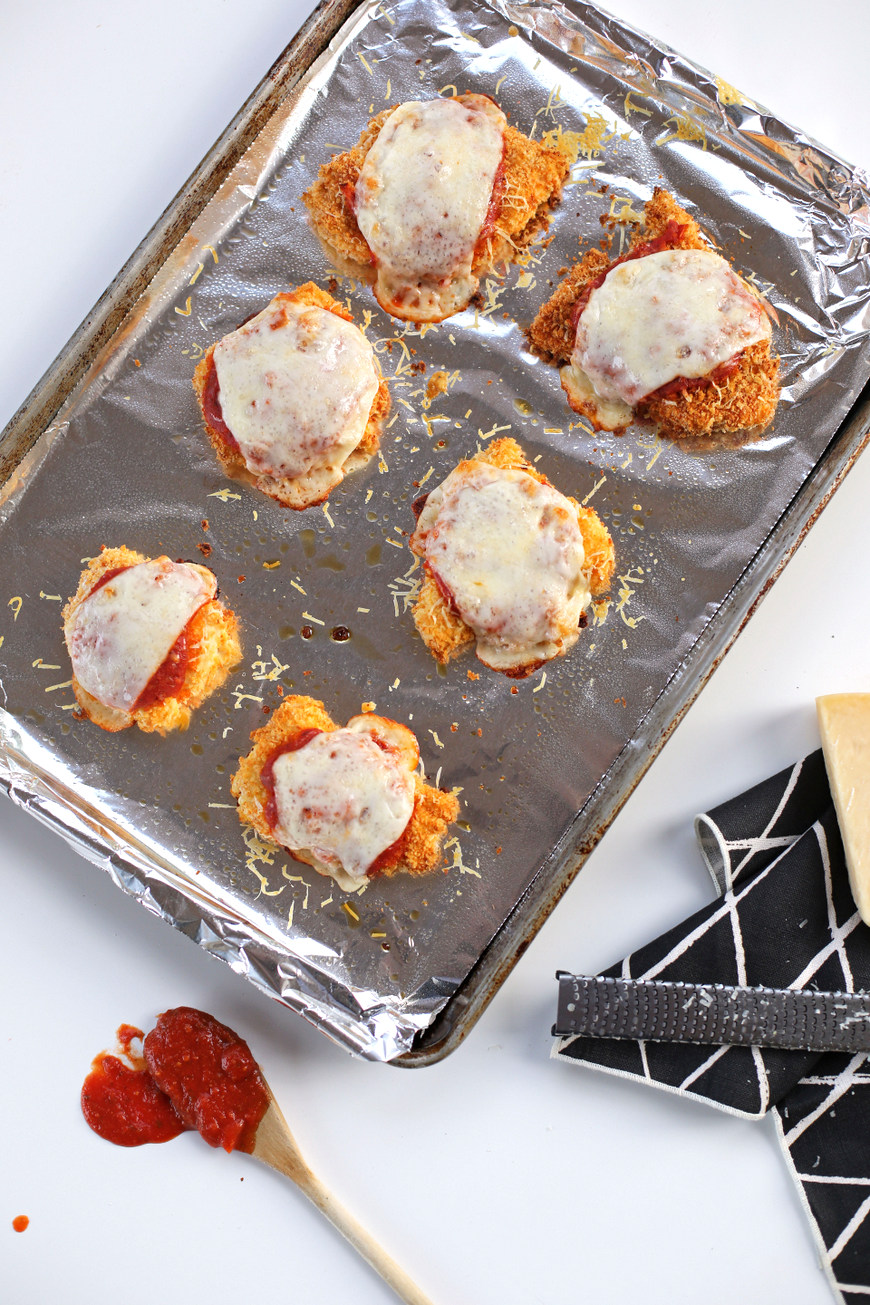 You know those food blogs that you basically trust implicitly?
If they post it, you know it'll be fantastic. And when you're looking for a specific recipe, you check their blog first to see if they have a version of it.
Mel's Kitchen Cafe is one of those blogs for me (my dream in life is to have her for a next-door neighbor and I will happily eat everything she makes).
Another one of those blogs is A Hint of Honey.
I made lots of her recipes over the years, and then she dropped off the map.
Fortunately, I'd never removed her blog from my blog reader so when she started posting again a few weeks ago after a nearly two year hiatus, her posts, including this fantastic oven baked Chicken Parmesan recipe, popped right back into my feed.
It totally made my day, and I've pinned practically everything she's posted so far (and now I need to go back through the archives and find more dinner inspiration).
This oven baked Chicken Parmesan was particularly good. I used to make the Ina Garten Chicken Parmesan recipe years ago, but I hate frying things, so it'd been at least 7 or 8 years since I last made it.
Oven Baked Chicken Parmesan Recipe
This oven baked Chicken Parmesan Recipe didn't make my kitchen all smoky and grease-flecked, and it was ridiculously delicious, with that same crunchy exterior and perfectly tender interior that I love and that Chicken Parmesan is so famous for.
The smoked paprika gives it an extra little pop of flavor and the melted Provolone cheese is the perfect finishing touch.
I definitely won't be waiting seven years to make it again. More like seven days.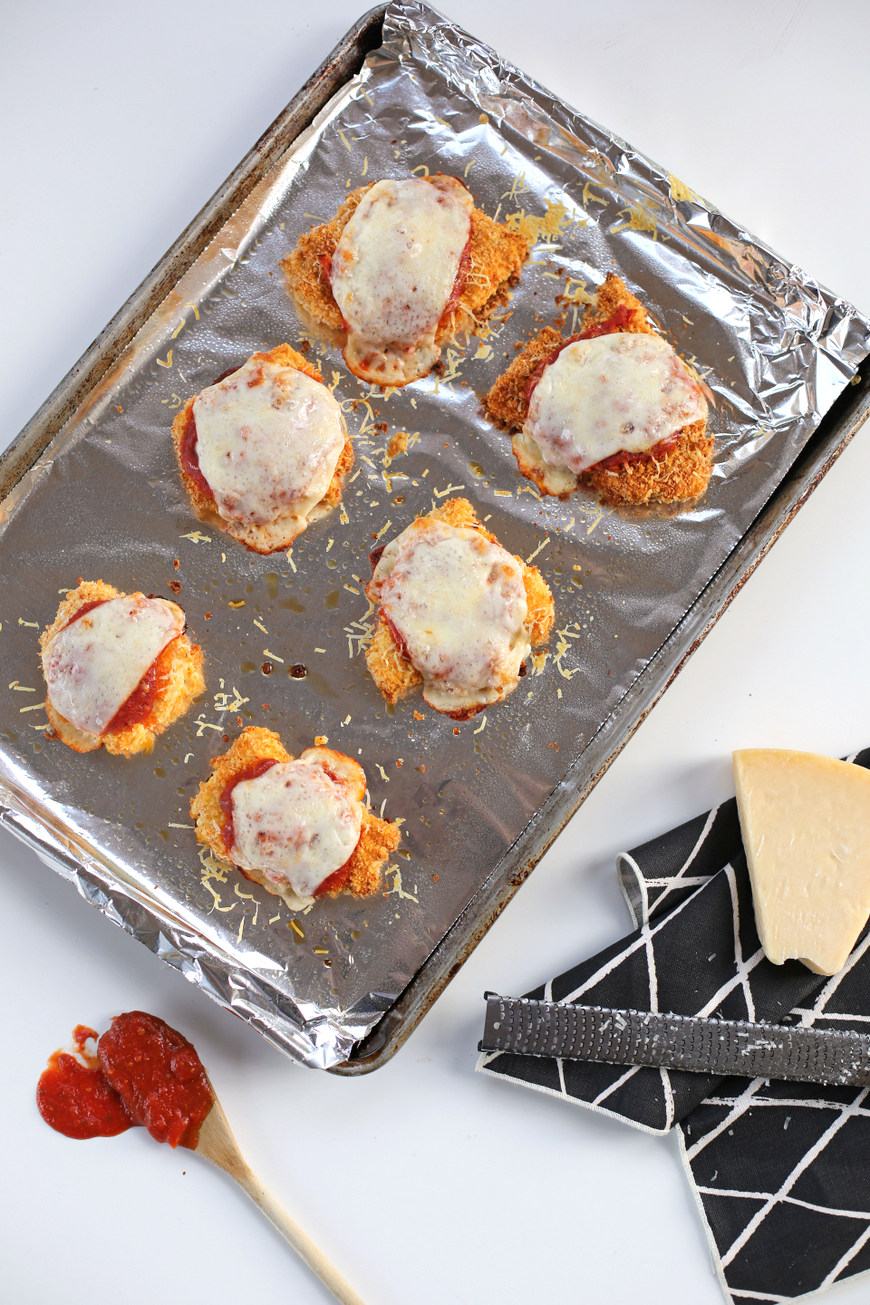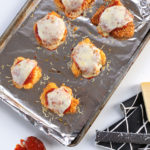 Oven Baked Chicken Parmesan
Ingredients
1/2

cup

flour

1/2

teaspoon

salt

2

Eggs

2

Tablespoons

water

1 1/2

cups

panko breadcrumbs

2

teaspoons

garlic powder

2

teaspoons

smoked paprika

1/2

teaspoon

salt

1/2

teaspoon

pepper

3-4

chicken breasts

1 1/2

cups

marina sauce

6-8

slices

provolone cheese

1/3

cup

grated Parmesan cheese
Instructions
Preheat the oven to 400 degrees. Line a baking sheet with tinfoil and mist lightly with cooking spray. Set aside.

In a shallow dish or pie plate or bowl, whisk together the flour and salt. In a second dish, whisk together the eggs and water until smooth. In a third dish, mix together the breadcrumbs, garlic powder, paprika, salt and pepper.

Cut each chicken breast in half vertically (so each breast is smaller, but not thinner than they were before). Place between two sheets of wax or parchment paper and pound with a meat mallet or rolling pin until they are flattened to about 1/2 an inch thick.

Dip each chicken breast in the flour and salt on both sides, shaking to remove excess, then coat it in the egg mixture, letting extra drip off, then completely coat in the panko mixture. Place on the baking sheet and repeat with each piece of chicken.

Mist the chicken lightly with cooking spray and then place in the oven and bake for 12-15 minutes.

Remove the chicken from the oven and evenly divide the marinara sauce over each piece, then top with a slice of Provolone and a sprinkle of Parmesan cheese.

Return the chicken to the oven and let cook an additional 5-10 minutes, until the chicken is cooked through and the cheese is lightly browned and bubbling. Serve immediately with extra marinara sauce, if desired.