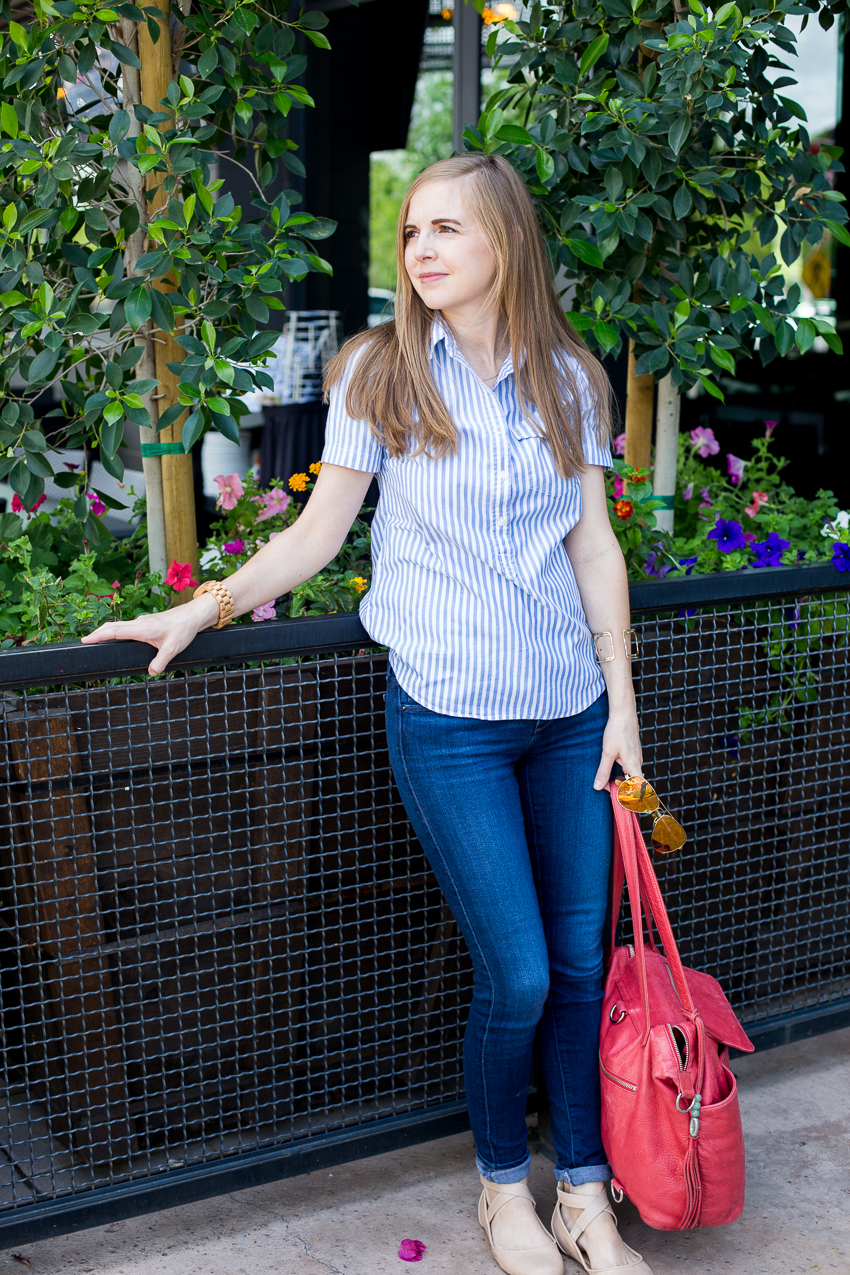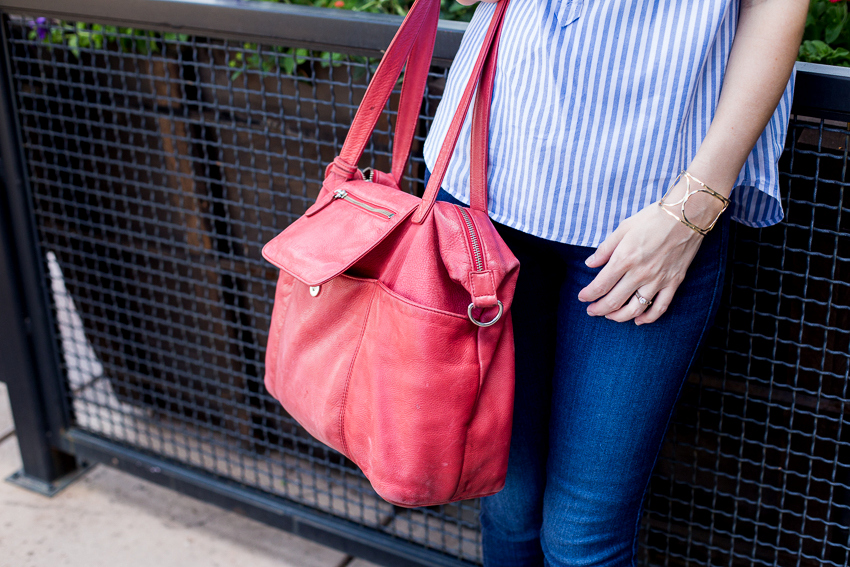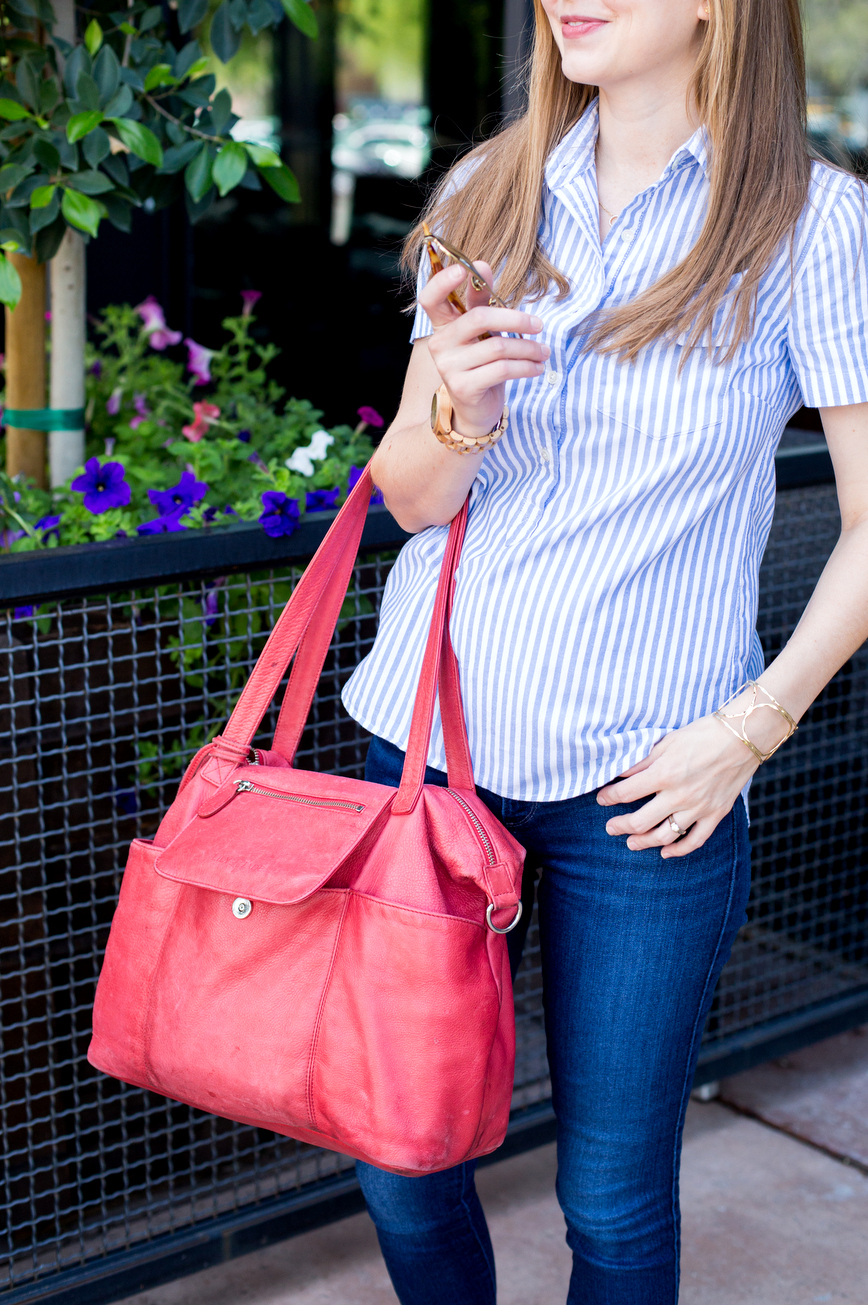 There are actual tragedies and then there are those totally minor tragedies that are embarrassing even to mention because they are so insignificant.
But, let's be honest, they're still a bummer when they happen to you.
This shirt is one of them.
I bought it from thredUP about two weeks after Tally was born and when it arrived, it was basically the perfect shirt.
Thick enough that I didn't have to wear anything underneath it, thin enough that I wouldn't roast in it all summer, a classic stripe, short sleeves that were long enough to be flattering. The list goes on and on. J. Crew, you do good work.
I wore it every single week for six weeks.
And then I got a pair of dark wash jeans from thredUP (the ones in this post, if you're curious). Because they were secondhand, I didn't even think about the dark dye being a problem.
You see where this story is going, don't you?
Yes. That's exactly what happened.
This beloved new shirt came out of the dryer with some lovely green/blue stains on the front.
(And it also got this gingham shirt that I've loved for the last year, plus a polo shirt that belonged to Bart).
You guys, I was so bummed.
I soaked it in OxiClean for a couple of days, then washed it again, but there's still a fair amount of dye on it. So now it's in another OxiClean bath, while I cross my fingers like a crazy person (this makes it very hard to type) that this second round will take it all out.
Bart said, "If you're so sad about this, why don't you just buy a new one?"
Of course, that's the sad thing about thredUP. There's usually only one.
And that one is currently in a red plastic bucket of stain remover.
TOP (via thredUP) • JEANS • SHOES
BAG • WATCH • SUNGLASSES  • BRACELET