Our new living room has big windows that look over the backyard (which is basically a yard that backs onto a forest – it's a pretty lovely view), and in the afternoons, once I'm done working and the girls are up from quiet time and naps and have eaten a snack, we like to snuggle on the couch and read books.
It's so fantastic to be back in our own home with all our books out of storage and a big basket of library picks.
Winter days were just made for snuggling on the couch with a book and a blanket, weren't they?
Here are some of the picture books for children that we have loved in recent weeks and months.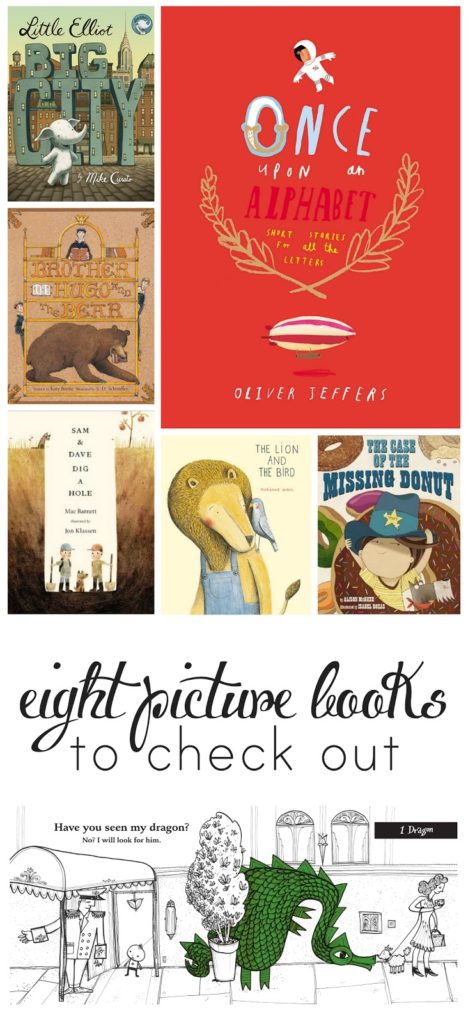 8 picture books for children
Brother Hugo and the Bear by Katy Beebe and S. D. Schindler – When I picked this one up at the library, I thought "There is no way Ella will like this one." The cover looked kind of dull and old-fashioned, but the book was actually quite hilarious and it was probably her favorite book we read during our stay in Las Vegas over Christmas.
Sam and Dave Dig a Hole by Mac Barnett and Jon Klassen – My dad read this aloud to Ella and his voice kept going tight with the effort of not bursting into laughter. As you'd expect from this duo, this is one hilariously weird book.
Once Upon an Alphabet: Short Stories for All the Letters by Oliver Jeffers – This is definitely on the longer side, since you have a mini story for every letter of the alphabet, but it's very clever and we read it much faster than I expected.
Little Elliot, Big City by Mike Curato – Who doesn't want a cupcake when they're in the big city?
Have You Seen My Dragon? by Steve Light – This was one of the first books that Ani really lit up over. She absolutely loved finding the hidden dragon on each page.
The Case of the Missing Donut by Alison Mcghee and Isabel Roxas – Aside from the fact that reading this book made me crave donuts every single time we read it, this is a fun story about a little boy and his dog who go out to get donuts for the family. And maybe don't come home with the full dozen.
The Lion and the Bird by Marianne Dubuc – This is such a sweet book about the changing of the seasons. I loved everything about this one.
Falling For Rapunzel by Leah Wilcox and Lydia Monks – We checked this one out in Las Vegas and then took it to Arizona with us over the summer and I think we read it approximately 100 times. In this spin on the classic, Rapunzel is a little hard of hearing and so every time the prince requests that she throw down her hair, she throws down something else instead.
And if you'd like a printable copy of this list that you can take to your library or screenshot on your phone for easy access, just pop in your email address below and it'll come right to your inbox!
P.S. I share picture book recommendations every day or two on Instagram, so if you're looking for more suggestions, feel free to follow along!
if you liked this post about picture books for children, you might also like these other posts:
Reader Interactions