One of the things that Bart and I marvel at constantly about a child is how they have no interest in the things that we would DIE for (a daily two-hour nap? Sign me up) and are desperate to do things that, as an adult, have long since lost their charms.
Which means it is not very hard to add some easy chores for toddlers to your routine.
I want our children to see work as just a regular part of our lives, not something really tedious or horrifying. I also try not to give them tasks that are too difficult because I don't want to overwhelm them.
I've been surprised, though, by how much even a two-year-old is capable of doing.
And it's SO cute how proud of themselves they are!
These ten chores for toddlers are simple enough to do on a daily or weekly basis, and help them contribute to the family: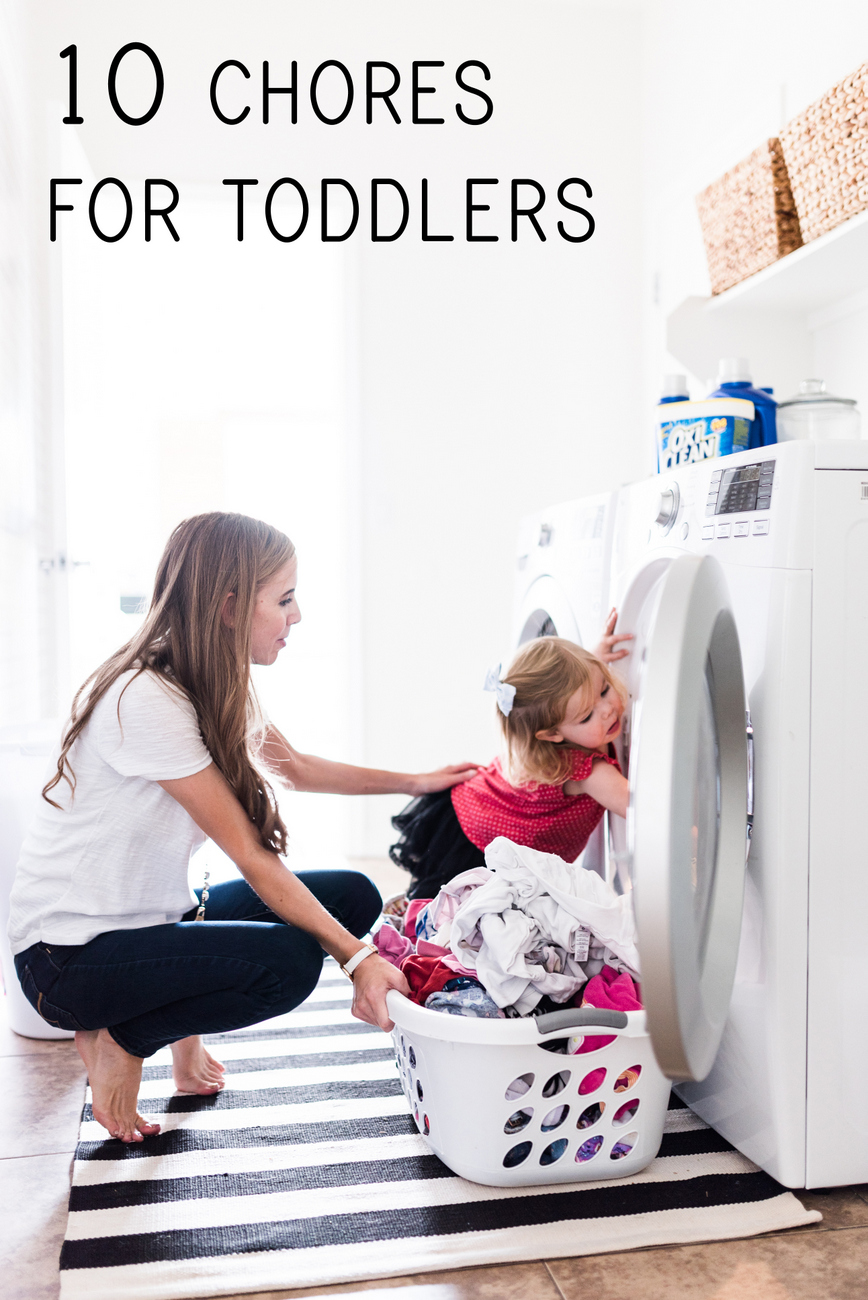 Ten Simple Chores for Toddlers
Watering the plants – I have a lot of potted plants and so on Mondays, I fill up a container of water and send her to water the one in reach of a toddler.
Putting the silverware away – I take out all the sharp knives and dangerous items, then put the silverware basket on the dishwasher door alongside our silverware holder from the drawer. My toddler sorts them into the proper slots and gives me anything that belongs elsewhere (like spatulas or measuring spoons).
Helping with laundry – My girls have all loved putting clothing in the dryer (when I pull it out of the washer and hand it to her), clean out the lint, put in the dryer sheet, and finally slam the dryer door shut. It's pretty obvious they likes the slamming most.
Cleaning the bathroom mirrors – They spray and I wipe down the mirror. Or vica-versa.
Putting clothing in the hamper – When they get dressed in the morning and then for bed, they are responsible for putting clothing in the dirty clothes hamper. We use all open-top baskets for laundry, so it's easy for them to toss them in.
Setting places at the table – Our dishes are high in our current house, but I get them all down, put them on the counter and then my toddler can help set the table.  The napkins are also on a low shelf in the pantry, so they can get one for each family member before each meal (although they end up kind of crumpled, rather than folded, but we aren't picky). Here's a fun way to help your child learn and remember where every item goes on the table.
Putting books away – We do a lot of reading in our family and mainly I like to read on the couch or the bed, so by the end of the day, there are usually several piles of books scattered around the house. They help collect the books and bring them back to the right shelves or baskets.
Throwing diapers away – This one is pretty explanatory.
Helping make my bed – I am an avid bed maker (I cannot remember more than a handful of days in the last twenty years that I have not made my bed), and my toddler loves to help gather up the pillows and heave them onto the bed while I do the sheets and comforter part of the bed-making.
Putting shoes away – We have a shoe basket both in our entryway and in our laundry room, so everyone can reach them and whenever we come home, they are responsible for returning them to their little home. It's great because I can also tell my toddler to go get shoes on and she'll do it. I also like to ask her to put MY shoes away too.
Any chores for toddlers that have worked well in your home?
If you liked this post about chores for toddlers, you might like these posts too:
Photo by Christie Knight Photography