During Amazon Prime Day a few weeks ago, the Kids Kindle eReaders were on SUPER sale (like. . . 50% off kind of super sale).
Which meant that in the days after, there was a flurry of messages asking me how to set up a kids Kindle account (whether you wanted to use it for a kid or an adult).
Here's how to do it!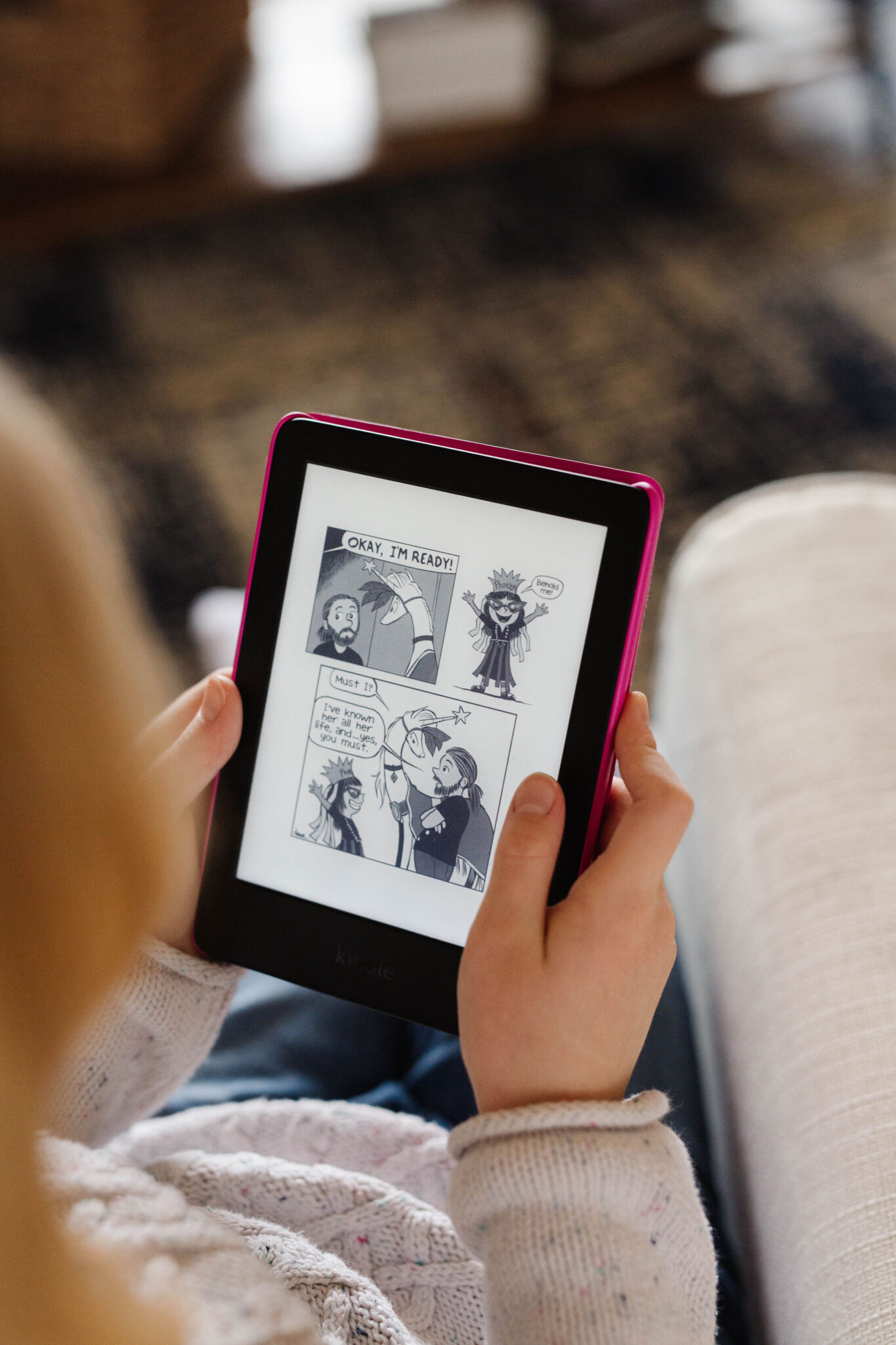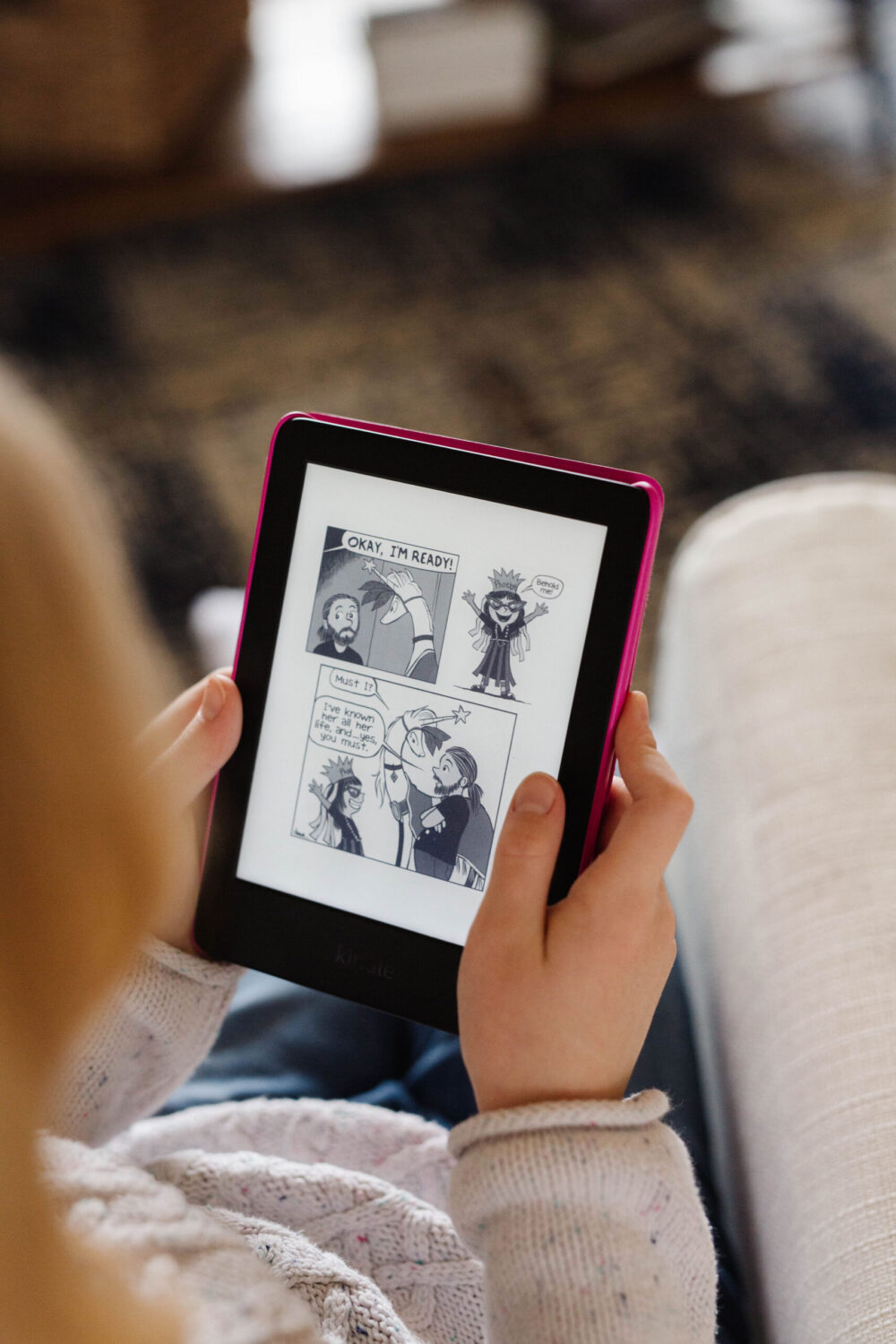 How to Set Up A Kindle Kids Account
The first thing you need to do is create a profile for your child on your Amazon Account.
Go to your Amazon Household and sign in with your normal Amazon account.
Add a child and put in their name and age.
You can add up to four children (and a note that if you create a teen account, it will not let you share books that you purchase with a teen account. This is wildly stupid, but I don't make the rules. So if you have a teen you want to share content with, you can make them a child account instead of a teen one).
Once that's done, you can start setting up the Kids Kindle.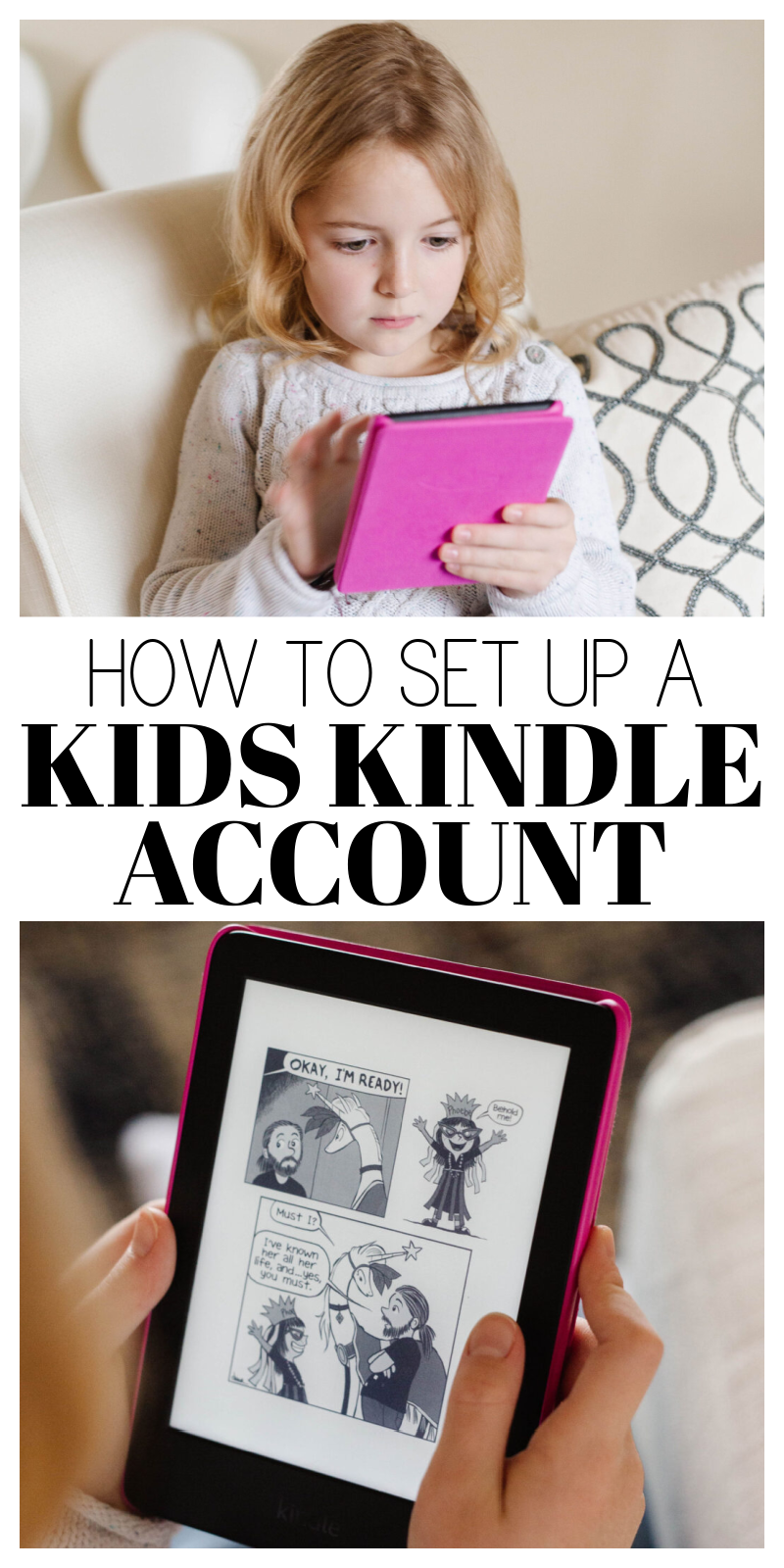 how to setup kindle for child
Turn on the Kindle eReader and choose your language and then let it load.
Once it's loaded, it'll ask for your WiFi info and then ask you to register your Kindle.
Push the button for "Use Existing Amazon Account" and sign in with your regular Amazon account login information.
It will ask you if you want to get your free year of Amazon Kids+.
Choose "Start AmazonKids+"
Now it will let you choose a PIN so that your child can't access the adult side of Kindle (including books outside their age range, purchasing rights, etc).
Once you've selected a PIN, it'll show all your child profiles (which may only be one child). Click "Start Reading" next to the name of whichever one the Kindle is for.
Now it will give you a little tutorial on navigating a Kindle.
Once that's done, it'll show a welcome screen for your child and then you can click "Start Reading."
It should show your child's name at the top left corner.
You're in!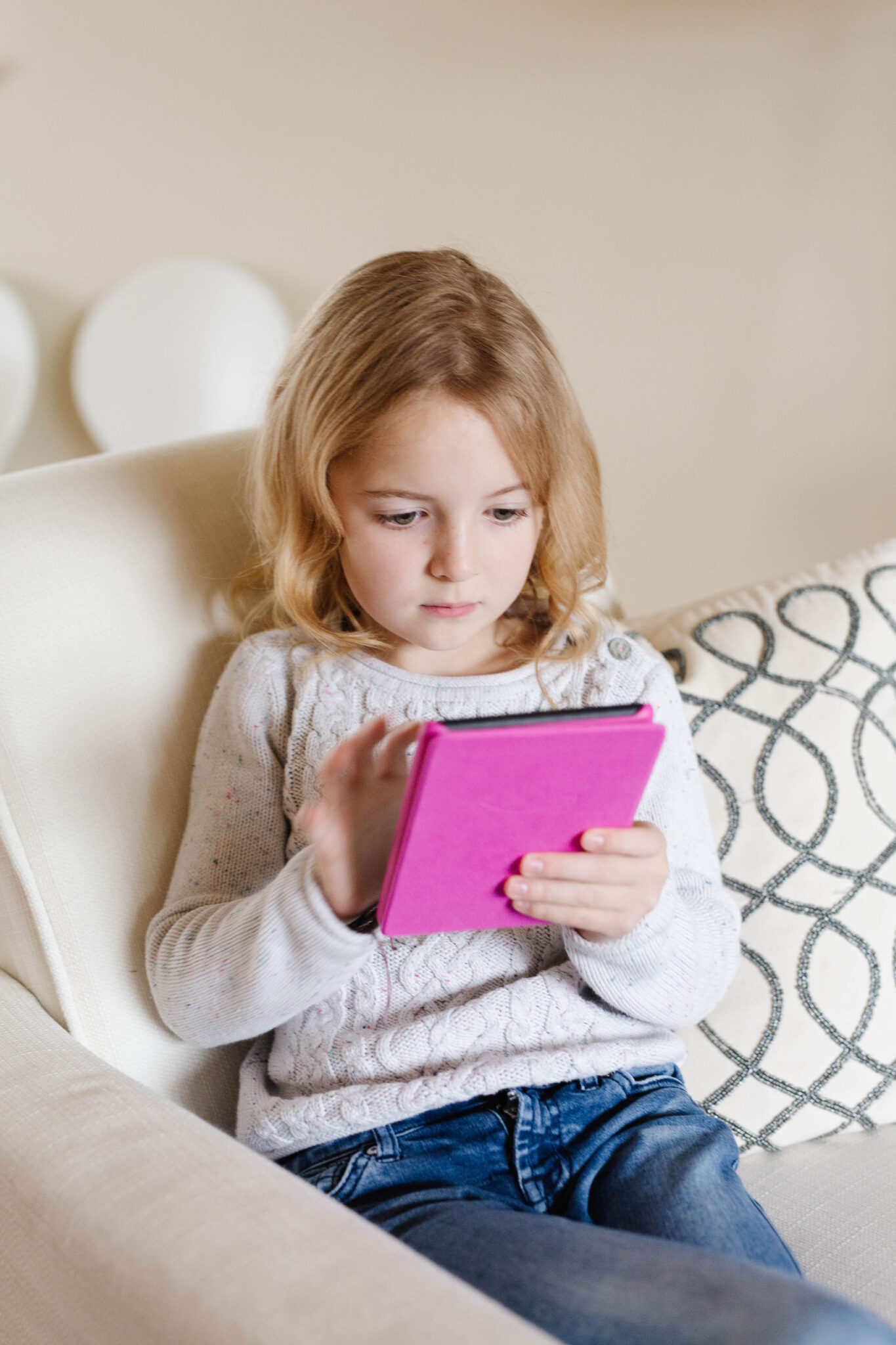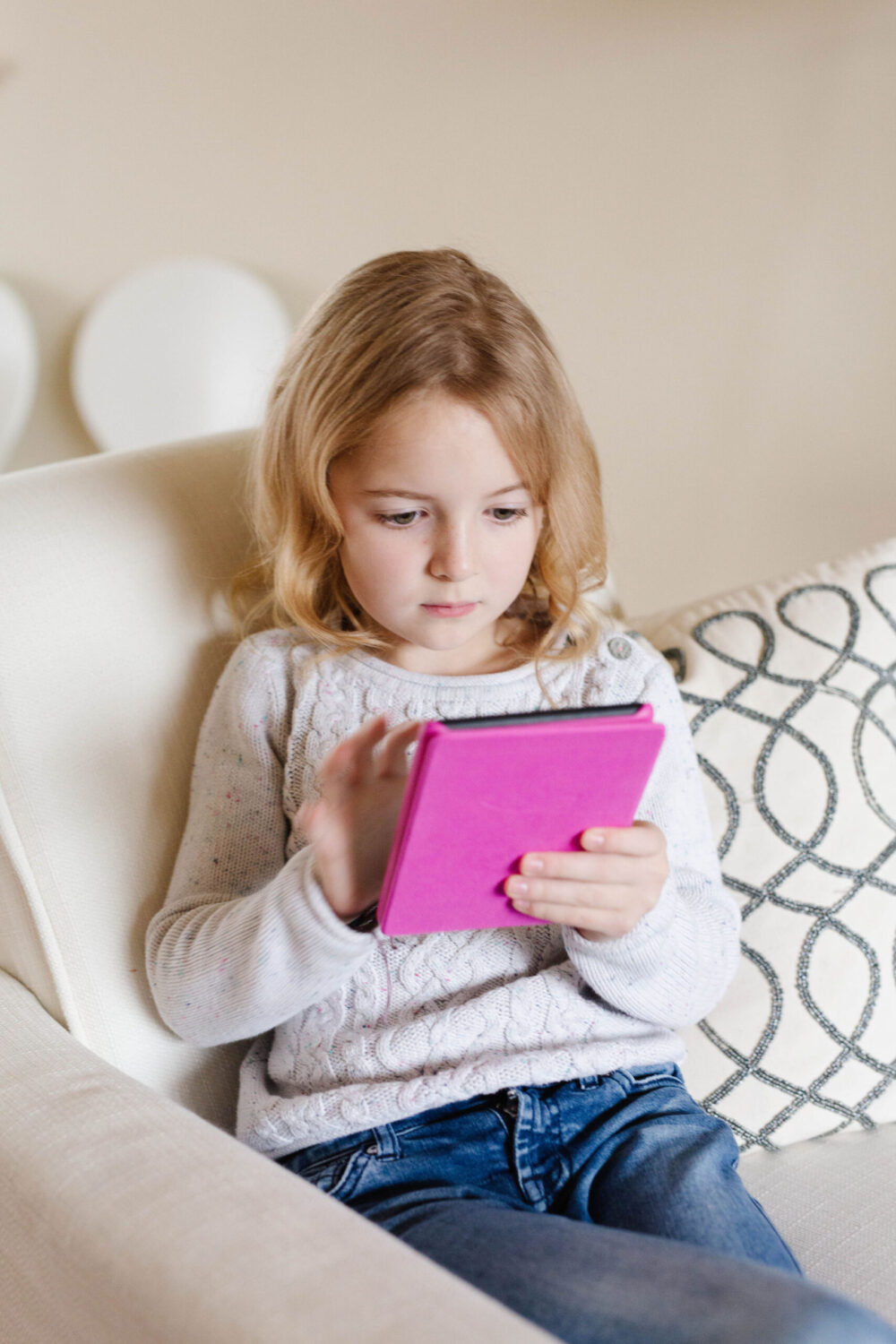 how to setup kIDS KINDLE FOR ADULTS
If you want to use the Kindle as an adult Kindle, just tap the three vertical dots at the right top corner and then choose "Exit Amazon Kids."
It'll ask for your PIN and then the moment you enter that, it will now be an adult kindle. You'll see your own name at the top left corner and you'll see all the books in your Kindle, purchase new books, etc.
If you want to switch back to the Kids mode, just tap the three dots in the corner again, choose "Amazon Kids" and select which child you want!
Ta-da!
So easy.
Add Books to a Kids Kindle
If you'd like to add books or audiobook to your child's Kindle, here's how to do that.
Go to "Manage Your Content and Devices" on Amazon.
Click the "content" tab on the bar.


A full list of all your digital books will pop up (you can also choose audiobooks instead from the drop down menu). Find the title you're looking for.
Click the three dots under "actions" next to that book and when this box pops open, click "Manage family library."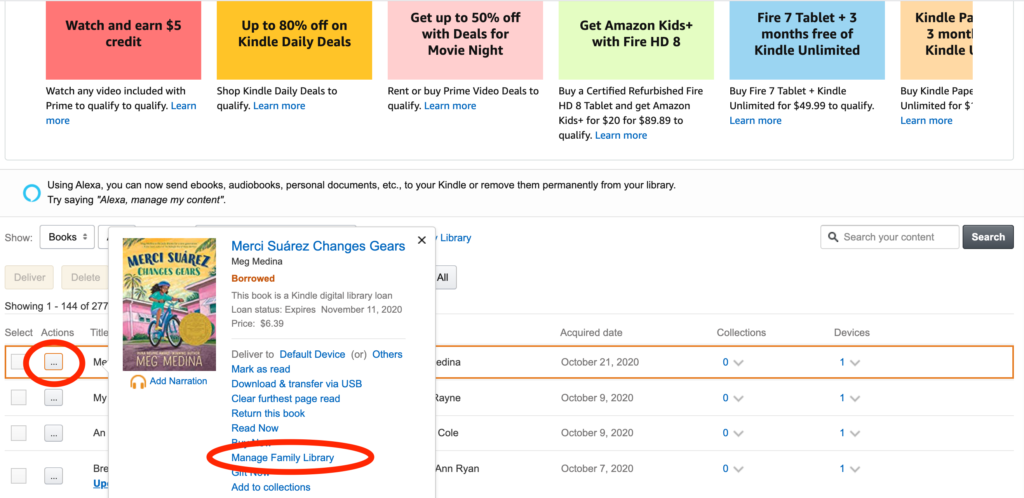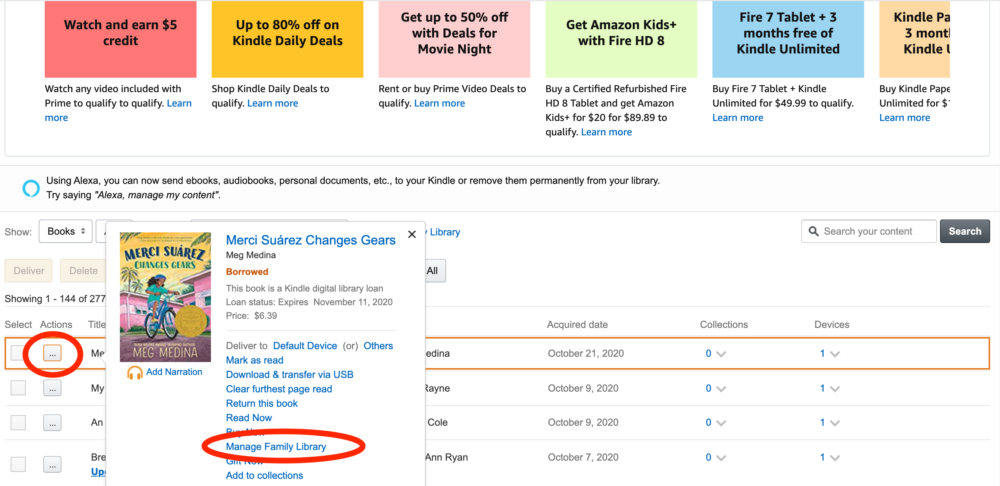 It will show all your libraries, including any FreeTime libraries associated with a Kids Kindle. Click "Add to Library" next to your child's name that has the Kids Kindle and . . .ta-da! The book or audiobook is added to their Kindle. The next time they sync it, it'll pop right up!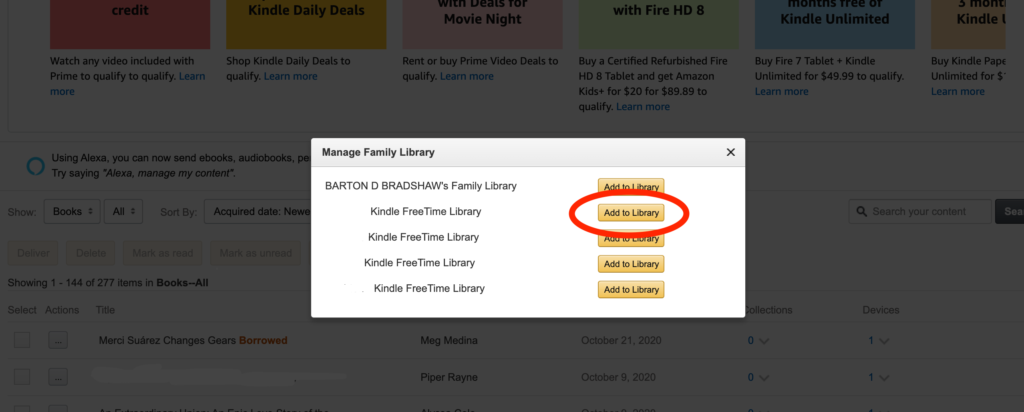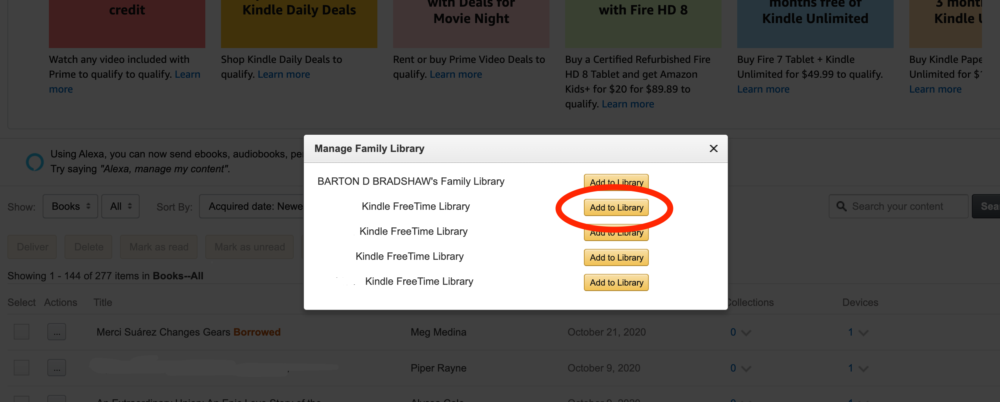 (Note that you can only add Audible audiobooks to a Kindle reader – whether it's a Kids Kindle or an adult Kindle – you can't add Libby or Hoopla or Scribd audiobooks).
Any questions about setting up a Kindle Kids Account? I'm happy to answer questions or help troubleshoot!
If you liked this post about setting up a Kindle Kids Account, you might like these posts too: