One of my favorite parts of November is reading all the new kids Christmas books that are released in the fall for the upcoming holiday season.
I already shared a list of my all-time favorite Christmas picture books here which include some new and some old titles, but this list is all about the best new kids Christmas picture books released in 2020.
If you're looking for something brand new to add to your collection or request from your library, these are all delightful new choices.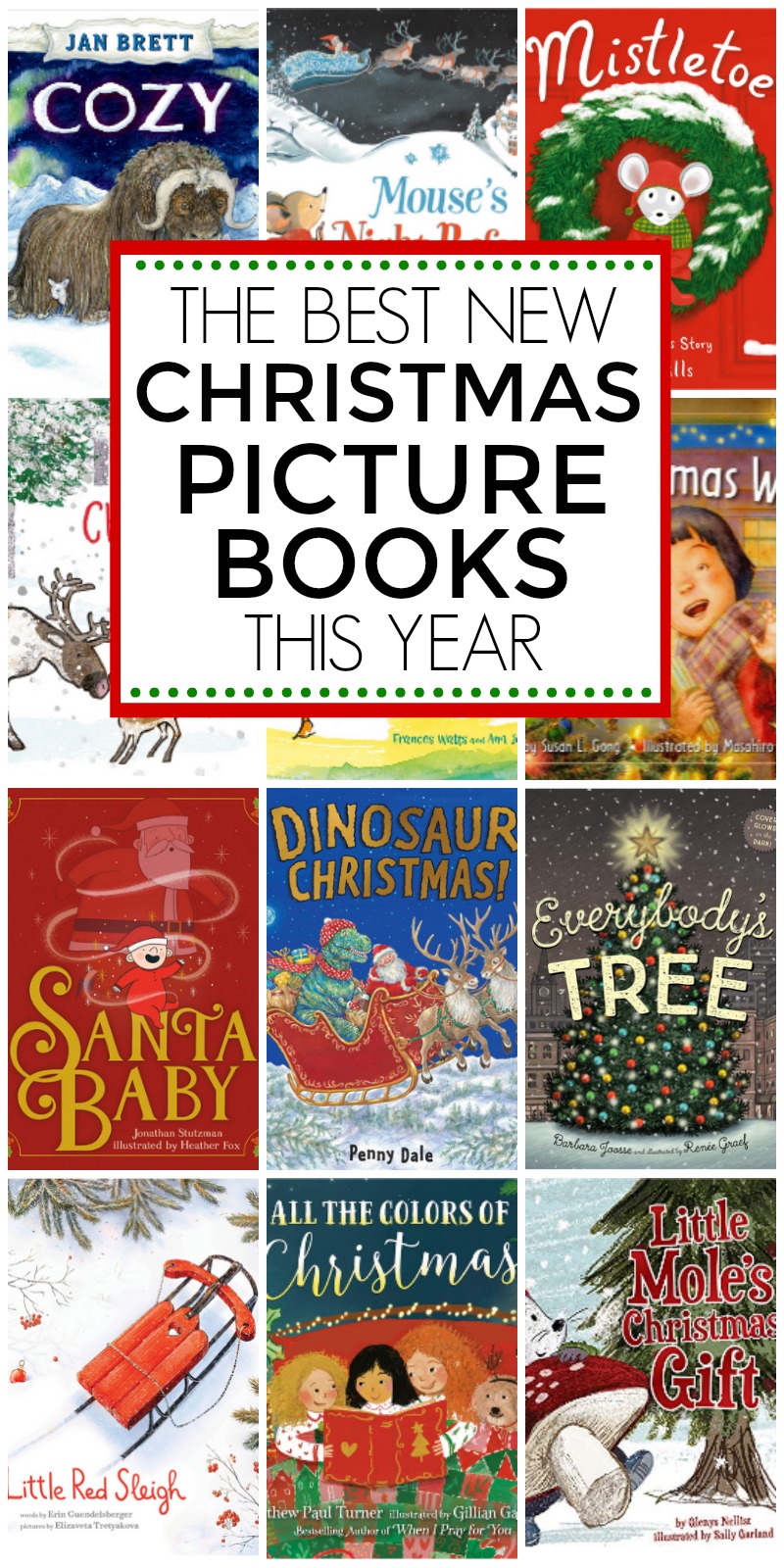 new kids christmas books 2020
Mistletoe by Tad Hills
You may already know Tad Hills from his other many bestselling books including the darling Duck and Goose series. In this stand-alone Christmas book, Mistletoe is a tiny mouse who loves Christmas, especially the snow. But her best friend is an elephant who can't stand being out in the snow. Fortunately, Mistletoe comes up with a clever idea to help her friend enjoy the outdoors all winter long. We've already read this one at least 15 times.
All the Colors of Christmas by Matthew Paul Turner, illustrated by Gillian Gamble
You may think of Christmas colors as red and green, but of course there are so many more than that and this beautiful new Christmas picture book celebrates them all. And of course, the most wonderful part of all those Christmas colors is how they are part of every person, every tradition and every memory we associate with Christmas.
Cozy by Jan Brett
Cozy is a musk ox in Alaska and his fur is warm and long and soft and. . .cozy. But Cozy is lonely after he's separated from his family in a snow storm. Until a bunch of animals start taking shelter with Cozy who is, after all, warm and cozy. But while the animals might all be warm, they're also a little squished and they start to bicker. Can Cozy keep his friends and the peace?
Ming's Christmas Wishes by Susan L. Gong, illustrated by Masahiro Tateishi
Ming only wants three things for Christmas and the one she wants most is to feel like she belongs somewhere. She lives in California in the 1930s and her parents are immigrants. At school she doesn't fit in and at home, her parents don't feel like she's Chinese enough – her mother is particularly opposed to the idea of a Christmas tree which Ming desperately wants. Is there any way for her Christmas wishes to come true?
Little Mole's Christmas Gift by Sally Garland, illustrated by Glenys Nellist
Little Mole is beside himself with delight when he finds the absolute perfect gift for his beloved mama – the biggest mushroom in the forest! But as he travels back to his home, he meets all sorts of little friends who need some of that mushroom. Is it going to ruin Christmas when he comes home with just a little piece of the formerly huge mushroom? (Spoiler: No, it won't!).
Everybody's Tree by Barbara Joosse, illustrated by Renée Graef
A little boy first plants a tiny spruce tree in his front yard. As the little boy grows up, so does the tree and his children and then grandchildren all grow up around it. After 80 years, it's time for the tree to come down and it becomes a tree for everyone in the city center to enjoy together. I LOVE the sweet illustrations in this one.
Christmas is Joy by Emma Dodd
This brand-new Christmas book is just the sweetest, most joyful book about two reindeer in the forest soaking in all the different things that Christmas brings.
Milo's Christmas Parade by Jennie Palmer
Milo is an opossum who LOVES the annual Christmas parade. He watches intently while the rest of his friends and family are mostly just interested in the crumbs dropped by the parade watchers. Is there a way for Milo to participate in this yearly tradition?
Santa Baby by Jonathan Stutzman, illustrated by Heather Fox
Santa is WORN OUT by the work of Christmas Eve – he's getting old! And so he calls on the magic of Christmas and. . . suddenly he's a baby! As Christmas draws closer, the elves start getting worried. How can a baby Santa take care of all the present delivery when he can't even say HO HO HO, let alone do all the other tasks required of Santa Claus?
I Love You More Than Christmas by Ellie Hattie, illustrated by Tim Warnes
Little Bear loves Christmas. He loves wrapping presents and the tree and the lights and the glitter. But what he loves most of all? Well. . . . there are so many interruptions, he might not get a chance to say what he loves even more than Christmas!
Dinosaur Christmas! by Penny Dale
When Santa gets stuck in a snowstorm just before Christmas, it looks unlikely he'll be able to make it out to deliver gifts. But with a crew of dinosaurs to the rescue, he might just make it! Tally has declared this her favorite Christmas book and we've been reading it daily since we got our own copy.
The Christmas Feast by Nathalie Dargent, illustrated by Magali Le Huche
Some Christmas picture books are sweet. Others make you laugh. This is definitely one of the latter. Wolf, Weasel, and Fox have stolen a turkey to feast on at Christmas. But it turns out that Turkey has her own ideas about how to celebrate. And they don't include getting eaten for dinner.
Mouse's Night Before Christmas by Tracey Corderoy, illustrated by Sarah Massini
On Christmas Eve not a creature is stirring . . . except a little mouse who lives alone in a grandfather clock. And he is delighted when Santa arrives, lost in a blizzard and needs help navigating Christmas Eve. So Mouse is off on Santa's sleigh helping deliver presents, including the best gift of all – a friend for Mouse.
A Very Quacky Christmas by Frances Watts, illustrated by Ann James
Is Christmas for everyone or just for people? Well, Samantha Duck is convinced it is for EVERYONE, even if her tortoise friend is convinced it's not for animals. And she's not going to be dissuaded – she's going to make and deliver presents for all the animals, along with a heartfelt "We wish you a quacky Christmas!"
Little Red Sleigh by Erin Guendelsberger
Little Red Sleigh has a big dream. She wants to grow up and be Santa's Christmas delivery sleigh. But everyone is convinced she's too small, too little, and . . .also she can't fly. But this year, she's determined to prove them all wrong and she has a few friends willing to help her achieve the seemingly impossible.
And if you'd like a printable copy of this kids Christmas book list that you can take to your library or screenshot on your phone for easy access, just pop in your email address below and it'll come right to your inbox!
Any other favorite kids Christmas books for 2020? I'd love to hear!
If you liked this post about kids Christmas books for 2020, you might like these posts too: