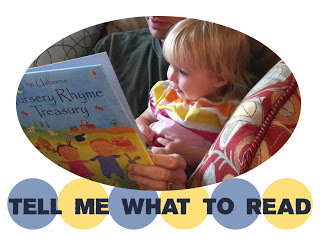 So. . . the last round of Tell Me What to Read just about killed me.
I haven't even bothered to write about The Dante Club because, believe me, you do not want to read my review of it which would basically boil down to "took me eight hundred check-outs to finally finish the stupid thing."
Also, to be completely honest, I finally just checked out the abridged audio and just powered through it on double speed. (And there was this one murder (several occur in the book) that was, I kid you not, one of the most graphic, horrible descriptions I've ever read of a dead body. I just had to press the "skip 15 seconds ahead" button a couple of times before I threw up). I think you might guess that I would not recommend this book.
It was a rough period of my life, and I'd prefer not to speak of it again.
So, let's make things easy on me, shall we? I need low-commitment right now and that's what I love about picture books. Even if it's terrible, it's never going to take more than about 30 minutes to get through.
Leave me the title of one of your favorite picture books and I'll read 10 (or more if I'm feeling very very ambitious, which, I probably won't) of them, selected at random. And then I'll share my favorites. Get excited.
Ella thinks this is way better too. And it'll be a fun little project for the two of us before Baby #2 makes her appearance.