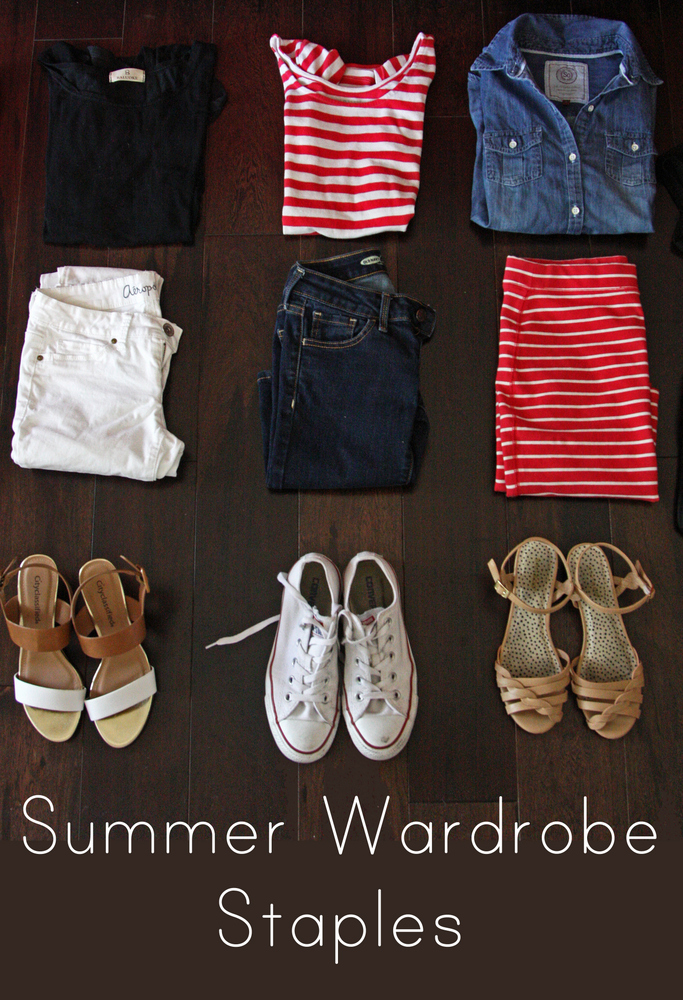 Over a year ago, my sisters and I did a post about our wardrobe staples.
Of course, when we did that, it was January, and what I wear in January looks a lot different than what I wear in the summer, especially when that summer is being spent in Las Vegas.
Since I only have the clothing I could fit into a suitcase, this really is my staple wardrobe and I'm wearing one of these items daily (which is why I had to photograph these in my pajamas because if I'm dressed, I'm wearing a couple of these items).
Also, I've noticed I kind of cycle through colors. Obviously this summer, I'm all about pink, blue, black/gray, and white. Makes it easy to all match, happily.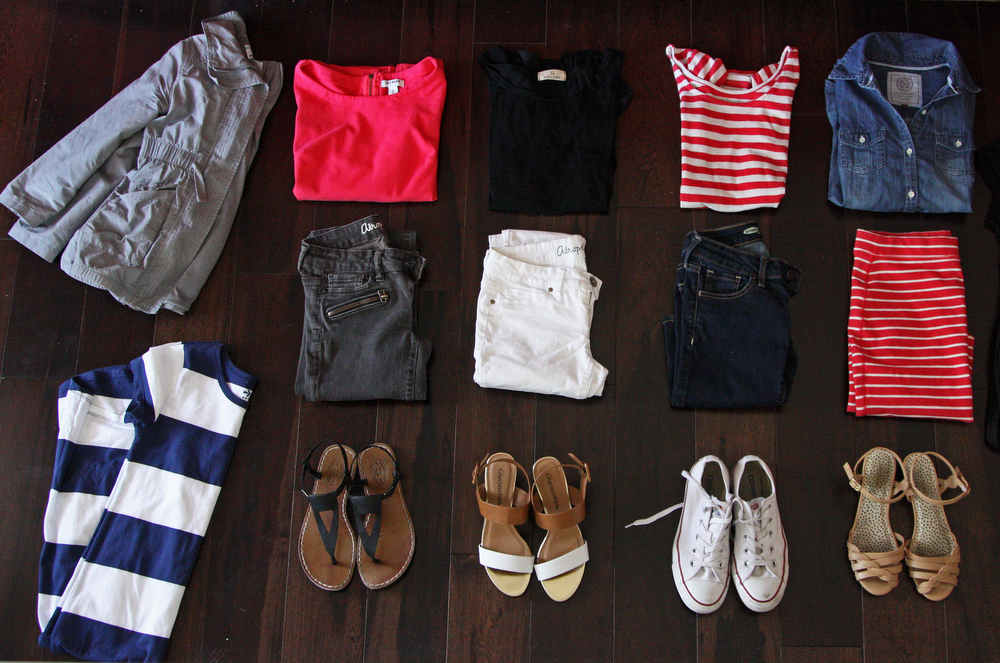 Denim Shorts: These are basically the most common summer item ever, but I swear, every single time I wear them, I have at least two people ask me where they are from. Apparently it's incredibly difficult to find knee-length jean shorts that don't look like mom shorts. Old Navy to the rescue. I bought these last year and have gotten so so so much wear out of them. And obviously, a pair of regular jeans is never out of my rotation.
White Jeans: I've mentioned before that I bought a pair last year and basically never wore them (saggy knees, too long, etc), but this year's pair from Aeropostale is basically my favorite thing on earth. I wear them constantly. I also took the pair from last year and cut them off into shorts so that I can wear white on my bottom half as much as possible.
Stretchy Pencil Skirt: I have a couple of these and they all get worn a lot. They're nice for hot days and they are easy to dress up and down.
Chambray Button-Down: I know; the staple of every woman in America. Popular for a reason.
Exposed Zipper Top: I love this top because it dresses up or down really well, has a nice heft to it, and has the fun zipper on the back.
Striped Tee: This is an old one I bought at Old Navy a couple of years, but a striped shirt is super easy to find.
Solid Tee: I've meant for months to order another Pickwick & Weller shirt and when I went to their site this morning, I saw that they are taking an extended vacation (whatever that means). So. . . I'm only just nursing a broken heart over here. Where am I going to find a shirt that doesn't pill?
Maxi Dress: I've finally gotten on the maxi dress train, some five years late. This one is actually a maternity one that Merrick passed on to me. There's nothing about it, though, that screams maternity, so I'll just wear it non-pregnant.
T-shirt Dress: I can wear this dress every which way, so of course it's my favorite. And it's so lightweight.
Light Jacket: It's never going to be cool enough to wear a jacket in Las Vegas this summer, but I also know after growing up here, that the extreme heat means every indoor place is air-conditioned to about 5 degrees. I'd never go out to dinner or to a movie with a jacket.
White Converse Shoes: When we got married, I had three pairs of Converse shoes and Bart hated them all, so I got rid of them. Now, nine years later, I've finally bought a new pair. Apparently they are less offensive in white than they are in blue to him. I'm wearing them constantly.


Casual Black Sandals: I don't really do flip-flops – I need a sandal that has a backstrap. These have been staples since I bought them on clearance at American Eagle a couple of years ago.


Braided Sandals: These are new to me and I'm still breaking them in a bit, but I really love them – they quickly dress up shorts or a skirt, and the wedge is so low it's super easy to walk in.


White and Leather Wedges: These are a little fancy for going to the park, but they're perfect for quickly dressing up jeans or a stretchy skirt.
(And, to be honest, I'm basically living in a swimsuit, what with my parents' having a pool, so I'll share my swimsuit situation later, since I finally have a decent set-up for the first time in. . . .forever).