Camping is one of those things I always imagined I'd do with my kids, and now that I have kids, the idea of trying to sleep outside (not to mention all the prep, packing, and hauling) is . . . not a bit appealing.
I prefer my camping to take place in picture books and chapter books. Maybe some s'mores made over the kitchen stove.
(P.S. If you're looking for a summer reading list for adults, I put together a summer reading guide last week that I'm totally thrilled about).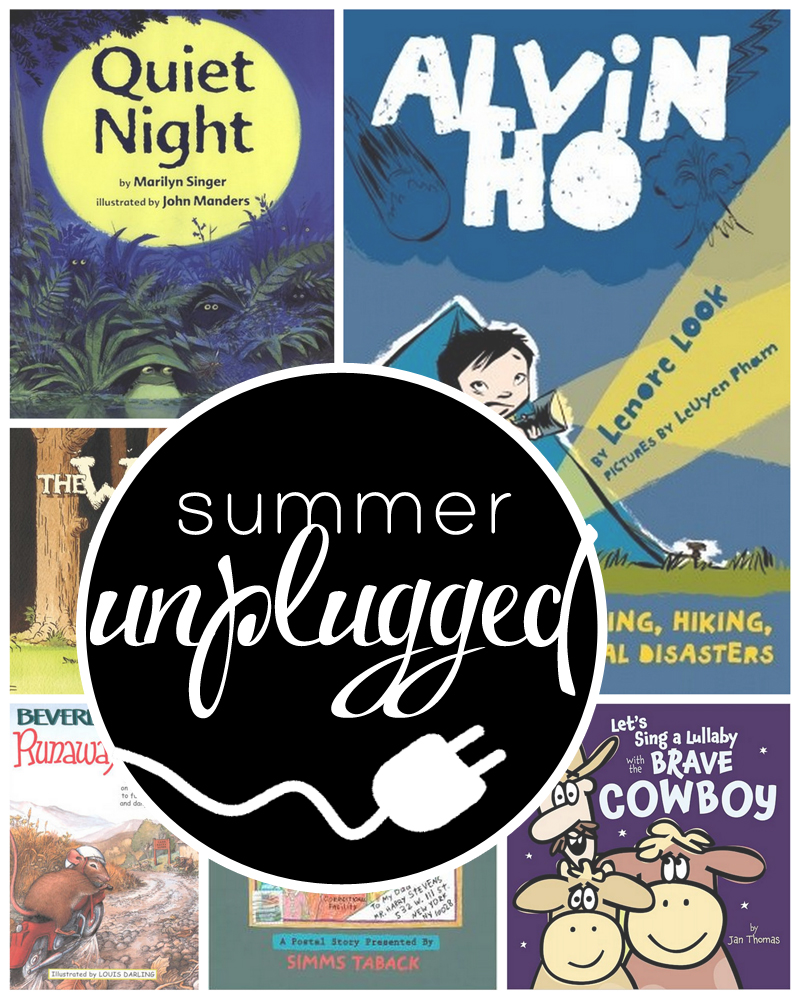 Picture Books:
Let's Sing a Lullaby with the Brave Cowboy by Jan Thomas – I think Jan Thomas is the master of very early comedic books. This one, about a cowboy singing a lullaby to his very skittish cows, is a family favorite.
Postcards from Camp by Simms Taback – Michael is not a fan of sleepaway camp. And his postcards home to his father detail all the reasons he wants OUT.
The Woods by Paul Hoppe – Ella can't get enough of this book about a little boy who, at bedtime, loses his beloved stuffed animal and must venture into the terrifying woods to reclaim it.
A Couple of Boys Have the Best Week Ever by Marla Frazee – When they go to spend the week with grandparents, it's supposed to be nature camp, but it turns out to be a lot of eating sugar and watching cartoons.
Lucille Camps In by Kathryn Lasky and Marylin Hafner – When her dad and older siblings take off camping without her, Lucille and her mom decide to camp at home, complete with a tent and s'mores.
Poppleton in Spring by Cynthia Rylant and Mark Teague – Embarrassingly, I've never read a Poppleton book until now, but I'm hooked. And apparently I really love books featuring pigs.
Quiet Night by Marilyn Singer and John Manders – Marilyn Singer does such great books, and this one, about how noisy it is camping in the woods, delighted my daughters with all the sounds and rhythms.
The Princess and Her Panther by Wendy Orr and Lauren Stringer – Two sisters (as you might have guessed, the younger is conned into being the panther) go camping. Doing so might require some bravery.
The Lost Lake by Allen Say – I love Allen Say's distinctive and Caldecott-winning art and storytelling, and this is no exception, about a boy and his very quiet father who set out to find a lost lake.
Chapter Books:
Runaway Ralph by Beverly Cleary – Ralph is ready to go out on the road with his motorcycle and ends up at a summer camp when he's captured by a lonely camper.
Alvin Ho: Allergic to Camping, Hiking, and Other Natural Disasters by Lenore Look and LeUyen Pham – The Alvin Ho series is fantastic (somewhat similar to Diary of a Wimpy Kid) and in this one, Alvin Ho is forced to confront all his worst outdoorsy fears. Poor guy!
Lunch Lady and the Summer Camp Shakedown by Jarrett J. Krosoczka – This is one of my favorite graphic novel series. They are so clever and funny; I've never met a kid who didn't love them.
A Few Crafts, Activities, and Recipes:
Have an indoor campout
Tell ghost stories
Make your own firefly with a soda bottle
Make your own trail mix (get 5 or 6 different ingredients and let your kids assemble their own)
Have your kids make each other maps and send each other on a treasure hunt
And. . . giveaway time!
Are you familiar with
Kiwi Crate
? They send amazing boxes of projects, games, and other fantastic things for kids (you can do a subscription or just order individual boxes). They are currently doing a
Summer Adventure Series
, with special boxes themed around camping, the beach, and amusement parks.
They're giving away two of their camping boxes here – just enter using Rafflecopter below! (And, you can also get 25% off a 1-month subscription with the code SUMMER25).