I'm trying something revolutionary over here (starting. . .  yesterday) which is not letting Ella snack her way through the day. It helps when your snack options are basically zero, thanks to the fact that when you're buying up an entire fridge and pantry worth of supplies, you feel way too poor to buy extra fun foods.
And, imagine this. She actually eats her entire lunch and dinner. And there aren't massive amounts of whining. It's basically like heaven (if heaven is a place where you eat dinner on your spinning desk chair pulled up to the kitchen table).
I'm waiting for my parenting book offer any day now.
Anyway, in celebration of the fact that she ate three servings of dinner last night, here are five dinner hits we've had in the last few months, plus a dessert for good measure.
And if you have recipes you've loved lately, please share the wealth!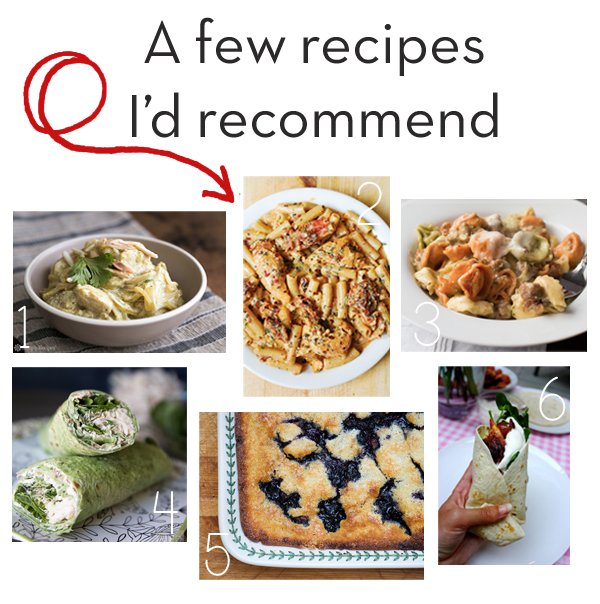 1. Chicken Curry in a Hurry: This is the recipe we had last night. Ella generally just wants to eat plain rice, but when I assured her there were no other options for dinner, she ate two plain bowls of rice and then another two bowls with sauce on it. And Bart and I kept saying, "THIS IS SO GOOD." Also, super easy. I used dried cranberries instead of raisins because that's what I had. And I did half sour cream and half plain yogurt.
2. Chicken Mozzarella Pasta with Sun-Dried Tomatoes: I spent much of this pregnancy craving pasta like crazy. I've never even really loved pasta, but suddenly I wanted to make it for dinner every night. This was a big hit with the whole family.
3. Creamy Pesto Tortellini: I told you. Pasta. I used regular milk instead of almond milk. Also, this reminded me that the sausage I bought in London had these enormous hard chunks of something unidentifiable in the mix, which was not delightful. And we STILL liked this recipe, so you know it's good.
4. Chicken, Spinach, and Cream Cheese Tortilla Wrap: When my mom came out to visit us in London, I made these for lunch one day and they were delicious. I skipped the alfalfa sprouts because weirdly it's one of those things you aren't supposed to eat when you are pregnant. Don't tell my mom that usually we just have peanut butter and jelly sandwiches for lunch.
5. Texas-Style Blueberry Cobbler: I've made this a couple of times and it's so easy and so delicious. Sadly, when I made it last time, I didn't have an ice cream. It was kind of a tragedy or something.
6. Spicy Lemon Chicken Wraps: These were super delicious (in fact, we're having them again this week). I simmered the leftover marinade until it was thick and we drizzled it on our wraps when we assembled them. And I used spinach instead of watercress and didn't roast my tomatoes.
(P.S. Other recommended recipes!)