I was reading the most recent issue of Everyday Food recently (a magazine I absolutely loved seven years ago, but that I've felt like has really declined in recent years. . . each issue seems to have more and more weird recipes), and it had a little section called "Are They Worth It?"
It went through five items and discussed whether or not it was worth the time, money, and flavor to buy store-prepped versions or whether to just do it yourself.
I was more amused than I should have been by it because of the five items, four of them are ones I use frequently (the one I don't is a stir-fry mix because I can't actually stand stir-fry), and in all four cases, I went exactly the opposite way they did.
First, they said you should buy chicken broth because it takes too much planning ahead to make your own. I haven't bought chicken broth in a couple of years because it's so ludicrously cheap and easy to make yourself and I just basically stuff my entire freezer full of yogurt containers full of it. No mechanically separated chicken parts and trans-fat for me, thank you.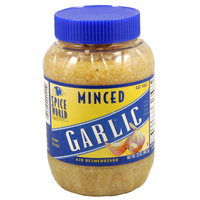 Then they said you should peel your own garlic because the flavor is so much better. Frankly, the only time I use fresh garlic is when it comes in my CSA box. Other than that, I am all about the giant bottle of pre-minced garlic. I do not enjoy trying to mince a slippery piece of garlic into a bazillion tiny pieces and I really do not enjoy having hands that smell of garlic for the next four days. Plus it is extremely cheap to buy a huge huge thing of it and it lasts forever (one time Ralphie called when we were coming over for dinner and asked us to bring some garlic because she was out and on the way over, Bart noticed that our jar had expired two years earlier. Still tasted fine (are you getting the impression that I don't really care about expiration dates? You are not wrong)).
Breadcrumbs? They said to buy it, I say "Twenty seconds in the food processor and I have breadcrumbs made with homemade bread that I can stick in the freezer for the next fifty years." I mean, really? Bread crumbs take no effort whatsoever. And I am lazy.
And then. . . .lemon juice. When we first were married, I was convinced that real lemons were the only way to go (and I know for a fact that it was because of Everyday Food that I was sure of this). After a couple of months, Bart suggested that it was possible to buy a bottle of lemon juice. And then, the clincher. "My mom uses bottled lemon juice." Well. If Bart's mom, who is a ridiculously high-level cook and also loves lemons, can use bottled lemon juice, I could too. And when I went to buy some and saw how cheap it was (far far cheaper than buying actual lemons), I never looked back. I only buy lemons if I'm making a recipe that absolutely requires zest. Other than that? A giant bottle of cheap happiness.
Apparently I'm lazy in all the wrong ways. Oh well, Everyday Food never has to know.