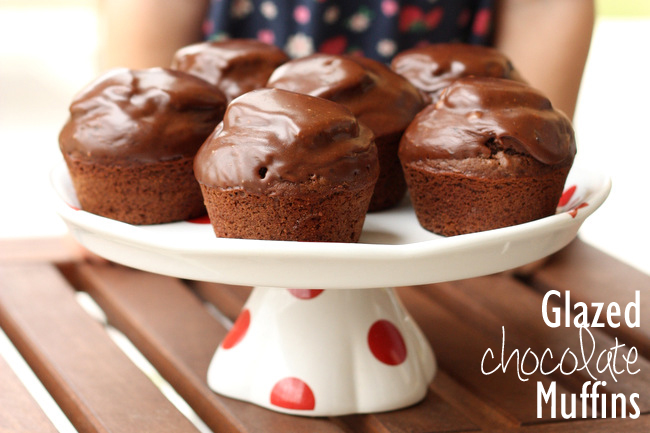 Ella and I are really good parent/child match, I think. We enjoy a lot of the same things (although her love of Candyland is 100000000x greater than mine), and she likes to be involved in what I'm doing.
A couple of weeks ago, I opened up my Carbs, Carbs, Carbs board on Pinterest and told her to pick something. She was delighted and carefully looked through each picture until she landed on these glazed chocolate muffins, and I was not sad.
After I took a few pictures (all of which she wanted to be in), she asked if SHE could take some pictures. I put the stand back on the kitchen counter, until she exclaimed, "No! I want to take pictures of the food."
Five minutes later, she returned with the camera and told me "I think I got some good ones."
It's so amusing (and a little bit stressful) to see all of my habits and quirks played back to me by a two-year-old.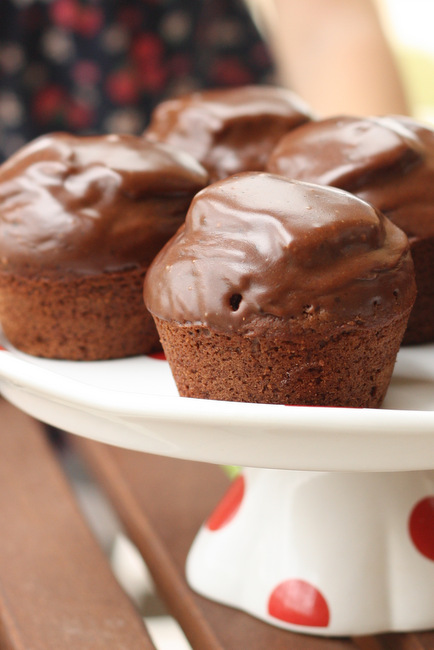 Glazed Chocolate Muffins
(slightly adapted from Crunchy Creamy Sweet)


Makes 12 standard-size muffins
Muffin Batter:
1/2 cup oil
1/2 cup granulated sugar
1/3 cup packed brown sugar
2 eggs
1 tsp vanilla
2 cups flour
2/3 cup unsweetened cocoa powder
1 1/2 tsp baking powder
1/4 tsp baking soda
3/4 tsp salt
1 cup milk
Glaze:
2 Tablespoons butter
2 Tablespoons milk
1 1/2 Tablespoons unsweetened cocoa powder
1/2 Tablespoon corn syrup
1 cup powdered sugar
1/2 tsp vanilla extract
Preheat the oven to 425. Grease your muffin tin.
In a mixing bowl or stand mixer, beat oil and sugar together for 2 minutes, until smooth. Add eggs one at a time, mixing well between each addition. Add vanilla and mix briefly.
Pour flour on top of the mixture, and then directly on top of the flour, add the cocoa powder, baking powder, baking soda, and salt. Mix until partially combined. Add milk and finish mixing until combined (but don't over mix!).
Distribute batter into muffin tin cups (each should be about three-quarters full). Bake for 12-15 minutes, until tops are cracked and bounce back when you press them gently. Don't overbake or they'll be dry, so keep an eye on them.
Let cool completely on a baking rack.
In a small saucepan, melt butter with the milk and cocoa powder and corn syrup. Bring to a boil, whisking frequently, then remove from heat and whisk in powdered sugar (you may want to sift it to avoid lumps). Whisk in vanilla extract.
Hold the cooled muffins by the base and dip them into the glaze, letting excess drip off, before turning them right-side up and letting them set, about five minutes.
These are best the day you make them.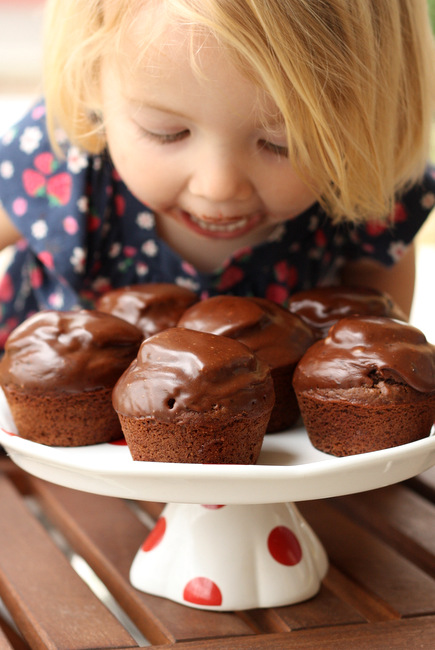 I couldn't leave this hilarious picture out. She kept saying, "I'm a bear and I'm going to EAT these muffins." You can see by the chocolate on her upper lip that the bear had already eaten a muffin.