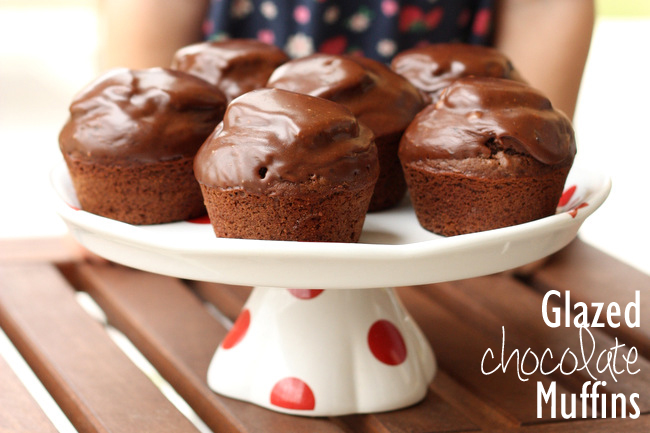 Ella and I are really good parent/child match, I think. We enjoy a lot of the same things (although her love of Candyland is 100000000x greater than mine), and she likes to be involved in what I'm doing.
A couple of weeks ago, I opened up my Carbs, Carbs, Carbs board on Pinterest and told her to pick something. She was delighted and carefully looked through each picture until she landed on these glazed chocolate muffins, and I was not sad.
After I took a few pictures (all of which she wanted to be in), she asked if SHE could take some pictures. I put the stand back on the kitchen counter, until she exclaimed, "No! I want to take pictures of the food."
Five minutes later, she returned with the camera and told me "I think I got some good ones."
It's so amusing (and a little bit stressful) to see all of my habits and quirks played back to me by a two-year-old.
glazed chocolate muffins
if you liked this chocolate muffin and muffin glaze recipe, you might also like these other recipes:
I couldn't leave this hilarious picture out. She kept saying, "I'm a bear and I'm going to EAT these muffins." You can see by the chocolate on her upper lip that the bear had already eaten a muffin.